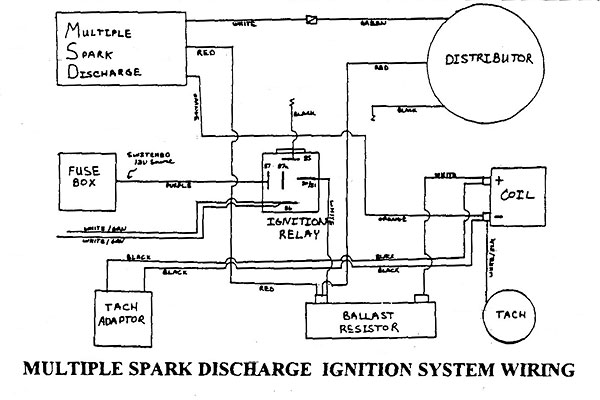 (this is the only illustration that accompanied the original article)


How It Was Done #4: Ken Williamson's 1980 MGB with Buick 215
This "How It Was Done" article was originally published in British V8 Newsletter, Volume 2 Issue 2.

Owner: Ken Williamson
City: Bellefonte, Pennsylvania
Model: 1980 MGB Roadster
Engine: Buick 215


The overall objective of this project was to substantially upgrade the MG's performance while maintaining the highest levels of safety, reliability, and driveability.


ENGINE: 1963 Buick 215 CID aluminum block and heads. Basic engine was left unmodified. Induction system is a Holley 390 cfm four barrel on an Offenhauser dual plane intake manifold. Camshaft is a Kenne-Bell model KB mark II. Exhaust manifolds are tubular headers unique to the MGB V-8 conversion. Ignition uses a Mallory Uni-Lite Module instead of the stock distributor. (See diagram.) Spark is enhanced by an Accel Super Coil and an MSD 5A unit mounted in the passenger footwell to avoid underhood heat. Lubrication system was improved with the installation of a high volume oil pump and oil cooler. Fuel is fed thru a Parker electric pump. Professionally estimated power is 220.


DRIVETRAIN: With the help of Borg-Warner tech support, a clutch cover and disc were selected that would provide proper strength, pressure, and fit (and one that would remain available in the event that replacement was necessary.) Clutch is hydraulically actuated by a Datsun 280Z slave unit. Transmission is a Borg-Warner T-50 five speed from a 1977 Oldsmobile Cutlass. The transmission was disassembled and inspected prior to installation. Fifth gear is an overdrive ratio of 0.78:1. Driveshaft is a completely new unit custom fabricated by Driveline Service of Northern Virginia. Both front and rear yokes are heavy duty units that have industry standard replacement universal joints. Differential unit remains stock with 3.9:1 gears. Spider gear thrust washers were replaced when the unit was inspected and installed.


WHEELS: TR6 wheels with Yokohama low profile 195/50 tires.


BRAKES: Front Brakes were upgraded by the use of cross-drilled rotors. (See Newsletter Vol. 1 Issue 1 for cross-drilling template. -Ed.) and Feroda pads. The front and rear brake lines are stainless steel to reduce expansion under pressure.


SUSPENSION: The car has been lowered in front and rear. Lowering was accomplished by fitting a '69 MGB crossmember and steering rack in place of the late model units. New front springs were fitted at that time and trunion bushings were replaced and reamed using the proper "Churchill" tool. MG V-8 lower control arm bushings replaced the standard ones. Replaced sway bar bushings in rear with spherical rod ends so they are solid. As a result, axle wrap is reduced and enhanced anti-roll capabilities are evident. A 3/4" diameter sway bar was substituted for the straight bar. The rear was lowered using Moss Motors lowering kit which consisted of two billet blocks of aluminum.


COOLING SYSTEM: Radiator is an original MGB V-8 unit. System utilizes a header tank with coolant bleed hoses and a separate overflow tank to ensure an air free system. Three new electric fans are controlled by a Honda thermal switch.


INTERIOR: Interior is black in color. Door panels and arm rest, under dash kick panels, and panels behind seats are finished in padded leather. Steering wheel is a black anodized aluminum and leather rimmed Moto-Lita. Mechanical water temp, oil temp, and oil pressure gauges are from Auto-Meter. The 140mph speedometer is from a Jaguar. A yellow light on the speedometer lights when the cooling fans go on.


PARTS UNIQUE TO THE CONVERSION:

• Motor mounts consist of two pieces per side. Special mounts on either side attach the engine to standard 1977-80 MGB mounts that bold directly to the frame in the original position. The special mounts, along with the exhaust headers and radiator are a special order from British Parts Direct.
• Water pump is a short snout type available directly from D&D Fabrications. Other Buick pumps may be used if the pulley flange is pressed back and the snout shortened. Drive belt to water pump is a Goodyear P/N 13471.
• Engine parts in general (excluding anything from the intake manifold up) are '63 Buick type. Try a local parts house initially as they can usually order things in a day or two. But if it becomes difficult to locate parts, refer to the sources list at the end of this article.
• Clutch slave cylinder and hose are from a '78 Datsun 280Z. Beck Arnley P/N 030-05829 slave and 030-02678 hose.
• Clutch release fork is a modified '68 Chevy Camaro, GM P/N 3892632. The release rod is a shortened VW Rabbit or Scirocco item. The need to replace these items is rare.
• Transmission mount is a Borg-Warner P/N 31-2959.
• Clutch components are Borg-Warner part numbers: pressure plate/cover 35-1525, disc 37-3303, release bearing '68 Chevy Camaro.
• Oil cooler hoses are specially made and are available from any hydraulic hose distributor (refer to the Yellow Pages). Hose fittings may be reused if they are in acceptable condition as judged by the hose supplier.
• Fan behind the radiator is from a 1978-80 Honda Accord. Thermal fan switch is from the same vehicle.
• Exhaust from the collector back is best left to a custom exhaust person. First muffler is a standard "Turbo" type, and the rear muffler is a universal dual-tip a "ana" type. Specify under-the-axle routing as over-the-axle contacts the sway bar mounts.
• Proper head gaskets can be ordered from Mountjoy's Autoshop. Specify the whick white asbestos Honest George type. Honest!
• Alternator is a standard General Motors internal regulator type. Any amperage will probably work. In this car a 32 ampere was installed and works well.


SUGGESTED MAINTENANCE SCHEDULE:

• A tune-up should be done every 12,000 miles or every third oil change. Change the spark plugs, front and rear fuel filters, and the oil and oil filter. Check the air filter. The timing should be set to 10-12 degrees advanced with the vacuum advance disconnected. If you are not a do-it-yourselfer, under no circumstances take this car to any "Precision Tune" or similar fast buck shop. However, even though this is a specialty car, a good MG repair shop should be able to handle a tune-up.
• Oil and filter should be changed every 3,000 miles or every four months. Use 20/50W in the summer and 10/40W in the winter. Any good oil such as Valvoline or Castrol is fine. Oil filter is a Hastings P/N LF115 and should be changed every time you change the oil.
• Air filter is a non-replaceable K&N unit. It should be washed every 15-20,000 miles under normal conditions.


MAINTENANCE PARTS RECAP:

Water Pump Belt - Goodyear 13471
Spark Plugs - NGK BPR5ES
Radiator Cap - Stant Lev-R-Vent 16lb
Oil Filter - Hastings LF115
Thermostat - 195F in winter. 160-180F in summer.
Fuel filters - (front) Datsun type, (rear) universal type.


PARTS SOURCES:

Lopar Performance
(discount speed parts supplier)
910 E. Indian School Rd., Phoenix AZ 85014, 602-264-5285

D&D Fabrication
(anything for the engine. Dave LaGrew is an aluminum V-8 authority.)
3863 Vandyke St., Almont, MI 48003, 313-798-3911

British Parts Direct
(V-8 conversion kits and individual conversion parts. Drilled brake rotors.)
4761 East China Hill, Diamond Springs, CA 95619, 916-626-0803

Drive Line Service of Northern Virginia
(driveshaft related parts. Will ship UPS.)
4574 Eisenhower Ave., Alexandria, VA 22304, 703-370-1775.