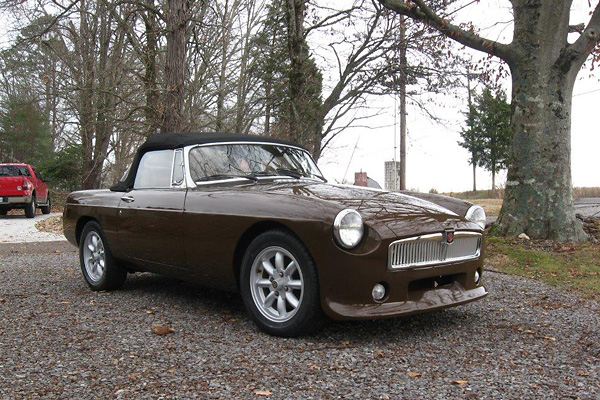 Jim Watson's 1979 MGB with Rover 3.5L V8
Owner: Jim and Melinda Watson
City: Maryville, Tennessee
Model: 1979 MG MGB
Engine: Rover 3.5L V8
Conversion by: the Manly Men of Blount British Car Club (and Jim)
Features and Specifications
| | |
| --- | --- |
| Engine: | Rover 3.5L V8 engine bored 0.020" over and balanced. Crower camshaft (level 1). Ported cylinder heads. Buick 4-barrel intake manifold. Edelbrock 500cfm carburetor. Lucas distributor. Pertronix Ignitor electronic igntion module. Pertronix Flamethrower ignition coil. Remote oil filter. |
| Cooling: | Howe aluminum radiator. Stock electric fans, pushing. |
| Exhaust: | RV8-style four-into-one headers. Two-into-one out the back. |
| Transmission: | Borg-Warner T5 5-speed. Ford clutch and pressure plate. Ram Hydro hydraulic throwout bearing. |
| Rear End: | stock MGB Salisbury axle (open differential and 3.909:1 ring and pinion.) |
| Front Susp.: | lowered and uprated springs. Heavy duty shock absorber valves. 7/8" sway bar. |
| Rear Susp.: | stock springs. Monroe telescoping shock absorbers. Stock MGB rear sway bar. |
| Brakes: | late model MGB pedal assembly with power brake booster. |
| Wheels/Tires: | VTO 15x6 8-spoke aluminum wheels. 195/60R15 tires. |
| Interior: | restored beige interior. |
| Electrical: | battery relocated to trunk. Nippondenso alternator. |
| Instruments: | stock MGB. (Tachometer rebuilt for V8 use.) |
| Body: | removed front and rear bumpers. Preform Resources front and rear valances. Austin-Healey front turn signals/marker lights. Shaved side trim. Shaved side marker lights. Shaved back-up lights. Body-color license plate lamps. Russet Brown paint. |
| Completed: | December 2014 |
Engine Installation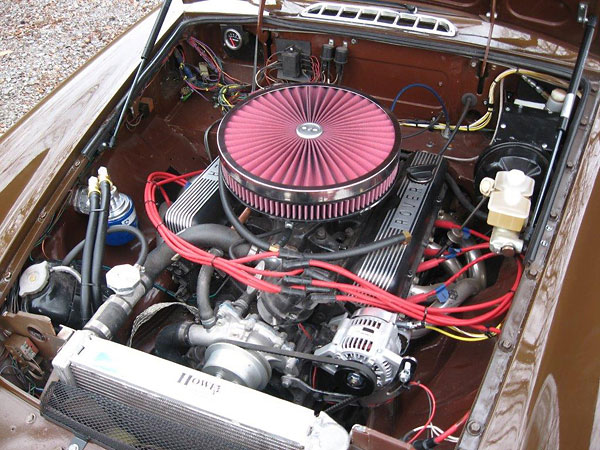 Rover 3.5L aluminum V8 engine.


Interior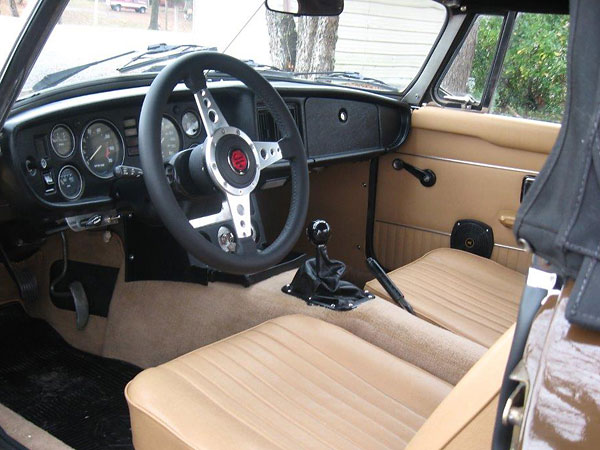 Stock MGB instruments and dashboard.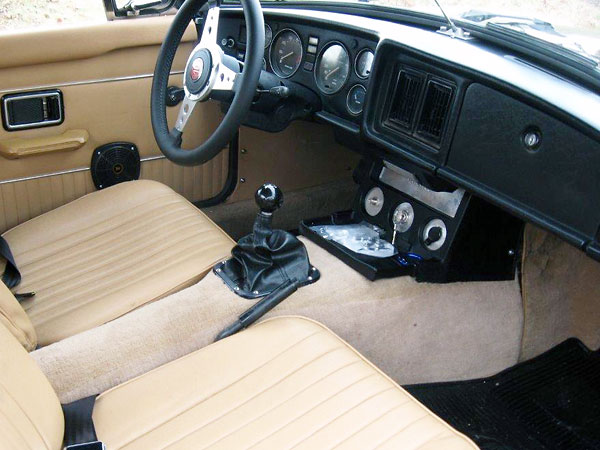 Beige interior.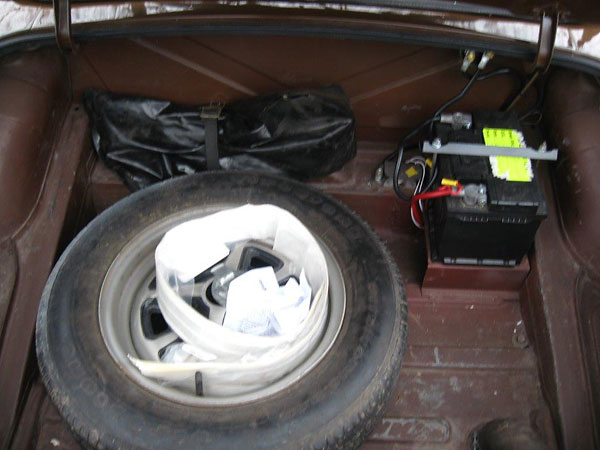 Battery relocated to trunk.


Enjoying this article? Our magazine is funded through the generous support of readers like you!
To contribute to our operating budget, please click here and follow the instructions.
(Suggested contribution is twenty bucks per year. Feel free to give more!)
Exterior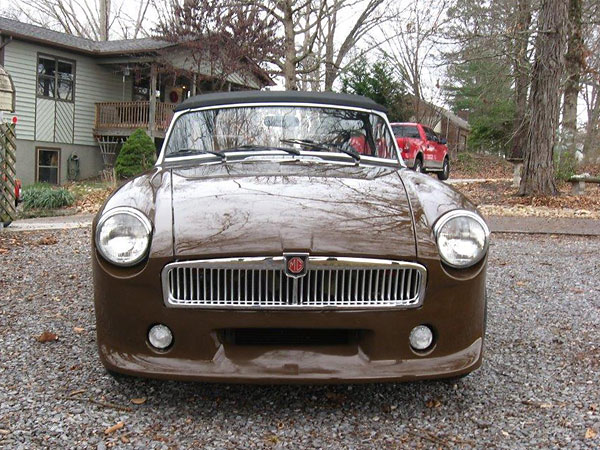 Preform Resources fiberglass front valance, with Austin Healey turn signals.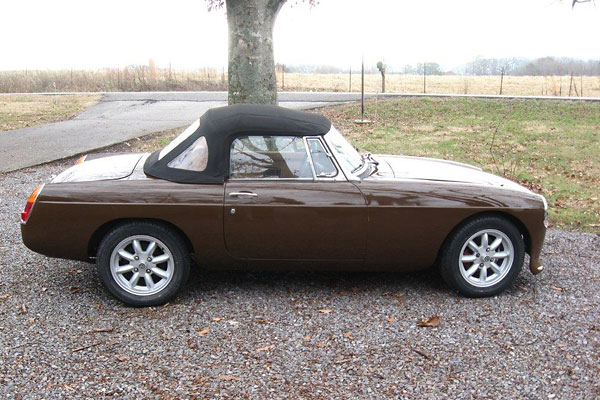 VTO 15" eight spoke aluminum wheels.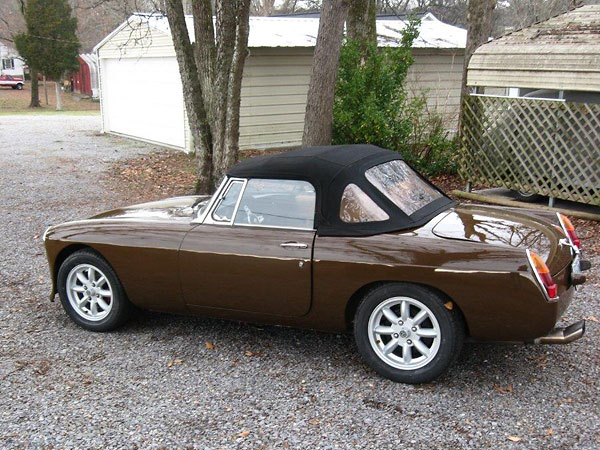 Shaved side trim and marker lights.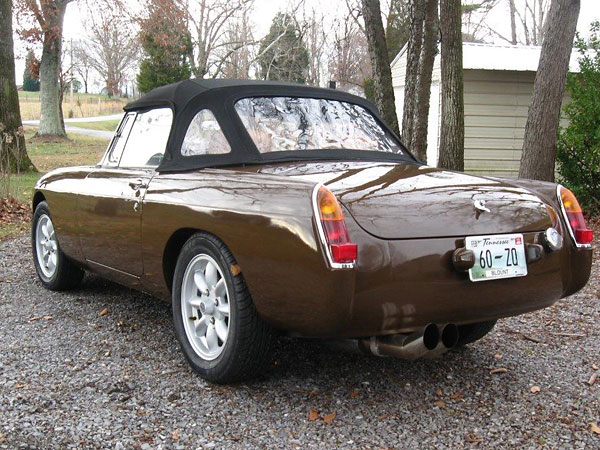 Preform Resources fiberglass rear valance.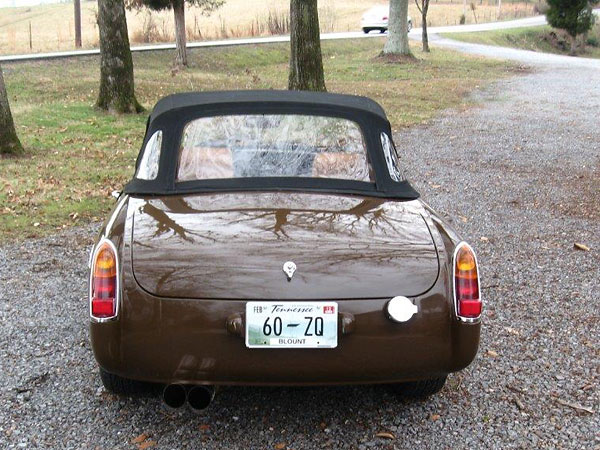 Shaved back-up lights. License plate lamps painted body color.


Photos by Jim Watson for BritishV8.org. Copyright 2015. All rights reserved. Use by written permission only. (Do not print, copy to your hard drive, or post these online without permission.)