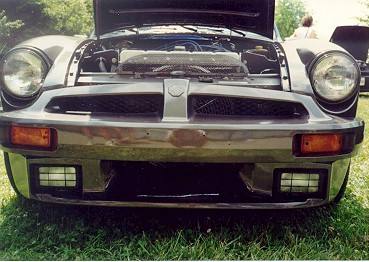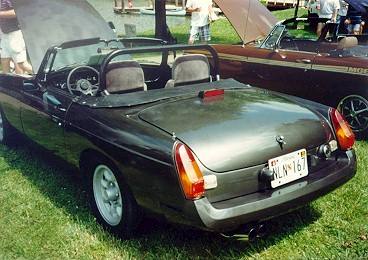 Jim Stuart's 1977 MGB roadster with a Buick V8
(originally published in British V8 Newsletter, Volume 2 Issue 1)
Owner: Jim Stuart
City: Gaithersburg, MD
Model: 1977 MG MGB
Date of Conversion: 1987
Jim owns two MG V-8's. (MUST BE NICE!) The first one he built, a '77 MGB roadster, recently took 2nd place out of 40 entries in the late model roadster class of the 1993 British Cars Days Show. The car currently shows 170,000 miles on the odometer and is a daily driver even through rain and snow The second car, a 1974-1/2 MGB/GT is currently under construction. In support of the theory that MG mania is genetic, Jim's daughter drives an award winning MG Midget.
How It Was Done
Engine:
1963 Oldsmobile 215 4-barrel version.

Modifications:
Buick heads, which in combination with Olds flat top pistons yield 10.75:1 compression. Buick heads also are angled more vertically than Olds, thus affording more room between the engine and bay walls. Double valve springs, MSD ignition, Carter 400 CFM carburetor.

Transmission:
Borg Warner T-50 5-speed with 1.2:1 overdriven fifth gear. Donor car: Chevy Nova. Note: T-50 requires the use of a Transdapt aftermarket adapter to mate with the stock GM 215 bellhousing.

Clutch:
10". MG Midget Mk I - 948cc engine. Stock MGB master cylinder, shortened GM arm on fabricated bracket. (Switching shortly to a Weber hydraulic throw-out bearing, thus eliminating the slave cylinder and arm.)

Flywheel:
Weber.

Exhaust:
stainless steel tube headers. Y-pipe. Borca stainless muffler, and custom exhaust pipes.

Brakes:
stock MGB.

Tires/Wheels:
Shelby 14 x 7 rims w/ off-set for Datsun Z-car, Dunlop D60A2 205-60 tires. Note: used in conjunction with MGC wire wheel rear end which is 2" narrower than MGB steel wheel rear end. Wide wheels then require no fender flares to prevent fender rub.

Suspension:
MGB/GT front coils cut back 1-1/2" in length. De-arched rubber bumper type rear springs from British Parts Direct. 7/8" Addco front sway bar. All bushings replaced with polyurethane. Rear sway bar removed (better handling only with lower ride height.)

Cooling:
custom 4-row radiator, 2" longer than stock. 16" electric fan (puller). TR7 overflow tank, connected by hose to tapped fitting into thermostat housing, with coolant recovery tank. 10" electric fan (pusher) which runs only when air conditioner is running.

Rear End:
MGC wire wheel rear end converted to steel wheel hubs. 3.307 gear ratio.

Instruments:
Jaguar XJ12 140MPH speedometer, XJ12 tachometer modified for V-8. Smith's mechanical water temperature gauge. VDO mechanical oil pressure gauge.

Body:
side chrome removed and windshield frame is black. Headlight and taillight trim is body color as are the door handles, bumper, and ST spoiler with integral foglights. Pontiac Fiero seats and double duck cloth top. Paint is Ford medium/dark grey metallic with clear coat. Shelby basket weave wheels with black centers and polished rims.

Conversion by:
initial conversion by Mountjoy's Auto Shop, 4835 Rhode Island Ave., Hyattsville, MD 20718. Further modifications by owner. (A/C, suspension, etc.)

Notes:
(1) the best intake manifold to use, up to 6000 rpm, is stock Buick/Olds 4-barrel. Better than Offenhauser.
(2) GM block stronger than Rover because cylinder sleeves cast into block.
(3) modify MGB V-8 engine mounts to move weight 1" further back.
(4) with 10.75:1 compression, engine runs fine with 93 octane gasoline without need for additives.
(5) use high temperature anti-seize on all engine bolts and spark plugs.
(6) install separate relays for fans and ignition, 50 amp master fuse upstream of the fuse box, master cut-off switch, heavier gauge wires to alternator.
(7) to install a late-model pedal box and brake booster is very straight forward and requires only about two hours. An alternative is to use a remote booster as supplied in the MGC and various other British cars.


---
(later description, as recorded by Dan Masters)

Jim writes:

Some pics of my first conversion. Done professionally, then done over a few times by me, it is a 1977, with a Buick 215 engine. Now on its 2nd engine, it did 180,000 miles on the first, broke a rocker shaft drag racing a 6-speed Camaro. I was afraid of other metal fatigue, so I swapped in a good used engine, drove a little more sanely, now up to 260,000 miles. Body is still solid, with few squeaks or rattles.

Car ate 3 trannies & many clutches, untill we found that the aftermarket bellhousing was not centered properly. Now have well over 100,000 miles on the last clutch & old T-50 tranny.

Stats: original engine Olds 215 w/Buick heads, mild cam, Carter 400 cfm 4 bbl, 10.5" Chevy clutch, T-50 trans, Mcleod hydraulic throwout bearing, MGC wire wheel rear, 3.31, with steel wheel hubs & a variety of wheels & tires, largest now running, 7" rims with 205/60/14 Dunlop D4A2's.

Body: ALL chrome removed or painted body color, or flat black, including door handles, gas cap, trunk lock, etc.. Bumpers body color. Lowered 2" with shortened front springs, replaced later with the Moss coil over kit. Rear has de-arched springs, raised front mount point, tube shocks, Moss traction bars. Seats are Miata, originally Pontiac Fierro. Dealer style A/C installed, stereo with headrest speakers, grey carpet, Robbins Stayfast top- 6 years old, no garage, still looks new.

This car drew very large crowds at the car shows in the 80's, & all the regular car owners hated it/me. One fellow with a very nice stock '76 Roadster, said he would never park next to, or even near me again at a show. No one looked at his car all day.

Car has seen some track time at Summit Point, a lot of it in the dirt. More car than driver. Modest success at autocross, until the "P" Club, who hosted the series, asked me not to come back. Seems I embarrassed a few with $60,000 cars...

This car was driven daily for about 10 years until I bought the 1974 1/2 GT a few years ago, now is driven only occasionally.