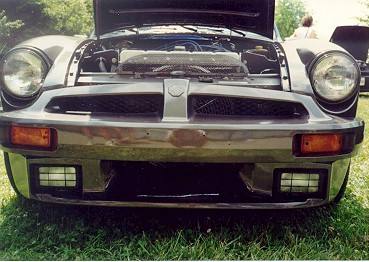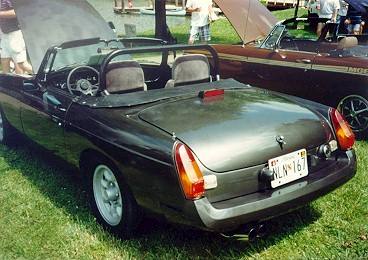 Jim Stuart's 1977 MGB roadster with a Buick V8
(as recorded by Dan Masters)
Jim writes:
Some pics of my first conversion. Done professionally, then done over a few times by me, it is a 1977, with a Buick 215 engine. Now on its 2nd engine, it did 180,000 miles on the first, broke a rocker shaft drag racing a 6-speed Camaro. I was afraid of other metal fatigue, so I swapped in a good used engine, drove a little more sanely, now up to 260,000 miles. Body is still solid, with few squeaks or rattles.
Car ate 3 trannies & many clutches, untill we found that the aftermarket bellhousing was not centered properly. Now have well over 100,000 miles on the last clutch & old T-50 tranny.
Stats: original engine Olds 215 w/Buick heads, mild cam, Carter 400 cfm 4 bbl, 10.5" Chevy clutch, T-50 trans, Mcleod hydraulic throwout bearing, MGC wire wheel rear, 3.31, with steel wheel hubs & a variety of wheels & tires, largest now running, 7" rims with 205/60/14 Dunlop D4A2's.
Body: ALL chrome removed or painted body color, or flat black, including door handles, gas cap, trunk lock, etc.. Bumpers body color. Lowered 2" with shortened front springs, replaced later with the Moss coil over kit. Rear has de-arched springs, raised front mount point, tube shocks, Moss traction bars. Seats are Miata, originally Pontiac Fierro. Dealer style A/C installed, stereo with headrest speakers, grey carpet, Robbins Stayfast top- 6 years old, no garage, still looks new.
This car drew very large crowds at the car shows in the 80's, & all the regular car owners hated it/me. One fellow with a very nice stock '76 Roadster, said he would never park next to, or even near me again at a show. No one looked at his car all day.
Car has seen some track time at Summit Point, a lot of it in the dirt. More car than driver. Modest success at autocross, until the "P" Club, who hosted the series, asked me not to come back. Seems I embarrassed a few with $60,000 cars...
This car was driven daily for about 10 years until I bought the 1974 1/2 GT a few years ago, now is driven only occasionally.
More later on the Jim's other, newer MG V8 conversions...