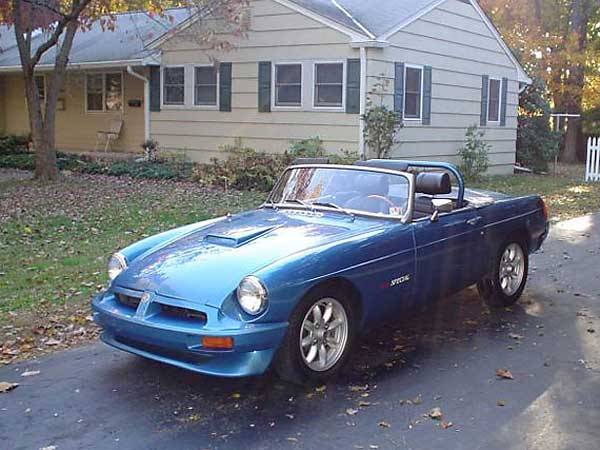 Jim Strait's Ford 302 powered 1974 MGB
(Image & text from when the owner posted it for sale in February 2006. Photos added 1/21/07.)
"This conversion was completed in October 2005, and I have since put 500 miles on the engine, breaking it in, and tweaking performance. I have yet to discover its full potential. But all of the numbers point to 170mph potential that is gearing limited if not aerodynamically limited.
"This car is meant for local driving. It is meant for fair weather driving. It is an intentional full-time convertible. It has been stripped of all excess weight. It has no heater. It has no glass other than the windscreen. And, it has no sound system other than the sweeeet exhaust note..."
Details:
Ford small-block bored .030 over and balanced and blueprinted by Frank Bash
Keith Black 10.5:1 competition pistons with moly rings
Crower cam and lifters, plus roller rockers
Edelbrock Performa aluminum heads and intake manifold
Edelbrock 650 CFM carburetor
CSI Electric water pump
Remote mounted oil filter
"Custom tuned" headers
MSD low profile distributor, MSD coil, and MSD ignition
Custom radiator and high-flow electric fan
Ford Borg-Warner T-5 5-speed
New competition clutch, new pressure plate, re-surfaced flywheel, new throw-out assembly
Stock MGB rear end (3.909 gear)
2.5 inch dual exhaust
New wiring harness, featuring six 20A and two 15A fuses on the passenger inner fender.
All switching is through Bosch relays.
Dual Optima maintenance-free batteries, with marine battery disconnect switch.
This car has no alternator!
It has a driving duration of approximately 4.5 hours, after which it must be plugged in and re-charged.
10 gallon aluminum baffled fuel cell
New Holley fuel pump, Holley fuel pressure regulator (with gauge), and canister-style fuel filter connected with braided-steel fuel lines and A/N fittings
Suspension: four new lever-arm shocks, new up-rated springs, new 3/4 inch front anti-sway bar
Brakes: drilled and slotted rotors with dust-free pads
Minilite replica wheels with 195/60 street radials and security lugs
Custom interior with decorative roll bar
Editorial note: top bid was $8000, which didn't meet reserve. Seller was located in Yardley PA.