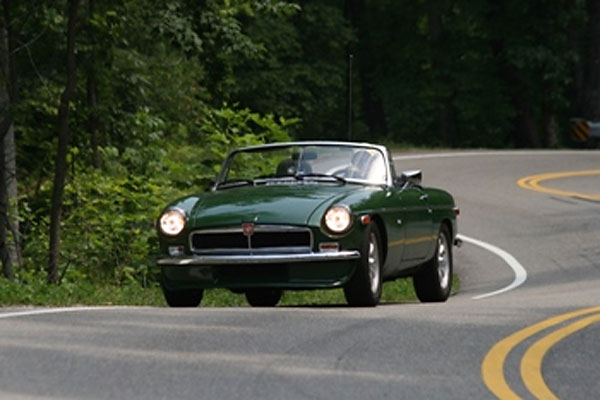 Jim Miller's 1961 Buick 215cid powered 1978 MGB
as published in BritishV8 Magazine, Volume XVI Issue 2, October 2008
Owner: Jim Miller
BritishV8 UserID:
V8mgb
City: Saint Joseph, MI
Model: 1978 MGB
Engine: Buick 215 V8
Conversion by: owner
| | |
| --- | --- |
| Engine: | Buick 215 V8 with stock Buick intake manifold. Carter 500 CFM carburetor, with stock metering rods and 0.083" (part number 14244) primary jets. Stock cam. Pertronix Ignitor ignition and FlameThrower coil. D&D swivel oil filter adapter. The stock SU fuel pump worked for a few months. I switched to a Facet style pump mounted on rubber grommets to keep it quiet. |
| Cooling: | 4-row radiator from D&D Fabrications. I originally used an engine driven fan, but it didn't provide adequate cooling for extended idling on hot days, so I switched to a 16", 3000cfm electric fan and solved the problem. I had to move the radiator forward about 1.5" to fit the fan. I'm using a 180 degree thermostat because I found that a 160 degree thermostat ran too cold. |
| Exhaust: | RV8-style headers into dual 2" exhaust, with ($20) turbo mufflers. |
| Transmission: | Borg Warner T5 5-speed with 0.63:1 5th gear and D&D shifter. Stock master cylinder. Weber hydraulic throw-out bearing type slave cylinder. Note: a 1.5" pedal-stop block was mounted on the interior of the firewall to limit pedal travel and protect the hydraulic throw-out bearing from over-extension. |
| Rear Axle: | stock MGB. |
| Front Susp. : | lowered to chrome bumper height using Moss Motors kit. |
| Rear Susp. : | stock springs that have sagged to chrome bumper height. |
| Brakes: | completely rebuilt stock system with new lines and stainless flexible hoses. (It provides a nice firm pedal.) |
| Wheels/Tires: | Minilite replica wheels Goodyear Eagle HP tires. |
| Body: | body and paint are all original, with minimal rust. Refreshing the body and paint are next on the to-do list, but I'm having too much fun driving the car right now... |
| Interior: | Mazda Miata seats with integrated speakers. |
| Electrical: | homemade wiring harness with relays for the radiator fan and headlights. AutoPal "E-code" (European beam pattern) headlights. Recalibrated MGB tachometer, using Leon Zak's 100K pot method. Stock speedometer with right-angle ratio adapter from "ACI Engineering". An Audiovox cruise control system has been installed - mounted in the passenger-side upper footwell with its controls hidden in the ashtray. |
| Completed: | June 2001. The conversion took 6 months from initial planning to first drive. Approximately 20,000 miles have been driven as of August 2008. |
| Performance: | I usually get 16mpg in "city" driving and 27-28mpg highway... |
| Comments: | I am very happy with the overall performance. I'd find it very difficult to go back to a 4-cylinder MGB now! |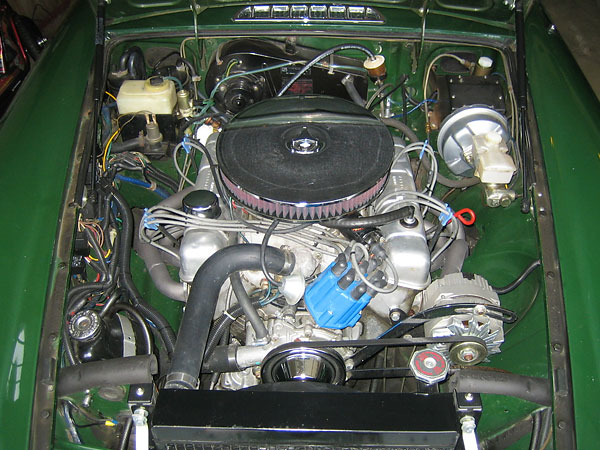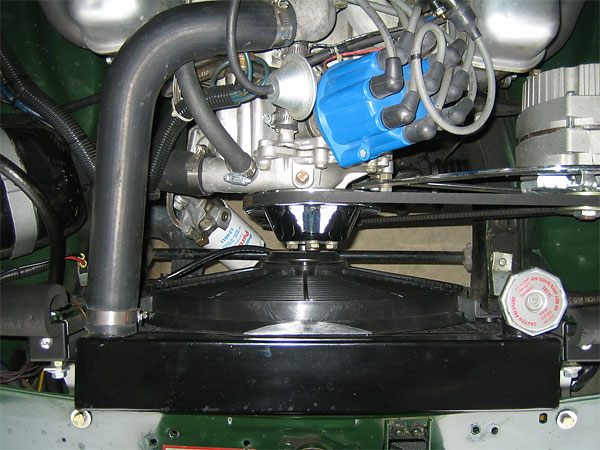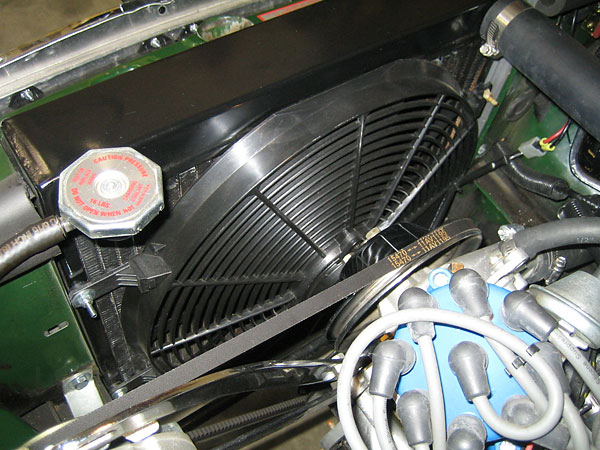 Enjoying this article? Our magazine is funded through the generous support of readers like you!
To contribute to our operating budget, please click here and follow the instructions.
(Suggested contribution is twenty bucks per year. Feel free to give more!)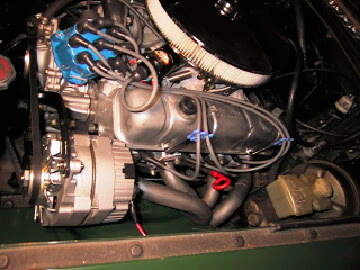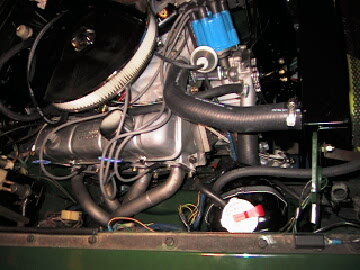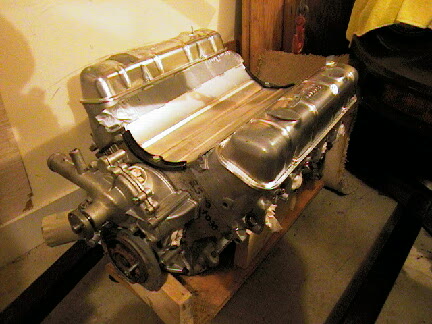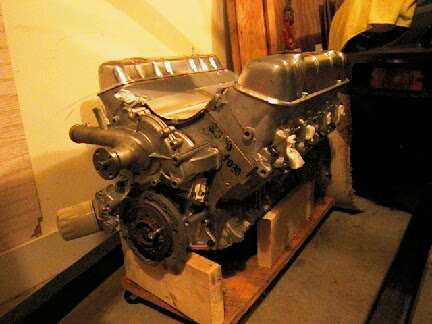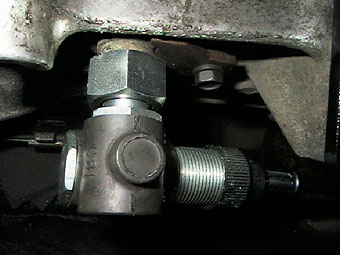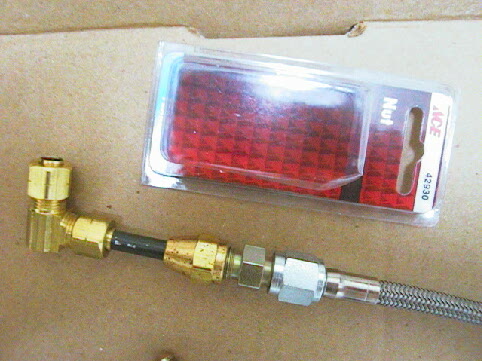 Speedometer cable (left) and the hydraulic throw-out bearing coupling for the clutch.