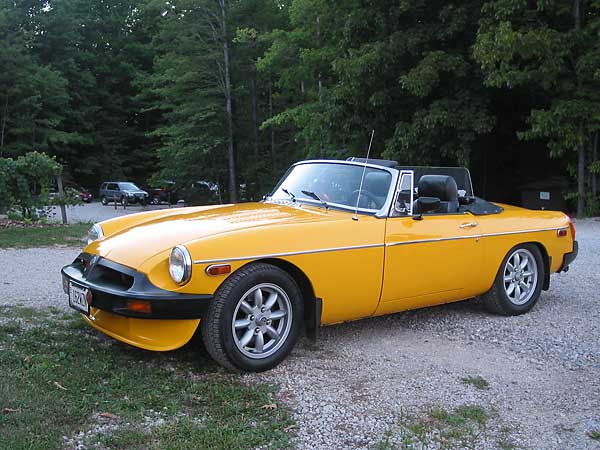 Jim Fisher's 1977 MGB with Buick 215 V8
as published in British V8 Newsletter, Volume VIII Issue 3, September 2000

Owner: Jim Fisher
City: Grove City, OH
Model: 1977 MGB
Engine: Buick 215

I have just completed an eight month project of converting a 1977 MGB to Buick 215 V8 power. I am very well pleased, to say the least, with the transformation of a docile, ill-handling car into a very responsive and excellent handling one.

I used a stock Buick aluminum 215 which I had bored to 0.020" over by Col-Weld (Columbus, OH), and I installed new stock pistons, new bearings, new stock configuration cam, new lifters, valve springs and valves. Also a new stock water pump, timing chain and a high output oil pump. I used D&D Fabrications engine mounts and transmission mounts, then fabricated everything else. The engine is equipped with a re-jetted Carter 500cfm carb through a stock manifold. A mini-starter spins the engine.

I used a GM alternator with minor rewiring to suit. The engine is bolted to a D&D Fabrications supplied bellhousing, which is bolted to a new Mustang T5 transmission. A 10.5" clutch is used with an in-line hydraulic throw out bearing. The driveshaft was fabricated by Universal Joint Specialists and is "Coke can" diameter. This shaft feeds into a D&D supplied 8" Ford rear end, from a 1971 Maverick, which was cut down and rewelded by Barrit Bearing in Columbus, Ohio. Moser Engineering in Indiana cut down and modified the axles. I installed new bearings and a set of Richmond 3.55 gears.

The car's suspension was lowered front and rear, an Evolution II handling kit (swaybars) was installed, plus rebuilt front shocks and Monroe tube-type rear shocks. Seven-leaf springs in the rear and "red" lowering coils up front. Spacers were made up for the rear leaf springs to provide driveshaft/universal joint angulation of 3 degrees or less. Brakes utilize Ford truck brake pads on the front and stock MGB shoes on the rear. (I made adapter plates to use the stock MGB rear brakes on the Ford rear end.) Braking is excellent for my driving style.

I used the V8 radiator from Proper MG with spiral type radiator hoses. I had to fabricate an upper water outlet adapter plate used with a Pontiac water outlet to hook up the upper hoses. Be advised that Buick V8 water hoses are way different than Rover V8's, I am using the stock fans with an adjustable temperature sender and cooling is fine (but I don't know about hot summer temps yet!)

I am using stock gages and sensors for oil, water and ignition but I had to get a V8 100mm tach and speedometer from Smiths. I painted the car yellow and installed a black interior. The car appears stock except that it is lowered and has a Special Tuning front spoiler

What a sweet car to drive! I can't wait until summer comes. Many thanks to Dan Lagrou (D&D Fabrications), Glen Towery (Towery Foreign Cars) and Andy Auchauer (Andy's MGB V8 Parts) for their help and guidance.