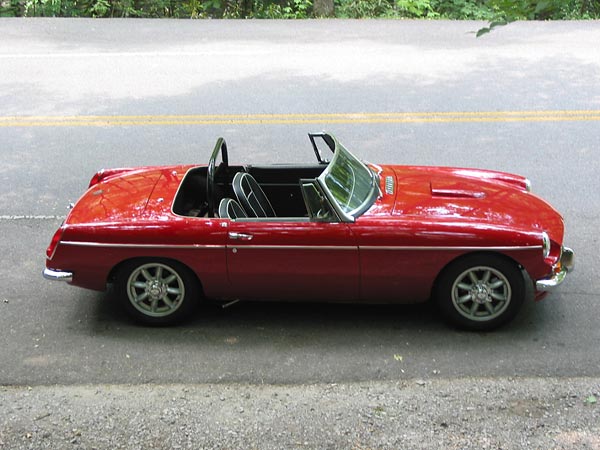 Jeff Howell's 1963 MGB with Buick 215 V8 Engine
as published in British V8 Newsletter, Volume XIV Issue 3, December 2006
Owner: Jeff Howell
City: Birmingham, AL
Model: 1963 MGB
Engine: Buick 215 V8
Conversion performed by: Owner
Induction:
OEM 4bbl manifold, Edelbrock 500 CFM carburetor (1441 metering rods and 1421 jets.)

Exhaust:
Jet-Hot coated block hugger headers into an entirely-polished stainless steel exhaust system, including custom stainless steel 2"-to-2.25" mufflers by Stainless Steel Specialties. It sounds great!

Cam:
D&D Fabrications item number 50232.

Misc. Engine:
The engine was bored 0.030" over. All aluminum parts were glass-beaded. The block was drilled in the front (valley area) to allow for faster drainage as recommended by several books on high performance. Heads were ported and polished. I installed a flat oil pump cover from the UK and ran the oil lines through the fender to a remote oil filter. All new motor parts were provided by D&D Fabrication, including a high torque (gear reduction) starter. I replaced all bolts in the engine compartment with stainless steel "button-head" bolts. The engine also has ARP 12 point chrome bolts.

Cooling:
The front engine compartment was cut to allow the radiator to be moved forward. If doing again, I would cut further forward to allow radiator to be in front of sway bar. This has been an issue as I can only use pusher fans. Have two Zirgo 8" 1000 CFM fans in pusher mode. It runs hot in the summer months and I plan on adding one more additional fan on the bottom of the radiator to help the cooling.

Transmission:
T50 5 speed. Hydraulic throw-out bearing with silicon brake fluid. All rubber replaced for silicon brake fluid. Driveshaft was custom made by Birmingham Spring. The transmission cross-member was cut and a replacement custom-made cross-member was installed to facilitate easier transmission removal.

Rear Axle:
Standard MGB.

Front Susp.:
Stock front end with 1" sway bar (modified ends). I had the sway bar and the coil springs Jet-Hot coated "chrome".

Rear Susp.:
Fiberglass leaf springs.

Brakes:
All new brakes with stainless steel braided hoses. Complete system utilizing silicone brake fluid. I would recommend if you have a good paint job to go to silicon brake fluid on both the brakes and the clutch. I have been running silicon for fifteen years with NO issues!

Wheels/Tires:
Michelin MXV4 185/65R15 tires with Minilite-style 15" rims and knock-off hubs.

Misc Chassis:
When the car was first converted in the 80's, it had Buick exhaust manifolds turned backward with the pipes going through the fender well. With the restoration, I went to block-hugger headers. I had to have them modified by Kirk Racing in Birmingham to fit past the motor mounts. I utilized stock Buick motor mounts with the brackets welded to frame rails.

I had the jack mounts removed and cut the blocks and installed a circular 3" cutout to allow the exhaust pipes to be installed as close as possible to the bottom of the car. The pipes exit in front of the rear tires at an angle.

I had a custom stainless steel gas tank manufactured by Rock Valley and increased the size where the muffler originally went and now will hold between 15 to 16 gallons of gas.

Electrical:
Wiring harness was custom built by owner. Wiring to the front of the car was routed behind right fender to clean up the engine compartment and also better protect the wiring. An American Autowire "Comp 9" fuse panel was installed under the dashboard (passenger side). Other wiring components and supplies were provided by British Wiring and American Autowire. British Wiring made me a custom rear wiring harness with the original-style cloth covering. I cut a hole in the passenger compartment and ran the wiring up through the floor board on the firewall on the interior side. No wires in the engine compartment! British Wiring was very good to work with. (See article in May 2005 British V8 newletter.)

Body/interior:
I wanted to keep the car as outwardly stock-looking as possible. Other than a low profile air scoop on the hood, it looks all original. The interior is also all "original" with black leather seats and white piping. The low-back seats aren't as comfortable as later seats, but they do look good. All gauges are original with the exception of the tach, which has been converted for V8 use. The fuel gauge was rebuilt by APT Instruments. Several items were chrome plated by S&H Chrome plating in Nashville.

Completed:
The car was first converted in the early 80's, but the conversion was recently re-done. I started in 2003 and finished in May 2006 (just in time for British V8 2006!)

Miles driven:
Approximately 1500 as of British V8 2006.

Comments:
Reading The British V8 Newsletter is a MUST before anyone starts a conversion!

I also used several books including "Tuning Rover V8 Engines" and "How to Give your MGB V8 Power", both of which are very good.

I have been very pleased with the car after the second restoration. The best advice is to get everything the way you want it before paint and interior work. Strip the car after all fitting has been completed and you will end up with a much better conversion.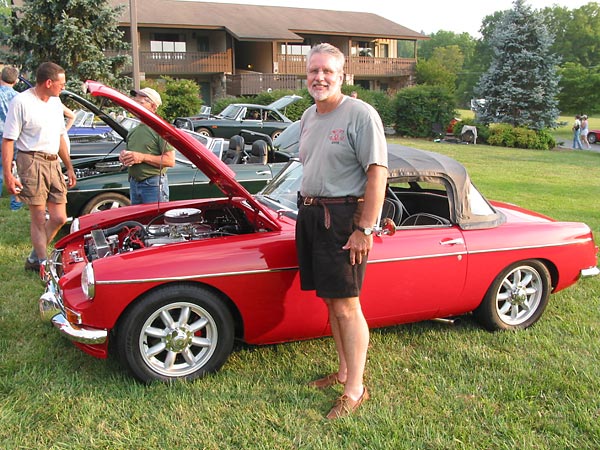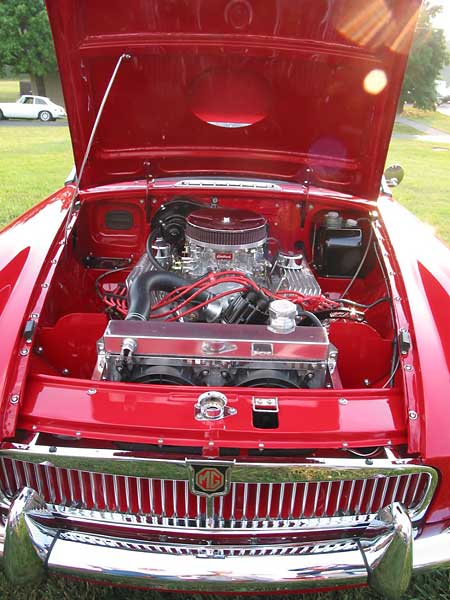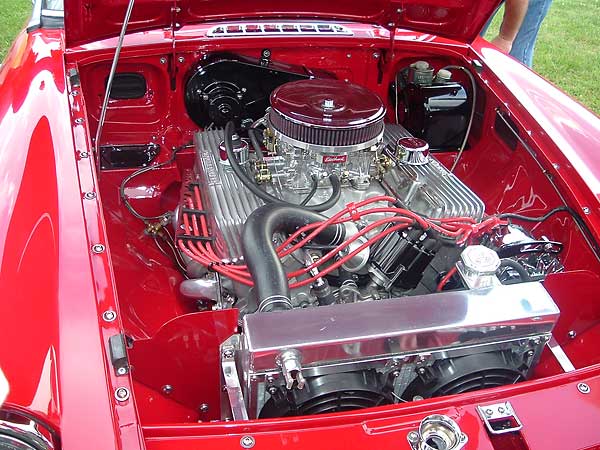 Twin Zirgo 8" 1000 CFM fans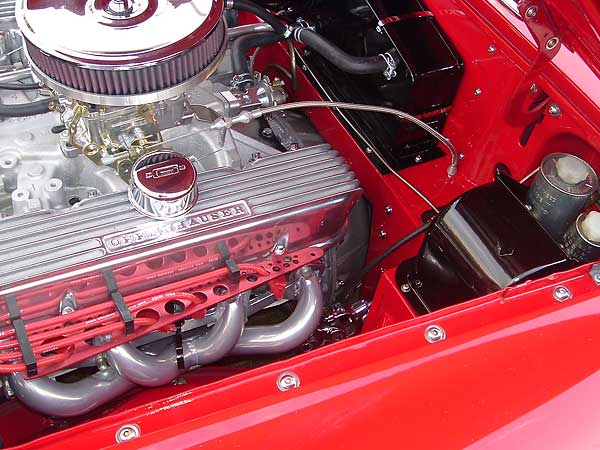 Jet-Hot coated block-hugger headers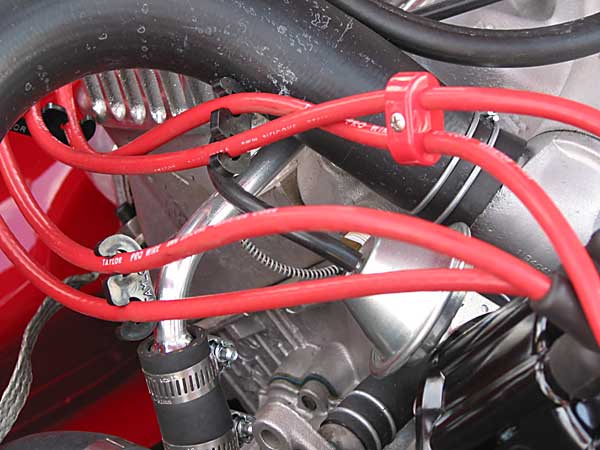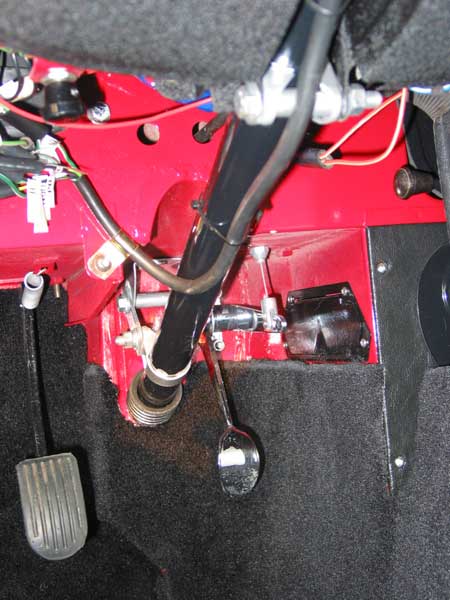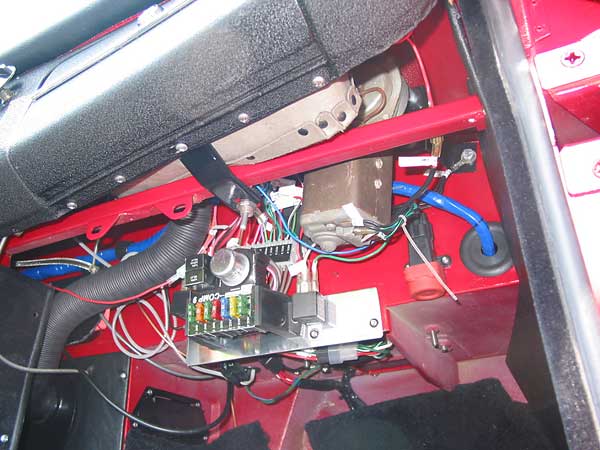 Comp-9 wiring and circuit protection by American Autowire
(Read Jeff's article on its installation in our May 2005 newsletter.)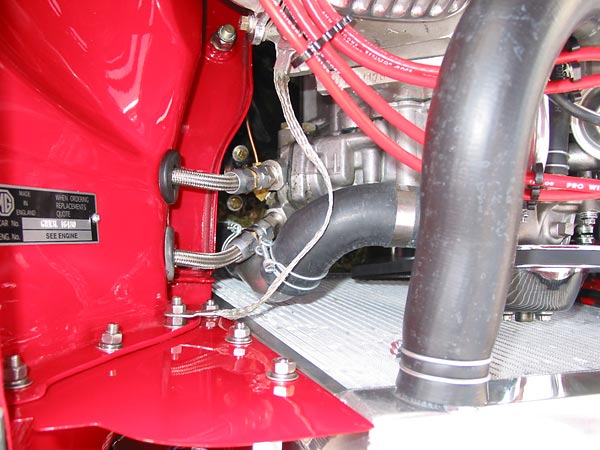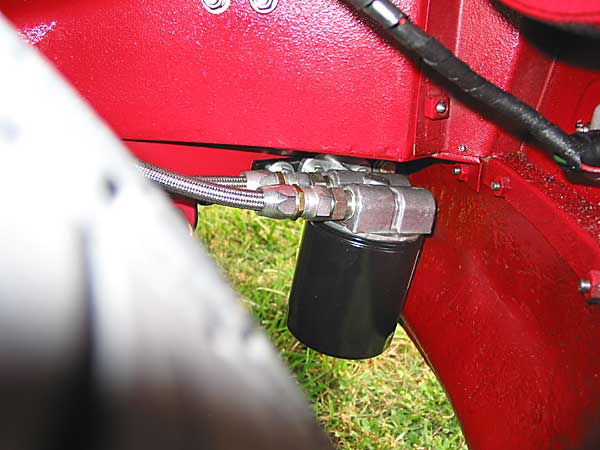 Remote oil filter is mounted in passenger-side fender well.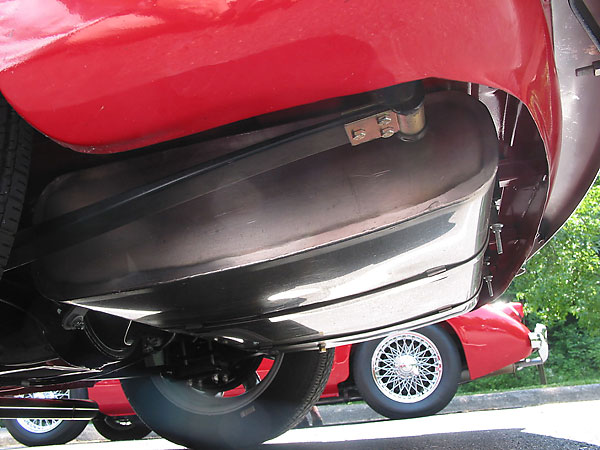 Custom made 16 gallon stainless steel fuel tank.
Composite leaf springs.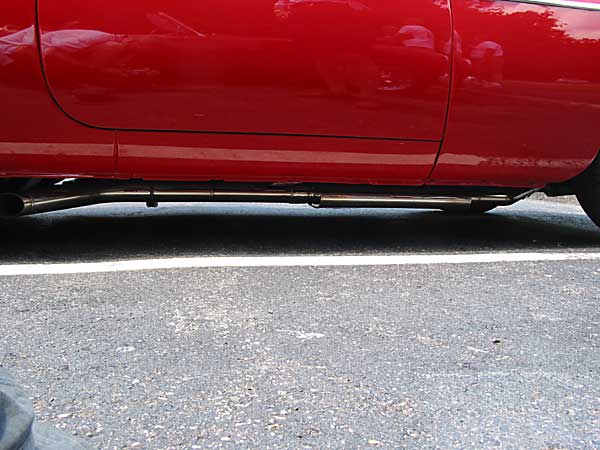 Custom made stainless steel dual-exhaust system. (Even mufflers were made-to-order!)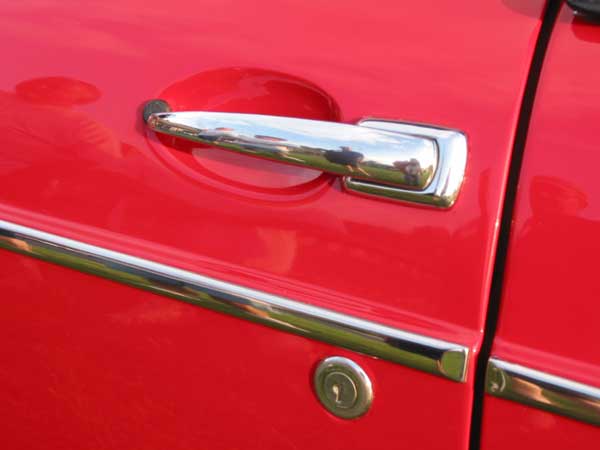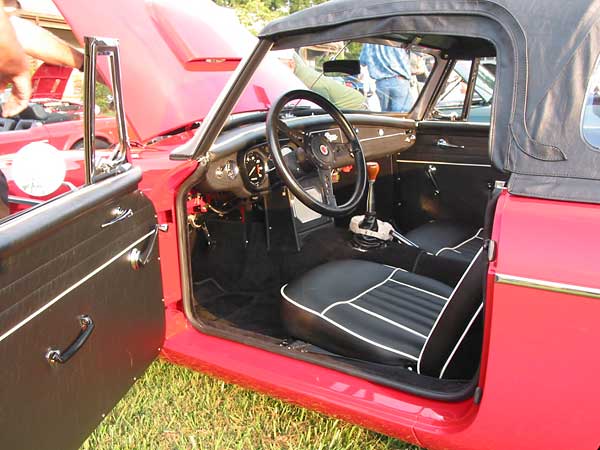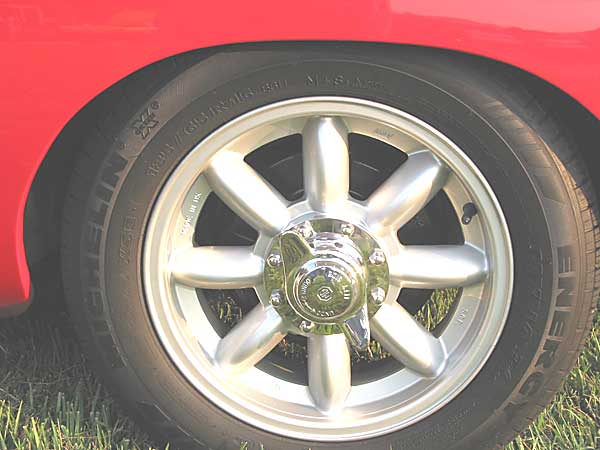 Michelin MXV4 185/65R15 tires with Minilite-style 15" rims and knock-off hubs.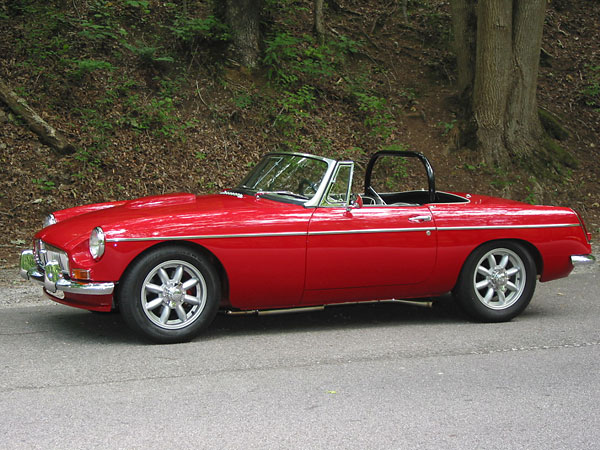 These photos were taken at "British V8 2006". If you weren't there, you really missed out!