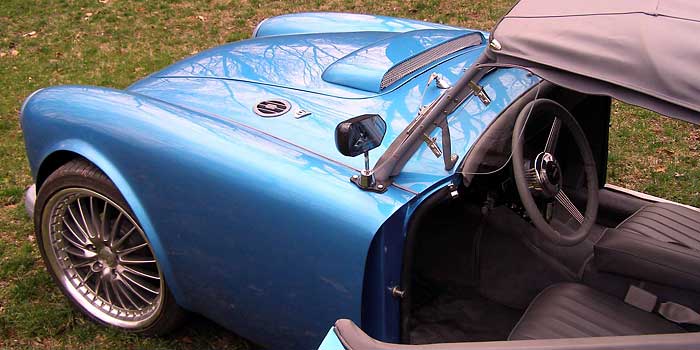 Jeb Blanchard's 1961 MGA with a Chevy 4.3L Vortec V-6 engine
as published in British V8 Newsletter, Volume XV Issue 1, April 2007
(four new photos added in April 2014)
Owner: Jeb Blanchard
City: Collierville TN
Model: 1961 MGA
Engine: Chevy 4.3L Vortec V-6
Conversion completed by: Custom Magic, Collierville TN
Engine:
Chevy Vortec 4.3L V6 crate motor with Crane 258/264 degree, 0.401"/0.423" lift cam and ProForm 1.6:1 roller rockers. Chevy HEI distributor. Aluminum timing cover. Billet pulleys. Chrome valve covers.

Induction:
Edelbrock #2111 intake manifold and Edelbrock #1405 500cfm carb. Cold air intake using a carb bonnet.

Exhaust:
Custom Magic custom designed headers that were later ceramic coated by Jet Hot. Mufflers are T-304 stainless steel with a straight through design. The fuel tank was centered to facilitate dual exhaust.

Cooling:
1967 289 Ford Mustang radiator (a perfect fit) and electric fan. Stainless radiator hose. Swivel water neck.

Transmission:
Borg-Warner T5 5-speed with Chevy clutch/pressure plate and custom driveshaft. A custom shifter lever was fabricated.

Rear Axle:
Chevy 10-bolt from an S10 (not narrowed).

Suspension:
Pontiac Fiero steering column and Borgeson steering linkage. MGB front springs. Gas telescoping shocks were installed (front and rear). MGC front antisway bars.

Brakes:
Stock MGA front disc brakes and Chevy S10 rear drums, actuated with a Ford master cylinder (1.068" piston diameter, up from the MG's original 7/8" piston diameter). An ECI "brake pressure multiplier" was fitted to improve brake balance.

Wheels/Tires:
Privat "Zwanzig" 18X8, 5 lug x 100mm 40HGR front wheels with 215/35R 18 tires
Privat "Zwanzig" 18X9 5 lug x 120mm 40HGR rear wheels with 275/35R 18 tires
Note: to make these wheels and tires fit, the fenders had to be widened front and rear. (5 inches each side in the rear!)

Bodywork:
A reverse hood scoop was installed. The front grille was elongated to tunnel more air into the engine compartment. The front bumper was modified by removing the overriders. Front turn signals were shaved, and the headlamps were replaced with Blue Dot halogens with integral turn signals. The doors were modified and turned into "suicide doors". Carbon fiber mirrors were fitted. The rear bumper was removed and the taillights were shaved. Flush mounted rear sequential turn signals were installed. The license plate was Frenched, and LED license plate lamps were fitted. An electric remote trunk lid release was fitted. The fuel filler was moved inside the trunk and fitted with an Aston Martin style (hinged aluminum) gas cap. All exterior brightwork (including windshield frame, front bumper, headlight rings, etc.) was custom painted to look like carbon fiber.

Electrical:
The MG was completely rewired and a new fuse panel was installed. The Smith analog gauges were replaced with a Dakota Digital Electronic strip. Lighted toggle switches were installed. A Pioneer stereo receiver was mounted in the trunk, with a hard-wired remote control.

Interior:
New leather upholstery. Dashboard moved forward three inches, and fitted with a smooth painted fascia. LED under dash and door lighting. Lighted foot pedals. Wooden floorboards were replaced with fabricated sheetmetal panels. A new transmission tunnel was fabricated. The floorboard, tunnel, and firewall were all extensively insulated.

Paint:
BASF "Glasurit" basecoat/clearcoat paint in dry blue pearl mica (color 42185). Note: there's no metal flake in the paint, just pearl! Over 100 hours blocking, wet sanding, and buffing.

Completed:
January 2007.

Comments:
At the outset of this project, Tim Davis of Custom Magic (a nationally known custom and restoration shop located here in Collierville TN), asked me the question "What are you missing in your MGA?" My reply was "Reliability and speed." It was obvious that a restoration to original would not give me this. So Tim and I started discussing what could be done.
In the end, the only components on the car NOT modified were the heater and the front brakes.
This project was fun and rewarding. Many thanks to Tim Davis, Walter Reynolds, and Doug Crock at Custom Magic.


Recent Updates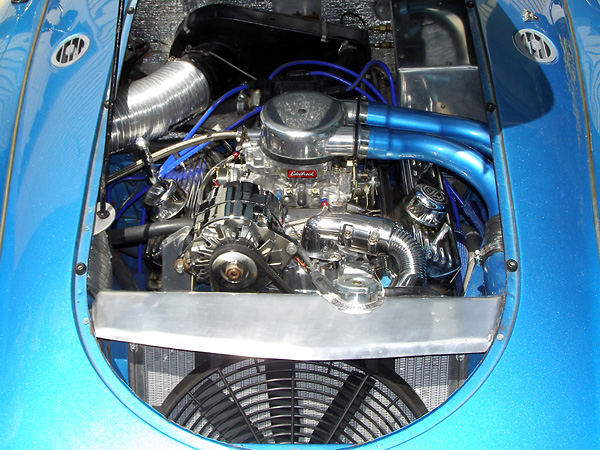 New aluminum radiator.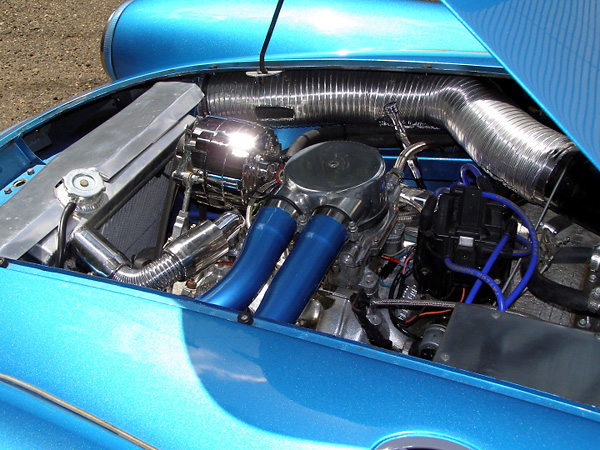 The carburetor is now connected to the air cleaner by rigid metal tubing, painted body-color.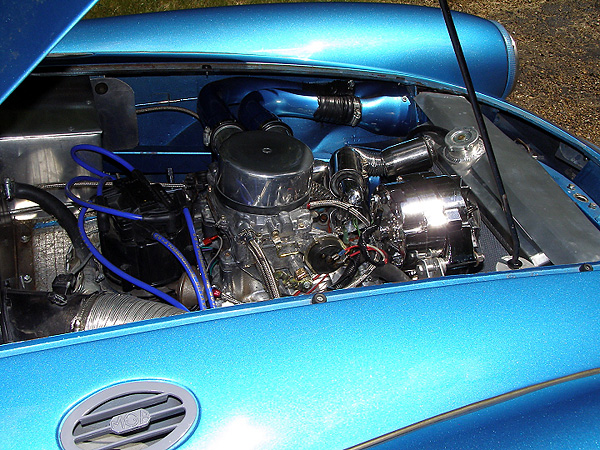 Steel flexible hoses connect the engine to the new radiator.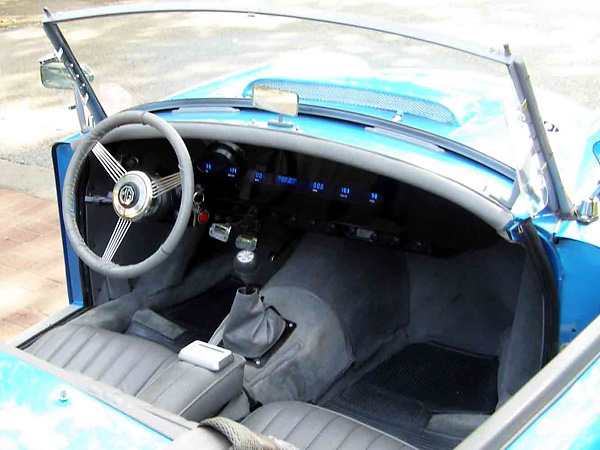 An NV 3500 transmission was initially installed, but now it's been replaced
with a T5. With the T5 came a far more conventional gear shifter position.


As Originally Presented