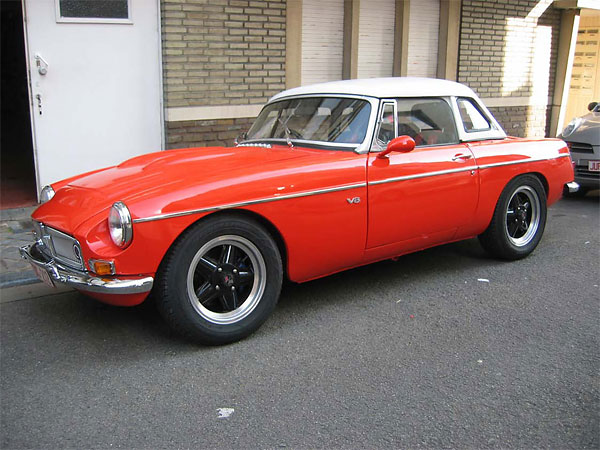 Jean Monfort's 1967 MGB with Rover 4.0L V8 Engine
(originally published in British V8 Newsletter, Volume XIII Issue 3)

Owner: Jean Monfort
City: Liege, Belgium
Model: 1967 MGB Roadster
Engine: Rover 4.0L V8 (1989 Range Rover), bore 3.7'' (94mm), stroke: 3.03'' (76mm)
Conversion performed by: Owner
Contact: endurance@infonie.be
| | |
| --- | --- |
| Cylinder heads: | 41.4mm (1.63") intake valve, 35.56mm (1.4") exhaust valve, flowed, polished and lightly sandblasted ports. Bronze valve guides. Balanced chambers (10:1 CR). |
| Fuel system: | 4 Weber DCOE45 carburetors, Eurocarb UK manifold. Home made throttle linkage. |
| Camshaft: | Crower #50532, 0.488" lift, 276 degree intake, 281 degree exhaust duration, 112 degree lobe separation. |
| Modifications: | hardened and balanced crankshaft, stock con-rods and new stock pistons. Upgraded oil pump and tadpole relief valve (see RPIV8... a must). Rhoads Hi-Rev lifters, adjustable pushrods, Cloyes steel timing gear set, and an ARP main stud kit, upgraded oil return and breather. Thin cylinder head gaskets. Mallory dual point distributor. #29217 Mallory Performance coil, condenser and ballast. NGK BP6ES Spark Plugs. Oil filter adaptor and oil pump base plate. Mitsuba fuel pump (an inexpensive must, regulator and filter are included in the pump). |
| Oil cooler: | stock (10 row). |
| Transmission: | Rover LT77 SDI 5-speed (heavy duty / "D-suffix"). |
| Flywheel: | lightened (to 24lbs) |
| Bellhousing: | stock SD1. |
| Other: | Special gear ratio kit and cable from MGOC to speedometer. Home made gearbox support crossmember. The stock MGB crossmember is modified to receive the modified stock SD1 support and to retain the stock bolts holes. Modified propshaft. |
| Water pump: | Alloy. Late type. 6" light alloy pulley. |
| Radiator model: | stock #NRPO1059, MGB V8 GT Insufficient, and modified with larger cores (coming from a truck) and 3 inches in length. Fan: 2 x electrical Make: Lucas Model: ALU1081. Insufficient. Replaced with 2 1990 Peugeot 205 fan motors each with a reversed Vogue Range Rover fan. Not bad. The next trial will be two 9" fans to cover the radiator width, no more. |
| Exhaust system: | RV8-style from Guaranteed Exhaust Systems Ltd (UK), single rear silencer, stainless steel, 38.1mm (1.5") primaries, 50.8mm (2.0") secondaries. Exhaust pipe: 63.5mm (2.5"). Deep powerful V8 sound! |
| Rear axle: | MGC Ratio: 3.3:1 LSD: Quaife |
| Front suspension: | stock, but modified with negative-camber wishbone arms, fast road Superflex bushes all-round, upgraded lever arm dampers. 3/4'' anti roll bar. |
| Rear suspension: | 6 leaf rear springs, lowered, AVO shock-absorbers. Home-made Panhard rod. Anti-roll bar (stock 1974 on). Superflex fast road bushes all-round. Shorter check straps to clear exhaust, made from V-belts (turned inside out) Optibelt #VB A487a/13V457LI A18, 2 each sides. |
| Brakes-Front: | BMW 635 (1981 model) CSI 4 pot calipers (HP E24), with ATE #609031 13.0460-9031-2 19mm pads. Rotors: Honda vented disks |
| Brakes-Rear: | Saab 900 turbo (1986 model front brakes) non-vented rotors and calipers, HP #55404 OEM 8941981 Seal kit OEM: #8993255 with ATE #602904 13.0460-2904.2 16.3mm pads. (Note: the Saab brakes include an integral parking brake.) |
| Other modifications: | 23mm twin master cylinder from 1973 V12 Jaguar #CAC1583, Girling #11/03811-742490 (or LUCAS PMK181- 74066132). |
| Wheels/Tires: | 6 x 15" (front and rear) 5 spoke "Revolution" wheels, Bridgestone Potenza ER720 205 x 60 x 15 (front and rear) tires. |
| Interior: | stock, except B.F. Torino (of Italy) fully reclinable bucket seats with black upholstery. (Note: handbrake lever position was modified to accommodate the seats.) |
| Body modifications: | transmission tunnel modified to receive the Rover gearbox. Reinforced weldings on new outer sills, inner sills and castle sections. GRP (fiberglass) front wings and GRP front bonnet. Using the stock engine brackets we were obliged to go to a modified MGC-type bonnet and we added two bosses (molded-on TR5) to clear the 4 Weber carburetors. |
| Electrical: | Bosch 55amp alternator, stock SD1 type starter. Stock wiring harness, stock gauges. |
| Performed by: | owner, with the skilled collaboration of J-C Thissen (the best in Rover and tuning in my area). |
| Estimated cost: | $30,000 excluding car, but including wheels, tires, special GRP bonnet, engine and gearbox. |
| Completed: | 03/2004 . |
| Miles driven: | 2000. |
| Performance data: | Very good torque and acceleration. The behavior seems very homogeneous. |
Conversion Recommendations and Advice

-Body: Choose a late MGB body to avoid any modifications on tunnel and body, and to have a very strong frame and bodyshell.

-Engine: Oil pump gears must be packed in grease for priming. Do not forget to prime the oil system by turning the oil pump drive tang with the required tool and drilling until pressure is established.

-Valves: check the valve spring pressure, add shims if necessary, and do not choose too stiff of a spring.

About the Mallory dual-point: take a new 0.28 mfd condenser, scuff off the coat with sand paper (the ground is very important)add a new Mallory performance coil, and a ballast if needed. Or buy any 0.28mfd condenser with a welded support. Don't forget to set about 0.55mm (0.0217") (minimum) gap between the points. That is the best clearance to reach the 27-28 degree required dwell angle on each set of points and the 33 degree global dwell. Be careful tuning the dwell, point by point. www.RPIV8.com gives you recommendations, and there is info at www.mrgasket.com too. Easier said than done. If, after that, like me, you burn out a couple of condensers, take a look at your alternator. Mine gave 18.9 volts! The Mallory is not the only way; but anyway, don't fit a stock injection Rover distributor to a carbureted engine, and check your workshop book to know if you must go to a vacuum timed one or not! The best way to stop the headaches is probably to put up with a Pertronix unit and a non-vacuum distributor! Engrave a line at degree on the pulley, then you be able to check your advance with the cheaper ignition timing lamp.

Cooling: stock Lucas fans are insufficient.

About the gearbox: The Rover, SD1 suffix D, is the stronger, sharing a lot of parts with the "H" suffix from Land Rover (less expensive) or Range Rover (more expensive). All the SD1 gearboxes are noisy (first and second gears), and the heavy duty one is just too noisy. Never repair your SD1 gearbox; order a new heavy duty one (less than $1000 by Rimmer Brothers for the D type). Note that the only gearbox from Rover that is stronger, maybe, is the R380. But the R380 is not the same and has a different gear change pattern.

Things I would do different on next conversion: Following the talk of the town, I was looking for a 3.07 rear axle. Fortunately, I got an expensive 3.3:1 MGC rear axle, Quaife LSD included. Not bad. But if you are a "street fighter" guy, this ratio is more than you need: you will never reach the 6000 rpm range (until about 165mph). On a "street-strip" car, the best may be a Chevy S10 3.7:1 from D&D and perhaps a T56 transmission.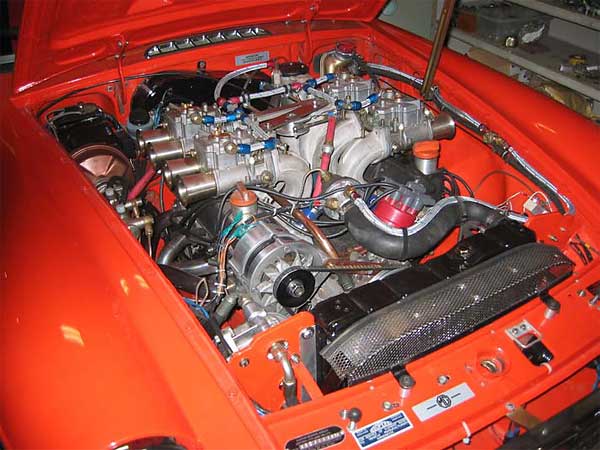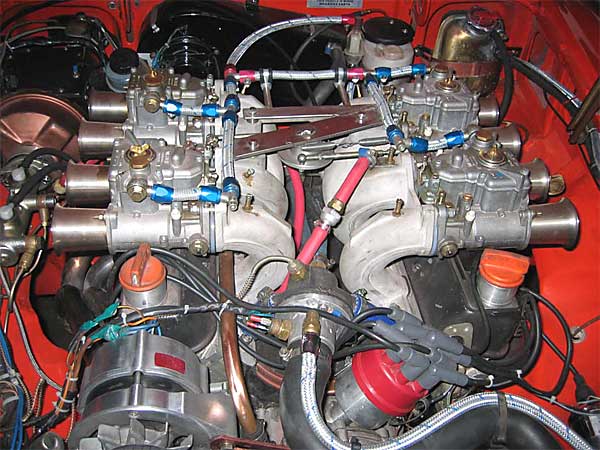 Close-up of custom throttle linkage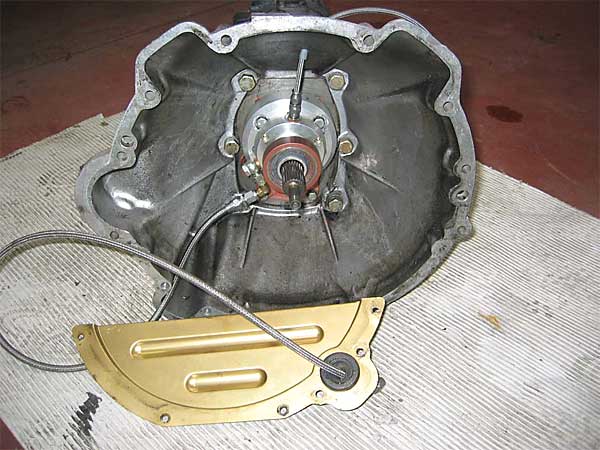 Rover 5-Speed bellhousing showing blanking plate and hydraulic throw-out bearing.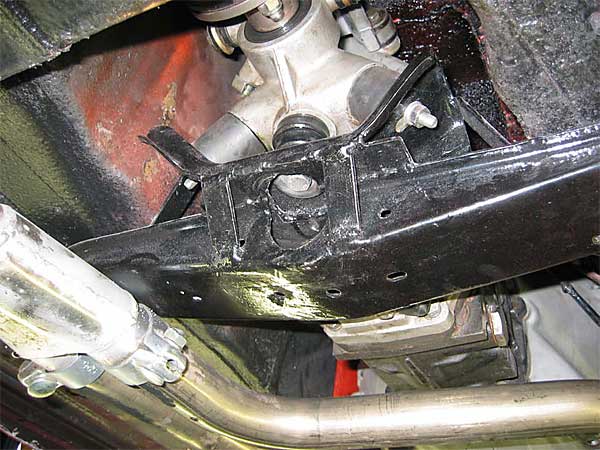 Custom rear cross-member for Rover 5-Spd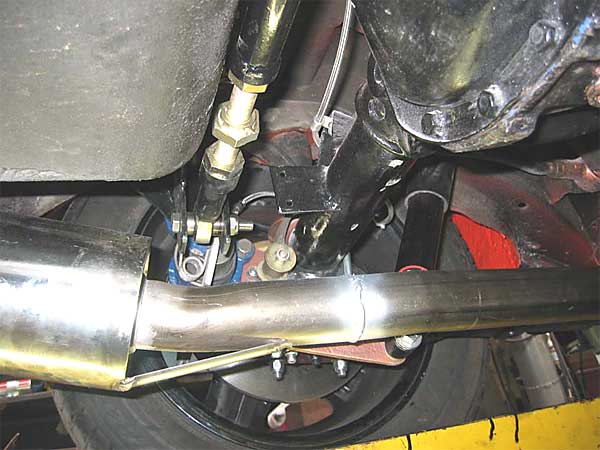 Panhard rod, disk brake, caliper and gas shock.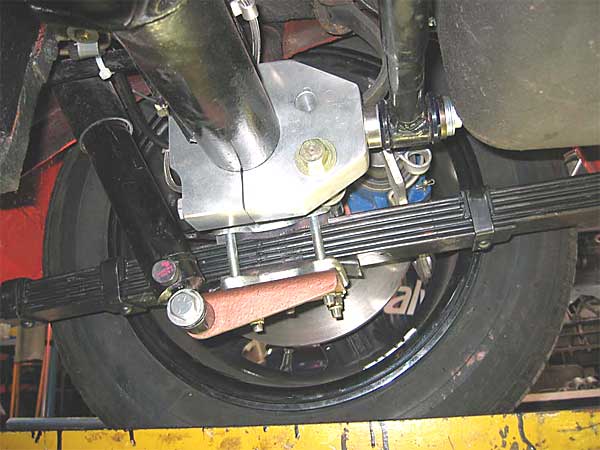 Panhard rod, disk brake, caliper and gas shock.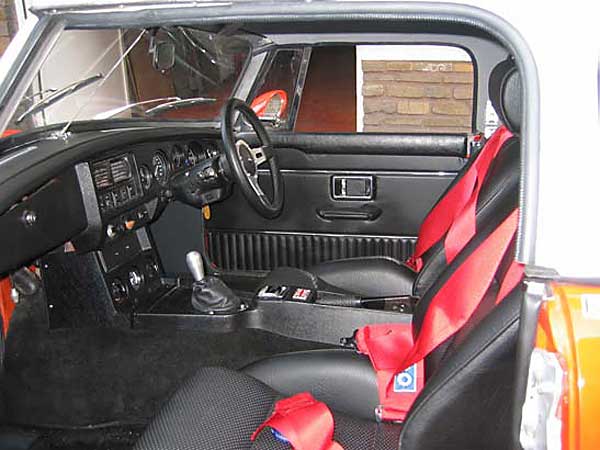 Custom Italian racing seats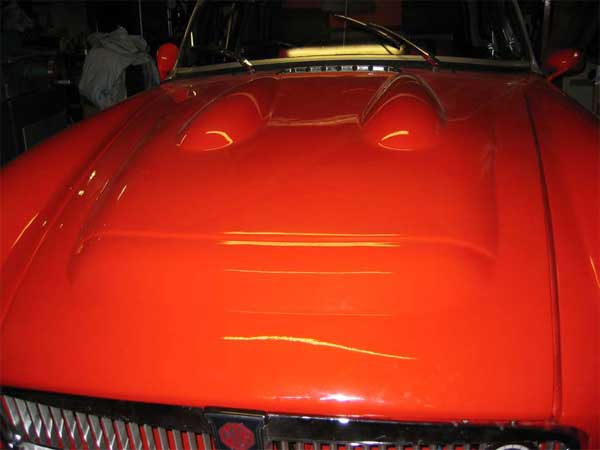 Two TR-5 hood bumps grafted onto a MGC hood to clear the carburetors and intake manifold.