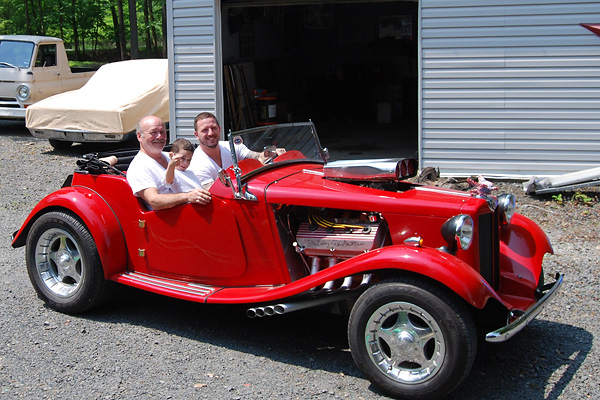 James Marsilia's 1952 MG TD with Chrysler 392cid Hemi V8
as published in BritishV8 Magazine, Volume XXI Issue 2, December 2013
Owner: James Marsilia
City: Pennsylvania
Model: 1952 MG TD
Engine: Chrysler 392cid "hemi" V8
Built by: owner
Features and Specifications
| | |
| --- | --- |
| Engine: | Chrysler 392cid "hemi" V8 (from a 1957 Chrysler 300). Two four-barrel carburetors. Hi-Temp Super Stock Copper Core 8mm spark plug wires. |
| Cooling: | custom "NASCAR core" radiator. |
| Exhaust: | custom fabricated 2" pipes, powdercoated. (No muffler.) |
| Transmission: | Chrysler TorqueFlite A727 short-tailshaft 3-speed automatic transmission. |
| Rear End: | narrowed Chrysler 8.75" axle. |
| Front Susp.: | stock, except for heavier duty springs. |
| Rear Susp.: | stock, except supplemented by air shocks. |
| Brakes: | Stock MG TD front brakes. Chrysler rear drum brakes. |
| Wheels/Tires: | Center Line aluminum wheels (15" front and 17" rear). Goodyear radial tires. |
| Chassis: | stock MG frame reinforced with an "X" brace in the middle. |
| Body: | original, except the rear fenders have been cut lengthways and widened about 2". |
| Interior: | custom, solid oak dashboard. 1960s Volkswagen steering column. |
| Weight: | ~2400#. |
| Performance | James wrote: "When I power brake it, it burns about two feet of rubber and then goes like hell... I guess because the front comes right up and the weight is all on the rear wheels." |
Engine Installation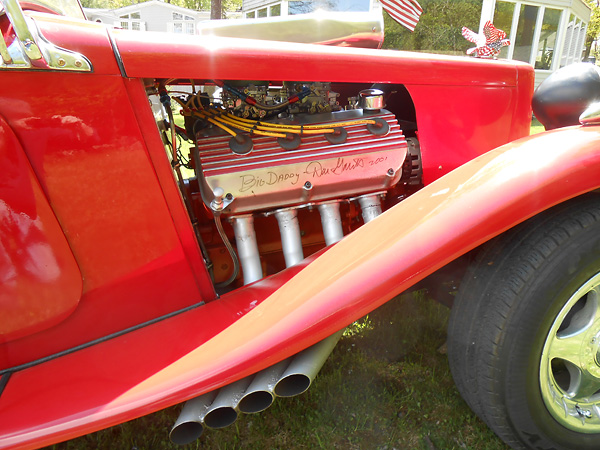 Valve cover was signed by drag racing icon Big Daddy Don Garlits in 2001.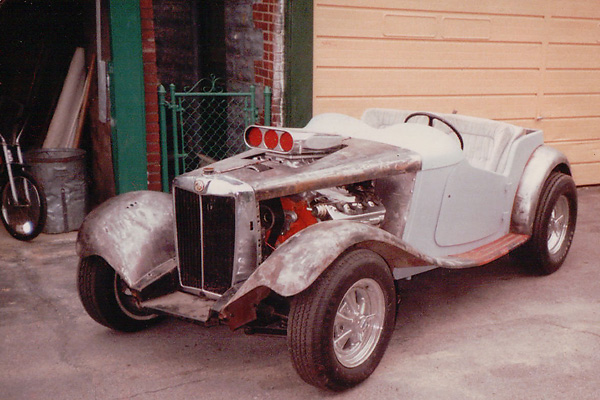 In process...


Exterior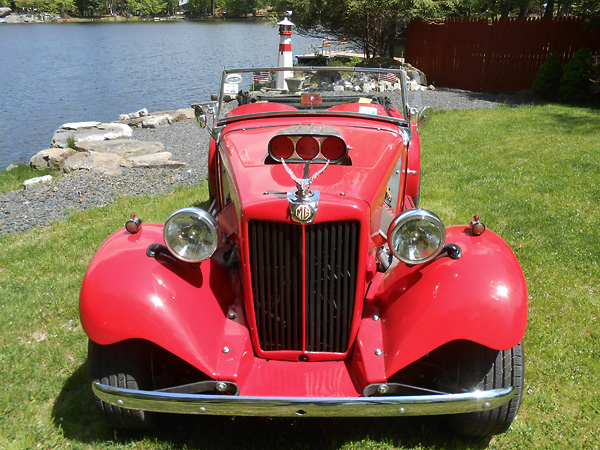 Eagle hood ornament.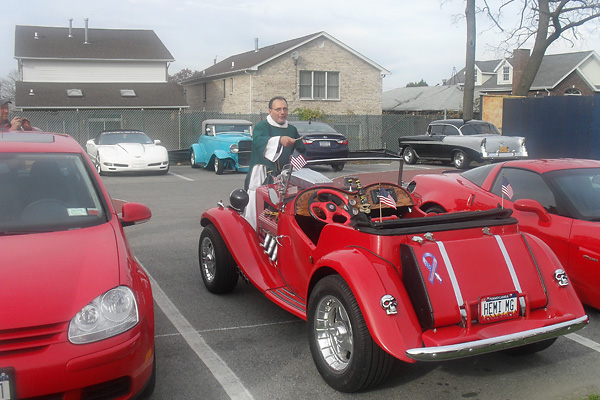 The priest at St. Mary's Children's Hospital said "You need all the help you can get!"
(This blessing was given after a "toy run" charity event.)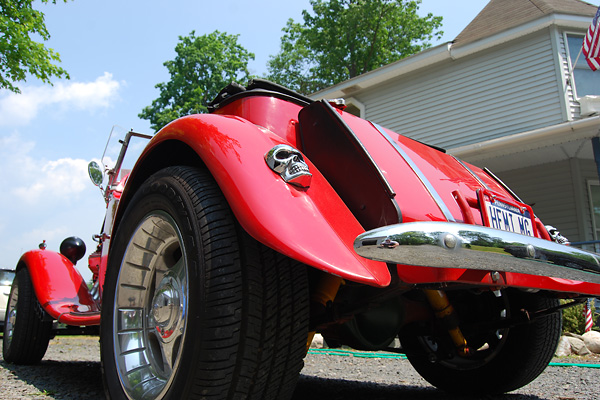 Center Line wheels and Goodyear tires.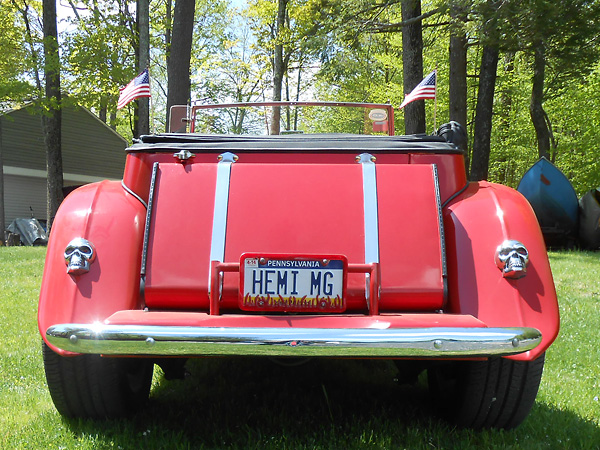 Skull tail lights.


Enjoying this article? Our magazine is funded through the generous support of readers like you!
To contribute to our operating budget, please click here and follow the instructions.
(Suggested contribution is twenty bucks per year. Feel free to give more!)
"Before" Pictures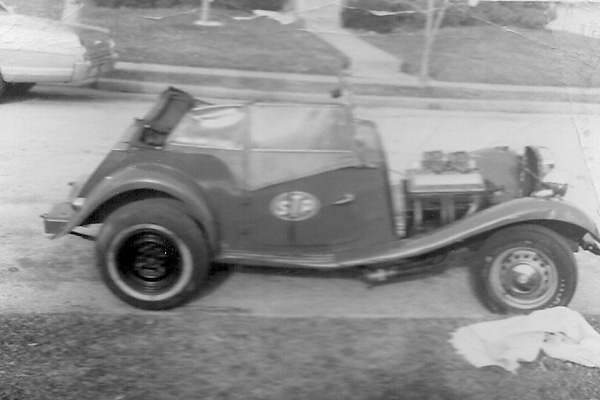 As purchased about in about 1978, with Chevy small block engine and Oldsmobile axle.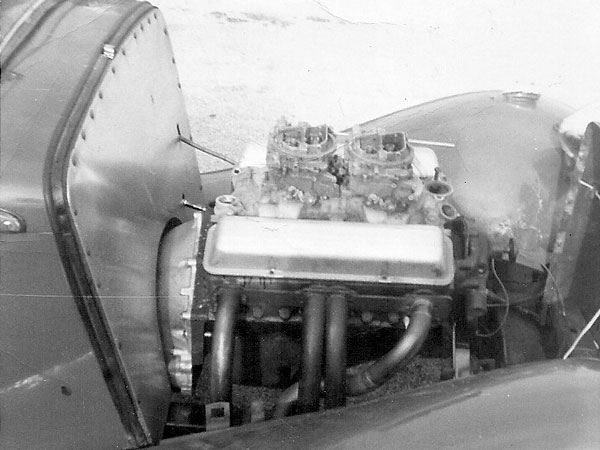 Small block Chevrolet V8 engine.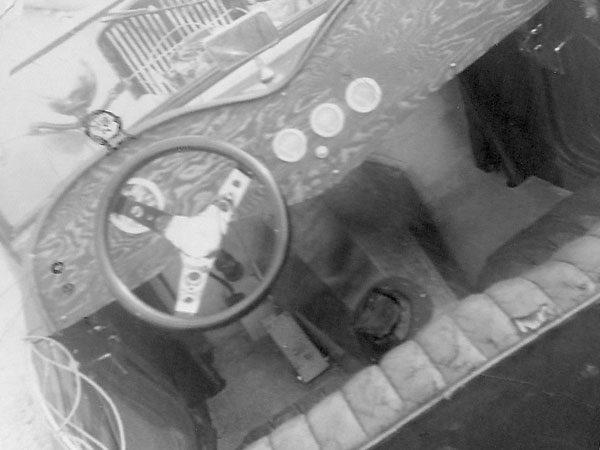 Flat plywood dashboard.