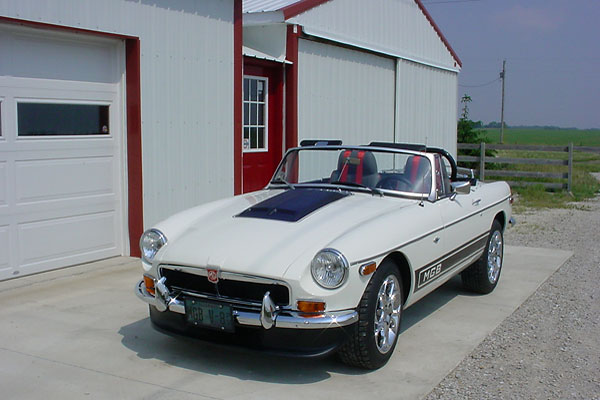 Jack Pease's Ford 302 powered 1980 MGB with Tremec 5-speed
as published in British V8 Newsletter, Volume XV Issue 3, December 2007
Owner: Jack and Judy Pease
City: Champaign, IL
Model: 1980 MGB
Engine: 1990 Ford 5.0 V8
Conversion by: Pete Mantell at Mantell Motorpsort
Engine Mods:
Edelbrock Power Package 367hp, 340 ft/lb RPM heads. Edelbrock RPM 7122 cam. Comp Cams roller rockers. MSD 8579 distributor. MSD "6A" ignition box, and MSD "Blaster" coil.

Induction:
Edelbrock "Performer RPM Air Gap" manifold and 600cfm Edelbrock carburetor (electric choke). Holley "Red Top" Fuel pump (fits perfectly in the stock location!)

Exhaust:
RV8 style headers from Coyote Conversions, with Jet Hot ceramic coating. Dual Mantell Motorsport exhaust system. Flowmaster mufflers, exiting through twin pipes at the rear on driver's side.

Cooling:
Mantell Motorsport aluminum radiator, Ford Motorsport short-neck regular-flow water pump, and Flexlite low profile electric fan with shroud.

Transmission:
Tremec T5 Super-Duty Z 5-speed. Custom driveshaft. Ford Motorsport clutch, aluminum flywheel, CNC slave cylinder, MGB master cylinder.

Rear Axle:
Chevrolet S10 10-bolt (from D&D Fabrications).

Front Susp.:
Fast Cars Inc. front suspension. 7/8" sway-bar, and Energy Suspension polyurethane bushings.

Rear Susp.:
lowered 1". Tube shock conversion. Energy Suspension polyurethane bushings.

Brakes:
Wilwood (from Fast Cars Inc.)

Wheels/Tires:
American Racing 16x7 wheels, BF Goodrich 205/55R16 tires.

Body mods:
stock MGB hood with Mach 1 hood scoop (reversed). BMC "Special Tuning" front air-dam. Chrome bumper conversion.

Interior mods:
Fiero seats with Mr Mikes leather kit. Auto Square 4-point harnesses. Grant steering wheel.

Electrical mods:
Autometer gauges. Advance Autowire wiring harness.

Cost of conversion:
approximately $15,000.

Comments:
I've had many street rods and collector cars over the years, but this car is special.
It has attracted more attention and comments than all of the others.
Judy and I just love this car. It's fun with a capital "F"!

Here's a story about the car: I only had the car back from Pete's shop for about a week and decided to take it out for another spirited drive. (Like a new toy, I couldnít leave it alone.) The sound, the feel of the car hugging the road, it was a driving addiction I could not let go. While driving back into Champaign I pulled up alongside a Porsche at a stoplight, the owner didnít even look over.

"Time for another victory," I thought to myself. The 911 driver blipped has throttle in anticipation for the light change and I blipped mine too.

"That got his attention," I thought. He looked over, and down his nose through his Oakley sunglasses, as if to say "Whatís that?"

The lights changed to green, both cars surged with power and tire squeals: 1st gear, neck and neck. 2nd gear, still driving along side each other. Then into third and I pulled away!!! The Porsche owner was left scratching his head and reading my license plate: "MGB V-8".

When I got my car home and parked in the garage I noticed that she sat slightly lop-sided. Holy cow, I had bent the drivers side rear leaf spring! Time for a suspension upgrade I think.