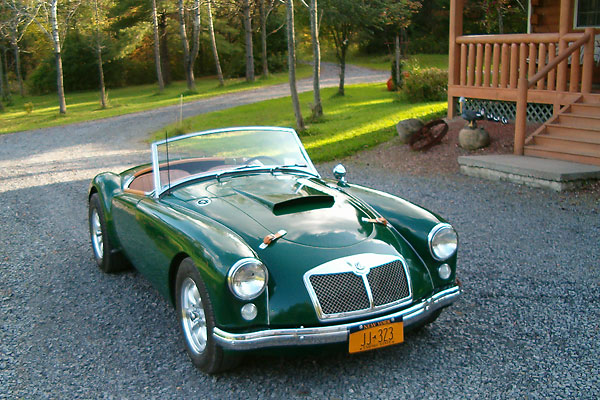 Harry Miller's 1961 MGA with Ford 289 V8 Engine
as published in BritishV8 Magazine, Volume XX Issue 1, July 2012

Owner: Harry Miller
City: Interlaken, NY
Model: 1961 MGA 1600
Engine: Ford 289 V8
Transmission: C4 automatic
Conversion performed by: Bill Parke in 1969-70
Restored by: Harry Miller


"How It Was Done"
Engine:
1965 A-code 289cid Ford V8 rebuilt by Pike's Engine & Machine Shop in Watkins Glen, New York. Holley Street Avenger 670 carburetor.

Cooling:
Griffin early-model Mustang aluminum radiator. Electric fan, pulling.

Exhaust:
stock Ford iron exhaust manifolds. (The driver's side manifold is rotated 180 degrees to exit forward.) Dual glasspack mufflers.

Transmission:
TCI C4 automatic. Shortened driveshaft.

Rear Axle:
Ford 8" with narrowed housing and 3.00:1 gears.

Front Suspension:
stock.

Rear Suspension:
stock.

Brakes:
stock MGA master cylinder and front brakes. Stock Ford rear brakes.

Wheels/Tires:
VTO 8-spoke wheels (MGA bolt pattern on front, Ford bolt pattern on rear). Cooper Tires (195/70/R15 front and 215/70R15 rear).

Electrical:
Painless T-bucket wiring harness. Instruments are a mixed assortment, including vintage Stewart Warner gauges used by Bill Parke, an original Smiths fuel level gauge, and a couple new AutoMeter gauges.

Completed:
originally completed in 1970. Rebuilt in 2010.


Comments:
This car was originally built in 1969-70 by Bill Parke while assigned to North Island Naval Air Station across the bay from San Diego. In 1968 he purchased the car from a woman from Colorado, then he drove it in stock form until he was deployed to Vietnam on the USS Enterprise.

While deployed, Parke made arrangements to buy a Ford 260cid V8 engine from a guy in his squadron. Upon his return to North Island, Parke took the MGA out of storage and drove it, but it had developed an overheating problem. He decided this would be the perfect time to install the Ford V8. Another guy at the base was putting a 289 in his Mustang so they went to the junkyard together and Bill got the automatic transmission, rear-end, and driveshaft from a Mustang while his friend got the 289.

Bill Parke finished building his MGA V8 about a day before he was discharged, so there was no time for a real road test before heading home to Ithaca, New York in November 1970. As he stated in an e-mail, "Damned if I was going to put the top up, plenty of heat from the engine. I had my pea coat and watch cap on and I drove, no problems."

Bill drove the car around Ithaca for the remainder of that winter and traded it to my friend John Oaks for a Baja Bug. It passed through several more owners during the 1970s before becoming another of those lost cars we talked about at cruise nights. After seeing a Triumph TR-4 with a 5.0 Ford fuelie motor at the Syracuse Nationals in 2009, I became interested in finding the old MGA V8.

Through conversations with other car club members, I learned the MGA was in Spencer, New York. A CraigsList ad placed by my son didn't lead directly to the MGA's location, but it did bring information about the car's history. An inquiry at the local NAPA store in Spencer got us the location of the car.

As you can see from the pictures, we found it in rough shape. (My grandaughter Jill enjoyed finding the car, as you can tell in the interior shot.) The car had not been on the road since 1984. I started a complete rebuild in the fall of 2009 and completed the job by early summer of 2010. A fresh 289 took the place of the tired 260. Our restored MGA V8 is driven lots during the summer and enjoyed.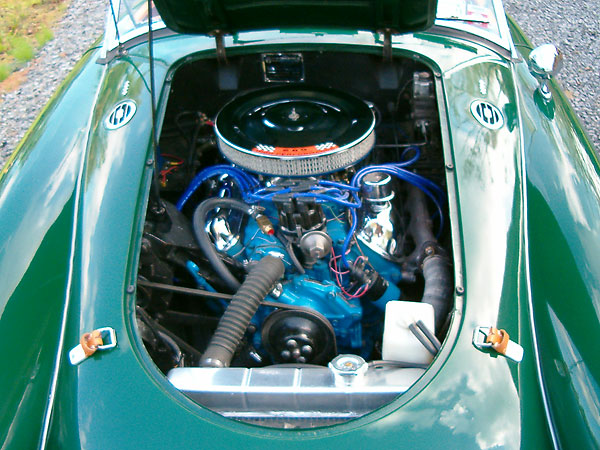 1965 A-code 289cid Ford V8 rebuilt by Pike's Engine & Machine Shop in Watkins Glen, New York.


Enjoying this article? Our magazine is funded through the generous support of readers like you!
To contribute to our operating budget, please click here and follow the instructions.
(Suggested contribution is twenty bucks per year. Feel free to give more!)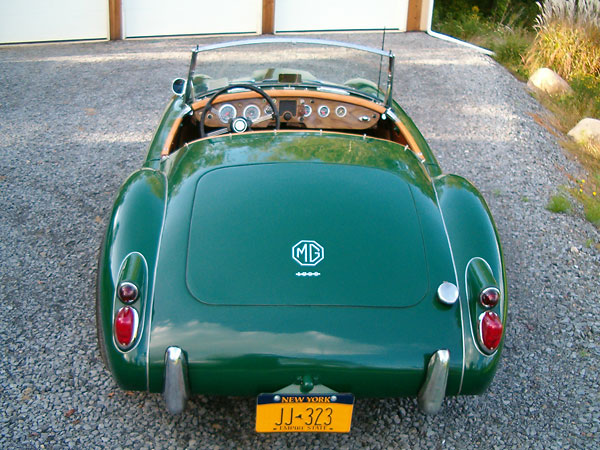 Harry Miller restored the paint and upholstery on this early MGA V8 conversion.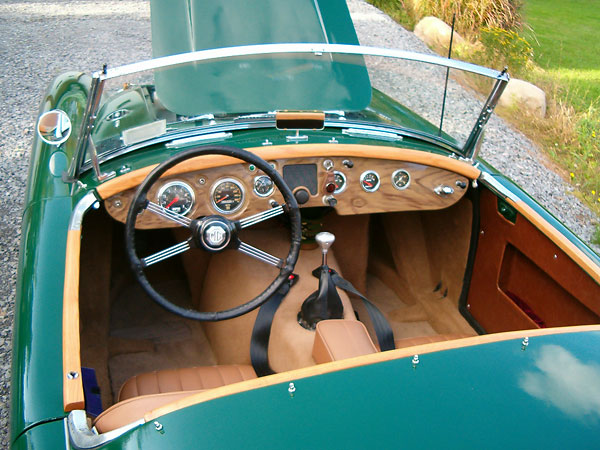 His wife Bonnie did a great job painting the dashboard: faux woodgrain!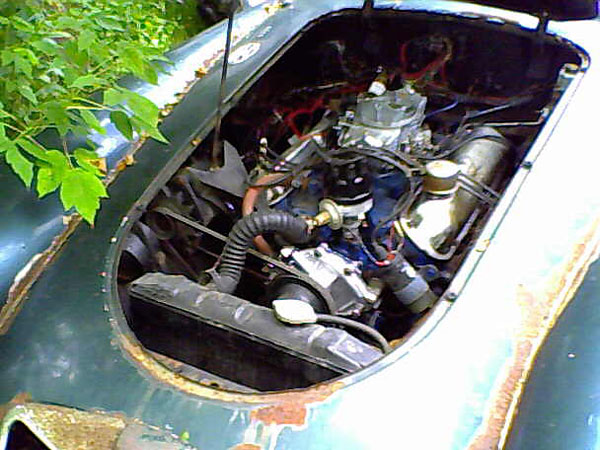 Original Ford 260 engine installation.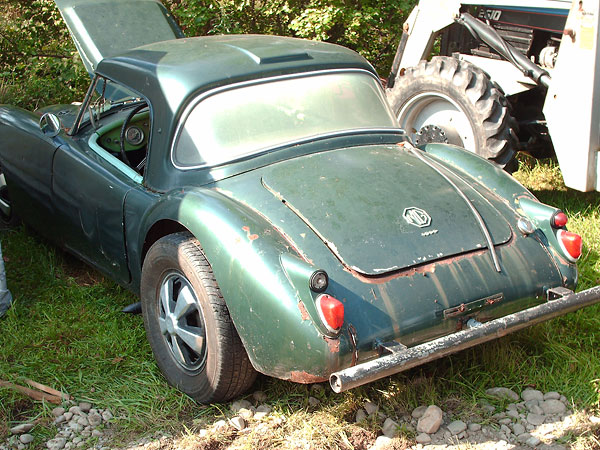 Stylish fiberglass MGA hardtop.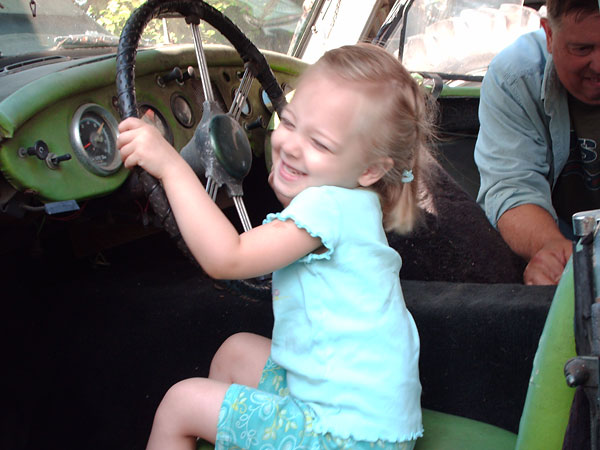 Harry's granddaughter takes the newly found MGA for a spirited test drive.