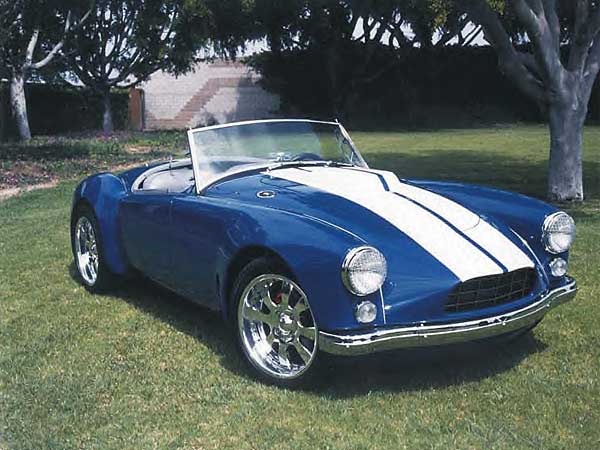 Harrison Manell's 1960 MGA with a Buick 3.8L V-6 engine
as published in British V8 Newsletter, Volume X Issue 1, January-April 2002
Owner: Harrison Manell
City: Irvine CA
Model: 1960 MGA
Engine: 1982 3.8 liter Buick Even-Fire V6
Conversion completed by: Owner
Engine:
1982 3.8 liter Buick Even-Fire V-6, bore=3.83" stroke=3.40". Kenne-Bell Mark 2X camshaft, with an intake lift of 0.478", exhaust lift of 0 .494" take duration is 260 degrees, exhaust is 280 degrees, with a lobe separation angle of 112 degrees. Cylinder heads are stock GM, part # 25506293, Rev. A, with 1.70" intake, 1.50" exhaust. Stock heads were ported & CC'd by Flow-Tech Engineering, Garden Grove Calif. (What they call street grind). They open them up and match the ports. The stock crankshaft has been ground 0.0010, balanced and case hardened by New Performance, Santa Ana, CA. Pistons are 9.5:1 CR Kenne-Bell cast hypereutectic 0.030" over, providing for a 3.83" bore, fitted with chrome-moly Speed-Pro rings. Stock connecting rods were machined, shot-peened, balanced & straightened by New Performance. Valves are operated by Kenne-Bell push rods and lifters, using Kenne-Bell springs and retainers, through T&D billet aluminum, roller bearing, 1.6:1 ratio, rocker arms, on T&D solid rocker shafts. Oil pump is stock w/ Kenne-Bell booster plate. Oil pressure @ 2500 rpm is 70 PSI. Timing chain & gears are Kenne-Bell double roller.
All engine machine work and balancing was done by New Performance. Engine assembly was by the owner, using ARP hardware and Fel-Pro gaskets.

Induction:
Carter AFB 9410, 400 CFM 4bbl, with vacuum operated secondary, mounted on an Edelbrock Performer aluminum manifold, model# 5486, and fed by a Carter electric fuel pump mounted next to gas tank. Throttle linkage is cable operated, and was custom designed and fabricated by owner.

Ignition:
HEI by Ignitioneering, Fullerton, CA.

Exhaust:
Headers were custom made by Mark Weiss in Costa Mesa Calif, with a primary tube ID of 1-3/8". Exhaust pipes are 2" diameter, with a 2" cross over pipe. Mufflers are dual low profile glass packs.

Cooling:
Custom built brass crossflow radiator, 19"W X 18"H, four rows of 1/2 x 1/8 tubes, 11 cooling fins per inch. A High Performance Spal AirForce Swirl Model FS13AS-3.5 electric fan is mounted directly to rear of radiator core, in a puller Buick configuration, with no shroud, no mechanical fan. Fan provides 2000cfm, with a current draw of approximately 16 amps. Two small electric ducted fans, mounted under the hood side vents, provide additional heat removal from the engine compartment. Water pump is a stock Buick/GM, of aluminum, with a March billet aluminum pulley. Coolant is Evans NPG 370 degrees, with a boiling point at zero pressure of 370 degrees. The 370 degree boiling point is not a misprint. It is made from non-aqueous propylene glycol and contains NO water. This is a real problem solver for overheating in a conversion application. Because of its extremely high boiling point, it will not form vapor bubbles around the cylinder walls and will remain in contact with the metal far after a water based coolant has boiled away. Detailed information is available at Evans' website located at www.evanscooling.com. An automatic electric thermostat is mounted in the intake manifold, and turns on at 180 degrees F. A manual override fan switch is mounted on the dash.

Transmission:
1967 Muncie M21 close-ratio, aluminum housing 4-speed. Gear ratios are:
1st 2.20:1, 2nd 1.64:1, 3rd 1.28:1, 4th 1.00:1.
Clutch is a Center Force unit, operated by a Weber hydraulic throw out bearing. The stock MGA master cylinder was retained. Using a hydraulic throw out bearing made for a much simpler installation. Bellhousing is a GM #1249599, Purchased as NOS from a parts house.

Rear Axle:
Ford 8" from a Ford Fairlane Wagon, with a 3.0:1 ratio, open differential. Rear end width was shortened to fit MGA fenders. All Ford mounting and suspension hardware was removed from axle housing and replaced with axle mounting and suspension hardware from the original MGA rear end housing. The result was the Ford axle is bolted directly to all stock MGA rear suspension fittings including stock MGA fluid dampers.

Front Suspension:
Slightly modified MGA. An MGB fluid damper was used on the left front suspension because clearance was needed to mount remote oil filter adapter on the Buick engine. The MGB damper has its piston facing outward instead of inward as on the MGA damper which provided this clearance. Considerable machining was done on the MGB damper lever arm so it would fit on the stock MGA top suspension link.

Rear Suspension:
Stock MGA with one extra leaf added under the upper leaf.

Brakes:
(Front) stock MGA disc brakes. No modifications. Painted the calipers bright red. (Rear) Ford drum brakes. I spliced the Ford emergency brake cables to the MGA emergency brake cables. Added a hydraulic proportioning valve between the front and rear brakes to adjust front/rear lock-up characteristics.

Wheels/Tires:
Intro Custom 17"x7 custom designed one-off set of billet aluminum wheels. MGA 4-bolt pattern in front, Ford 5-bolt pattern in rear. Front and rear - Sumitomo HTRZII 215/50x17 (25-1/2" diameter) Z-rated 149MPH+.

Interior:
Seats are custom leather covered MGB. Remainder of the interior is totally custom. Quality leather used throughout. Extensive attention to details. Dashboard is custom made hardwood overlaid with carbon fiber cloth & resin. Billet machined custom rocker switch bezel. Billet machined rear view mirror. Moto-Lita leather covered steering wheel. Custom machined and engraved aluminum steering wheel center and heater control knobs. Custom leather upholstered door panels that contain 6" x 9" Speakers. Kenwood CD Receiver sound system with a 200 Watt sub-woofer amp driving two 8" subwoofers mounted behind the front kickpanels. Hand made custom bevel glass engraved wind wings. Custom billet machined shift lever bezel, shift knob and a Hurst competition plus shift linkage.

Electrical:
Powermaster 100 Amp single wire Delco style alternator with internal regulator. Stock GM starter. Wiring harness is Stock MG, re-covered in exposed areas with corrugated nylon. Additional wiring added to accommodate sound system, electric fans, etc.

Gauges:
VDO speedo and tachometer. Stewart-Warner "Stage III" water temperature, oil pressure, & fuel level.

Bodywork:
Extensively modified while keeping the basic lines of the car intact. All body modifications done with steel formed on an English wheel then heli-arc & MIG welded together. Widened front & rear fenders. Hood scoop made with hand formed aluminum and carefully heli-arc welded into original hood. Totally restyled front-end and grill opening provides a cobra-like front end appearance. Custom made polished stainless steel front grill.

Frame:
Mostly stock with some modifications. The frame cross-member supporting the stock transmission was cut away along with the original transmission and engine mounts. A cut out was made into the front main crossmember to give clearance for the remote mounted oil filter adapter. Rubber cushioned engine and transmission mounts were added as well as a removable frame cross-member under the transmission. The steering shaft was re-routed around the engine block with the use of an additional u-joint and a frame-mounted steering center shaft support bearing. New flooring supports were welded to the frame and fresh plywood floorboards were installed. A new tunnel cover was hammer-formed from several pieces of soft aluminum sheet that were pop-riveted together.

Other:
This car is geared for road performance rather than quick acceleration. It is a little sluggish off the line, but the 3rd and 4th gear performance is stunning. A five speed transmission would help greatly. When I have some spare time and $$ I would like to add a 5 speed. By using a lower rear-end (around 3.73:1) the car would have more acceleration off the line and lower rpm's in fifth for cruising.

Completed:
12/2000. 5,000 miles driven so far (as of January 2002).

Est. Cost:
$15,000

Performance:
I have not taken it through the 1/4 mile yet. Top speed estimate: 130MPH.

Advice:
Be honest with yourself and do not start this extensive of a project unless you have the tenacity and money to complete it. I'm sure many conversions are started and never completed once the builder starts to realize how much dedication and time is required. I found the way to complete it was to do at least one thing each and every day, without fail.
Things I'd Do Different Next Time? I would like to build a supercharged V6 with fuel injection in another MGA. Maybe when I retire!