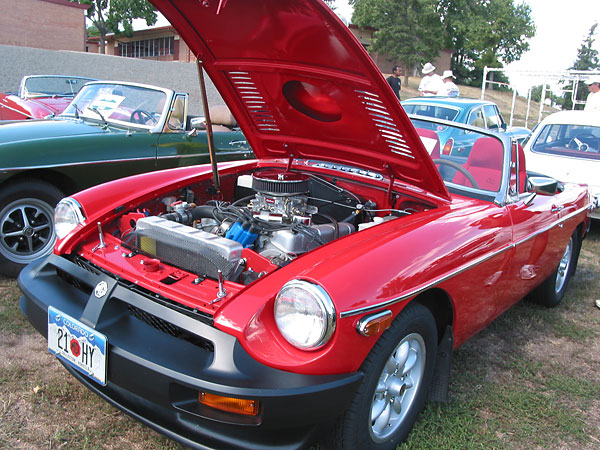 Gregg Haskell's 1963 Buick 215 powered 77 MGB with T5 5-speed
as published in British V8 Newsletter, Volume XV Issue 3, December 2007
Owner: Gregg Haskell
City: Montrose, CO
Model: 1977 MGB
Engine: 1963 Buick 215 V8
Conversion by: owner (with metalwork by brother, Monty)
Engine:
1963 Buick Skylark 215cid 4bbl. Bored 0.040" over. 10:1 compression.

Induction:
stock Buick manifold, with Edelbrock 550cfm carburetor.

Cam:
Isky dual valve spring cam with 0.045" lift (intake and exhaust), although I will be switching to a Crower soon (see below).

Ignition:
stock distributor, with Pertronix igniter and flame thrower coil.

Cooling:
stock water pump, with a March small diameter pulley. Griffin four row aluminum radiator.

Exhaust:
TE Industries headers, dual exhaust to the rear, with mini turbo mufflers.

Transmission:
Borg-Warner T5 5-speed from a 1985 Trans Am, 0.71:1 fifth gear. McLoed hydraulic throw-out bearing ("HTOB") with soon-to-be-replaced NAPA clutch. Custom driveshaft from Drivetrain Industries of Grand Junction.

Rear Axle:
stock MGB with original 3.909:1 gears and a limited slip that performs awesome.

Suspension:
front - poly bushes and Monroe tube shocks. Sway bar removed for larger radiator.
rear - stock except for Monroe tube shocks. Need to add traction bars!

Brakes:
front - TE Industries enlarged calipers to fit 20 percent larger XJS pads.
rear - TE Industries race-compound shoes.

Wheels/Tires:
Minilight replica wheels with Yokohama Avid tires.

Weight:
2400 pounds total (1300 front / 1100 rear).

Instruments:
stock MGB gauges with a volt meter added. The tack was reworked by MO-MA for the V8.

Body:
basically stock, with an air dam added. The air dam really helps with airflow to the radiator and also with keeping the nose from lifting at high speeds. The car is very stable at high speeds and feels awesome. Red Mountain Pass is a blast!

Interior:
Eclipse CD1000 stereo head unit with 55W per channel. '85 Fiero seats, with Infinity speakers in the headrests. 2 10" Pioneer subwoofers powered by an Eclipse XA1000 640W amp. XM satelite radio. The stereo system can be heard at 100mph with no problem, even with the top down.

Performance:
I'm guessing the engine is putting out 200 to 210 HP. It hasn't been on a dyno yet. The Isky cam has a power band of 2500 to 5000rpm, whereas the Crower will perform from idle to 4800rpm, and be much better with the T5 in the mountains.

Comments:
this car is the MG of my dreams. It is awesome to drive and getting even better. plans for fuel injection and cruise control are in the works after the new clutch and cam. If you are going to do an MGB conversion, get in touch with D&D Fabrications and use a Rover engine if possible. If not a Rover, consider the Olds 215 (to get eight more head bolts.) The biggest problem I've had has been overheating at slow speeds. The aluminum radiator works very well, but I hope the smaller water pump pulley will help even more. (I haven't installed it yet.) If you choose the TE Industries headers, the engine might sit high enough the hood may need a hole. We also needed to cut the transmission tunnel to fit the T5 because of the headers. I like the looks of the hood anyway so no biggy to me. The hood air induction was done by Bryce of Erie CO - very nice piece. Louvers were done by Just Louvers in Denver. The GM "Victory Red" paint was applied by Boyd Customs here in Montrose.

Completed:
August 30, 1998 for the mechanical parts. June 19, 2007 for the body, paint and interior. As of the Colorado Conclave in September 2007, the converted car has been driven about 32,000 miles.