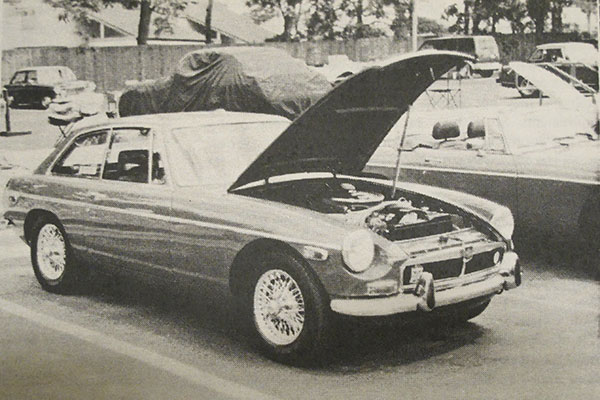 Fred Wastell's GT at the '96 University Motors Summer Party


Fred Wastell's 1974 MGB/GT with Rover 4.2L V8
(originally published in British V8 Newsletter, Volume 5 Issue 2)


By: Fred Wastell
City: Marysville, MI
Model: 1974 MG MGB/GT
Engine: Rover 4.2L V-8



How It Was Done
Engine:
Edelbrock 500cfm carburetor. Crane Compucam #900531 camshaft.

Transmission:
Rover 5-speed from Triumph TR-8.

Bellhousing:
Triumph TR-8.

Clutch/Slave:
Triumph TR-8.

Flywheel:
Rover.

Exhaust:
Falcon 2-1/2" stainless single exhaust with stainless conversion headers.

Brakes:
(front) drilled discs with TR-8 pads.
(rear) stock MGB/GT.

Wheels/Tires:
Dunlop 60-spoke chrome wheels. Michelin 185/70x14 XGT tires with tubes.

Cooling:
MGB V8 header tanks on 3-core radiator fabricated to be 2-1/2" longer than stock. Stock hose on top. Cut stock bottom hose and added 6-7" stainless steel tubing to compensate for length. 13# cap. #4363 160 degree thermostat (H.P. from Mr. Gasket but made by Stant.) Cut down Midget/Sprite fan.

Rear End:
MGC with 3.07:1 gearing and MGB axles/brakes.

Instruments:
standard MG with original factory V8 (5200 redline) tachometer.

Conversion By:
Rod Medynski, MGT's, 1577 Macopin Rd., West Milford, NJ. (201) 728-3096.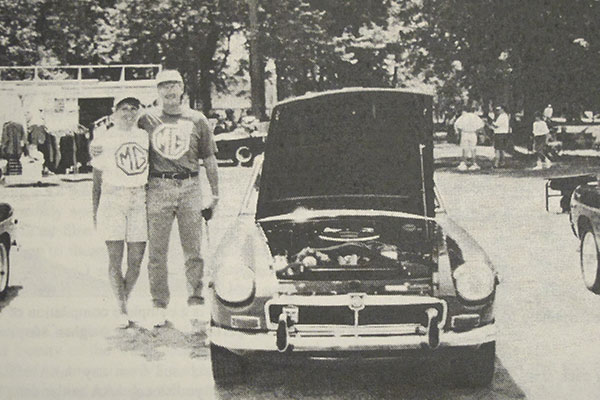 Fred and Diane Wastell with their MG V-8 at the Summer Party