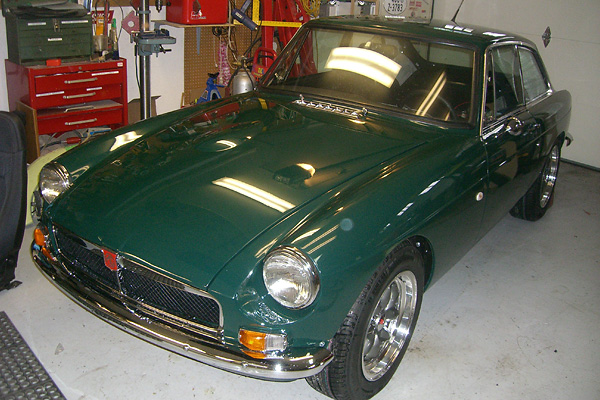 Ed Theobald's 1972 MGB-GT with Mazda Miata 1.8L DOHC Engine
as published in BritishV8 Magazine, Volume XVIII Issue 1, December 2010
Owner: Ed Theobald
City: Surrey, British Columbia
Model: 1972 MGB-GT
Engine: 2001 Mazda Miata 1.8L (EFI)
Conversion by: owner
Engine:
2001 Mazda Miata 1.8L four cylinder. Stock Mazda camshafts and valvetrain. Stock Mazda electronic fuel injection.

Cooling:
aftermarket 1965 Mustang 6cyl spec radiator.

Exhaust:
Miata-type four-into-one exhaust header, small body catalytic converter, resonator, and Flowmaster muffler.

Transmission:
2001 Mazda Miata 5-speed. Stock Miata clutch. Miata/MGB driveshaft.

Rear Axle:
stock MGB Salisbury (tube type) axle with 3.9:1 final drive ratio and open differential.

Front Susp.:
stock MGB, except with 1" lowered springs.

Rear Susp.:
stock MGB type leaf springs, except with 1" less arch height. Monroe Gas-Adjust telecoping shock absorbers.

Brakes:
(master) stock MGB.
(front) stock calipers. Green stuff pads. Brembo (non-vented) rotors.
(rear) stock MGB drums.

Wheels/Tires:
Minilite replica wheels (15X7) and Nexen CP641 tires (195/65X15).

Instruments:
all original Smiths, plus matching oil pressure and Voltmeter.

Electrical:
modified Miata wiring harness with Sony audio system.

Other mods:
engine mounts were welded-in to accomodate the Miata engine.

Body:
removed side trim strips, marker lamps, stock reverse lamps, and bumper overriders. Added Chev Aveo side turn signal lamps, Yamaha sport bike fuel filler, and Mazda 5 radio antenna.

Performance:
155 hp stock with variable valve timing, slightly more with the modified intake and exhaust.

Completed:
April 2010.


Comments:
The 2001 Miata is equipped with an immobilizer system and, after months of trying to by-pass it, I ended up incorporating the entire immobilizer system from a Miata (all from the same donor car) into my modified wiring harness. This is my third MG/Miata conversion and the immobilizer issue has been far and away the most difficult problem I've encountered. The previous two projects used 1996 and 1997 engines with their wiring harnesses.

Engine Installation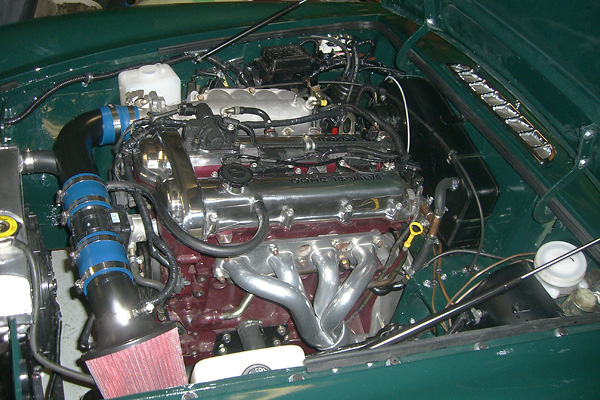 2001 Mazda Miata 1.8L DOHC four cylinder with stock Mazda camshafts and valvetrain.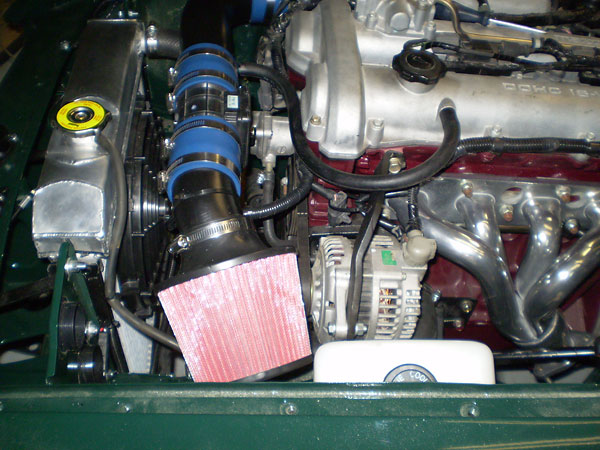 Aftermarket 1965 Mustang 6cyl-spec radiator.


In-Process Photos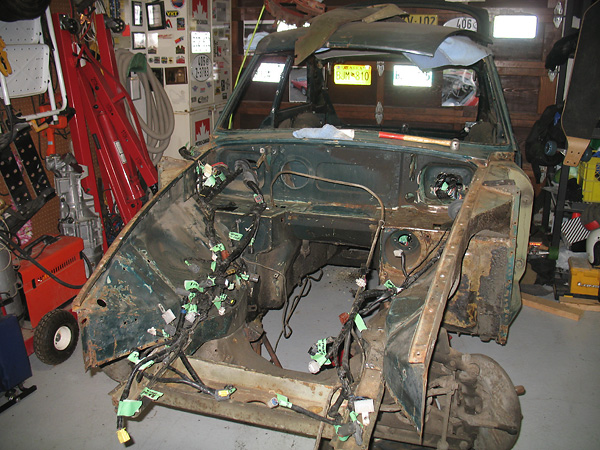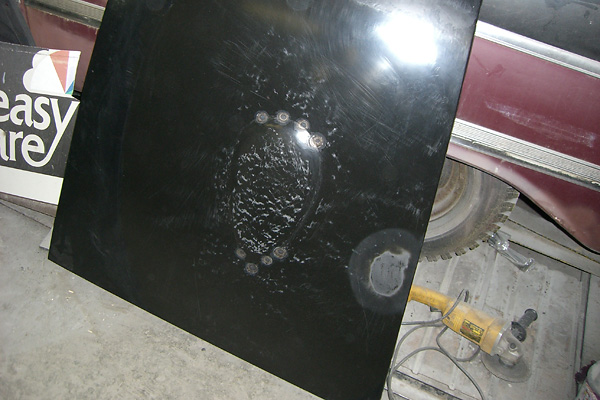 Custom hood bulge.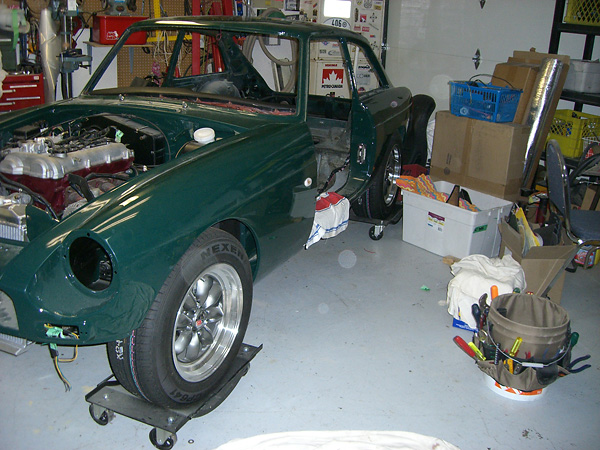 The Before Picture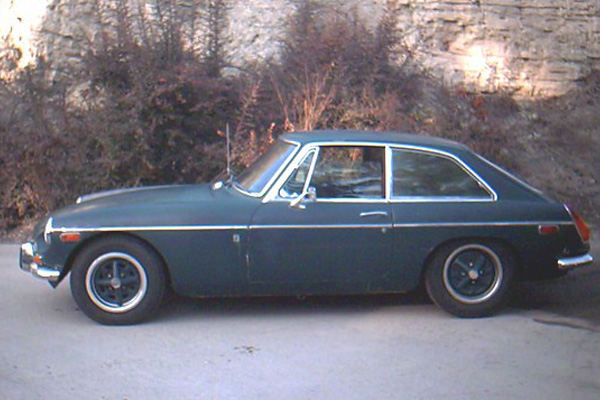 All photos by Ed Theobald for BritishV8's exclusive use. Copyright 2010. All rights reserved.