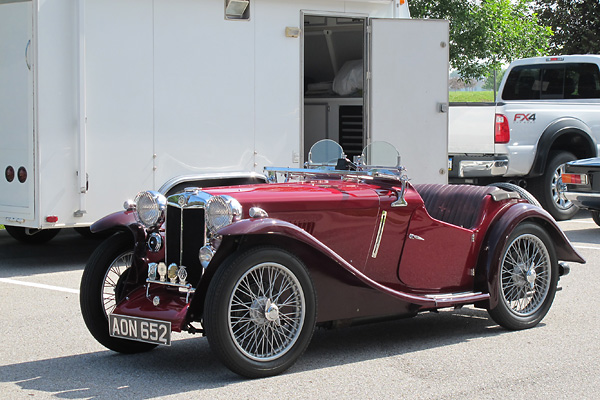 "Ruby": Don Bonar's 1935 MG PA Midget
Owner: Don Bonar
City: Prairie Village, Kansas
Model: 1935 MG PA Midget
Engine: MG 847cc four cylinder
Restoration by: owner
P-Type: the Quintessential Pre-War Midget
The MG Car Company functioned almost independently through the early 1930s. In those years, MG was at the forefront of sportscar design. The company simultaneously offered cars for road use and cars purpose-built exclusively for racing. They made frequent and significant model changes. In retrospect it seems they were managed with little concern for their financial bottom line, somehow managing thin profits despite a worldwide economic depression. The "helmet and goggles" image MG cultivated produced a loyal and enthusiastic customer base. To enthusiasts around the world, the initials M.G. seemed to be an abbreviation for "sports car".

The MG PA model is considered by many to be the quintessential pre-war Midget.¹ When introduced in early 1934, its most important new feature was a three-main-bearing crankshaft. Compared to the previous (two-main-bearing) MG 4-cylinder engines, the new engines were much more robust and also much smoother running. There were other changes too: longer wheelbase, enlarged cockpit, greatly enlarged brake drums. Styling was refined too. Many enthusiasts consider the MG P-type the purest expression of classic MG styling.

The PA proved itself competitive in amateur racing, trials, and hillclimbs. A few P-types competed in high profile events. Most famously, "George Eyston's Dancing Daughters" were a six-woman racing team who drove three P-types in the 1935 24 Hours of Le Mans.² They raised quite a sensation, though they only finished 24th, 25th, and 26th place overall. Approaching Le Mans as an endurance trial rather than a race, the team's goal was to achieve absolutely consistent lap times - fast, but not so fast that they might break. The MG team achieved an average speed of over 53mph. The three car effort only required exactly one replacement part: a tail lamp bulb!

The MG PA model was produced from (about) March 1934 until late summer of 1935. 1973 cars of this type were built. No more than 150 MG PA sports cars remain in existence.

MG's PA was the last Midget sports car model produced before a major management change. Through 1934, the MG Car Company Ltd. and Morris Motors Ltd. were technically separate companies although both were founded by, named for, and owned by William Richard Morris. In 1934, Morris became a member of England's House of Lords. Morris was thus given the honorary title Lord Nuffield. For whatever reason, in 1935 Lord Nuffield decided to sell his MG car company to his Morris (conglomerate) car company. Simultaneous to the change of ownership, it was announced that MG would no longer produce racing cars. MG's spectacular R-type racecar was abandoned before it could fully prove itself as a world beater. Morris management ordered the dispersement of MG's engineering department. Two key staff members were kept at the Abingdon factory as liaison engineers, but MG's most senior designers were moved to other divisions or let go. These management changes blindsided MG. Coincidentally, they occured at almost exactly the same time as the PA (known at the time as simply the "P" or "P-type") was scheduled to be replaced.

In September 1935, MG phased-in production of the PB. The PB featured an uprated engine, a close-ratio gearbox, a vertically slatted front grille, and a different dashboard. Twenty-seven cars were updated from PA to PB specification. MG PB production continued through May 1936. Approximately 500 PB sports cars were built.

Both PA and PB were offered in either two-seat "roadster" or four-seat "tourer" trim. Customers were also offered a smart "Airline Coupe" body treatment, with coachwork from "Carbodies of Coventry". Less than fifty Airline Coupes were built.

In the balance of this article we'll closely examine one particular 1935 MG PA roadster. BritishV8 usually focuses on engine swaps and other major modifications to later model British sportscars, so one might wonder why we're featuring this car. It's special, and so is its owner. Don Bonar painstakingly and authentically restored this MG PA from basket-case to the pristine state you'll see here. Then he brought it to our British V8 2013 annual meet. He even let some of us drive it! Don is currently building an MGB V6. We'll feature that project in a future article.


Features and Specifications
Engine:
stock engine, rebuilt to original specifications (847cc displacement. 57mm bore by 83mm stroke. 6.2:1 static compression ratio. 36bhp at 5,600rpm rated output. 3 main bearing crankshaft. Single overhead camshaft, driven through verticle dynamo.) External oil filter. Twin S.U. HV2 (1" bore) carburetors. S.U. electric fuel pump. Lucas Sport ignition coil. Lodge Type HN spark plugs.

Cooling:
original copper and brass radiator. Original, optional-equipment water pump. No radiator fan. No oil cooler, although the oil pan is finned. 11.5 quart cooling system.

Exhaust:
original cast iron 4-into-1 exhaust manifold. Single muffler.

Transmission:
4-speed non-synchromesh manual. Dry clutch.

Rear Axle:
5.375:1.

Front Susp.:
beam axle on leaf springs. Andre Hartford friction disk shock absorbers.

Rear Susp.:
live axle on leaf springs. Luvax hydraulic lever shock absorbers.

Brakes:
(master) mechanically operated via cables and linkage.
(front) stock 12" drum.
(rear) stock 12" drum.

Wheels/Tires:
Rudge Whitworth 48-spoke steel wheels. Dunlop tires (4.00"x19").

Instruments:
(right to left) original optional-equipment Jaeger "8 day" clock, Jaeger mechanical tachometer (0-6000rpm with road speed ranges indicated too), Jaeger oil temperature gauge (30-100C). Jaeger water temperature gauges (30-100C), Jaeger oil pressure gauge (0-160psi), and Joseph Lucas Ltd. ampere gauge (-20 to 20 amps).

Paint:
original duo-tone paint scheme in Carmine Red and Saratoga Red, restored with PPG basecoat/clearcoat.

Weight:
~1652 pounds.

Restoration Completed:
June 2006.

Credits:
Don says: "There is absolutely NO way I could have done it alone." Approximately thirty MMM³ guys from all around the world offered parts, advice and support for the restoration. Peter Down of Reading England came to Kansas for five days to help Don sort things out and get started on the right foot. Using the Internet, Don tracked down restoration parts from eleven different countries. Tom Metcalf of Safety Fast Restoration provided crucial help with reproducing the original paint scheme accurately. Bill Davidson has been a tremendous help and has shared Don's "enjoyment" of discovering the mysteries MG's pre-war overhead cam engine.


Engine Installation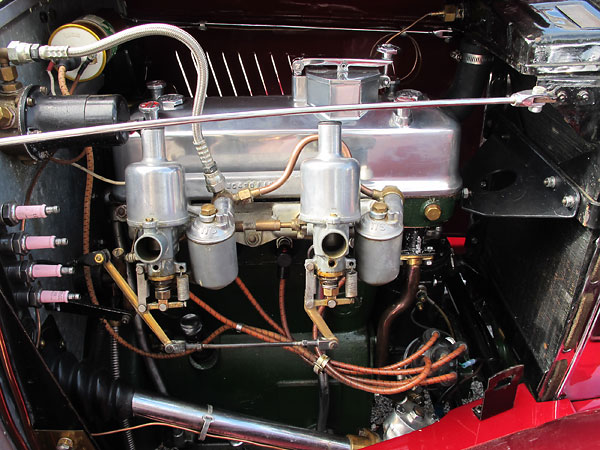 MG's pre-war engines were small, operated with modest compression ratios, and had unfavorable
bore to stroke ratios - but they had their advantages too. They came with overhead camshafts
and they responded well to tuning. Superchargers provided a popular upgrade path.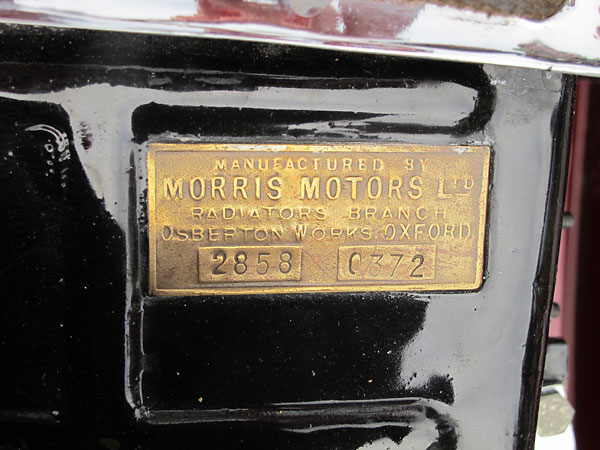 MG operated with autonomy in the early 1930s, but they sourced many parts from
divisions of Morris Motors Ltd. This copper and brass radiator is labeled
"Manufactured by Morris Motors Ltd., Radiators Branch. Osberton Works, Oxford."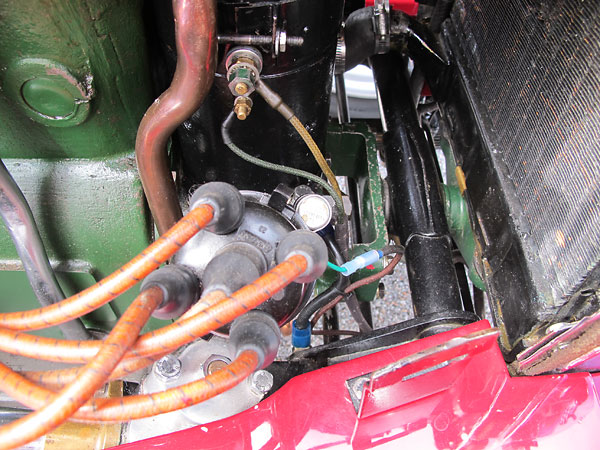 The MG PA's generator is gear-driven off of the crankshaft. Belt driven generators
first appeared on MG T-series sportscars.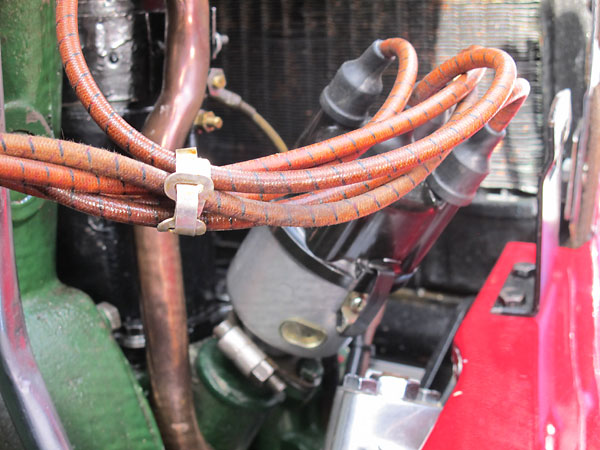 Lucas distributor.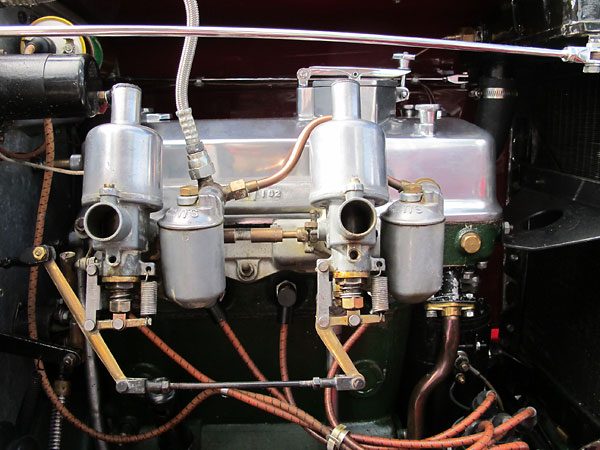 Twin S.U. HV2 (1" bore) carburetors operated via mechanical linkage, not a Bowden cable.
Intake air filters weren't provided from the factory, until T-series production.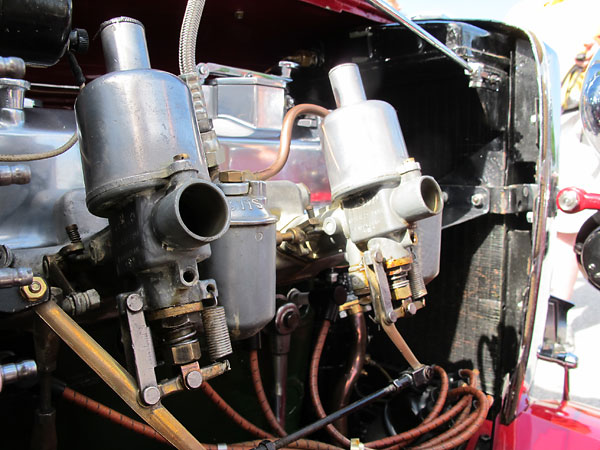 This is a PA engine, though the subsequent model (PB) engine looks similar. Cylinder bore was
increased from 57mm to 60mm, taking displacement from 847 to 939cc, and cylinder heads were
shaved to increase compression ratio from 6.2 to 6.8:1. During development a change in piston
ring design was found to add almost four horsepower, bringing the total to 43.3hp at 5,500rpm.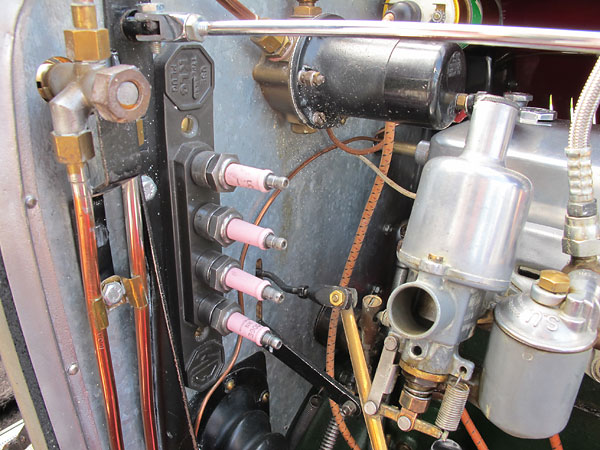 Spare Lodge Type HN spark plugs mounted in a Bakelite holder. Note that the holder
bears the trademarks of both MG and also KLG (i.e. another spark plug manufacturer).
Left: a valve for switching between main and reserve fuel supply lines. This valve
is operated by a dashboard mounted knob.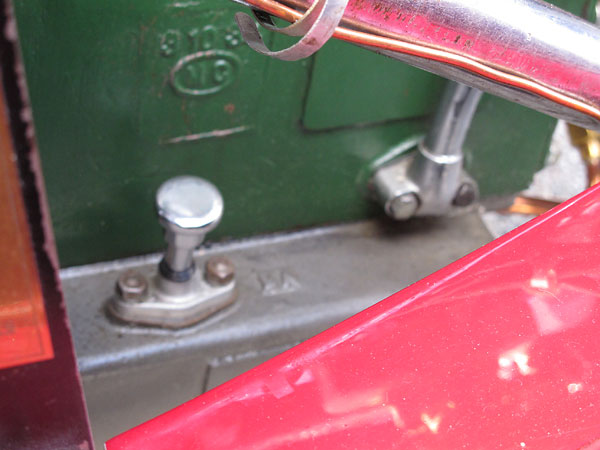 Dipstick. The sump holds one Imperial gallon of oil and it's finned on the bottom.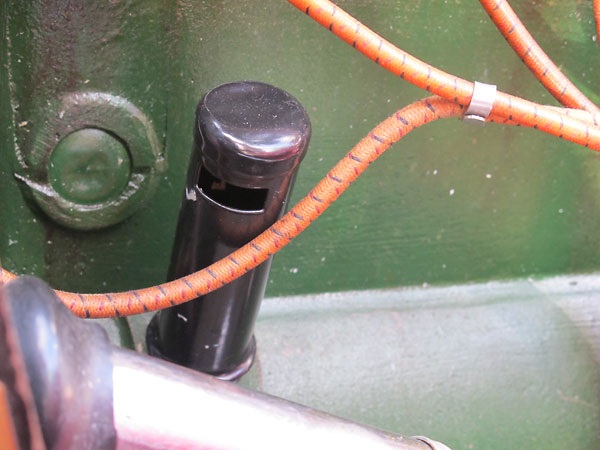 Crankcase vent. (Positive crankcase ventilation didn't arrive until the early 1960s.)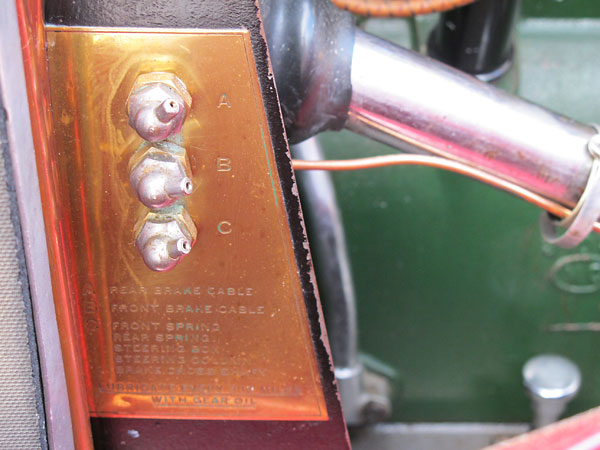 Centralized (right hand side) lubrication system ports simplified routine maintenance.
"A: rear brake cable. B: front brake cable. C: front spring, rear spring, steering box,
steering column, brake cross shaft. Lubricate every 500 miles with gear oil."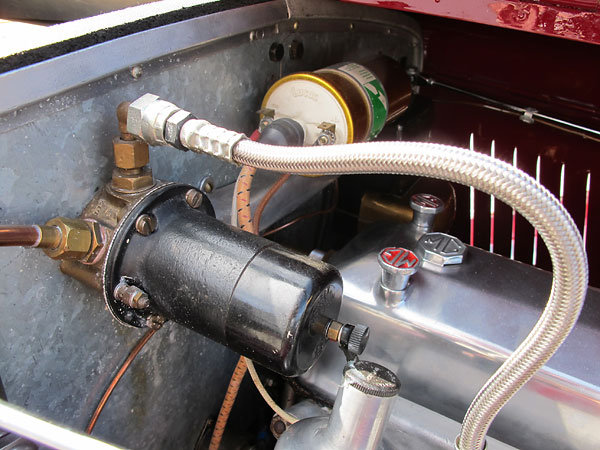 S.U. electric fuel pump.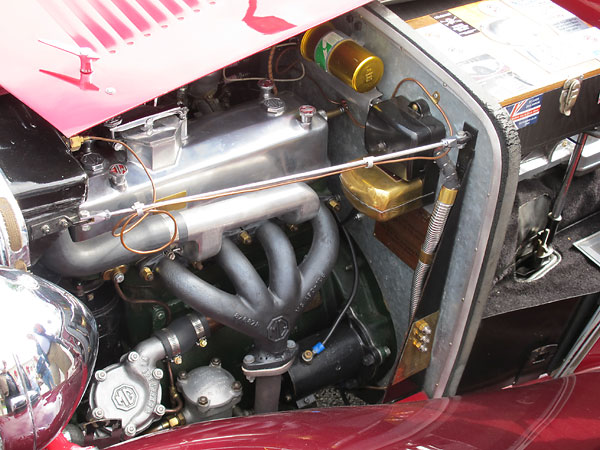 No thermostat! (MG didn't start installing thermostats until after World War II.)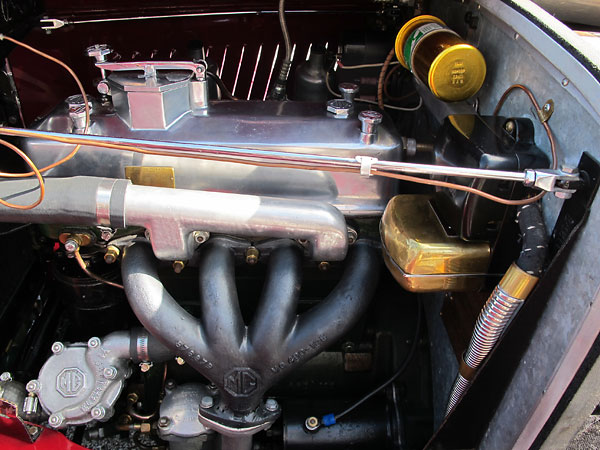 Lucas ignition coil.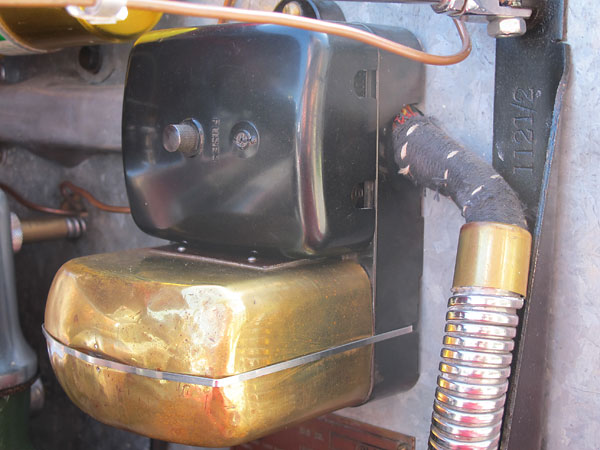 Fuse box (with Bakelite cover) and cut-off switch (with brass cover) are located together.
Cut-off switches were a precursor to voltage regulators. When the engine is started, the
electrical system's voltage is strictly a function of battery charge. The cut-off switch
automatically turns the generator on (to charge the batter) and off. It's an imprecise
device, so savvy owners turn on their headlights to prevent overcharging their batteries.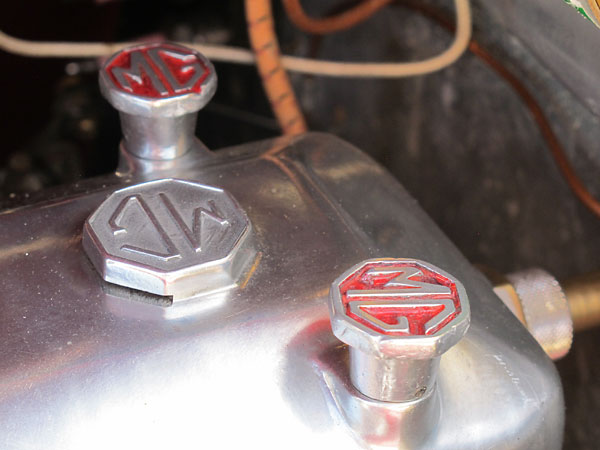 It seems pretty much everything that could be octaganal in shape, was.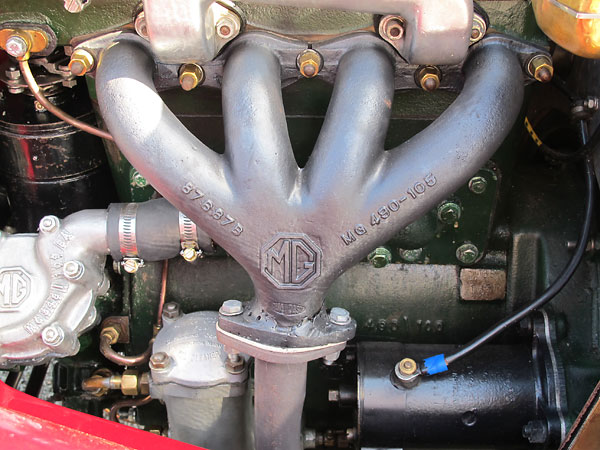 The exhaust manifold is marked "Qual-Cast" and "87687B, MG 490-105". The engine block
is marked "2068A 165P". Lower right: Lucas electric starter.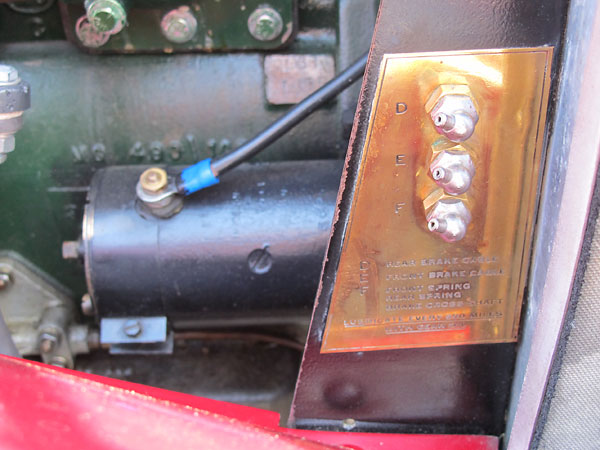 Oil seal and lubrication technologies were still in comparative infancy, so
centralized lubrication ports were an important convenience feature.
"D: rear brake cable. E: front brake cable. F: front spring, rear spring,
brake cross shaft. Lubricate every 500 miles with gear oil."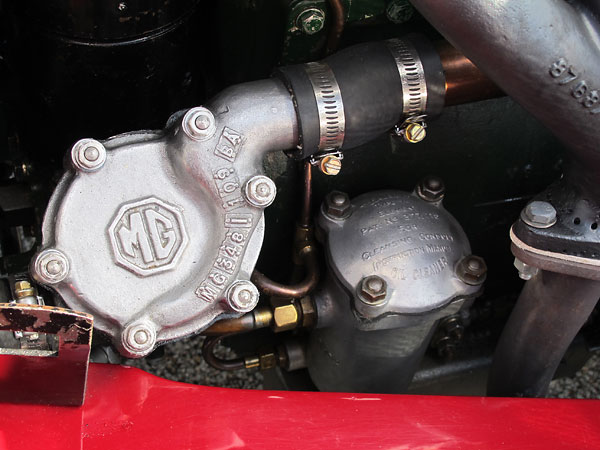 Optional equipment water pump (marked "MG 348/109 BA"). If this weren't installed,
water would still naturally flows through the cooling system due to convection.
To its right: engine oil filter.


Front Suspension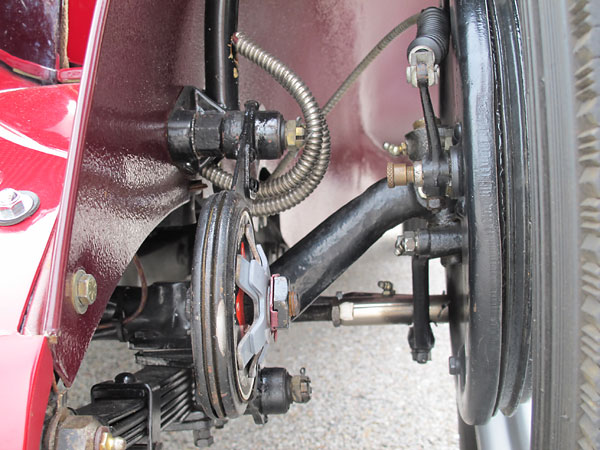 Beam front-axle MGs were deliberately designed to have torsionally flexible frames in order
to ensure stability at speed. Shortly after the P-type entered production, MG began developing
their first independent front suspension for what would become the R-type racecar (introduced
in April 1935). For IFS, frames needed to be re-designed to maximize stiffness.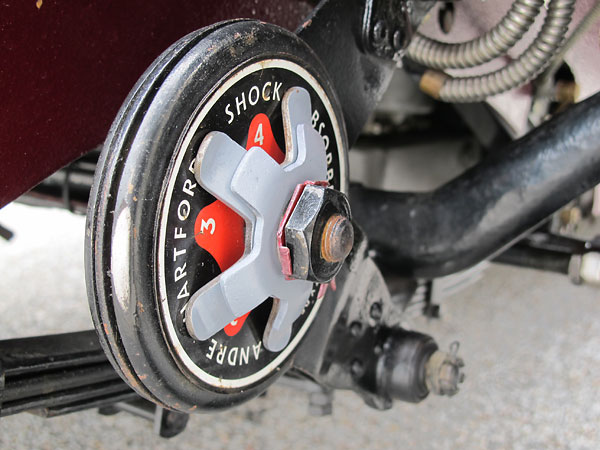 Andre Hartford Ltd (of Shrewsbury in Shropshire) adjustable friction disk shock absorber.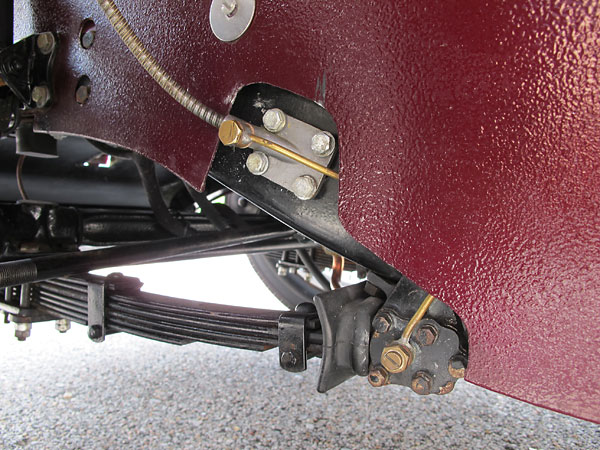 Brake cables and leafspring mounts are both lubricated periodically with gear oil.


Rear Suspension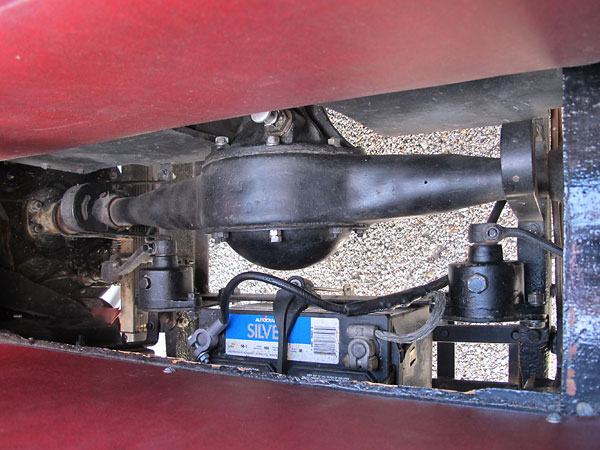 Compared to the J-type which preceded it, the P-type had a slightly longer wheelbase (86"
versus 87 5/16"). It came standard with larger (12" versus 8") brakes. At 1652 pounds,
it was about 225 pounds heavier. Track width was unchanged at 3' 6".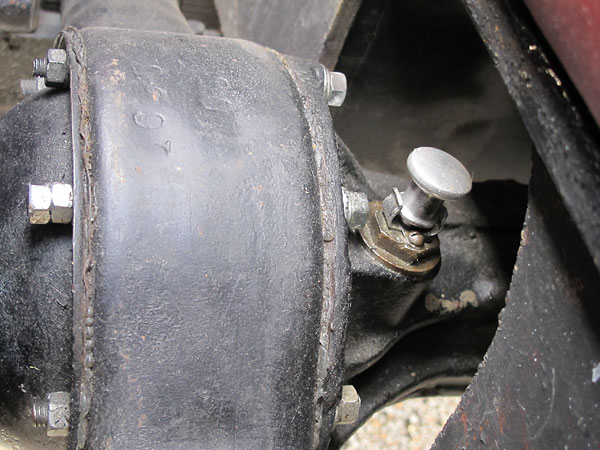 5.375:1 rear axle. A dipstick was provided so oil level may be conveniently checked.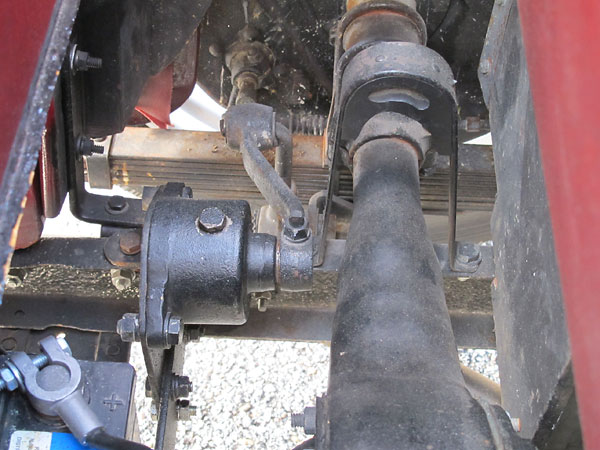 Luvax hydraulic shock absorbers are original. A common aftermarket solution was to replace
the hydraulic shocks with friction shocks - two per side - which would facilitate ride
adjustment. Note how the bump stops wrap around the axle housing. Other notes: MG
switched to box-section framerails with introduction of the T-series. MG P-types
were originally fitted with dual six volt wet-cell batteries.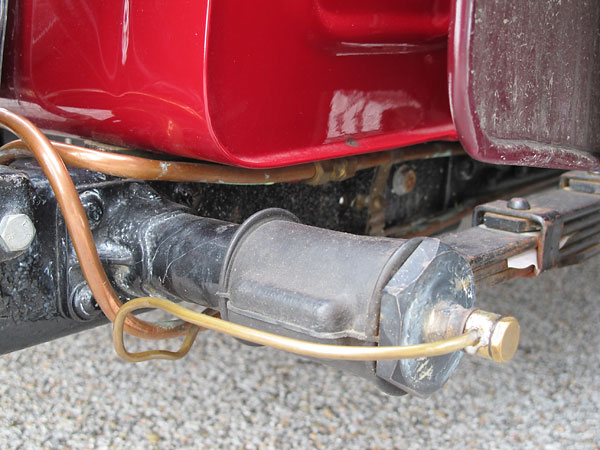 "Sliding trunnion" leafsprings are a classic MG feature used on most models from the
C-type (1929) through the TB (1939). The longest leaf of each leafspring slides on
bronze bushings rather than swinging on a shackle. This has implications for roll
steer, etc. If you're interested in this sort of technical detail you'll enjoy
our sister website: BritishRacecar.com


Interior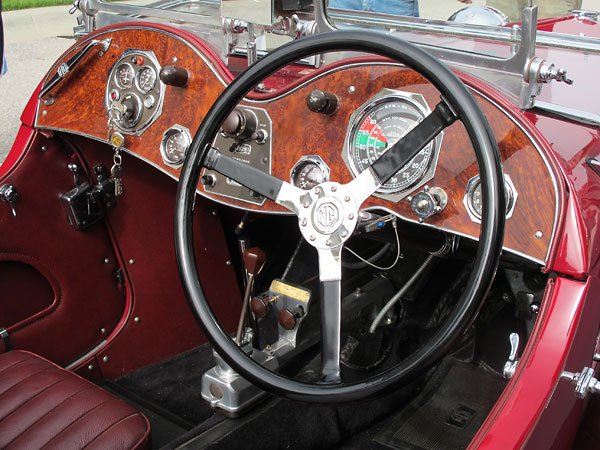 This particular PA was ordered with MG's "Deluxe" dashboard option package, which included oil
and water temperature gauges plus an 8-day clock. Don's PA has been restored correctly with an
American Redwood dash. That's the same wood MG originally used. In 1934 the United States
banned export of redwood. MG switched to English Walnut for the PB model.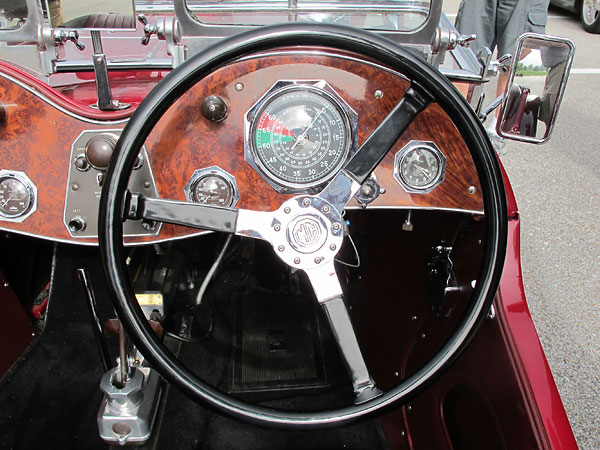 This is the factory-original steering wheel. It flexs disconcertingly, which may be
why "banjo style" aftermarket steering wheels were an extremely popular accessory.
(A banjo steering wheel has three spokes, each composed of four strong steel rods.)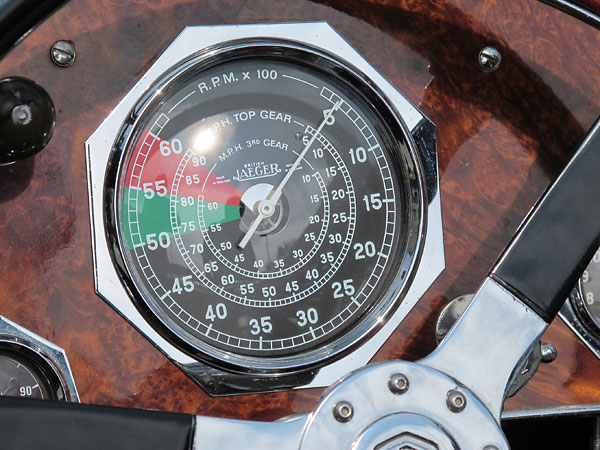 Jaeger mechanical tachometer indicates road speed too, assuming you know which gear you're in.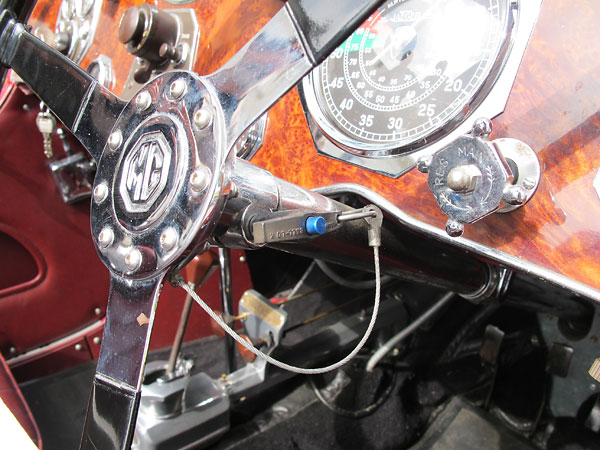 One of a handful of modest modifications: Don uses a quick-release pin on his steering wheel hub.
Right: a knob for selecting between main and reserve fuel supply lines. There's no fuel level
gauge. Instead, rely on your odometer or trust the reserve supply to get you to a gas station.
(Two pick-ups at varying height in the same tank, so don't forget to switch back to "main"!)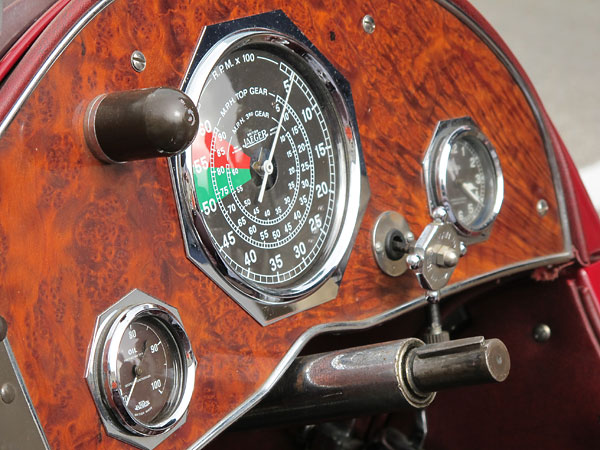 Left: Jaeger oil temperature gauge (30-100C). Right: Jaeger "8 day" clock.
(It's spring-powered, and you need to wind it up approximately every eight days.)
Don's gauges were restored by John Marks in England. They aren't internally lit,
so MG provided adjustable "Divers Helmet" style lights for nighttime driving.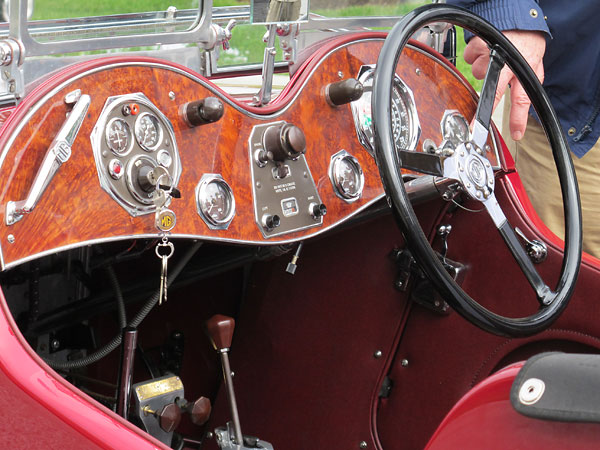 Center of dashboard control panel, left-to-right (4 rows): a pushbutton switch labeled "spare" controls
a period correct Lucas L-56 driving light, the horn button has a dipper (hi/low beam) headlamp
toggle switch built into its base, a pushbutton switch labeled "dash" controls the dashboard
lights, main odometer, warning message "Do not rev engine until oil is warm.", left side
trafficator (turn signal) pushbutton, trip odometer, right side trafficator pushbutton.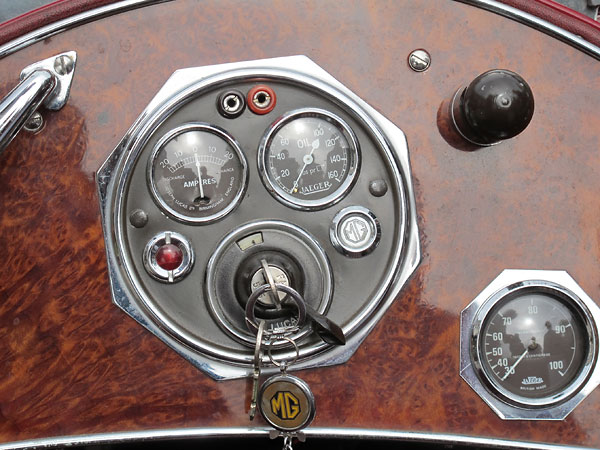 "No charge" light, Joseph Lucas Ltd. ampere gauge, Sockets for the Trouble Torch (see below),
key-operated "PLC" switch (controls ignition, running lights, and headlights), Jaeger oil
pressure gauge, and an MG labeled plug. Off to the right: Jaeger water temperature gauges.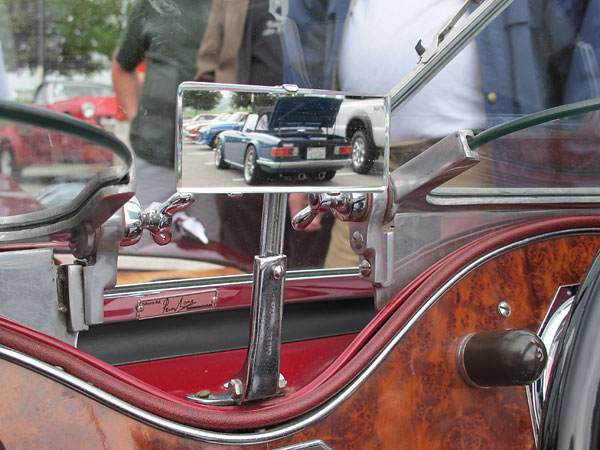 This reproduction MG PA windscreen was produced by Percy Lane Products, who have
provided windscreens and related vehicle components since June 22nd, 1932.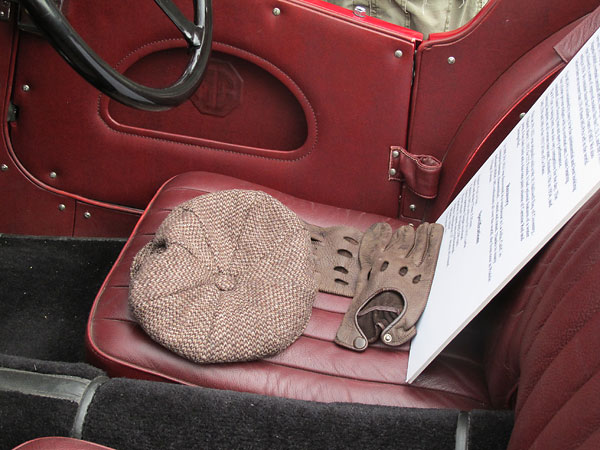 Tweed cap and leather driving gloves.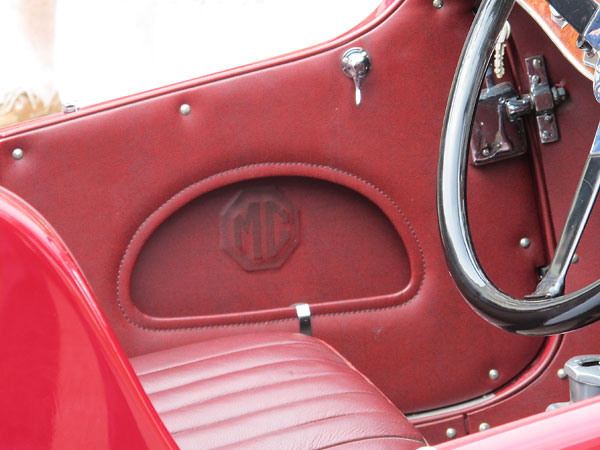 MG P-type doors have built-in glove pockets.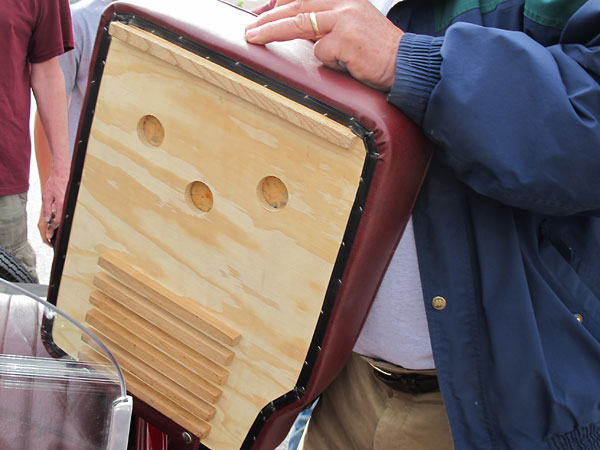 Adjustable seat: five selectable (fore and aft) seat cushion positions.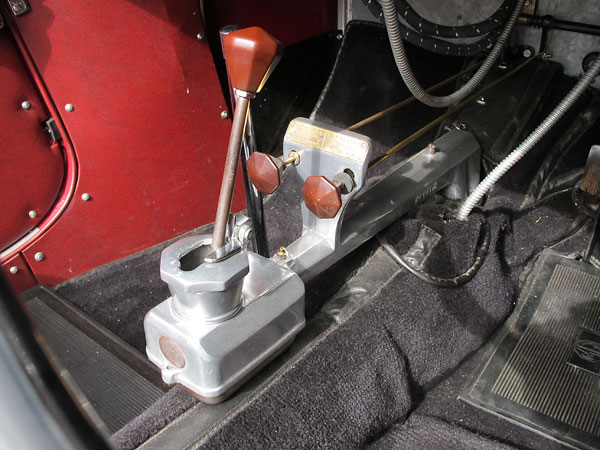 Lefthand knob controls idle speed. Righthand knob controls choke.
Pull the choke knob to richen the fuel mixture for cold starts.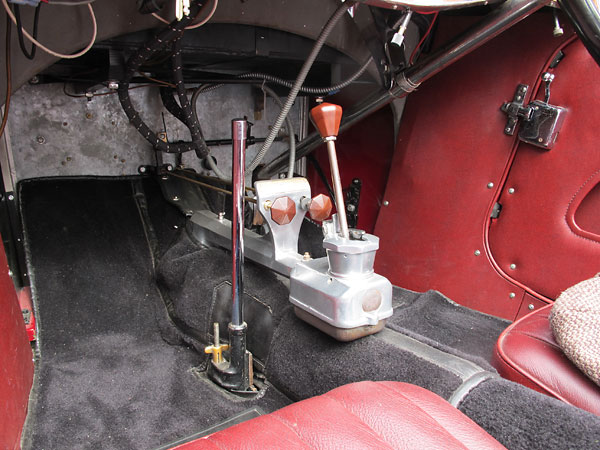 Fly-off handbrake lever. The pushbutton at its tip operates to set the parking brake,
not to release the parking brake. Don't think of this lever as just a parking brake!
On a car with mechanical (cable/linkage) brakes, handbrake levers typically get
used often. The lever bypasses some friction points and provides helpful leverage.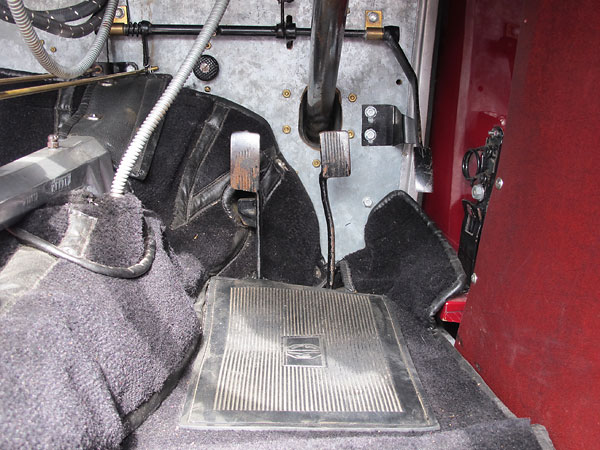 The round device above and to the left of the clutch pedal is the engine's starter switch.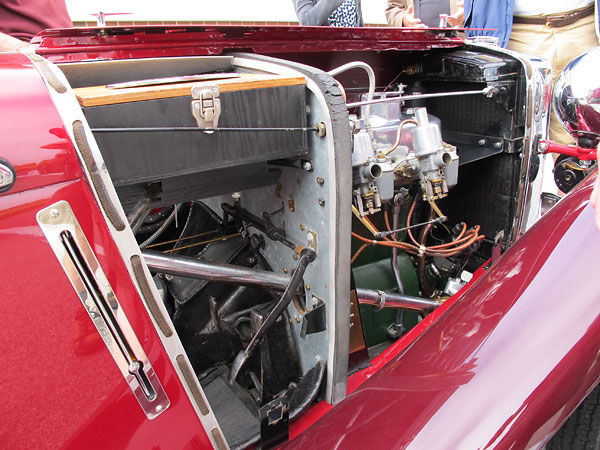 Firewall is galvanized steel.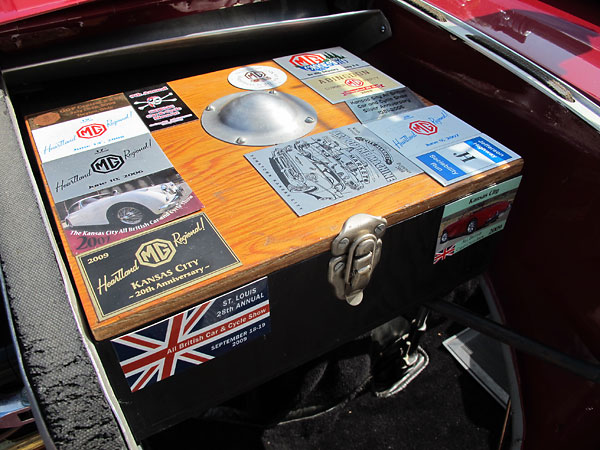 "Tools, jack, and accessories for 2-seaters were fitted on the floor behind the backrest.
I had to have more legroom so I built 4-seater style toolboxes. They're reproductions, but
spot-on right down to the 3" domed metal cap on the left one to make room for the jack."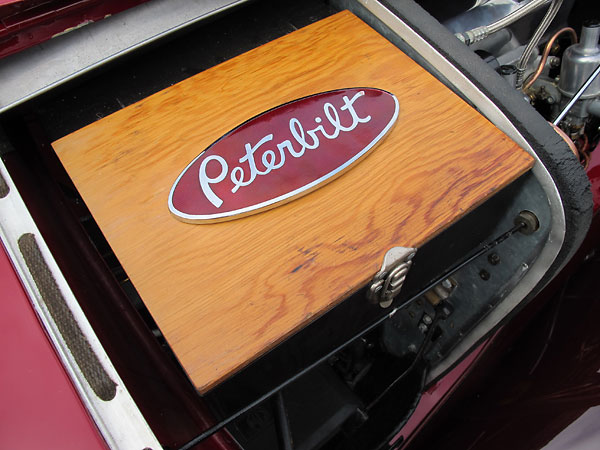 Peter Down of Reading England came to Kansas to help Don get his restoration started.
Later, Don honored him by installing this Peterbilt emblem.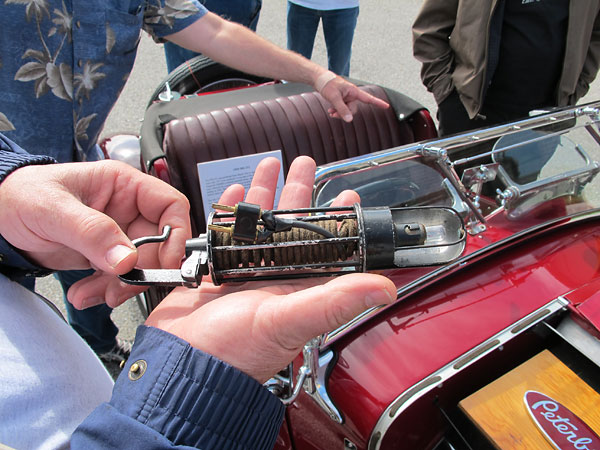 "Trouble Torch" with retractable cable and a plug sized to match a dashboard mounted receptacle.


Enjoying this article? Our magazine is funded through the generous support of readers like you!
To contribute to our operating budget, please click here and follow the instructions.
(Suggested contribution is twenty bucks per year. Feel free to give more!)
Exterior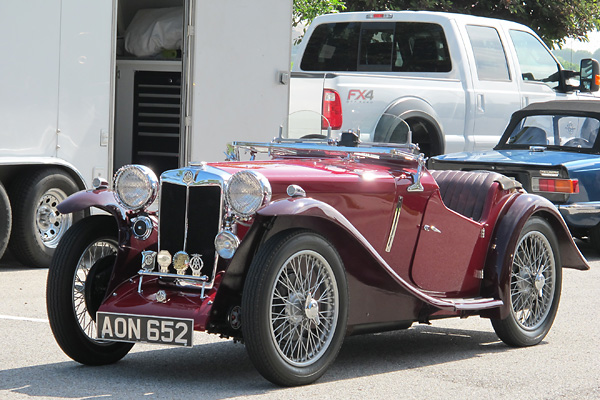 Your BritishV8 editor accepted an offer to drive this car during the BritishV8 2013 meet.
I can testify that it's a hoot! Until I drove it, I didn't appreciate how low the seats are compared to
the windscreen and rather large steering wheel. Though it's not fast by any objective standard,
it manages to feel quick and it's uncommonly agile and willing. It's 100% percent sports car.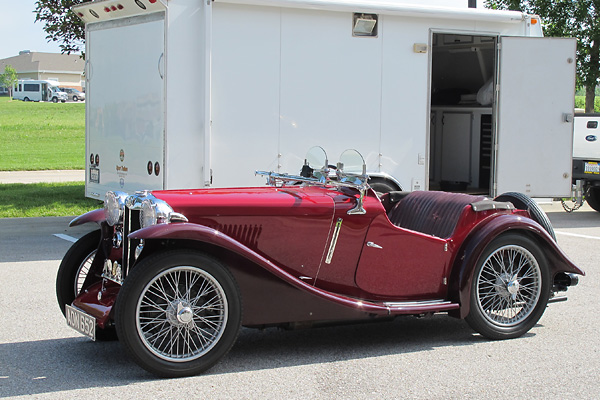 Original duo-tone paint scheme in Carmine and Saratoga Red. (Saratoga Red is the darker of the two.)
MG originally used cellulose paints. Don's paintjob features durable PPG basecoat / clearcoat.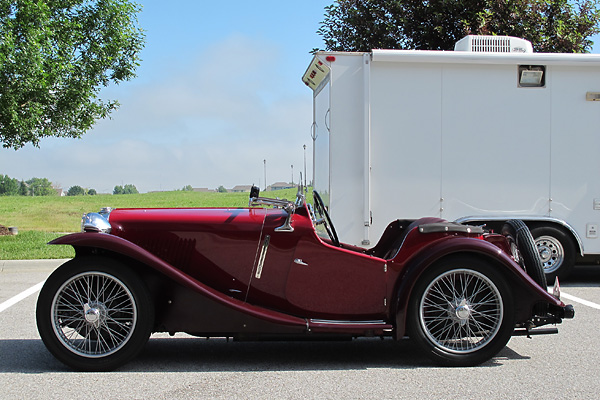 Swoopy styling! Swept-back fenders and running boards became a standard feature for the Midget
range starting in 1933 on the J2. The feature existed two years earlier on Magnette models
and one year earlier on Magna models.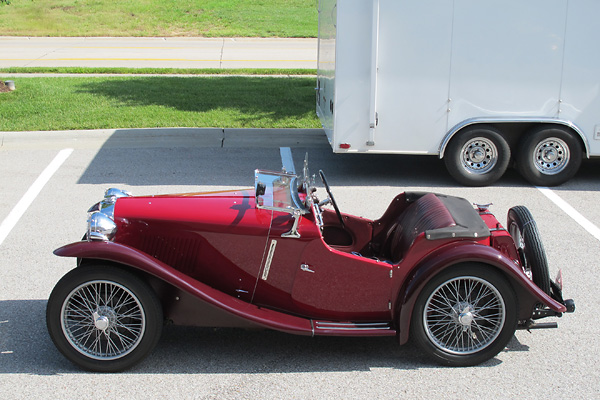 This particular PA was originally purchased by Mr. H. Halliwell of Coventry on March 1, 1935.
Purchase price? £222 plus £1 60p for the optional-equipment water pump.
In 1999, it was found in La Jolla, California: disassembled, rusted, and rotted.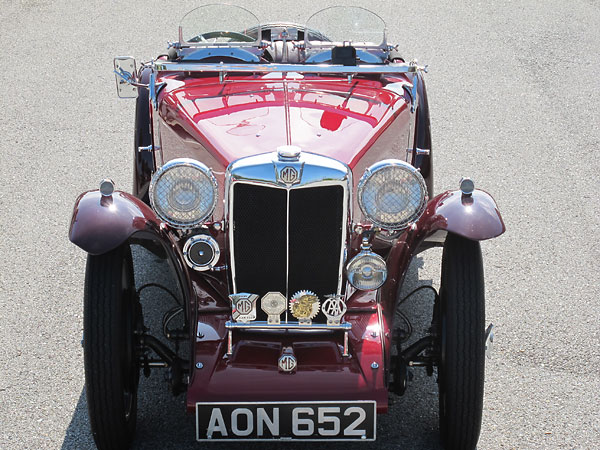 Front grilles are the easiest way to tell a PA from a PB. From its introduction in
September 1935, the PB model was the first MG to feature a vertically slatted grille.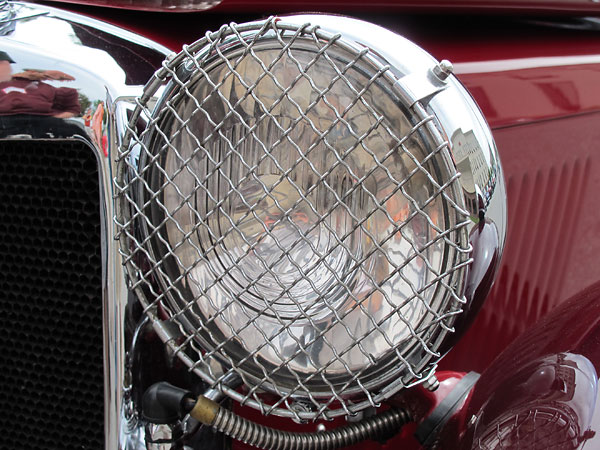 Headlight, with screen.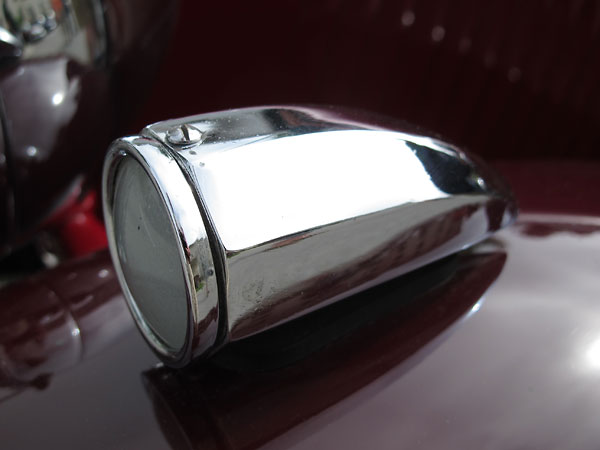 Fender mounted marker lights, octagonal in cross-section.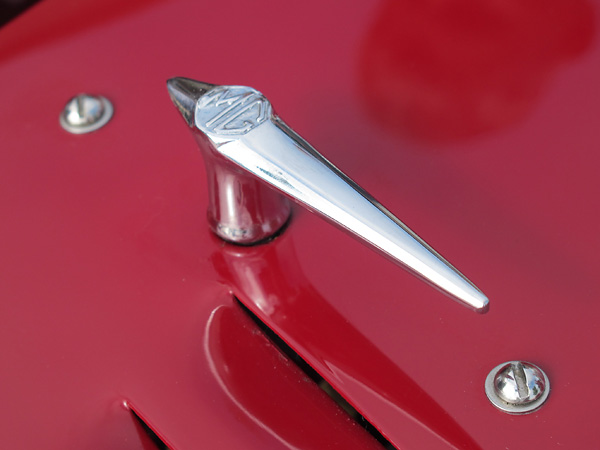 MG hood latch.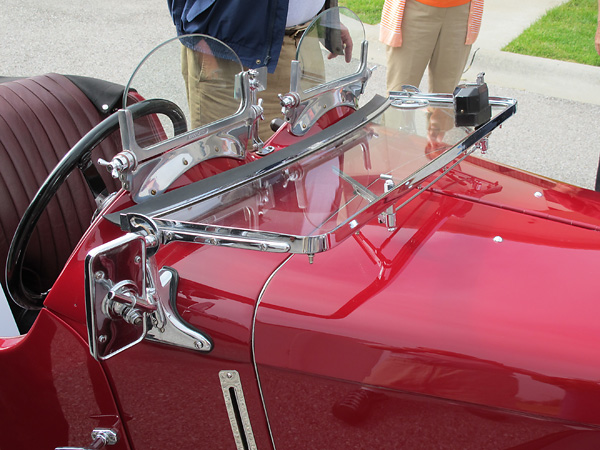 Brooklands Aeroscreens were a popular period accessory. It's not uncommon to
see them in combination with the factory-installed folding windscreen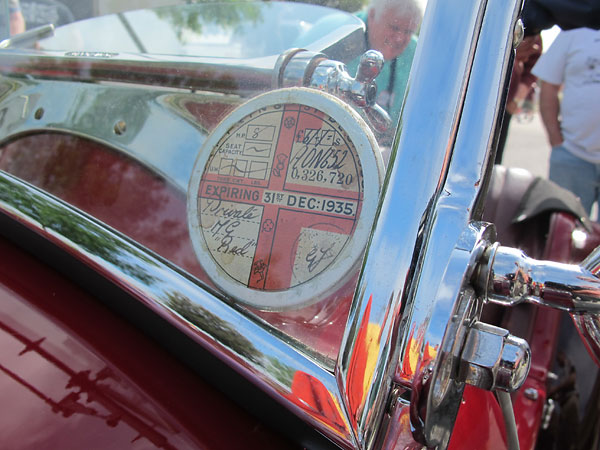 This tax disk indicates that taxes were paid-up through 31st December 1935.
Notice that it also indicates this car's horsepower rating for the purpose of taxation: just
8 horsepower! Technically, English tax rates were based on engine horsepower but the
standardized equation for determining horsepower considered only piston surface area.
Poorly written tax code resulted in generations of small-bore, long-stroke engines.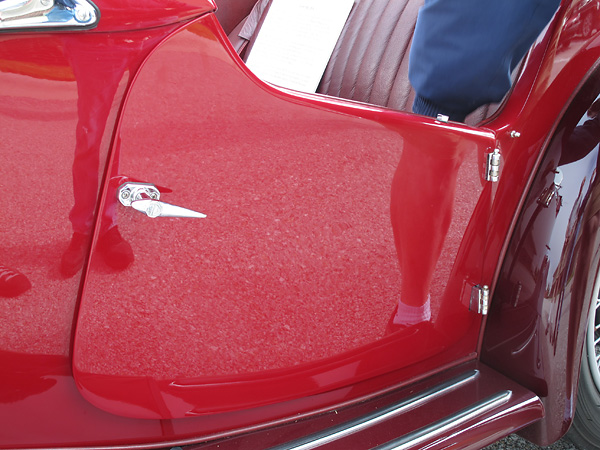 "Suicide doors" is the popular name for car doors that hinge from the rear.
They make entering and exiting easier, but be sure to latch them properly!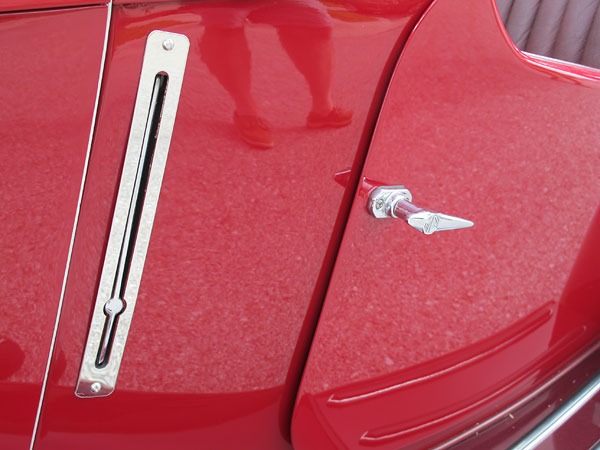 Trafficator (semaphore) turn signal - retracted.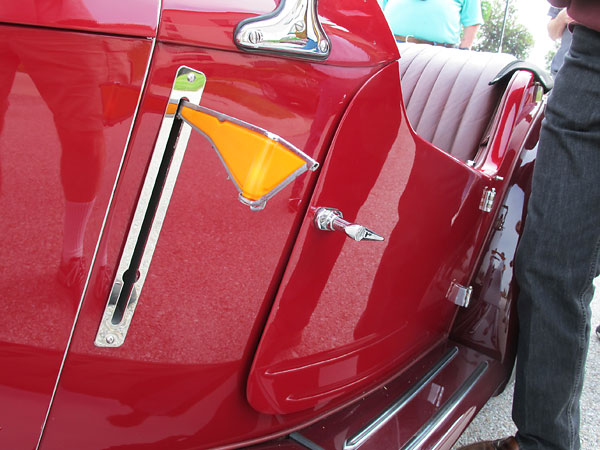 Trafficator (semaphore) turn signal - extended.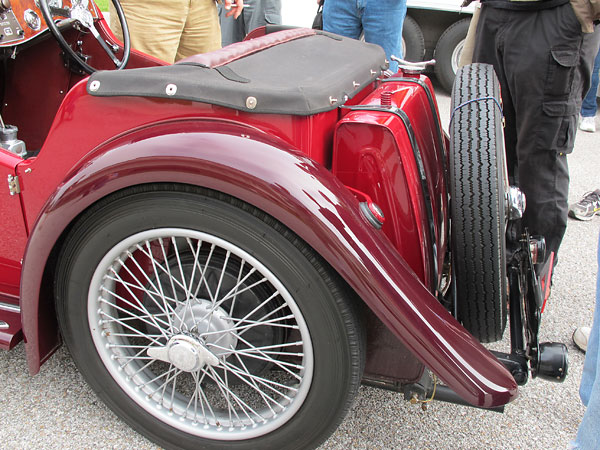 Fuel capacity: twelve imperial gallons (which equates to ~14.4 U.S. gallons or ~54.6 liters.)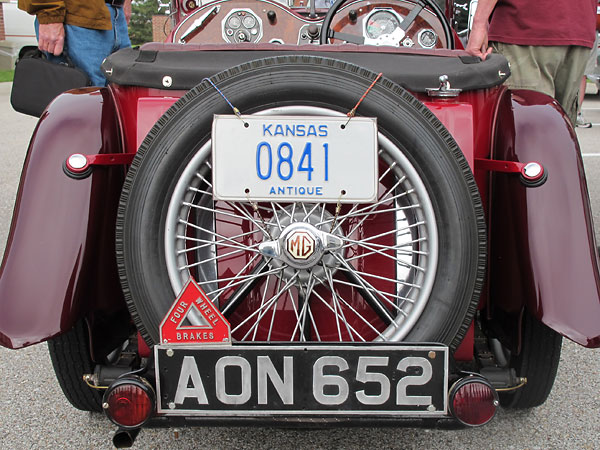 Caution: "four wheel brakes". Due also to its light weight, the MG P-type could
decelerate more quickly than its contemporaries.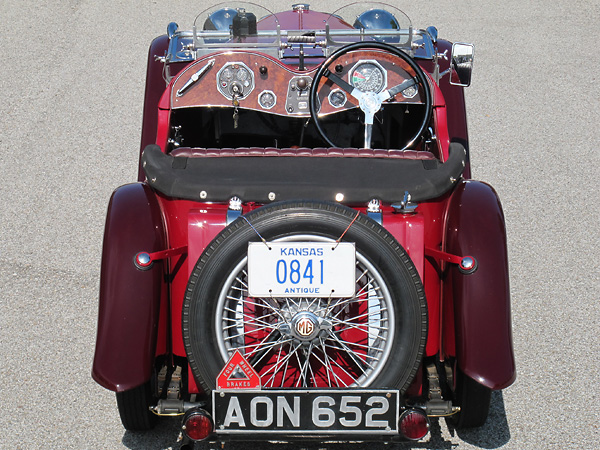 MG's PB came with a very different dashboard and instrument package from the PA:
speedometer mounted passenger side and tachometer mounted driver side.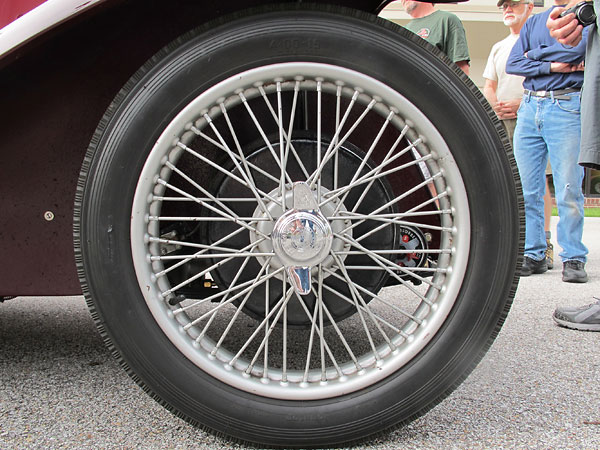 Dunlop tires (4.00"x19").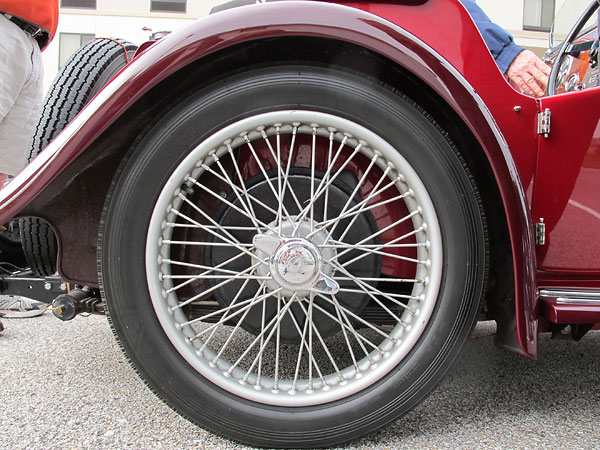 Rudge Whitworth 48-spoke steel wheels.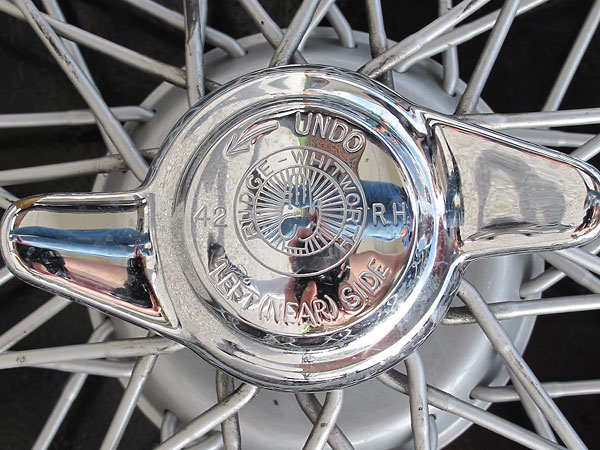 Rudge Whitworth Cycles formed in 1894 when two bicycle companies merged. The company
expanded into automobile wheels in 1907, after inventing the knock-off wheel. From
1911 to 1946, Rudge Whitworth also manufactured motorcycles.


Notes:
(1)
In MG parlance, the Midget designation applied to a whole range of lightweight four cylinder sportscars produced over many years. MG also produced six cylinder sports cars; that series was known as the "Magna" range. MG produced large luxury cars, which they called "Magnettes". The T-series sports cars that American GI's fell in love with during WWII were technically Midgets, whether buyers knew it or not. Midget didn't become a model name until the 1960s.


(2)
The uprated engine of the MG PB came in reaction to the 1935 Le Mans race results. Singer 972cc sportscars dominated by finishing 1st, 3rd, 4th, 6th, and 7th in the under-one-liter class. (Those five cars finished 16th, 19th, 20th, 22nd, and 23rd overall.) The quickest of the Singer racecars outran the Dancing Daughters team by about ten miles per hour over the 24 hour race. MG delivered a very significant performance enhancement by increasing displacement from 847cc to 939cc; and did so with no price increase at all. Results? The 1936 24 Hours of Le Mans race was cancelled due to a general strike in France, but in 1937 an MG PB entered by George Eyston and co-driven by Dorothy Stanley-Turner and Joan Riddell finished fourth in class and sixteenth overall. Four Singer entries failed to finish the race.


(3)
The P-type is part of the Midget, Magna, and Magnette ("MMM") family of overhead camshaft engine powered cars, which started in late 1928 with the M-type Midget and continued through a progression of models (C-type Midget, D-type Midget, F-type Magna, J-type Midgets, K-type Magnettes, L-type Magna, N-type Magnettes, both PA and PB type Midgets, Q-type Midget, and R-type Midget) through 1936.