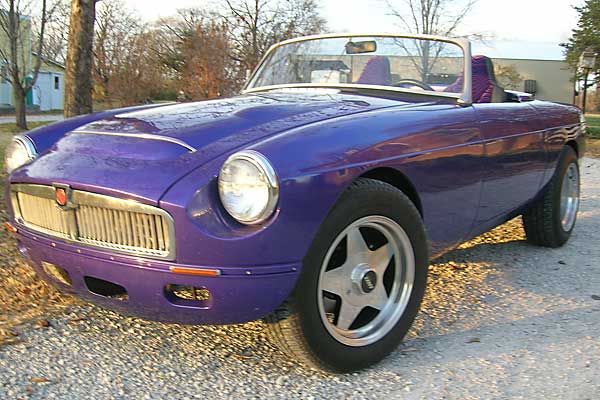 David Thorn's 1969 MGC with Buick 300 V8 engine
as published in British V8 Newsletter, Volume XIV Issue 3, December 2006
Owner: David Thorn
City: Carthage, MO
Model: 1969 MGC
Engine: 1964 Buick 300 V8
Engine:
1964 Buick 300 V8 (which is very similar to the Buick 215, although it has an iron block in lieu of aluminum. It has aluminum heads, larger valves, and a longer stroke.) Heads ported and polished, engine bored 0.030" over. Dyno tested at 310 HP.

Intake:
Aluminum intake w/ Edelbrock 4 barrel 750cfm.

Exhaust:
Custom headers into 2.5 stainless Magna-Flow exhaust w/ dual chrome tips.

Cam:
Isky HP-2 cam adds an additional 25 HP.

Lubrication:
Remote oil filter on left inner fender.

Cooling:
Custom built 4 row radiator w/ puller electric fan.

Front Susp.:
Stock MGC. (Note: MGC used torsion bars in lieu of coil springs.)

Rear Susp.:
Leaf springs w/ XD gas shocks.

Drivetrain:
GM 350 turbo automatic w/ race torque convertor.

Rear Axle:
Ford 8 inch w/ Lincoln locker.

Brakes:
Front - AeroSpace Components aluminum hubs, rotors and calipers.
Rear - Ford drum brakes.

Wheels/Tires:
Eagle alloy wheels front 15X8, rear 15X10 with Michelin 195/65 R15.

Body:
Fender beads ground off flush. Exterior door handles and locks removed and filled. Door glass removed and openings filled. Chrome strips and trunk lock removed. Original turn/brake lamps replaced with steel. Sebring valance front and rear. Cobra style rear bumpers. Fuel filler relocated into trunk. Custom fiber glass toneau cover.

Paint:
1970 Plymouth Baracuda "Plum Crazy".

Interior:
GM tilt steering with Grant wheel. B&M Quick Silver slap shifter. Custom upholstery. Summit racing seats with custom covers. Simpson race belts. Custom flat dash with Dolphin "6-pack" gauges.

Electrical:
EZ 2 Wire Harness. Dolphin programable white face gauges. LED turn-signal and brake lights (front and rear). Original Lucas head lights. Battery relocated to trunk.

Miles Driven:
1815 miles as of November 2006.

Completed:
2005.

Comments:
This MGC was built in Florida over a five year period. I purchased the car with less than 400 miles since its conversion. The car was built for speed. The conversion and rebuild was done to a very high standard. Since purchasing the car in May of 2006, it has been driven on a regular basis both for fun and to shows. It has won trophies in each of the shows it was entered in, and it never fails to attract a large crowd interested in the power plant and funky paint and interior. Unbelievably responsive, the car's handling is very agile and the brakes will stop it on a dime.