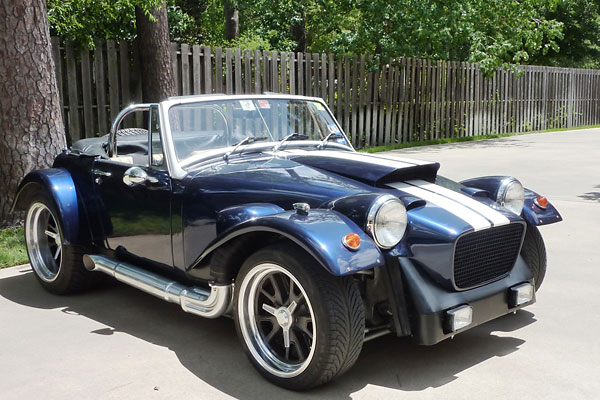 David Rowen's 1972 Arkley Midget with Chevy 383cid V8
Owner: David Rowen
City: Houston, Texas
Model: 1972 MG Midget / Arkley Conversion
Engine: Chevy 383cid V8
Built by: owner
Features and Specifications
| | |
| --- | --- |
| Engine: | Chevrolet 383cid V8. Custom-ground Patriot Performance camshaft. Hydraulic lifters. Roller rockers. Aluminum cylinder heads. Edelbrock intake manifold. Holley 750 double-pumper carburetor. MSD ignition. MSD billet distributor. High capacity oil pump. |
| Cooling: | Griffin aluminum radiator. Dual electric cooling fans. |
| Exhaust: | custom 4-into-1 headers. Modified Cobra sidepipes. |
| Transmission: | Tremec TKO II five-speed. McLeod clutch. McLoed hydraulic throwout bearing. Custom built 15" driveshaft. Chevy/Ford u-joints. |
| Rear End: | Currie Enterprises narrowed Mustang Cobra rear end. Posi-traction. 3.73:1 gears. |
| Front Susp.: | Chris Alston Racing front suspension. Custom rack and pinion. QA1 adjustable coil-over shock absorbers. |
| Rear Susp.: | modified Chassis Engineering four-link suspension. QA1 adjustable coil-over shock absorbers. |
| Brakes: | Corvette dual master cylinder. 11.5" Wilwood front discs. 11" Mustang Cobra rear discs. |
| Wheels/Tires: | aluminum wheels (16x8 front, 17x11 rear). Kuhmo tires. |
| Chassis: | purpose-built 2" square-tube chassis. 81" wheelbase. |
| Body: | highly modified, widened Arkley kit front and rear clips. Fenders widened 4" each side over original. Cobra hood scoop. Sheetmetal front spoiler. Additional hood scoops. Hood bulges to accommodate side-pipes. Chromed roll bar and rear bumper/nerf bar. |
| Interior: | seats are built into body in order to provide more leg room. Custom-built hanging pedals and pedal box. Front footwells custom built to provide maximum space. Custom built aluminum gas tank with 13gal capacity. |
| Instruments: | Smith gauges (tachometer, speedometer, oil pressure gauge, ammeter, fuel level gauge, and coolant temperature gauge.) Custom built instrument panel. |
| Electrical: | Optima battery (mounted in rear.) 100 amp alternator. Painless wiring harness. Stereo with 2 speakers in center console. Front driving lights. |
| Weight: | ~1800 pounds. |
| Performance | 501 horsepower on the dynomometer. |
| Comments: | first built in 1985 with Mazda RX7 engine. Totally rebuilt in 2010. Driven ~5000 miles since second conversion. |
Engine Installation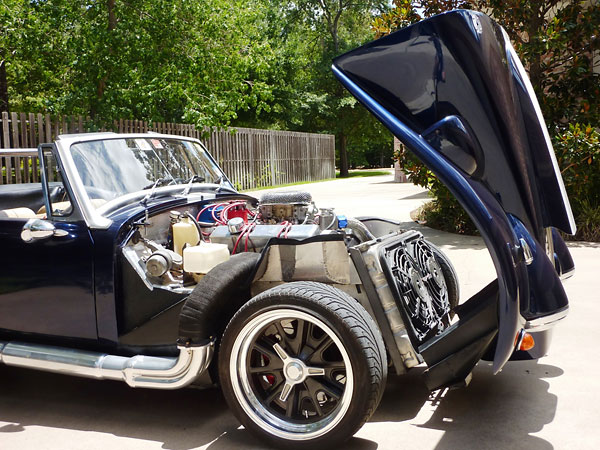 Chevrolet 383cid V8 with custom 4-into-1 headers and modified Cobra sidepipes.



Griffin aluminum radiator and dual electric cooling fans.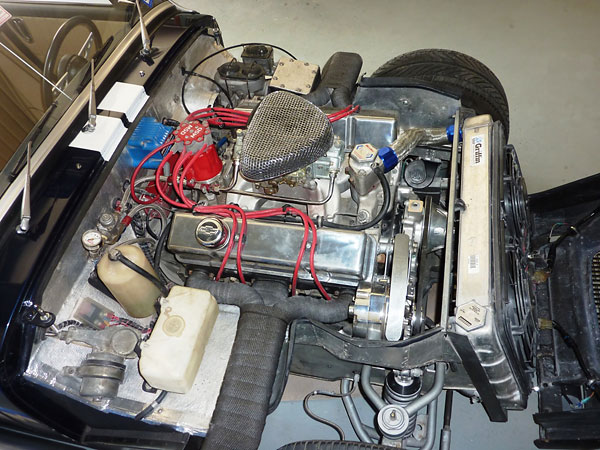 Edelbrock intake manifold. Holley 750 double-pumper carburetor.


Interior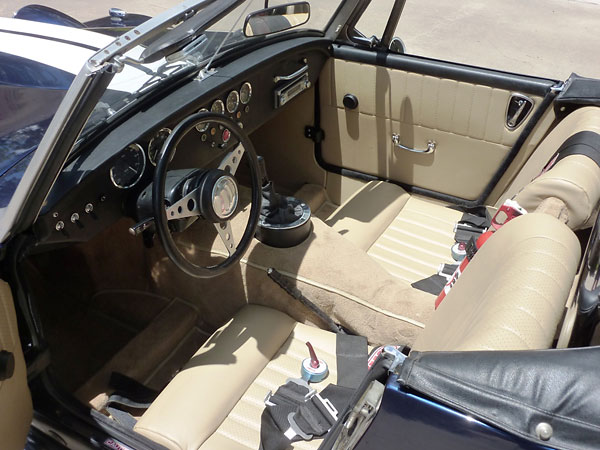 Custom seats built right into the body provide more legroom than stock.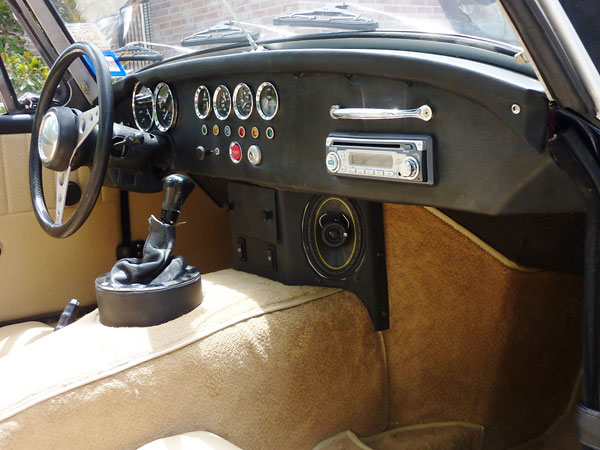 Custom built instrument panel.


Enjoying this article? Our magazine is funded through the generous support of readers like you!
To contribute to our operating budget, please click here and follow the instructions.
(Suggested contribution is twenty bucks per year. Feel free to give more!)
Exterior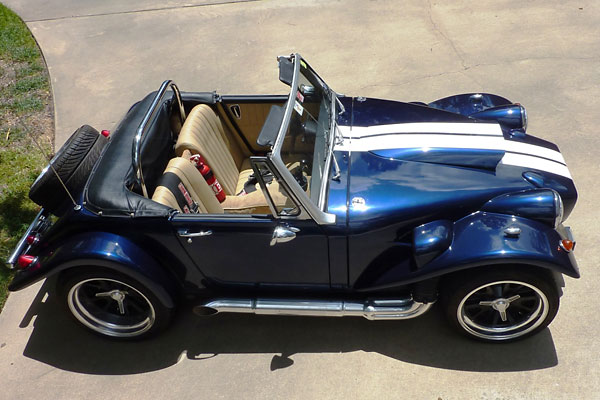 Arkley produced fiberglass body kits to give MG Midgets an old-school roadster look.
David built out the Arkley front and rear fenders - four inches on each side!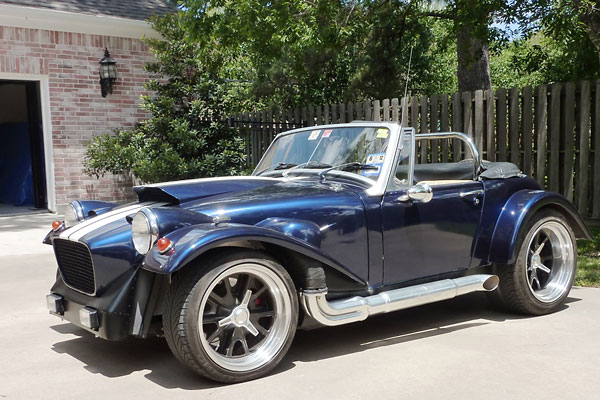 Cobra hood scoop, plus two small hood scoops further forward.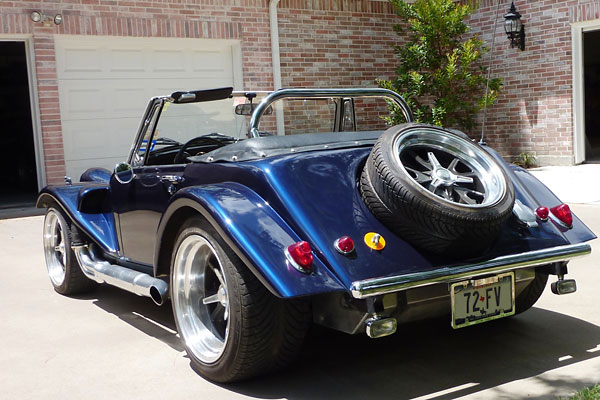 Chromed roll hoop and rear bumper/nerf bar.