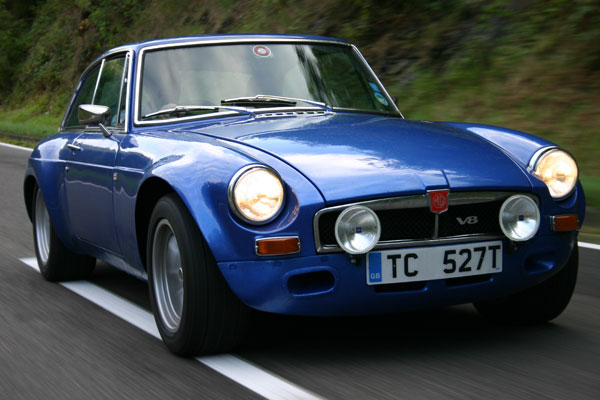 Darren Jones's 1979 "MGB GT V8 Sebring" features a Rover 3.5
as published in British V8 Magazine, Volume XVI Issue 1, May 2008

Owner: Darren Jones
City: Blackburn, Lancashire, UK
Model: 1979 MGB-GT
Engine: Rover 3.5L V8
Conversion by: Darren Jones and Robin Brown
Engine:
Rover 3500cc V8. First unit was a second hand one putting out barely 140bhp. This has been replaced with a reconditioned block and reground crank, with everything else new, giving about 200bhp. Piper 270/110 cam. Electronic ignition.

Induction:
Currently Weber 500, but soon to be replaced with 14CUX Hot Wire EFi.

Cooling:
new MGB V8 radiator, with twin electric fans as per the factory V8 model.

Exhaust:
big-bore system, with RV8-style through-the-wing headers.



Transmission:
Rover LT77 5-speed (from a Rover SD1).

Rear Axle:
Salisbury, with 3.07:1 gear ratio.

Front Susp.:
standard, except Spax adjustable shock absorbers and polyurethane bushings.

Rear Susp.:
standard, except Spax adjustable shock absorbers, plus the anti-sway bar has been cut and modified to function as anti-tramp bars. The main leafs of the leaf springs have been flipped upside down to provide a lowered stance. Polyurethane bushings.

Brakes:
EBC grooved and dimpled front rotors and Green Stuff pads. Stock rear brakes.

Wheels/Tires:
15x8 Minilites, 225/50-VR15 Toyo Proxes T1-R tires.

Body:
Sebring-style fiberglass fender flares and valances. (Instead of simply cutting out the original wheel arches from the steel quarterpanels, the steel arches were flared underneath the new fiberglass panels to retain structural integrity. Frenched license plate. MG "Trophy Blue" paint.

Interior:
1 GHz Mini-ITX computer with 7" touchscreen monitor mounted in the console in front of the shifter. The computer provides satellite navigation, MP3 audio, and DVD video. "Classic Vinyl" bucket seats with blue piping. Securon four-point safety harnesses. Mountney steering wheel. The rear seat has been removed, and the space converted to house the PC and stereo amplifier, with a parcel shelf above. (The car is now strictly a two-seater, "as it should have been.") Sony stereo with Pioneer speakers.

Performance:
not yet fully tested, but the car did reach 120mph at the Nurburgring during a holiday trip last August.

Completed:
summer 2005. (Driven approximately 5000 miles as of March 2008.)

Comments:
This is my interpretation of a British Hot Rod, she is everything I hoped for, a bespoke sports car which handles incredibly well. Due to its low ride, sticky tires and wide track, it gives a great grip and breaks away progressively in cornering or quickly if you want to, when having fun. Lapped the Nurburgring first time out in about 11 minutes, but I was so scared of going off so the time was fine.

Some MG enthusiasts are not too impressed with the non-standard modifications, but I'm proud to say I salvaged a 4-pot rubber bumper GT that was destined for the crusher and gave it new life. That's the best kind of recycling!

Next modifications will be the electronic fuel injection, primarily for smoother running and fuel economy. I'd like to hook up the engine management of the Rover 14CUX engine management system to my PC to achieve real-time data access. If I can get it chipped, I'd like to be able to switch fuel maps, depending upon circumstances. I've sourced an MG RV8 bonnet, which will allow the Rover plenum to be used without modification.

Uprated brakes are also planned because the current ones fade during track days.

I use this car in all weather conditions. The chassis is waxoyled every two years, and my local vehicle tester says it's in better condition than other more recent cars. It has a couple of paint chips, and a war wound from when I caught the exhaust on a ramp which pulled it out and damaged the valance. That gives it character now.

Two final things, if you look down on that front arch, its pure AC Cobra - real 60's muscle car! If MG had had the wherewithal to make this model, I feel sure it would have closed out the model on a high.


How It Was Done:
I know exactly when I fell in love with the Sebring MG shape. I'd bought a 1972 MG BGT for my wife in 1995. It was a typical B: red, not in very good condition, but great fun. Inside the car I found a book about the MG marque with a picture of the John Chatham MGC GT Sebring. Instant desire... but I didn't think I'd ever own anything like it.

In 2003, while waiting for a job opportunity in Bulgaria, I had some spare time and wanted to do something productive. A magazine article that suggested I could build an MG Sebring replica, but with Rover V8 power, on a £4000 budget really caught my imagination.

I found a donor but decided very early, that I didn't want to create an absolute replica. I wanted something more contemporary and more personal. My car would be a bespoke sports car with all the latest features, including a suitable Rover V8 motor and the piece de resistance: a 7" touch screen PC to provide entertainment and navigation. (My trade always finds some way into my projects!) I also decided upon a later MG colour - "Trophy Blue" - which I felt would suit the car really well and bring it up to date.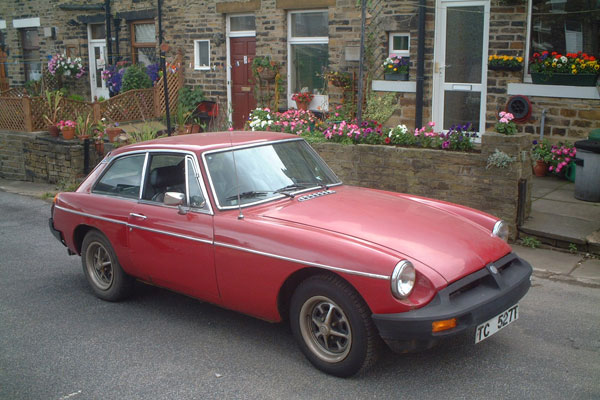 In June 2003, after viewing several basket cases, I found a suitable donor car. I bought a 1979 (rubber bumper) MGB GT which seemed generally sound apart from the sills. The sills had been repaired previously, but not very well. With a little time on my hands and a modicum of welding ability, I was prepared to try repairing the sills. I trailered the car home behind my trusty 1973 Series III Land Rover. The car was a runner, recently out of MOT, in dire need of some TLC and a good look at those sills.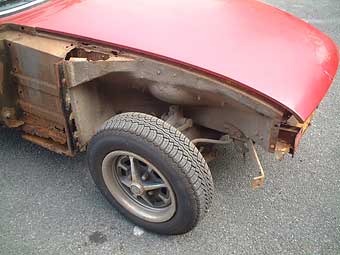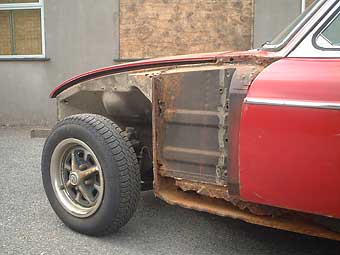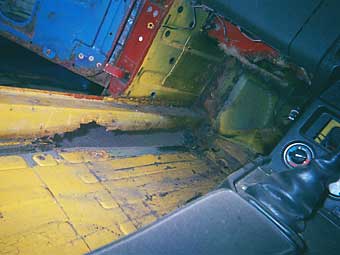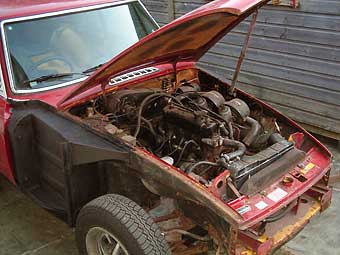 Without a garage, my driveway was my workshop. Removal of the rubber bumpers made the car look a little more lithe. Some prodding with a cold chisel showed the sills would require a full rebuild. However, just as the project got underway, a temporary business assignment threatened. As a consultant to the privatisation of a telecommunications company, my due diligence work was critical to the deal - but the time in Sofia was going to impact my schedule to complete the car before winter arrived. Without a garage, I needed some help.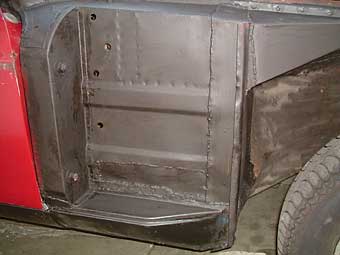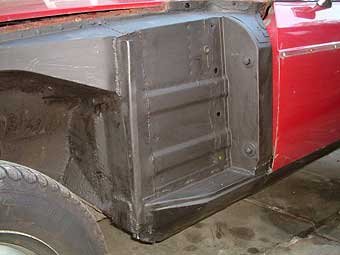 I'd met a fellow enthusiast at the Woodvale car rally in August who'd built his own MGB V8 Roadster. His partner in crime would be able to do the sills for less than the cost of the normal MG restoration garages. Even with the saving, the cost immediately blew my budget - and a precedent was set for the rest of the build. Oh well, easy come, easy go! At least he confirmed that the rest of the body shell was as good as I hoped.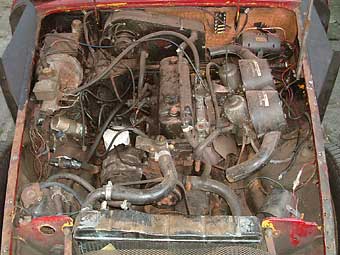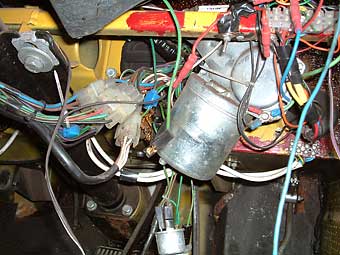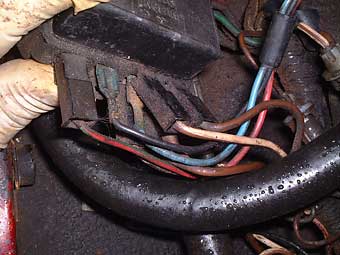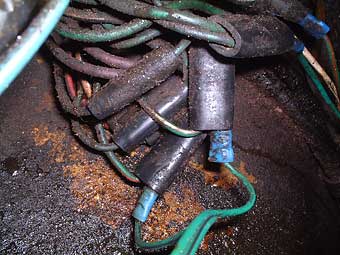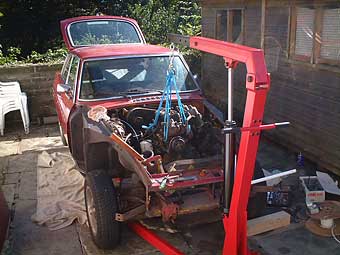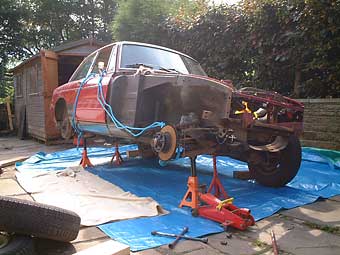 When my GT returned with new sills, I felt I had a good canvas on which to create my version of a masterpiece. The next tasks were to remove the engine, gearbox, and the interior (plus some unusual items such as a Harry Moss digital tachometer and a Tracker trip computer) took two days. My plan was to renovate or replace as much as possible. However, before I dismantled and shipped the suspension and axle parts off for shot blasting, I planned to remove the underseal from underneath and then repaint with Hammerite black paint.

I found that without the engine and gearbox removed, I could rotate the car up to about 30 degrees with my crane and then prop it up with strong axle stands, which gave me enough space to lie underneath. Armed with a heat gun and paint scraper, plus some cellulose thinners, I successfully removed all the underseal. However, the process aggravated a repetitive strain injury into tendonitis which means I'll have to have an operation at some point.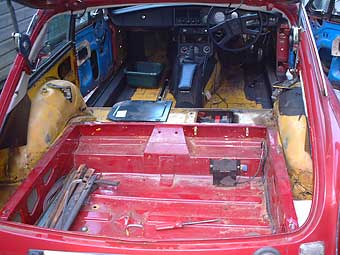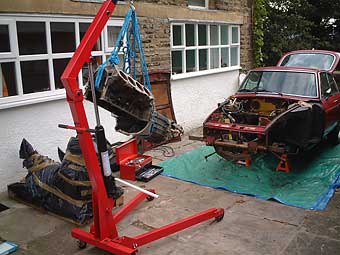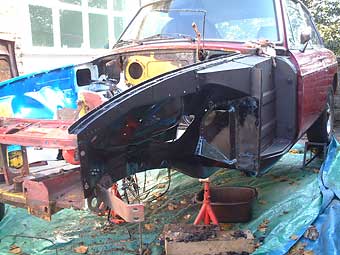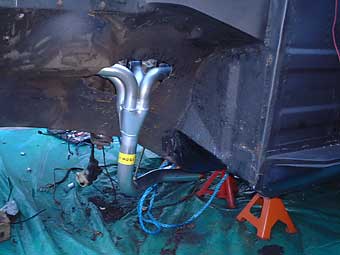 I sourced an engine and gearbox from one of the local Rover SD1 club members who also loaned me an extra engine block to help with locating the exhaust manifold holes in the wings and to offer the gearbox up for relieving the transmission tunnel, instead of using the heavier complete engine.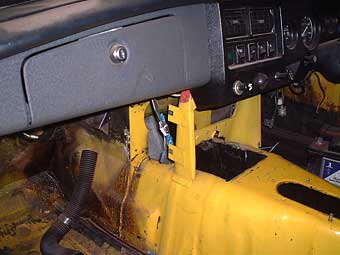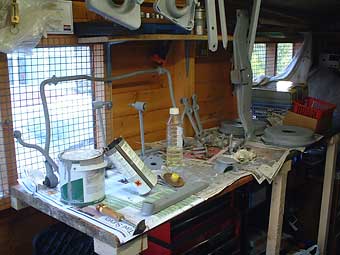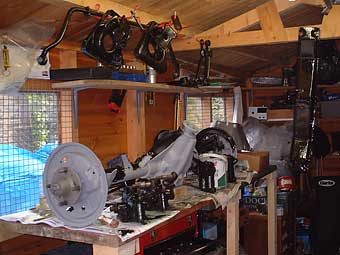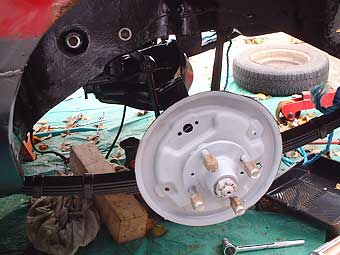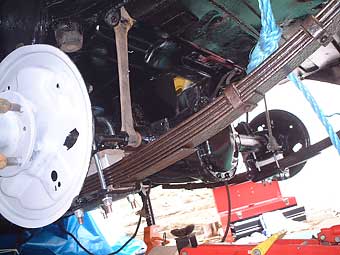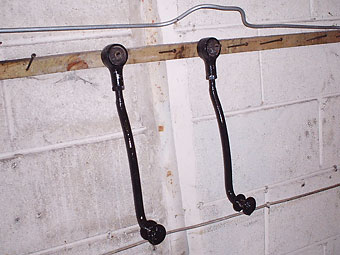 By now it was October and the weather was closing in fast, there was no way I would complete it before winter arrived so I started looking for a lockup garage to rent nearby. After a couple of false starts, I found a unit in an old mill which suited my requirements perfectly. It had been used as a garage previously, so it had a bench and painted floor. Price agreed, the MGB along with an MGF and my Land Rover were shuttled in away from the wet weather and I could proceed in relative comfort.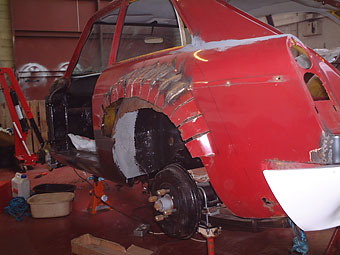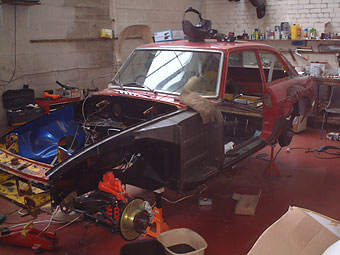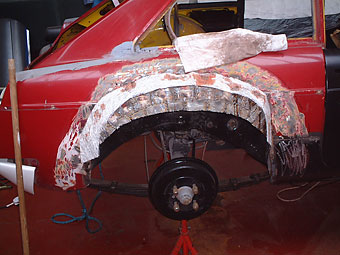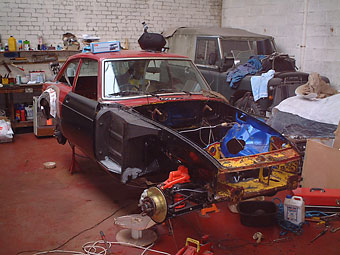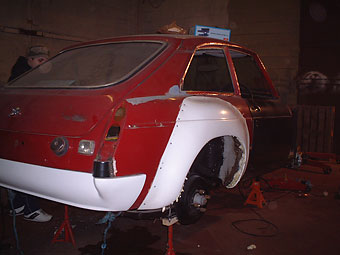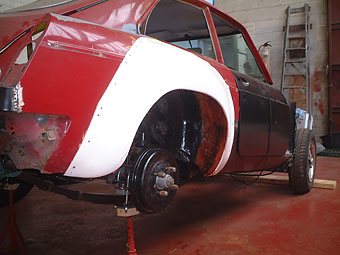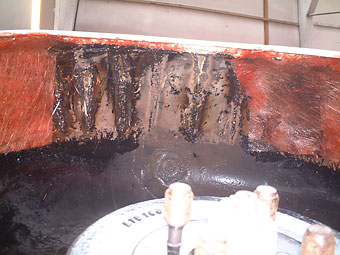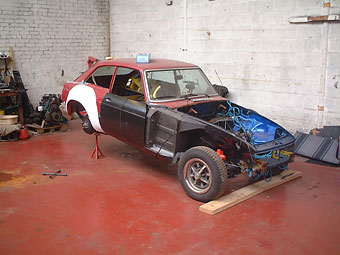 I then started onto the body work. I'd heard that some other Sebring conversions had been achieved by cutting the inner and outer rear wheel arches and inserting a fillet of steel in between before gluing the glass arches on. I believe this weakens the structure, so I set about 'fan' slicing the rear arches and bending them up into the shape of the arch before seam welding each strip. This then gave me a good base upon which to glue the arches which I'd cut up to get rid of all the superfluous fibreglass.

Over Christmas, progress was slow but at least the car was safe from the elements, I finished the arches, the metalwork extending the transmission tunnel, painted the interior floorpans and test-fitted the doors. It was important to get the fit right before offering the front wings to get the gaps right.

Then my normal day job started again with a vengence. For 6 months the rebuild stalled and when my career moved me temporarily to Sofia Bulgaria there was a risk that the car would become one of those half-finished projects offered in the small ads. I was determined to not lose focus, having completed much of the hard work and with many of the parts purchased.

Over these months, a good friend named Robin had become my project mentor. Robin had previously built a V8 Cobra replica, installed a Rover M16 engine in his own BGT, and was now working on his own MGA. He could see that all my work might come to nothing, and took pity on me. So, sadly, after delivering the car up to Robin's garage my involvement for the next 6 months was limited to following its progress through email and photographs. On occasional visits home I did get to witness some key milestones: first engine start in December 2004, selection of seats and belts, seeing the beautiful new Trophy Blue paint in April 2005, and finally selection of wheels and tyres in June.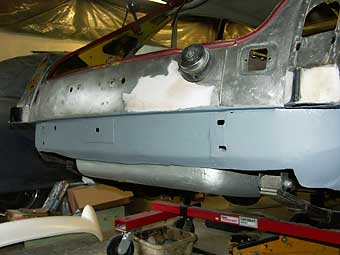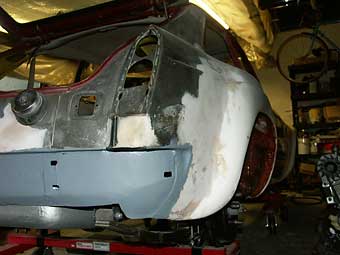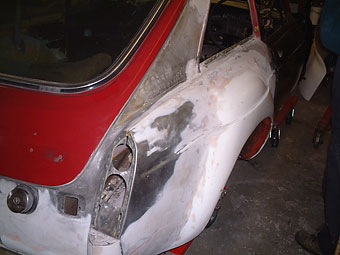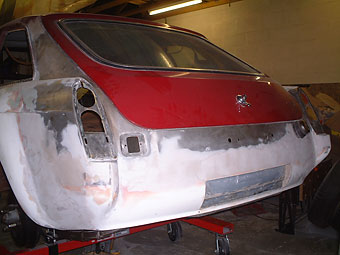 Enjoying this article? Our magazine is funded through the generous support of readers like you!
To contribute to our operating budget, please click here and follow the instructions.
(Suggested contribution is twenty bucks per year. Feel free to give more!)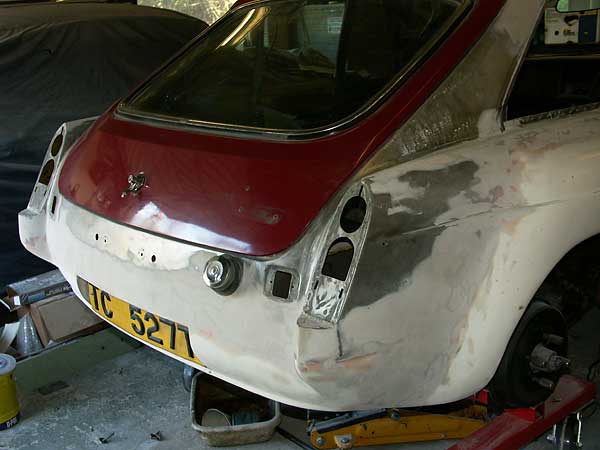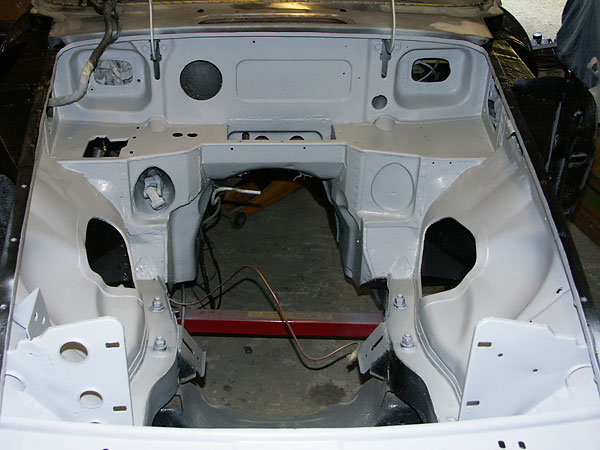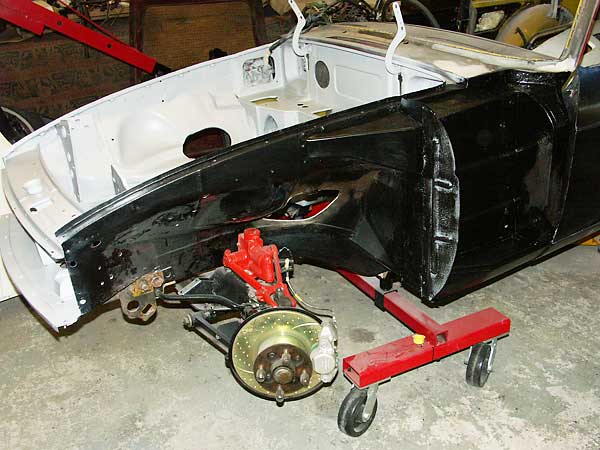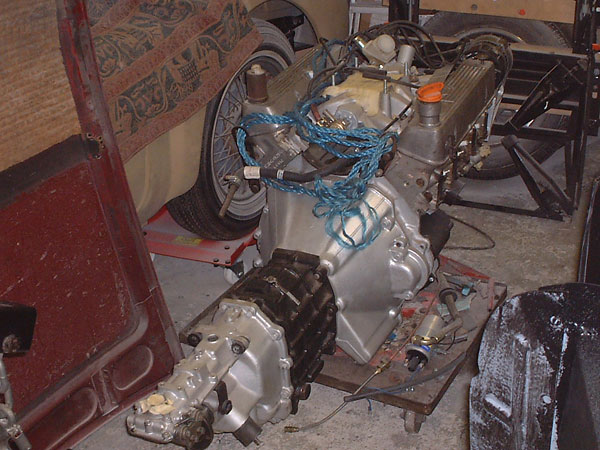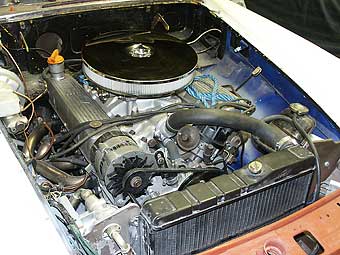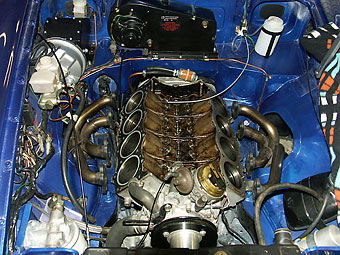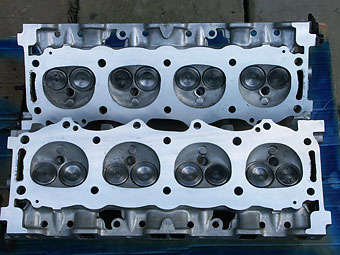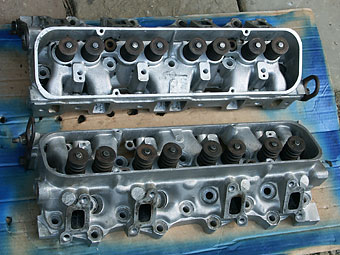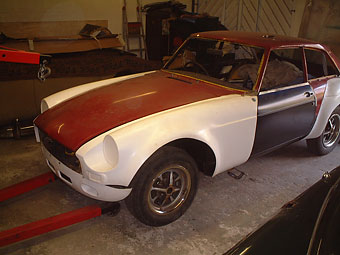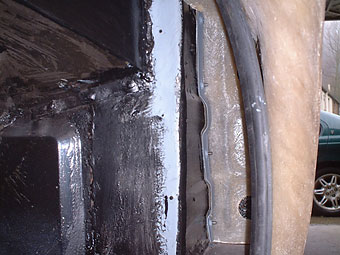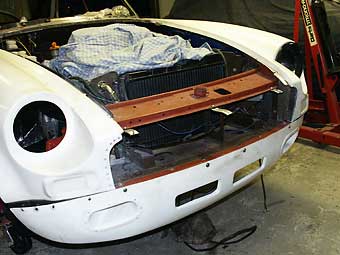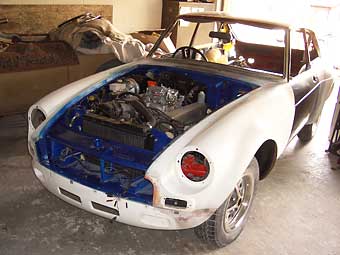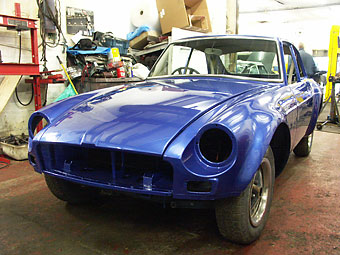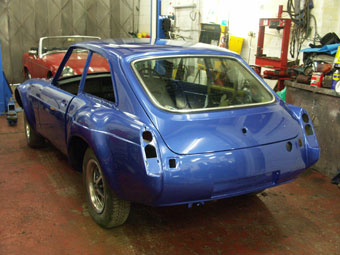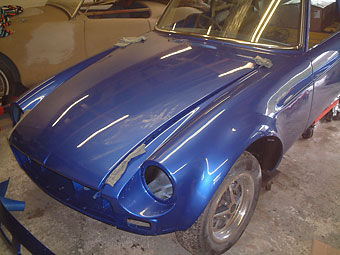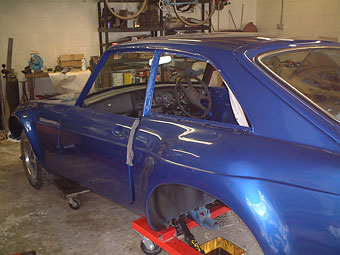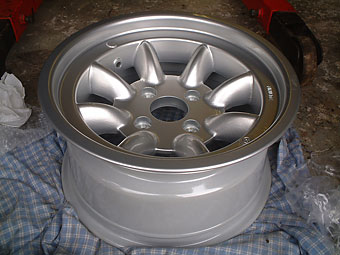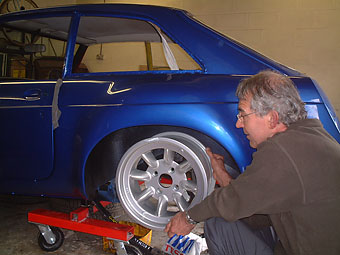 These are the authentic British originals: genuine Minilite wheels!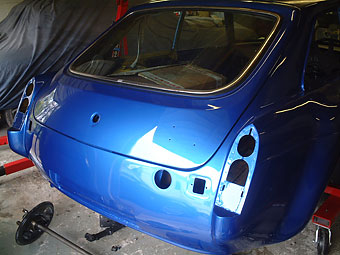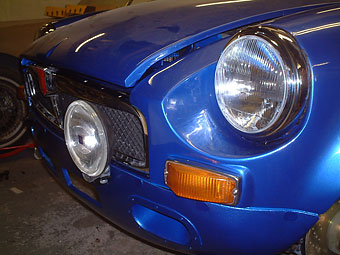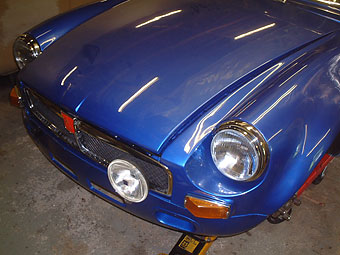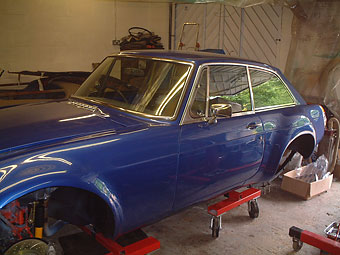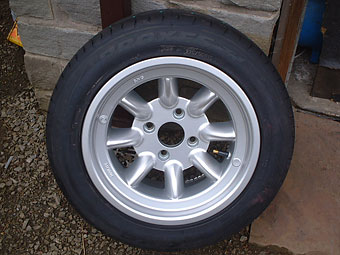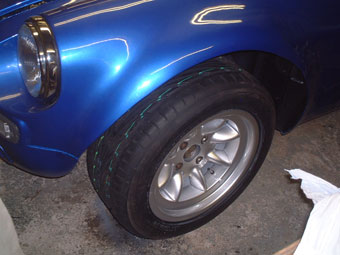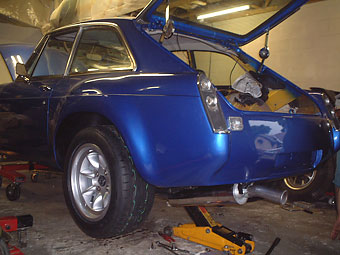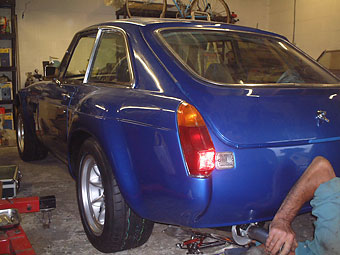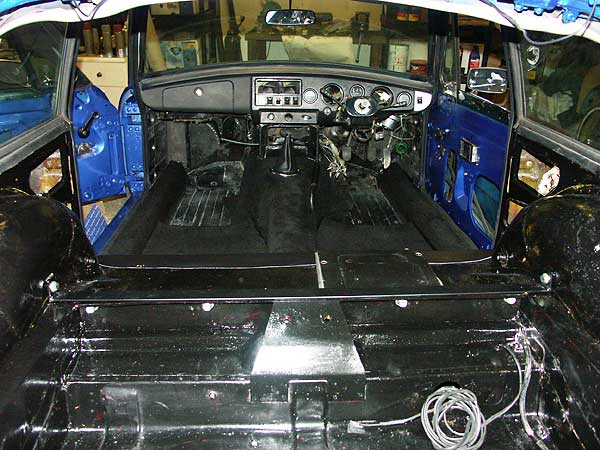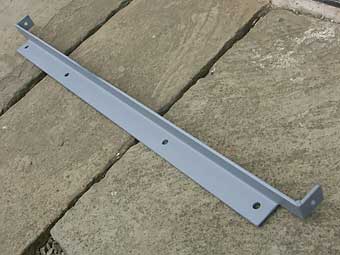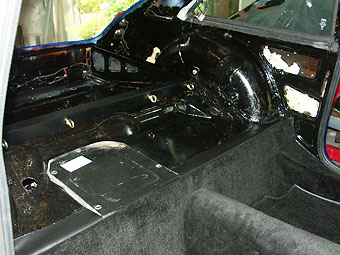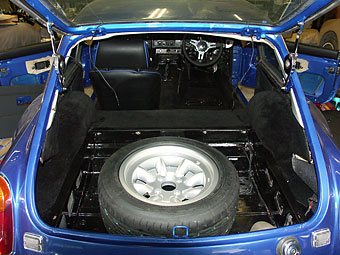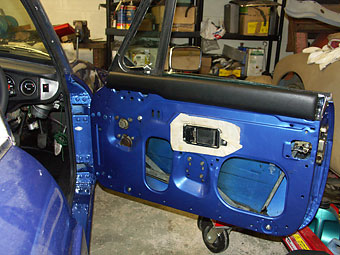 Robin did a sterling job, finishing the bodywork and engine installation, arranging the paint job which really finishes the car, and putting his mark on it in the form of the 'frenched' rear number plate. That last feature seems a throwback to my interest in custom cars as a teenager, but it's also a design feature that looks like it should always have been there.

I finished my assignment in summer 2005, which gave me the opportunity to complete the car with Robin, and I'm pleased to say, apart from a failed wheel bearing (one of the few things I didn't replace) it performed faultlessly on its first trip: a round trip of 1700 miles to and including a circuit of the Nurburgring. Two years and three times the original budget later, with Robin's help, I now have a bespoke, beautiful and quite unusual sports car.
---
How It Turned Out: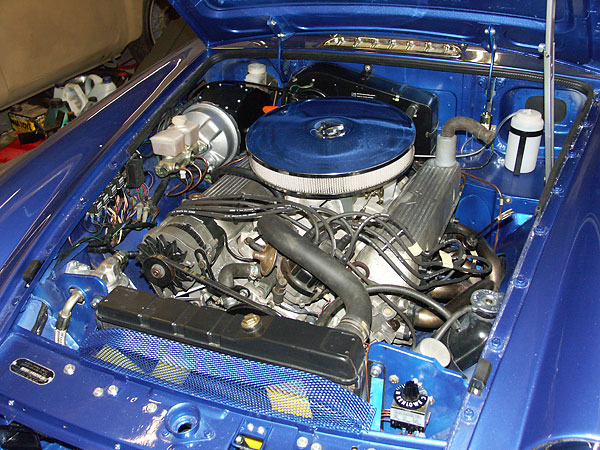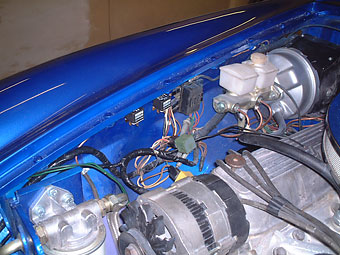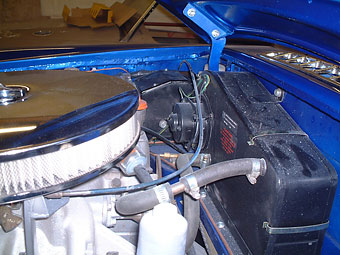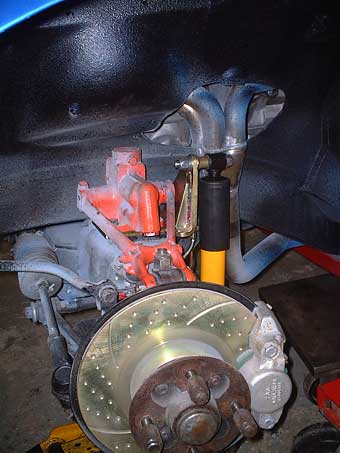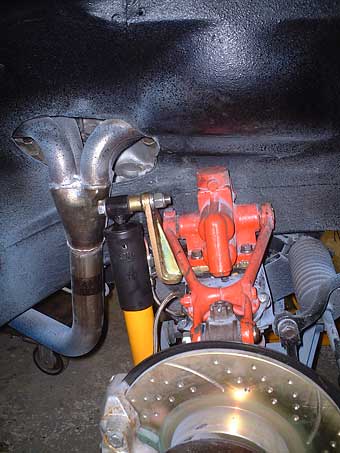 EBC high performance dimpled-and-slotted brake rotors, and "Green Stuff" brake pads.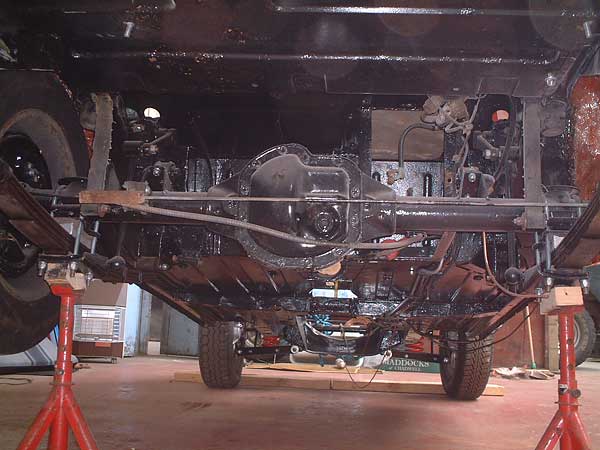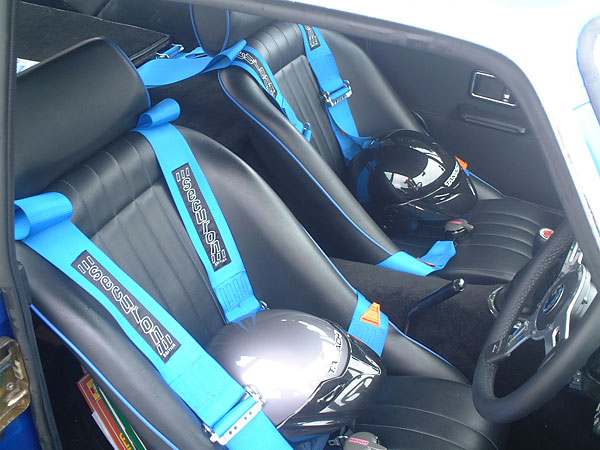 Cobra Classic seats with (optional) blue piping. These are often used by "classic Mini" owners.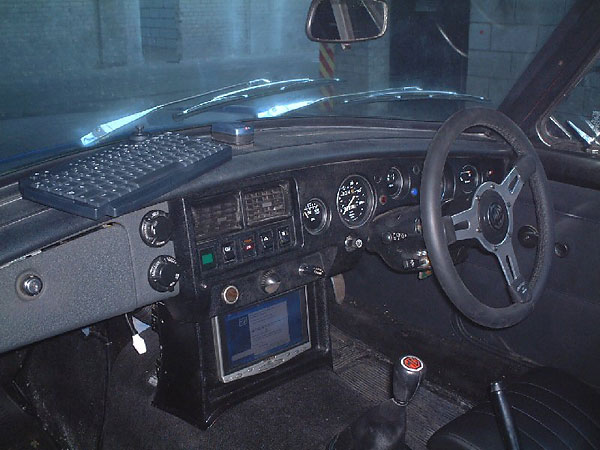 1 GHz Mini-ITX computer with 7" touchscreen monitor (mounted in console) and wireless keyboard.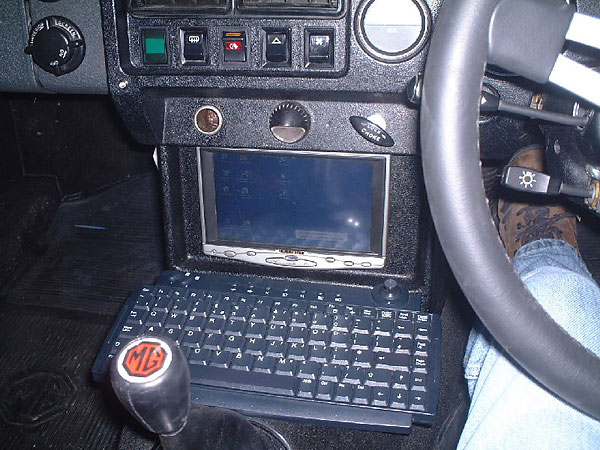 The computer provides satellite navigation, MP3 audio, and DVD video.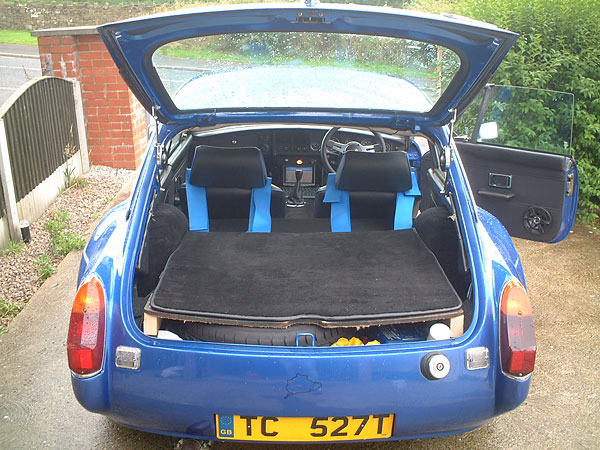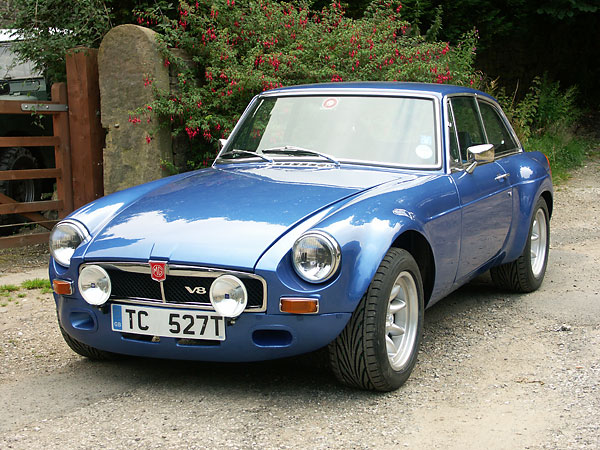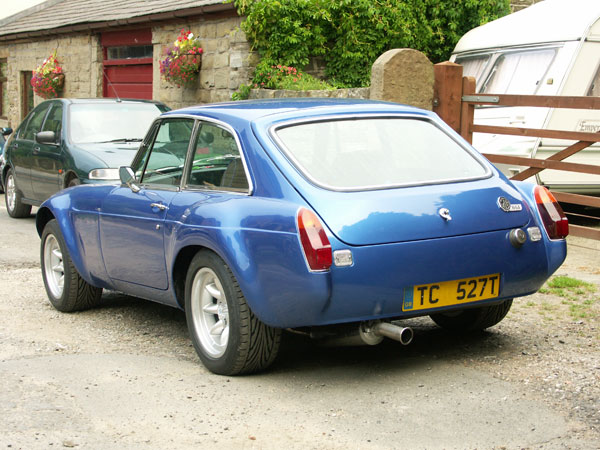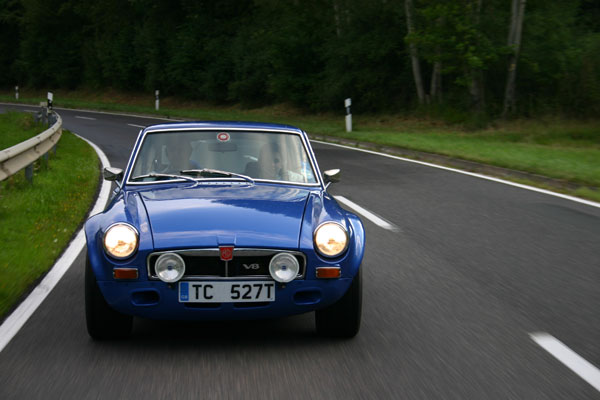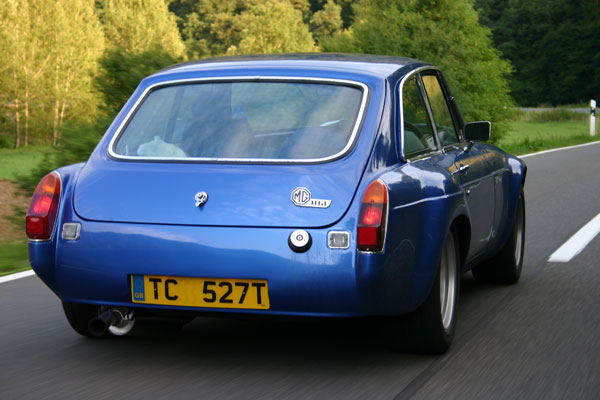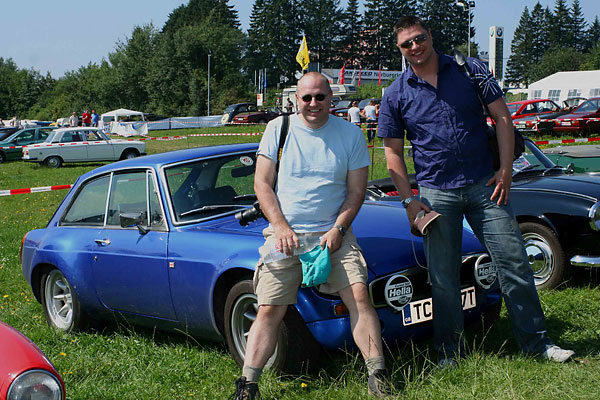 Finally, the last pic is one of my favourites, my brother and I went to the 'Ring last August. The car didn't miss a beat, and although we're both over 6' tall we managed to sleep in it for a few hours in Belgium. We took aviation headsets and connected them to an intercom and the PC (MP3 player, etc.), which made the motorway's more bearable. We parked with the Triumph Club, and they were so welcoming. We'd love to get over this year, but we have a new project to complete: a BMW E30 325 rally car.