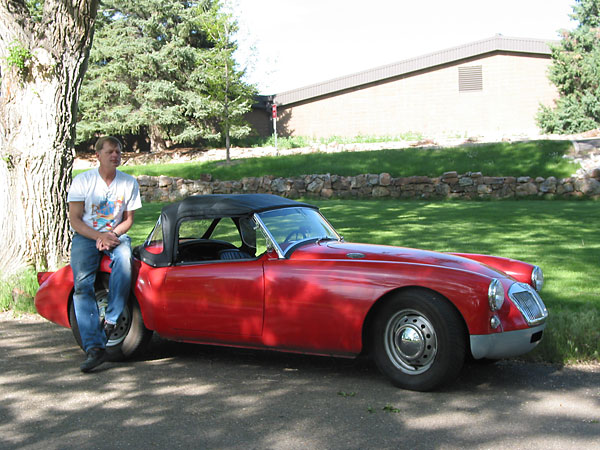 Craig Roush's 1958 MGA with GM 3.4L V6 Engine
as published in BritishV8 Magazine, Volume XVI Issue 2, October 2008

Owner: Craig Roush
City: Longmont, CO
Model: 1958 MGA
Engine: GM 3.4L V6
Transmission: Borg-Warner T5 5-speed
Conversion performed by: owner
Engine:
GM 3.4L V6 with non-feedback GM Varijet carburetor on stock manifold (390 CFM with manual choke). Comp Cams camshaft (#260-H) with Crower lifters, springs, and retainers (kit #84008), and Comp Cams roller rocker arms (#1413-12). Home-made fiberglass air cleaner with cold-air induction.

Electrical Mods:
converted to GM alternator and 12 Volt negative ground using HEI ignition with remote coil. Tachometer modified for HEI 6 cylinder, and speedometer rebuilt, both by MO-MA in Albuquerque, NM.

Cooling:
modern crossflow radiator mounted on rubber-cushioned brackets just forward of original position. Reserve coolant/expansion tank and over-flow tank, both owner fabricated. Electric cooling fan (pulling).

Exhaust:
owner fabricated headers, made from a "Headers by Ed" kit.

Transmission:
Borg-Warner T5 5-speed. Stock Flywheel and pressure plate from a 3.4 liter 1993 Firebird with aftermarket clutch disc, and Howe hydraulic throw out bearing. Master cylinder sleeved to accommodate Howe system. Custom driveshaft by Driveline Services in Boulder, CO.

Rear Axle:
stock MGA (4.56:1).

Front Suspension:
stock MGA with MGB front sway bar.

Rear Suspension:
stock MGA.

Wheels/Tires:
currently using MGA 1500 steel wheels on the front, and MGA 1600 steel wheels on the rear.

Body:
"LeMans" style front valance from Auto Vintagery in La Jolla, CA.

Performance:
haven't quantified it yet, but it's quick and "fast enough"!

Completed:
1999. Driven about 5000 miles since completed, as of September 2008.


Comments:
This car has been a project ever since I acquired it as a rust bucket back in 1973. It had had a number of paint schemes already by then, and was finally brought back to stock red in 1995. Then it dropped a valve on the conglomerated 1500cc / 1622cc engine.

The conversion process began with a trial 2.8 liter empty block from "Pull & Save".

The motor mount and transmission mount system was just an adaptor plate set-up in front, using the stock rubber mounts and an angle iron "extension" with an adaptor to support the tailshaft housing. to line up.

I wanted to keep the body looking stock, and that was easy to do by using a carburetor. A throttle body fuel injection system is in the works though, along with a 3:89:1 ratio rear end.

The most time consuming part was working out the header system. The left side had to snake around the steering column.

It's almost time to do a full re-paint, now that the last of the mechanical issues are almost dealt with.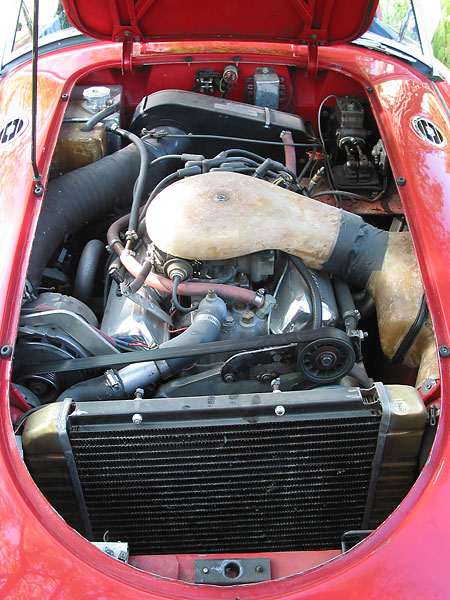 GM 3.4L V6 with a GM Varijet 390cfm carburetor.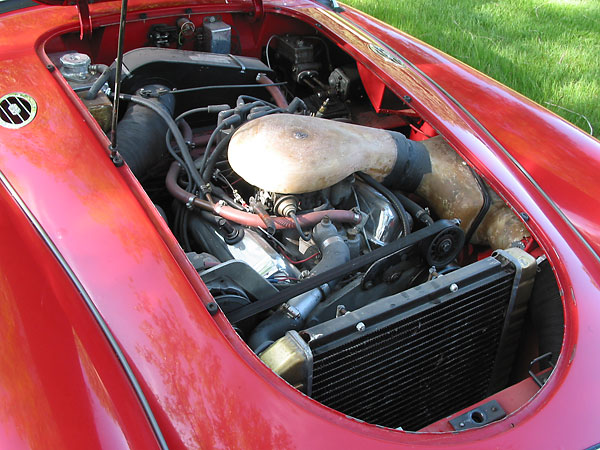 Cold air induction with a remote box-type air filter.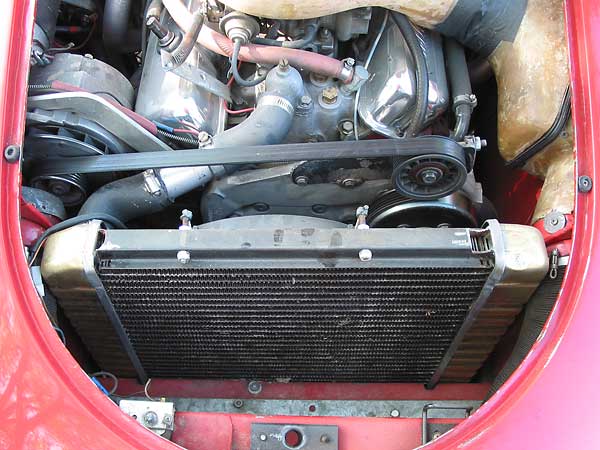 Cross-flow radiator.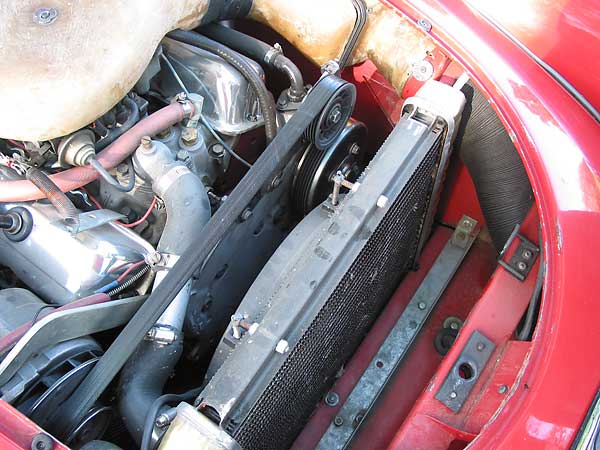 Stock MGA rubber mounts were used with an adaptor plate set-up.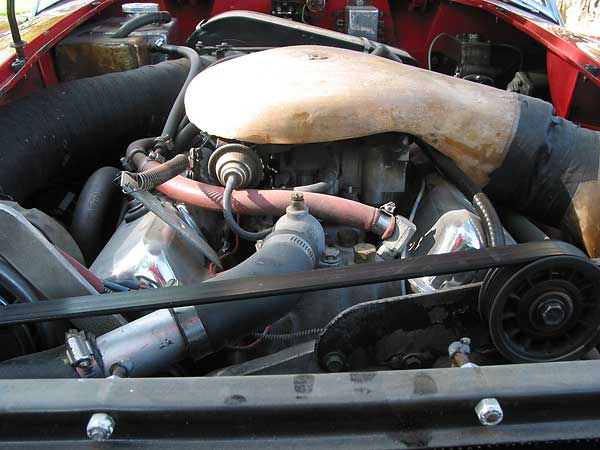 GM Varijet 390cfm carburetor on stock manifold.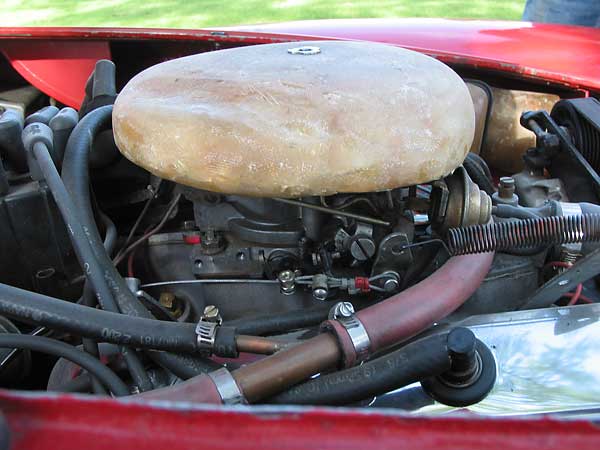 Clever homemade fiberglass air cleaner/induction system.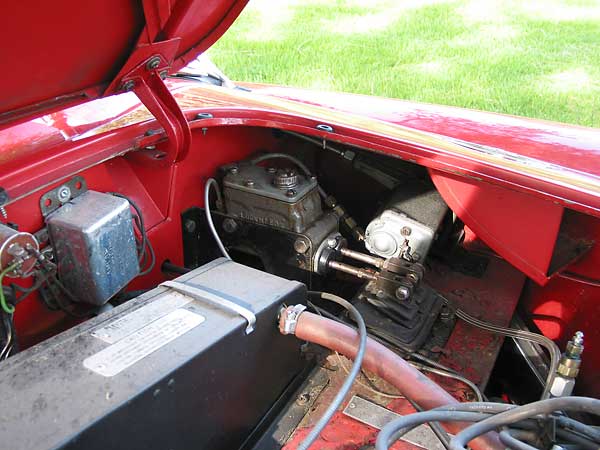 Stock brake and clutch master cylinders, and windshield wiper motor.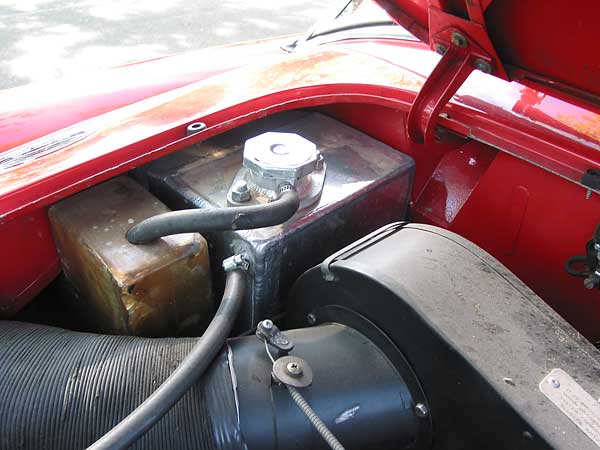 Fabricated reserve coolant/expansion tank and over-flow tank.

Enjoying this article? Our magazine is funded through the generous support of readers like you!
To contribute to our operating budget, please click here and follow the instructions.
(Suggested contribution is twenty bucks per year. Feel free to give more!)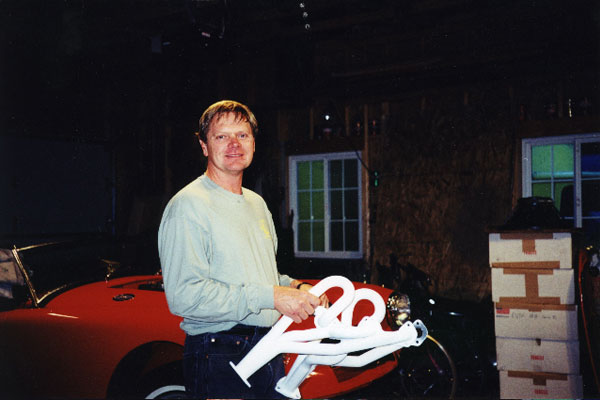 Craig Roush shows us his custom-built exhaust headers.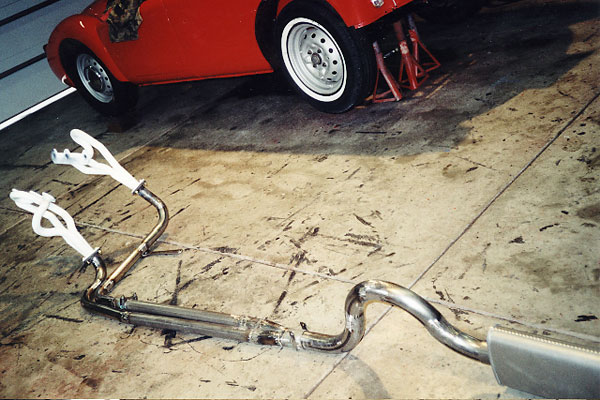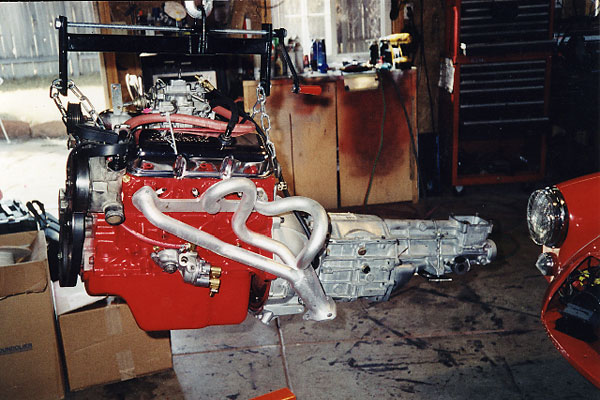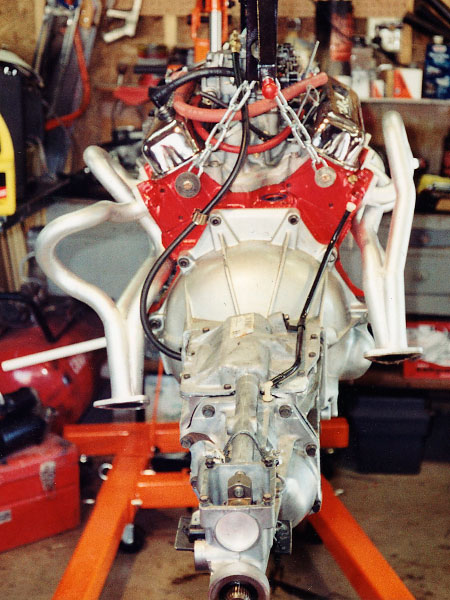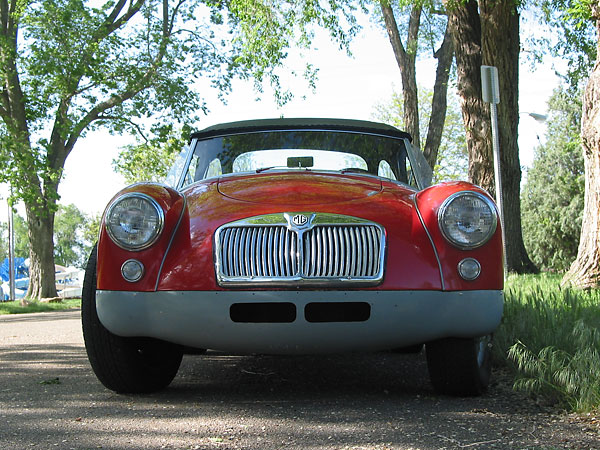 LeMans-style front valance from Auto Vintagery in La Jolla, CA.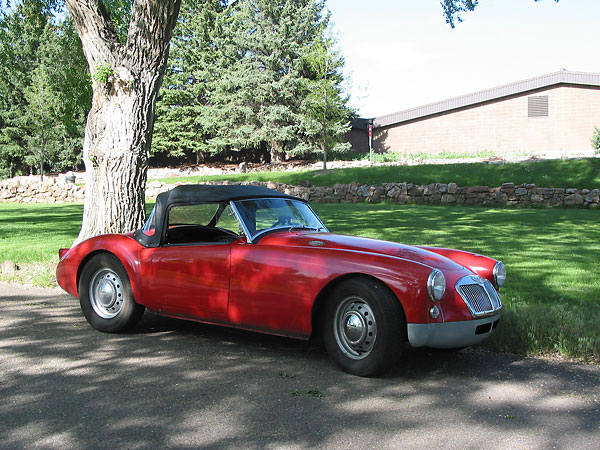 In 1995 the car was brought back to its original color with a new coat of paint.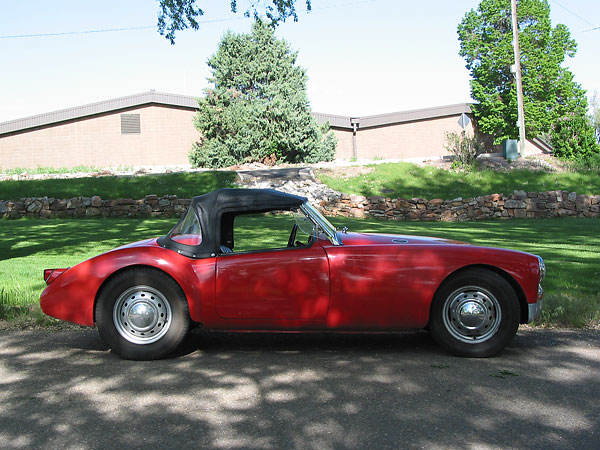 MGA 1500 steel wheels on the front, and MGA 1600 steel wheels on the rear.