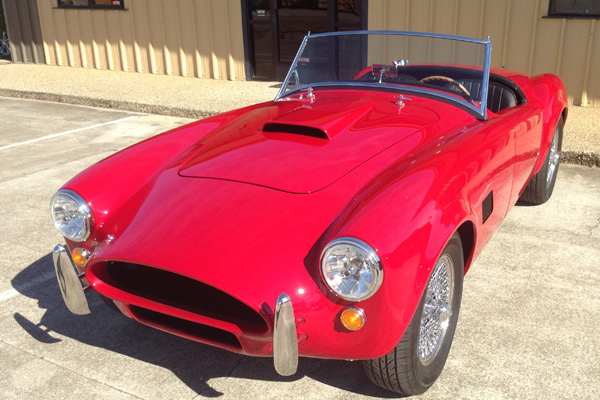 Cliff Jacobson's 1958 MGA with BMW 1.8L Engine
Owner: Clifford Jacobson
City: Paradise, California
Model: 1958 MG MGA
Engine: BMW M10 1.8L inline four
Conversion by: owner
Features and Specifications
| | |
| --- | --- |
| Engine: | 1976 BMW 2002 series M10 bored, balanced, and rebuilt to Korman Racing's "Phase II" specifications. 10.5 to 1 compression ratio. Ported, polished cylinder head. Schreck 292 camshaft. KAW hardened rockers. Korman dual valve springs. Korman intake manifold. Twin Weber 40mm DCOE carburetors. K&N air filters. Spectre fuel pressure regulator. Pertronix electronic distributor. Taylor Spiro-Pro spark plug wires. NAPA Gold oil filter, remote mounted. |
| Cooling: | aluminum radiator. Electric cooling fan. |
| Exhaust: | Stahl header. Single BMW muffler. |
| Transmission: | BMW 320i (Getrag) 5-speed manual. 0.85:1 fifth gear. Wilwood clutch master cylinder. Performance balanced clutch. Two piece driveshaft with center support. |
| Rear End: | early MGB "banjo" axle with 3.909:1 gears. |
| Front Susp.: | stock MGA. |
| Rear Susp.: | MGB. |
| Brakes: | Wilwood master cylinder. |
| Wheels/Tires: | Dunlop wire wheels. Knockoff hubs. Sumitomo HTR A/S P01 tires. |
| Interior: | custom dashboard to mimic Shelby Cobra 289. Steering wheel from an original AC Cobra. |
| Instruments: | Speed Hut gauges, left to right: speedometer (0-160mph), tachometer (0-8000rpm), oil temperature (140-300F), fuel level (E-F) oil pressure (0-100psi), voltmeter (0-16V), and water temperature (120-260F). |
| Weight: | approximately 1800 pounds. |
| Body: | All fenders glassed in. Front and rear modified. Factory Five Cobra hood, modified and reversed to look like Cobra. |
| Electrical: | converted to 12 volt, negative ground. Delco style 110 amp alternator. Painless wiring harness. |
| Completed: | 6/1/2013. Driven 2000 miles since conversion, as of October 2014. |
| Comments: | Very responsive. Smooth transition through the gears with close ratio between shifts. 2800rpm at 75 MPH in fifth gear. Red line rev limiter set at 7,000. |
Engine Installation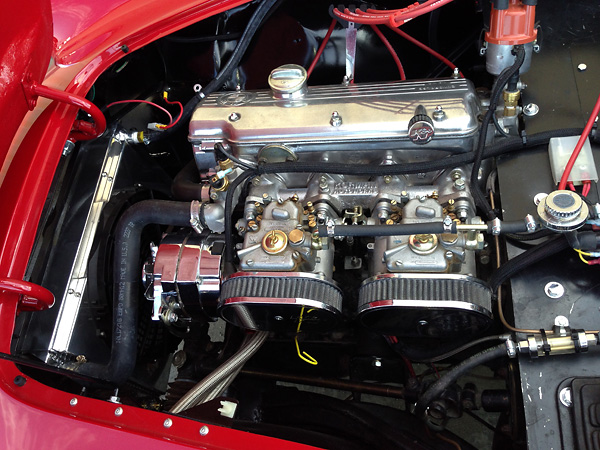 1976 BMW 2002 series M10 bored, balanced, and rebuilt to Korman Racing's "Phase II" specifications.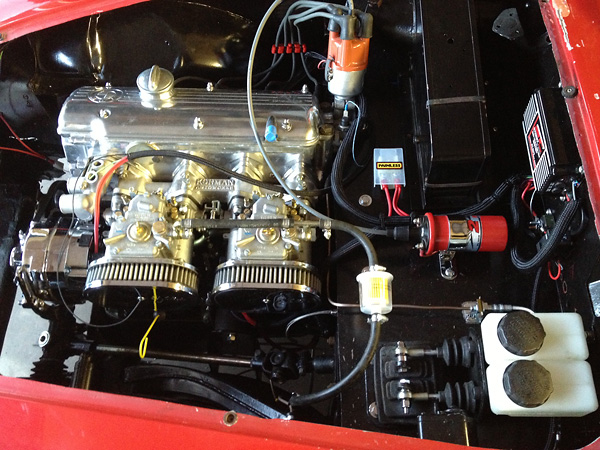 Korman intake manifold. Twin Weber 40mm DCOE carburetors. K&N air filters.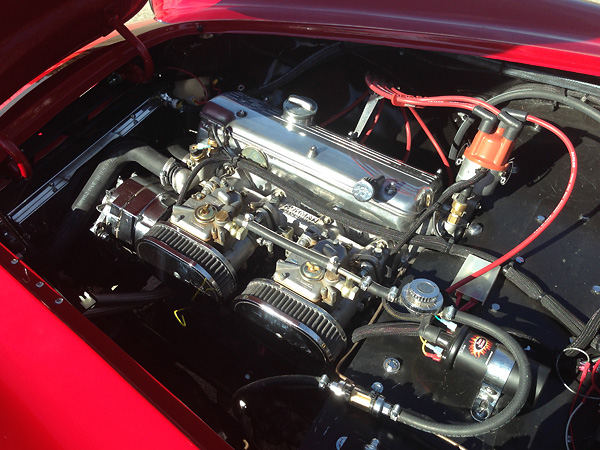 Aluminum radiator.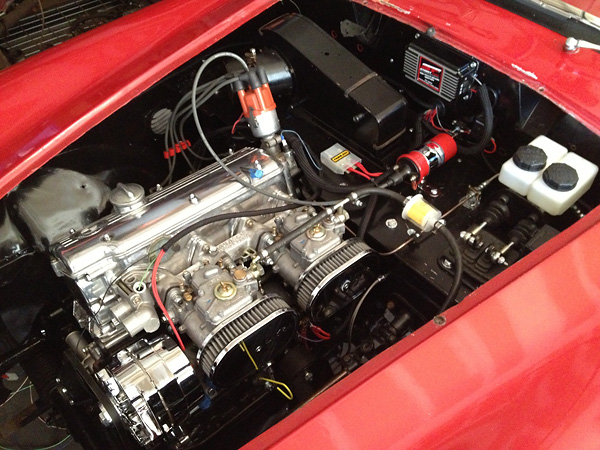 Pertronix distributor.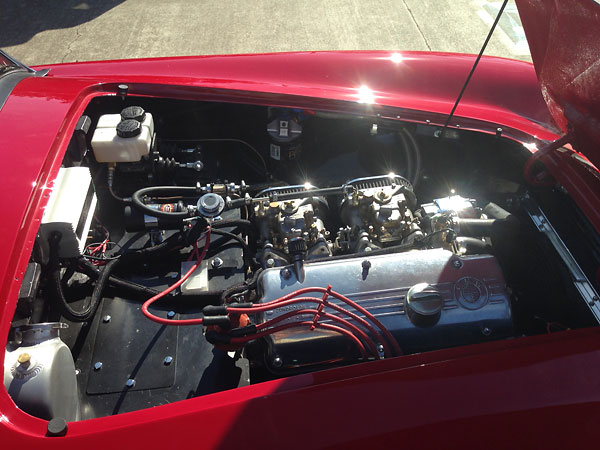 Wilwood brake and clutch master cylinders.


Chassis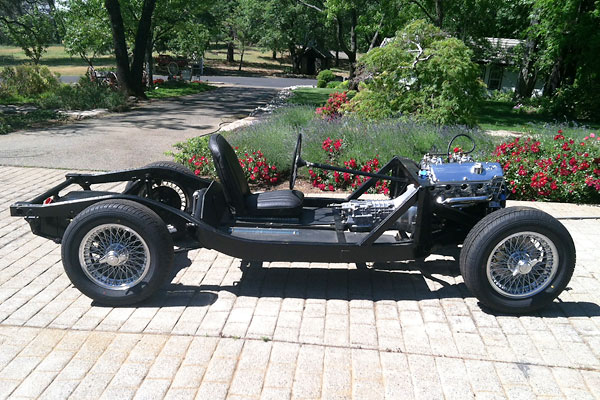 Rolling chassis.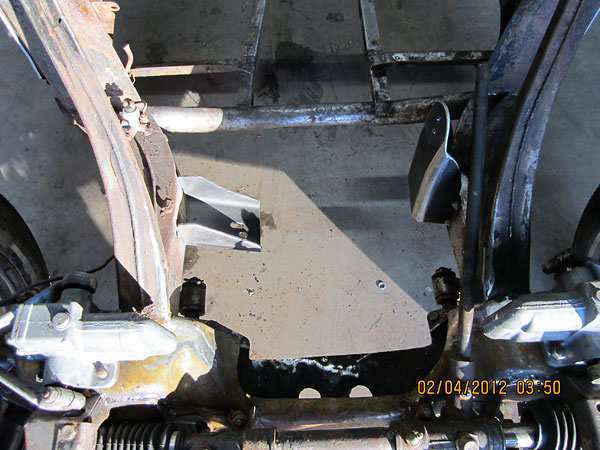 Custom motor mounts.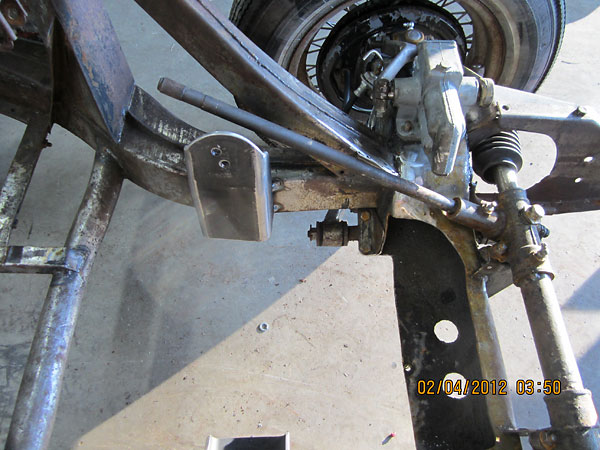 Steering column clearance.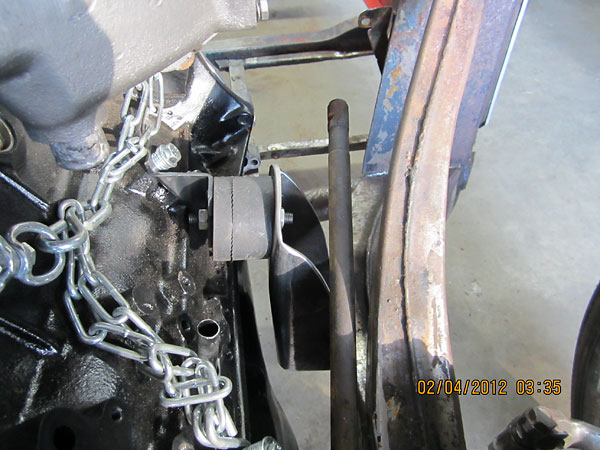 Driver side motor mount, assembled.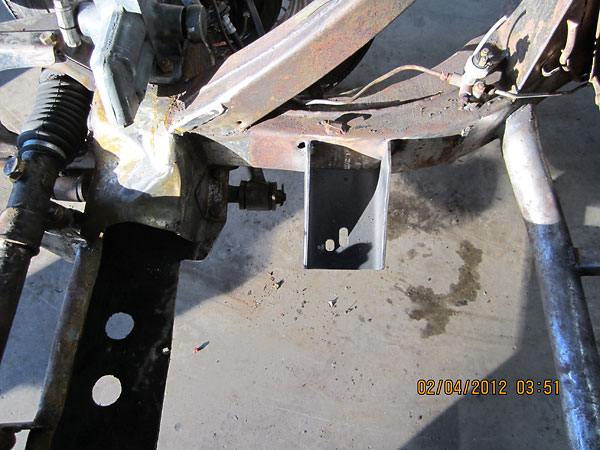 Passenger side motor mount bracket.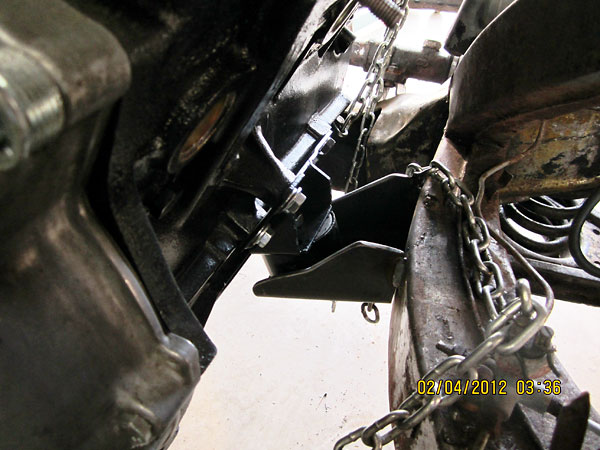 Passenger side motor mount assembly.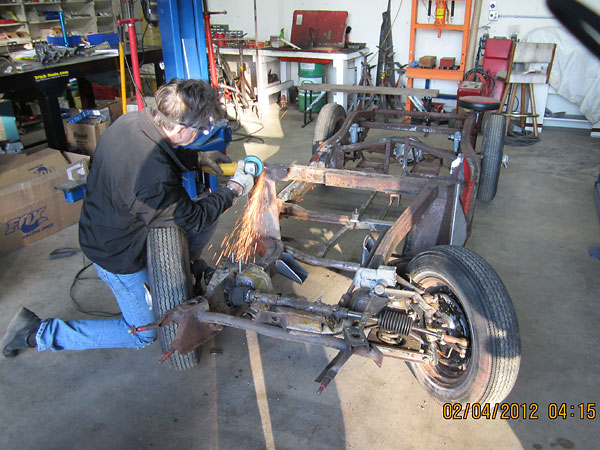 Removing the passenger side goalpost brace for exhaust clearance.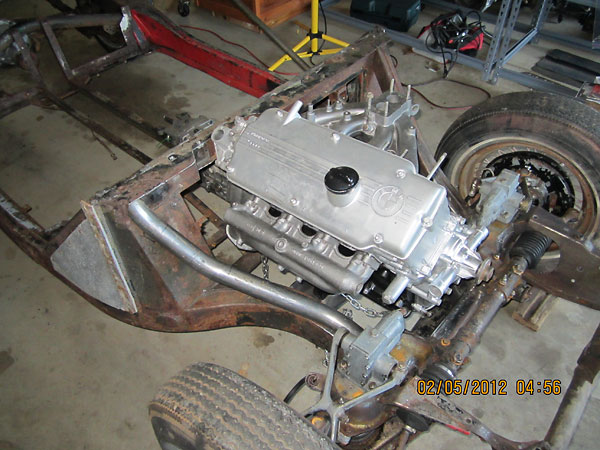 Temporary brace.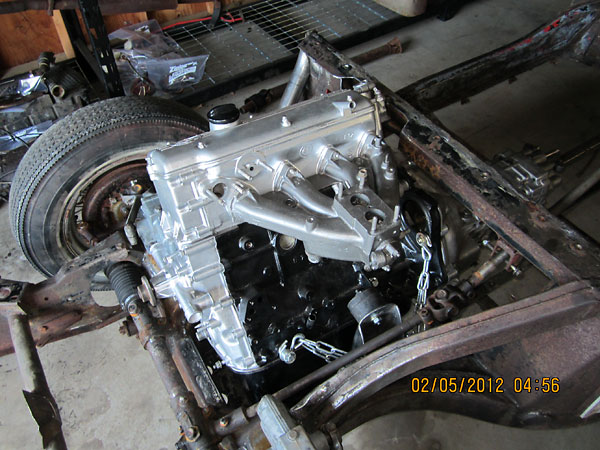 Notched goalpost.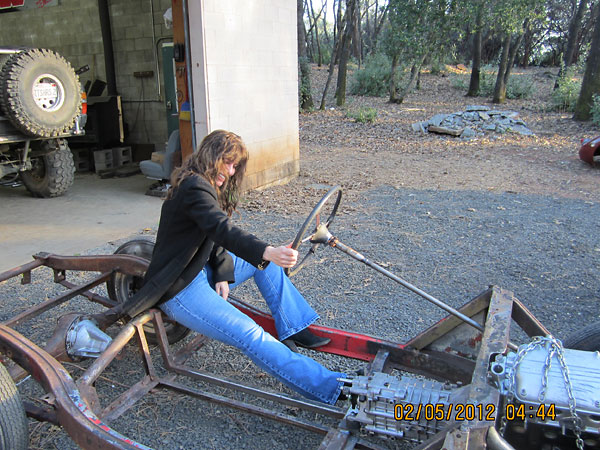 Joy ride!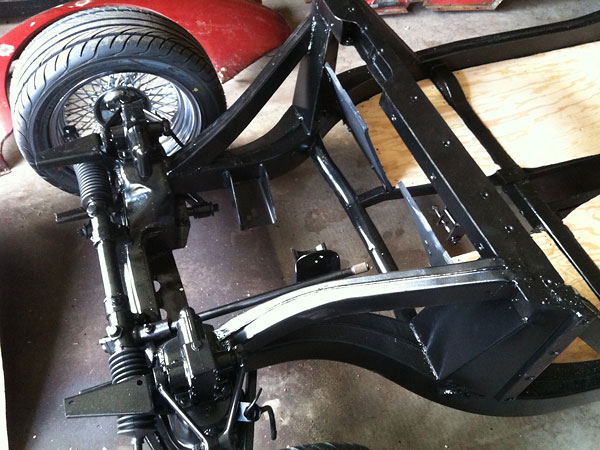 Original brace trimmed and reinstalled, lower.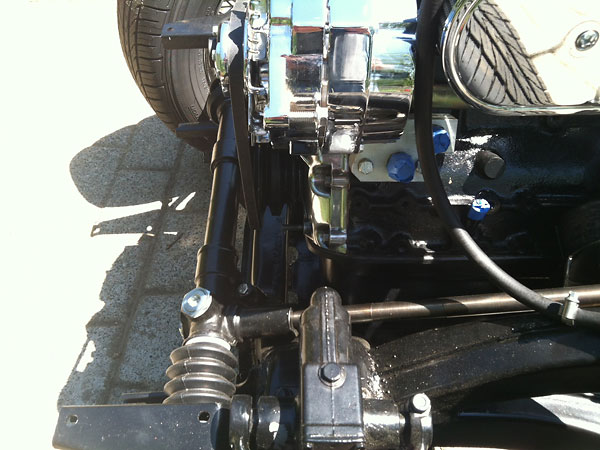 BMW 320i (Getrag) 5-speed manual transmission.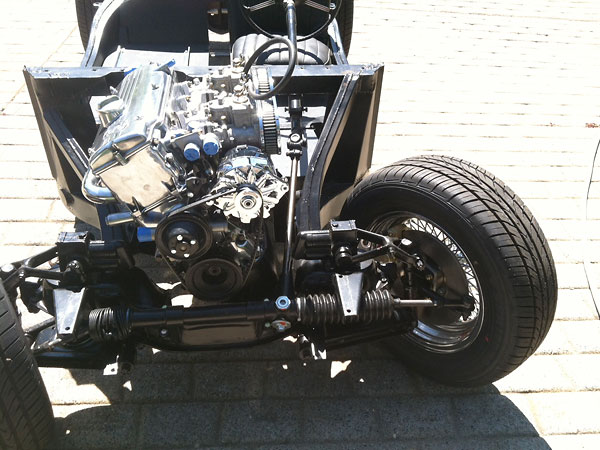 Delco style 110 amp alternator.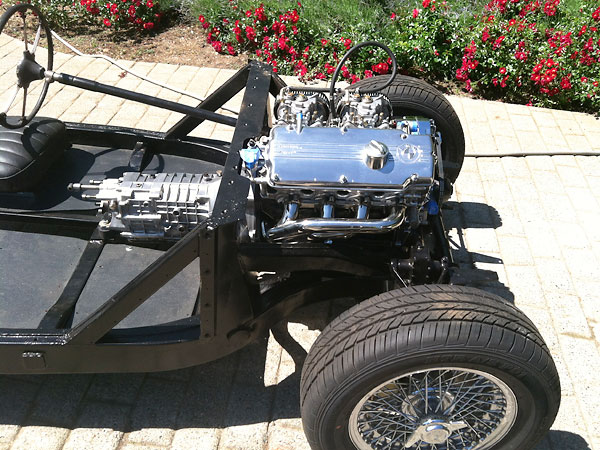 BMW 320i (Getrag) 5-speed manual transmission.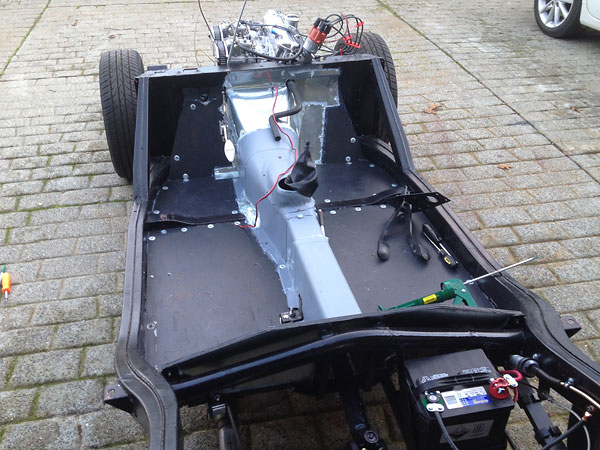 Floorboards and transmission tunnel.


Enjoying this article? Our magazine is funded through the generous support of readers like you!
To contribute to our operating budget, please click here and follow the instructions.
(Suggested contribution is twenty bucks per year. Feel free to give more!)
Interior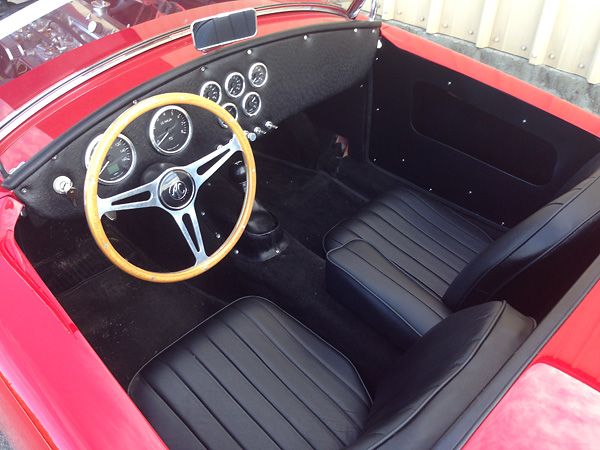 Custom dashboard to mimic Shelby Cobra 289.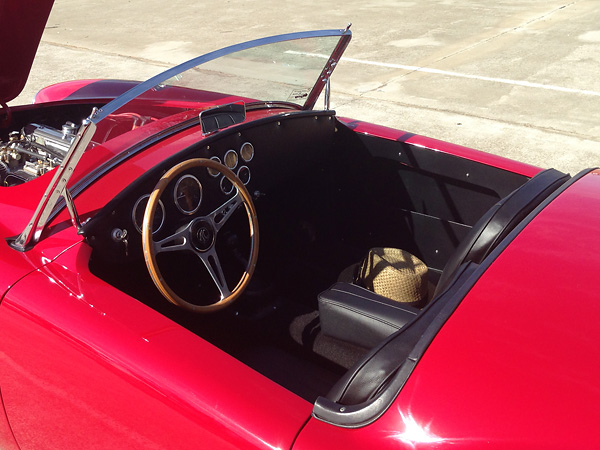 Steering wheel from an original AC cobra.


Exterior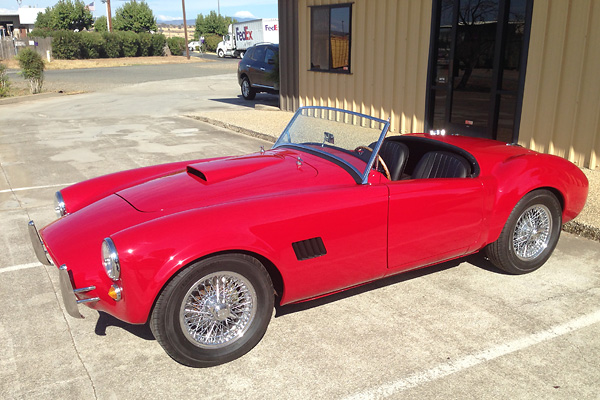 Custom front end treatment.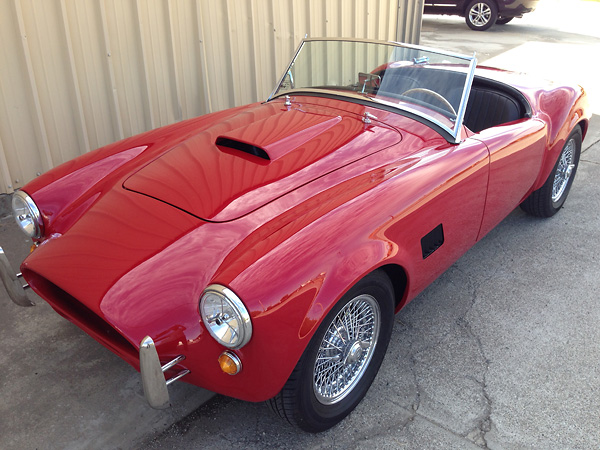 Front fenders flared. Side vents added.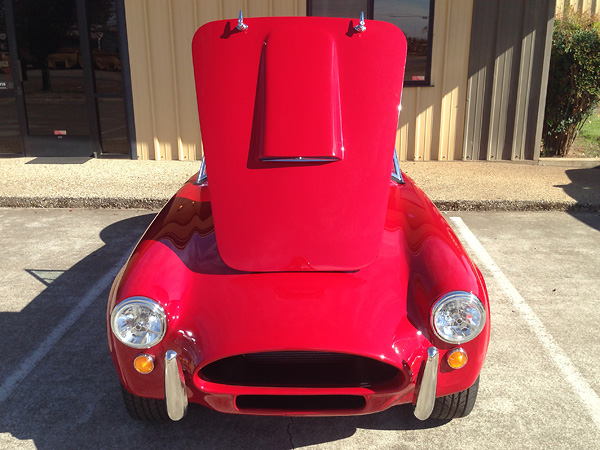 Factory Five Cobra hood, modified and reversed to look like an original Cobra.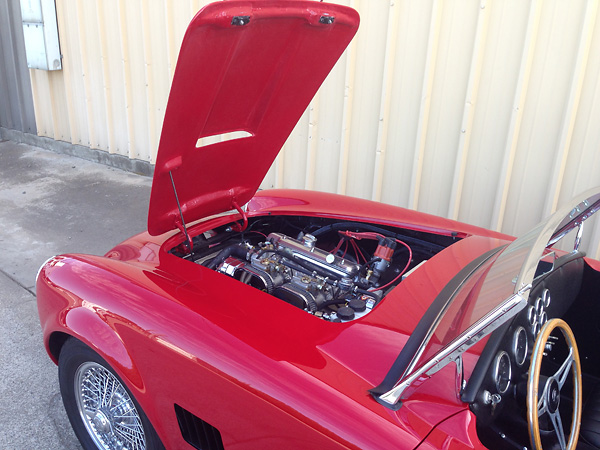 Cobra hood scoop, viewed from below.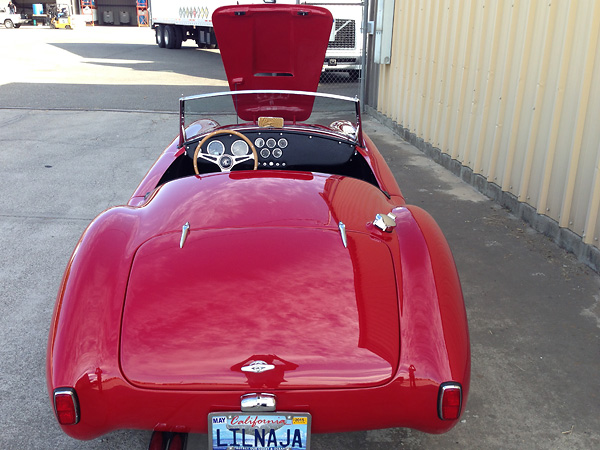 Seams removed. Boot lid enlarged.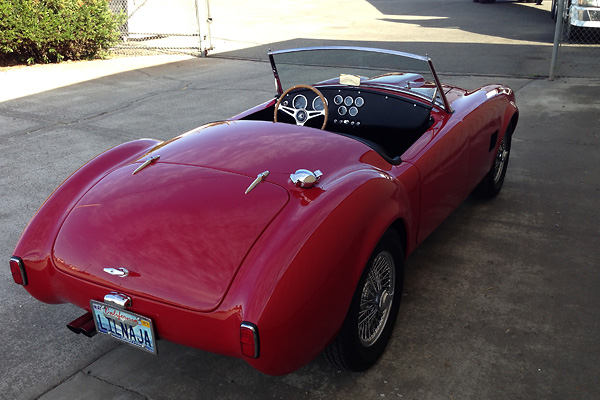 Rear fenders flared.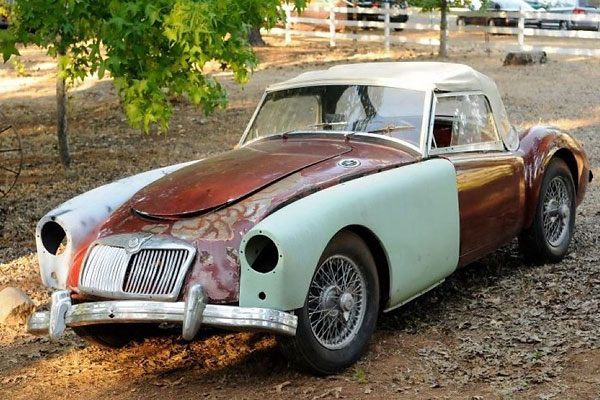 Before.


Photos by Cliff Jacobson for BritishV8.org. Copyright 2015. All rights reserved. Use by written permission only. (Do not print, copy to your hard drive, or post these online without permission.)