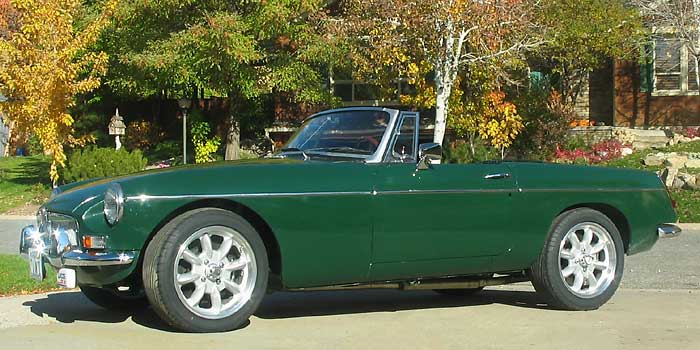 Chris Jones' 1967 MGB Roadster with Buick 215cid V8 engine
as published in British V8 Newsletter, Volume XV Issue 2, September 2007
(Updated in February 2010 with 13 additional photos.)
Owner: Chris Jones
City: Denver Colorado
Model: 1967 MGB roadster
Engine: 1962 Buick 215cid (from a Skylark)
Conversion completed by: owner
Intake:
stock Buick 215 4-barrel intake manifold (match ported), mated to a Carter 9400 AFB (400cfm) carburetor. Crower 229 cam (selected for mid-range torque and power.)

Electrical:
Mallory Unilite distributor, Mallory coil. Mitsubishi 55 amp alternator from Mazda 323 and mini-starter from TSI Air/fuel ratio meter.

Cooling:
1964-65 Ford Falcon/Mustang V8 radiator

Exhaust:
Owner built 4-into-1 2-piece headers, with equal length (38" long) primaries in 1-3/8" tubing, collected into a 2" stainless steel dual exhaust system.

Transmission:
Borg-Warner World-Class T5 from a 1988 Camaro V8, mated to a Mustang rear housing. The transmission has a 0.63:1 overdrive ratio. Custom fabricated driveshaft.

Clutch:
Weber clutch from D&D Fabrications with Weber hydraulic throw-out bearing ("HTOB"). 5/8" Girling master cylinder.

Rear Axle:
Dana 44 from a 1976 AM General postal Jeep. Axle has 3.31:1 ratio and limited slip differential. Hub flanges were re-drilled to match the MGB lug pattern.

Front Susp.:
Stock MGB with 3/4" roll bar. Polyurethane bushings (in lieu of rubber).

Rear Susp.:
Stock leaf springs with Moss Nylatron bushes

Brakes:
(Front) 12.19" Wilwood vented rotors from Bill Guzman
(Rear) 12.19" Wilwood rotors with integral drum parking brake.

Wheels/Tires:
205/ZR16 Goodyear Eagle F1 GS-D3 mounted on Superlite 16J7 Minilite replica rims.

Other (chassis):
Fuel tank was shifted left by 3-1/2" and the rear bump stops were shaved for additional tire clearance

Body:
The body looks stock, except for larger wheels and tires and an additional exhaust pipe cutout added under the rear valance. Front oil cooler panel was removed and replaced with a dropped panel to fit the Mustang radiator.

Interior:
basically stock (see below) except for an exotic Les Leston steering wheel (that came with the car) and an additional three-gauge pod mounted in the center of the dashboard for three Auto-Meter gauges.

Electrical:
Re-wired to incorporate 8 relays, 8 fuses, and many other upgrades. All stock gauges are illuminated by LED lamps.

Weight:
about 2000 pounds (dry).

Completed:
mostly completed in 2006, although still making improvements.

Miles Driven:
approximately 1000 miles as of August 2007.

Comments:
This car project started as a restoration and morphed into a V8 conversion! Al Wulf and Larry Hoy of the Rocky Mountain MG Car Club convinced me that a V8 was the way to go. My intention was to build a car that would pass as a stock looking MGB, but have power for the Rocky Mountain region. After I attended the 2001 British V8 convention in Rocky River, Ohio, I was hooked.

Chrome bumper conversions add a bit of a challenge for some, but as a skilled welder, I had no problem. In fact, the whole project doesn't have to be any more difficult than a full body restoration.

Building the exhaust headers was a fun challenge. I wanted something different; equal length headers that hug the block (I thought at the time that cutting holes in the wheel wells was an inelegant solution). After studying the information that Headers by Ed has put together, I started to work out the layout with 1-1/2" plastic flex conduit. I had to add a flanged joint in order to get them mounted in the car. When finished, I had them Jet-Hot coated. I built the rest of the exhaust from bends and components provided by Stainless Specialties (a hot rod supplier from Florida)

A 3000cfm 16" fan mounted in front of the Mustang radiator blows out the hot air. It's controlled by a thermostatic switch and dash mounted override switch. It has kept the car from overheating though 100 degree days here in the Salt Lake Valley. I also modified the panel that the oil cooler occupied by folding it down to match the increased height of the radiator. All air flows through the stock grill, and I've keep the '67 front valance to retain a stock looking front end.

I was impressed by Dan Master's work in wiring, and copied much of it when I re-wired the car. I added the electric braking to the wiper motor, and converted all the dash lights to red LED illumination, the turn signal bulbs were converted to ultra-high intensity blue LED's that dim through a relay controlled resistor when the headlights are on. (I'm no longer one of the people you see driving MGB's around with the turn signals blinking constantly). I converted the stock tachometer to positive ground and simply turned the internal pot to recalibrate. 1967 tachs may be the easiest to convert to V8 ignition.

The engine was machined and balanced, and I did some porting and port matching as well as decking the block to bring the compression up to 10.3 to 1. I hoped to get around 200 HP, but haven't bothered to check my results. Acceleration is very quick, as the big Goodyear F1's hook up really well; they don't squeal, and wheel spin is quiet but evident in first and second gears. The Dana 44 axle was built up much as the Dan LaGrou article in the British V8 Newsletter suggested (see archive). I custom built a parking brake cable mount that allows me to use a stock MGB parking brake cable. One nice aspect of the Dana 44 axle, (aside from it's very strong construction) is the availability of gear ratios at dirt cheap prices. Off-road shops pull new sets from axles in order to get stump pulling sets into off road Jeeps. I bought a 3:31 set for $15 on eBay! Most of the postal jeep axles I found were 3:71 with Traction Lock.

I still have some work to do - I don't have the seats recovered and I need a top in case it rains someday - but it feels good to take it out on the road. It's by FAR the quickest car in my British car club.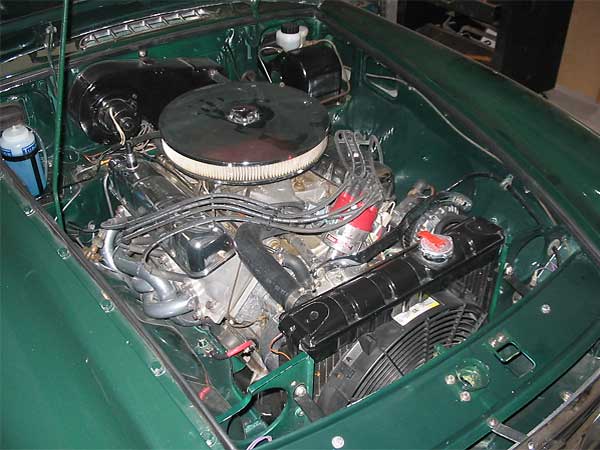 Completed engine installation with Mustang radiator shown.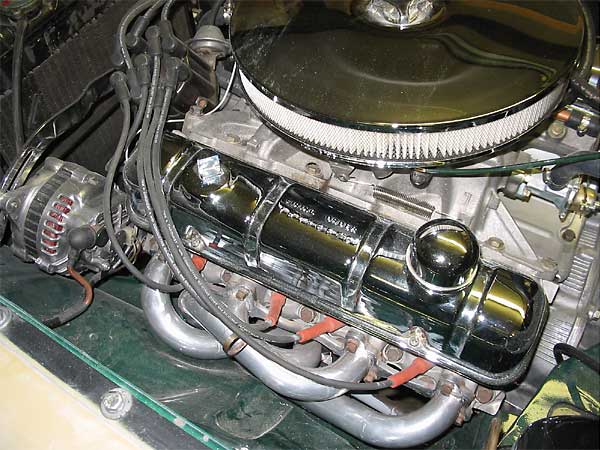 Driver's side exhaust header.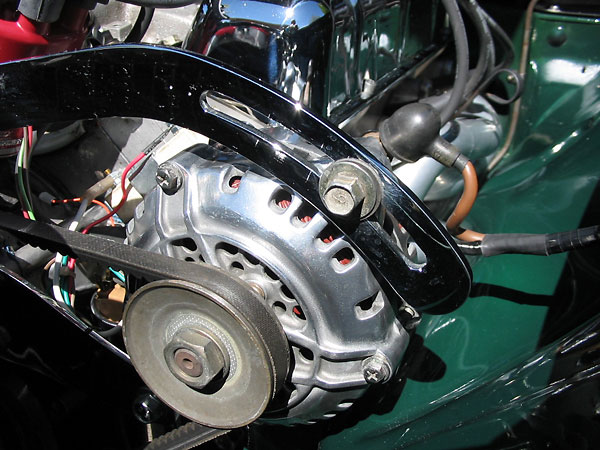 Mitsubishi 55 amp alternator, from a Mazda 323.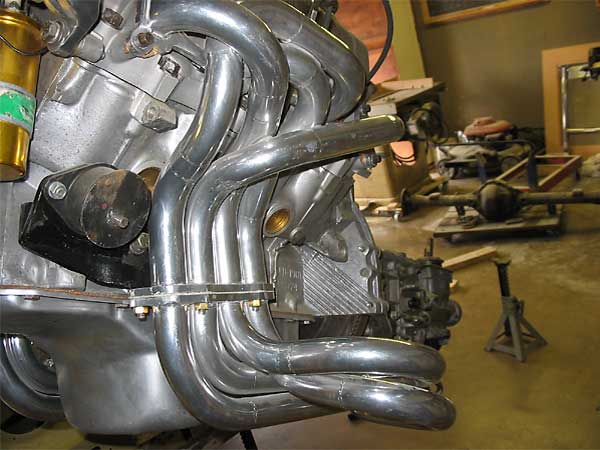 Driver's side header showing break joint that facilitates installation.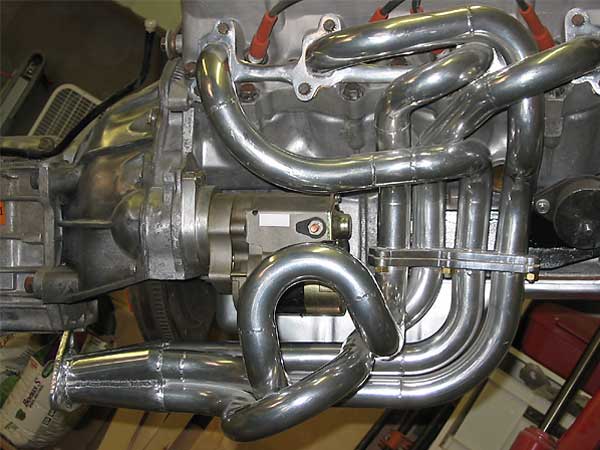 Passenger's side header clearance to mini-starter and motor mount.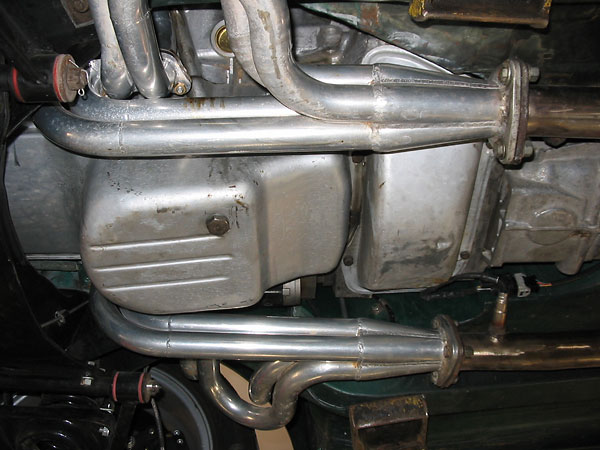 Header extensions in place.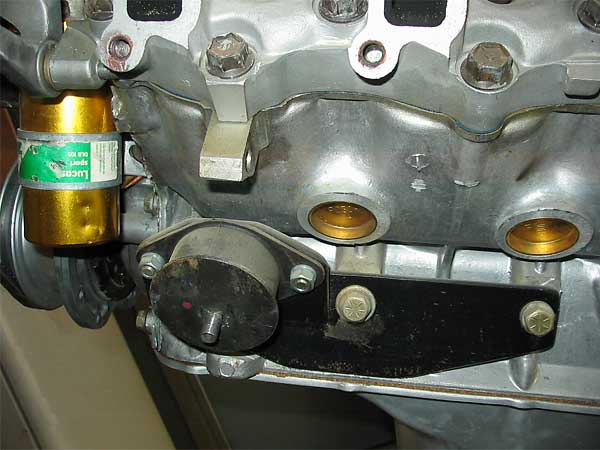 Special motor mounts were built to provide extra space for the headers.


Enjoying this article? Our magazine is funded through the generous support of readers like you!
To contribute to our operating budget, please click here and follow the instructions.
(Suggested contribution is twenty bucks per year. Feel free to give more!)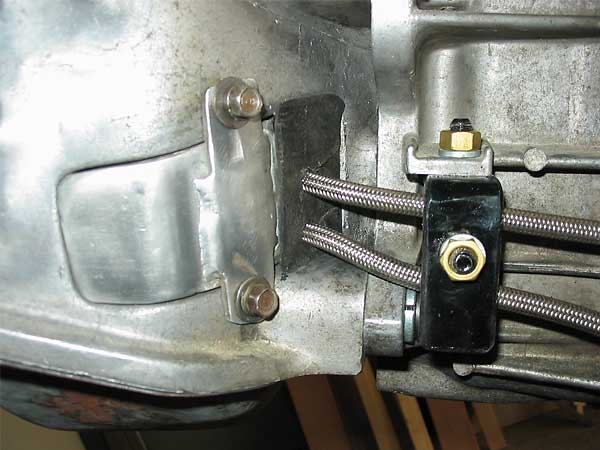 Blanking plate over throw-out lever opening in original Buick bellhousing (around HTOB lines).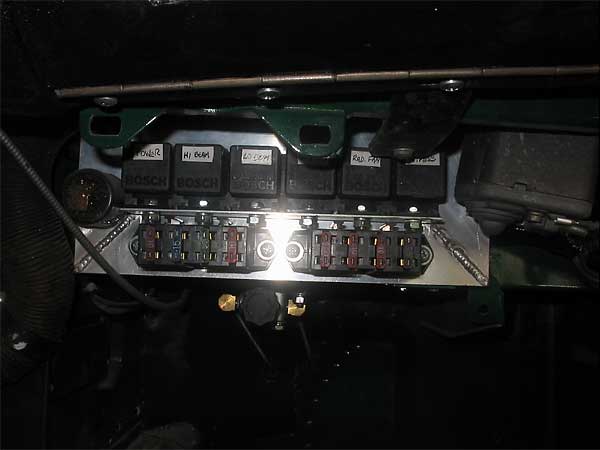 Fuse and relay power-block installed under glove box. The brake proportioning valve is also shown.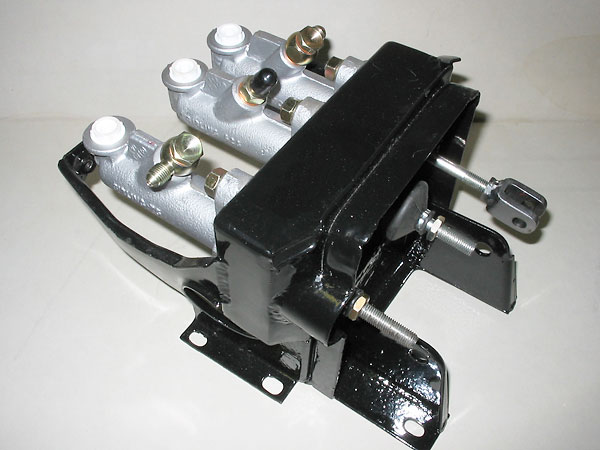 Master cylinder and pedal mounting bracket, modified for dual brake cylinders with bias bar.
These are Girling master cylinders that utilize remotely mounted reservoirs.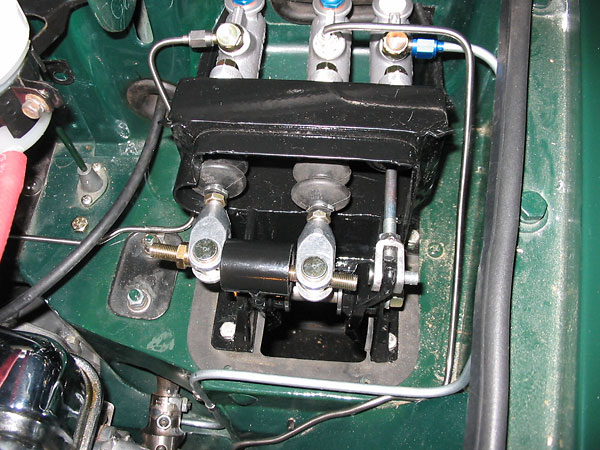 A spherical bearing is mounted at the center of the threaded rod. By turning the rod, the bearing (i.e.
pivot point) can be adjusted from right to left to proportion pedal force between the cylinders.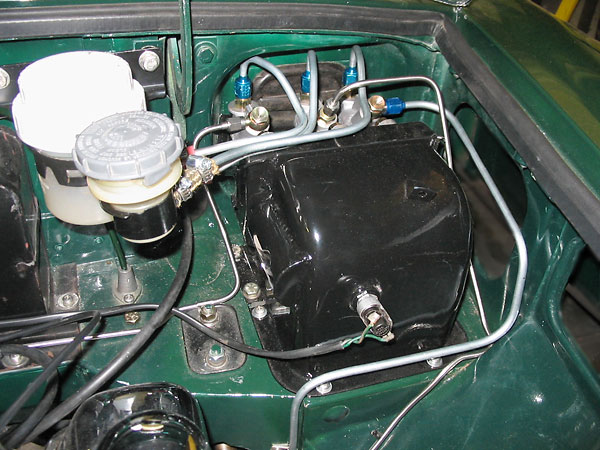 Reservoir mounting.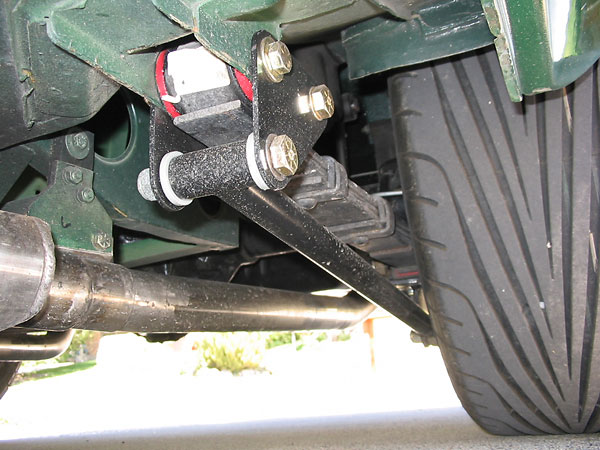 Traction bars are also known as "anti-tramp bars". Their purpose is to restrict the tendency of
the leaf springs to momentarily deform into an "S" shape under hard acceleration.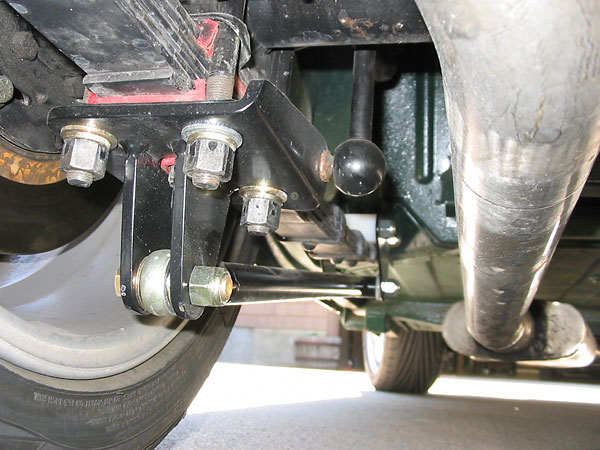 The Heim joint at the rearward end facilitates fine tuning of their installed length.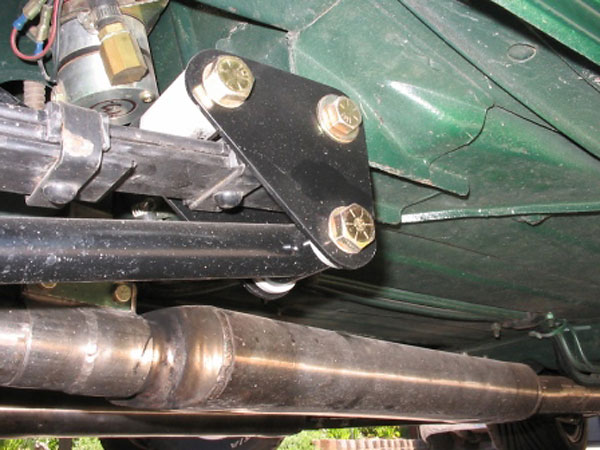 Some traction bars are mounted directly to the chassis at the front end. Chris' are more elaborate; they're
connected via a rocking attachment, so they only function on forward acceleration (when the differential
pinion tends to rise) and not on hard braking (when the differential pinion tends to rotate downward.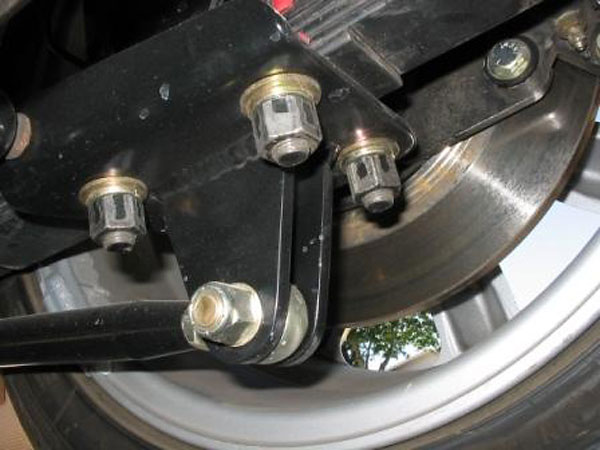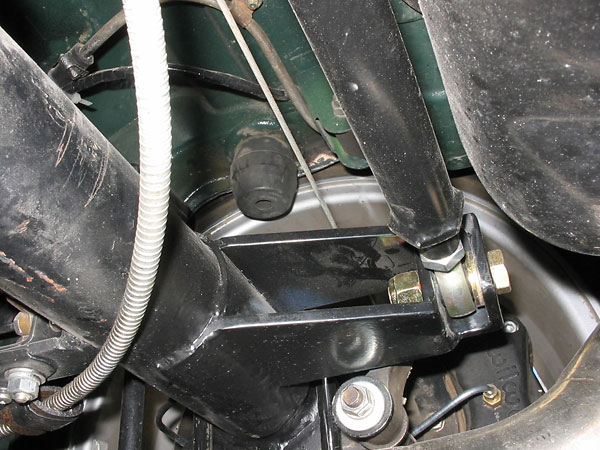 This Panhard bar bracket is on the axle is robust, and it puts the pivot in double shear.
Take note: this is the right way to do the job!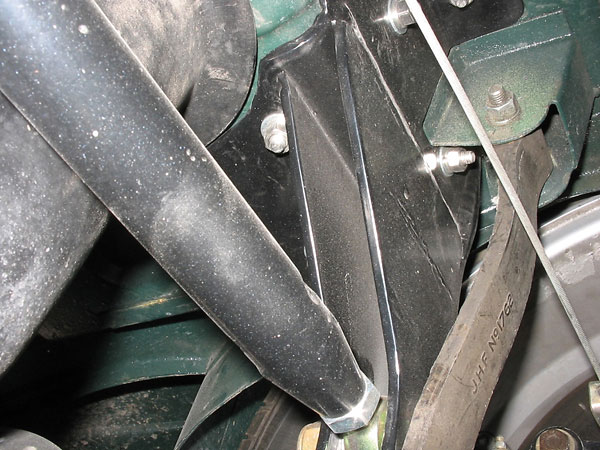 The Panhard rod mount on the body is also quite robust.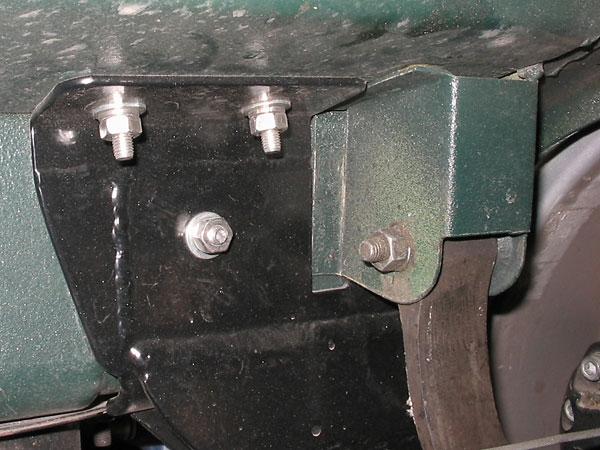 The Panhard rod's body mount features a cut-out to clear the rebound strap bracket.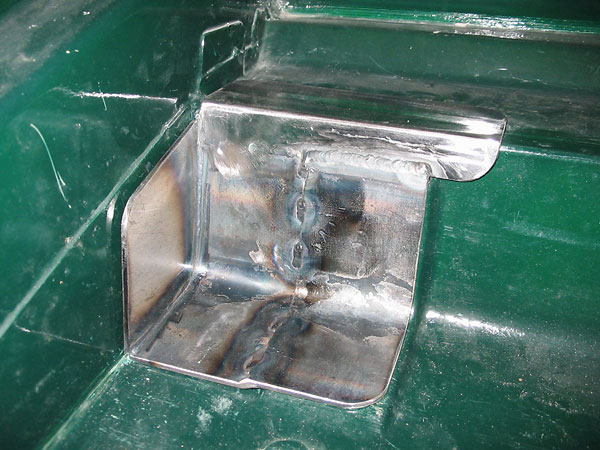 Test fit: notice that the doubler-plate has raised sections to match embossments on the trunk floor.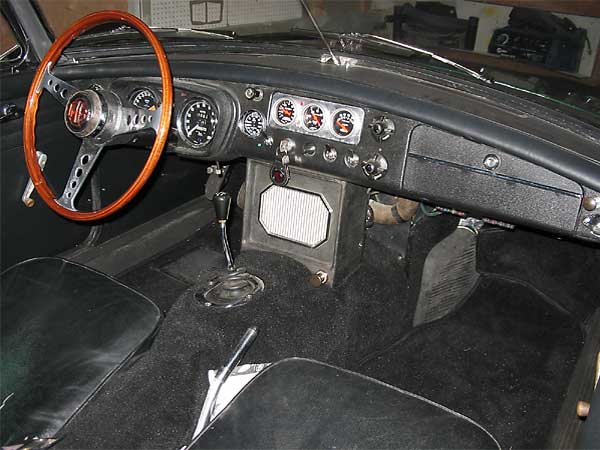 The shifter lever location in the transmission tunnel looks stock... but it's not!