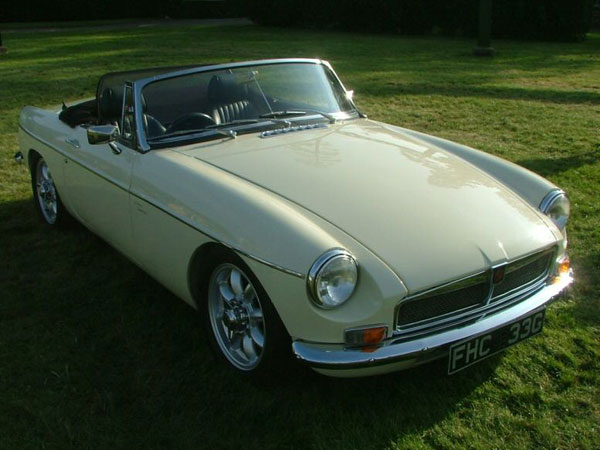 Chris Falla's 1968 MGB with Turbocharged Ford Cosworth 2.0L Engine
as published in British V8 Newsletter, Volume XV Issue 3, December 2007
Owners: Chris Falla
City: Poole, Dorset, UK
Model: 1968 MGB
Engine: Ford "Sierra Sapphire" Cosworth 2L DOHC turbo four.
Conversion by: owner
Engine:
The Ford "Sierra Sapphire" Cosworth 2L 16-valve,dual overhead cam, turbocharged, fuel-injected four-cylinder engine was originally rated by Ford at 204bhp. It was rebuilt (with new cylinder liners) in 2001. The electronic fuel injection system was rechipped with a 330bhp rated program, and #803 "green" fuel injectors were fitted, along with a 3 bar MAP sensor. The Garrett turbocharger has been upgraded to a larger Ford Escort Cosworth compressor housing and impeller (to give better initial boost.) An intercooler is installed betweel radiator and slam panel.

Cooling:
"MGB V8" radiator with heavy duty Kenlowe adjustable electric fan.

Transmission:
Borg-Warner T5 5 speed.

Rear Axle:
Limited slip diff from the Ford Sierra Sapphire Cosworth donor car.

Front Susp.:
Home-made double wishbone suspension with coil over shocks. The front suspension has been set up with 550 pound springs and 6 degrees of negative camber.

Rear Susp.:
Home-made independent rear suspension. The Ford differential is mounted into a fabricated cage, which also includes double-wishbone and coilover-shock mounting points. The rear suspension is set up with CV jointed half shafts, 210 pounds springs, and 4 degrees of negative camber.

Brakes:
(Front) MGB-V8 calipers and drilled discs, braided hoses.
(Rear) Ford Sierra Sapphire Cosworth discs and calipers with "Green Stuff" pads.
A later-model (1974.5+) MGB master cylinder has been fitted, complete with power brake servo.

Wheels/Tires:
15" knock-off alloy wheels with Goodyear 195/60R15 tires.

Other:
The seats are leather upholstered in a Jaguar-spec color (custom built by Moss Darlington over up-rated reclining seats.) The carpets are Wilton green with soundproofing matting added. The dashboard is standard, complete with original-style crinkle finish paint, but the instruments have been color-matched to the car's overall scheme (e.g. Old English White faces with green markings). A "Caterham style" heater has been mounted behind the dashboard. The steering wheel is a 14" Mota-lita. A CD player with foldaway face has been fitted, plus there's a remote CD changer in the trunk.