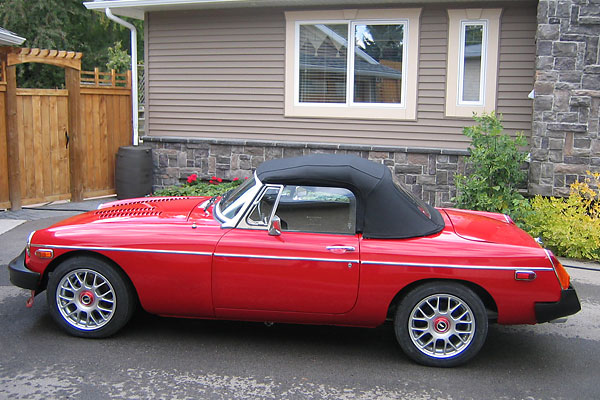 Chris Caso-Rohland's 1978 MGB with Rover 3.5L V8 engine
as published in British V8 Newsletter, Volume XV Issue 2, September 2007
Owner: Chris Caso-Rohland
City: Calgary, Alberta
Model: 1978 MGB roadster
Engine: Rover 3.5L V8
Conversion completed by: Malcolm Mann, Auto-Mann, Calgary Alberta
Engine:
Rover 3.5L V8, 0.020" over bore, 0.010" under crank, balanced, blue-printed, Crower street/strip cam, ARP bolts, high torque mini starter. The alternator is from a Mazda Miata. (It has an internal regulator and only really requires one external wire.)

Intake:
stock GM aluminum 215 intake manifold, with Weber 4bbl (Edelbrock 500cfm) carburetor.

Ignition:
Jacobs CD ignition with Rover Electronic distributor.

Cooling:
MGB V8 radiator, oil cooler, 2 stock MGB electric fans plus a 10" electric auxiliary fan.

Exhaust:
block hugger headers with ceramic coating.

Transmission:
rebuilt Toyota Supra (W58) 5-speed, connected through a Dellow Automotive bellhousing. Dellow Automotive shifter relocation kit. With this combination, no modifications whatsover were required to the MGB transmission tunnel. New custom-built and balanced drive shaft.

Clutch:
stock MGB hydraulic master cylinder. Slave cylinder from a Mini to reduce pedal pressure. (It has the same external dimensions as the MG slave. The Dellow bellhousing is set up for a Toyota slave cylinder, but Malcolm made up an adapter plate.)

Rear Axle:
stock MGB (3.909:1).

Front Susp.:
stock cross member with chrome bumper springs (lower) and GAZ adjustable shock absorbers.

Rear Susp.:
elliptical rear leafs springs (very nice ride), GAZ adjustable shock absorbers. Welded sheet metal supports for leaf spring floor mount hangers that run forward to the floor cross member.

Brakes:
Tarrox slotted front rotors, stock calipers, EBC "Green Stuff" pads, stainless steel braided hydraulic hoses, stock master cylinder.

Wheels/Tires:
15" x 7" TSW Hockenhiem R, custom machined offset for MGB (no spacers), with CNC machined hub centering rings.

Body/Interior:
custom interior with fiberglass speaker pods, arm rests, door panels with map pockets, Konig aftermarket performance seats (for Porches 911), on modified seat rails that bolt to stock MG blind nuts, louvered hood, gas lifts for hood and boot lids.

Electrical:
custom Alpine system with fiberglass door and sub woofer pods. 6" Type-R mids, tweeters, and 10" subwoofer. V12 amp.

Completed:
June 2003.

Miles Driven:
18,000 km, as of the September 1, 2007.

Comments:
I have driven this car from Calgary to the Okanagan and Vancouver every year since the conversion for summer holidays, and some showings at Rally in the Valley and the Vancouver ABFM car shows, with no problems. So far I have logged 18,000 Km in 5 years. In its first showing at the Calgary MG car club show "Britfest" it won 1st place in modified. The same year, it won 2nd place modified at Rally in the Valley in Kelowna.
After the engine conversion, I installed a mohair MGR V8 top, a custom Alpine stereo system, and I modified the interior, the suspension, and installed a new steering rack.