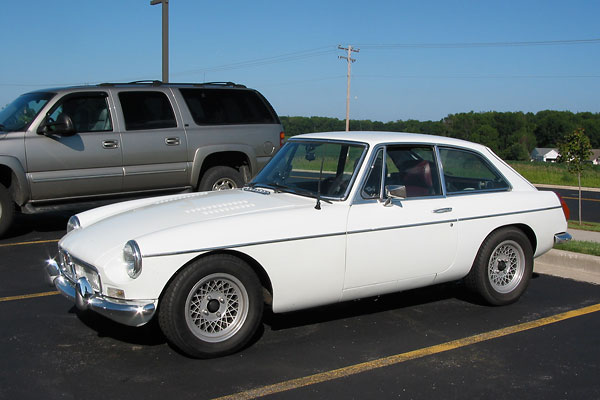 Bruce Wyckoff's 1974.5 MGB with Buick 215cid V8, by Fast Cars Inc.
(originally published in British V8 Newsletter, Volume 10 Issue 1)
Owner: Bruce & Connie Wyckoff
City: Kennesaw, GA
Model: 1974 1/2 MGBGT
Engine: Buick 215
Conversion performed by: Fast Cars, Inc.
Engine:
1962 Buick 215ci aluminum V8, with a Crane cam (duration of 214 degrees intake, 218 degrees exhaust, at 0.050" lift, maximum lift of 0.488", separation angle is 112 degrees). Intake system uses a 500cfm Edelbrock carb on a stock Buick manifold.

Exhaust:
Block hugger headers from D&D Fabrications, with 1 5/8" diameter primary tubes.

Cooling:
Brass downflow radiator from D&D Fabrications. Spal electric fan installed in a "puller" configuration. Stock water pump. To move the radiator forward enough to allow room for the puller fan, a notch was cut into the front lower body crossmember.

Transmission:
Borg-Warner T5, with a McLeod hydraulic throw-out bearing. Bellhousing is stock Buick.

Rear Axle:
Stock MGB, 3.909:1 ratio.

Wheels/Tires:
Mirada Sport GTX 205/60/R14 tires on aluminum wheels.

Suspension:
(Front) stock MGB with a 7/8" sway bar. (Rear) tube Shock conversion, using a Fast Cars, Inc. installation kit.

Interior:
Pontiac Fiero seats. Custom upholstery, trim and carpet throughout.

Additional Comments:
Completed Sept, 13, 2001, and driven 1200 miles since (as of January 2002).
Both the stock and the conversion engine/transmissions were weighed, and the Buick/T5 weighed 50 pounds less than the stock MGB engine/transmission. Converting from rubber bumper to chrome bumper further reduced the total weight of the car. Ted Lathrop of Fast Cars, Inc. was great to work with on this conversion. His explanation of the conversion process was great. Ted supplied a complete step-by-step description of the process, and there were never any surprises.
Steve Carrick did the bulk of the electrical work, and was involved in all aspects of the car.
Andy Knaut is an electrical engineer and his participation was key to the success of completing this car. Scrounging around in the past issues of the V8 newsletter, Ted found an article on making a 4-cylinder tachometer work with a V8. Andy had fun with that little challenge.
Every time that Ted needed to know something that no one had an answer to, he would call Kurt Schley. Kurt would always have the answer. A big thanks to you, Kurt!