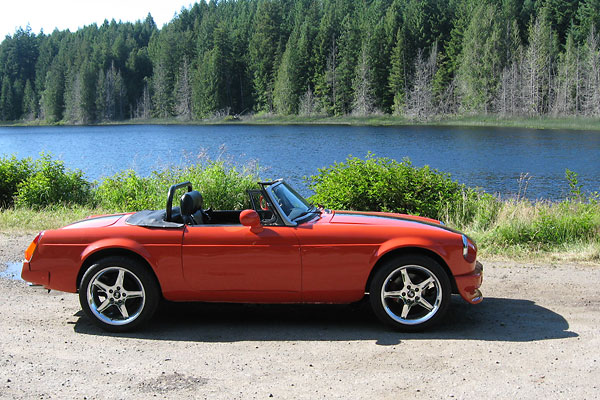 Bruce Mills' 1974.5 MGB roadster with Rover 3.5L V8
as published in British V8 Newsletter, Volume XIV Issue 3, December 2006
Owner: Bruce Mills
City: Sechelt, BC Canada (just north of Vancouver)
Model: 1974.5 MGB
Engine: 1969 Rover 3500 V8
Engine:
Totally rebuilt 1969 Rover 3.5L V8. 10.5:1 +0.020" pistons. Enlarged oil journals and up-rated oil pump. D&D oil filter adapter. Pertronics Ignitor LU-183 distributor. Pertronics Flame-Thrower coil. Taylor Vertex high performance spark plug wires. Weber Mini Hy Tork starter.

Intake:
Edelbrock 2198 intake manifold. Edelbrock 1404 carburetor (jetting: 0.086" 1423 primaries, 0.095" 1425 secondaries, 0.067"x0.055" 1463 rods. K&N air filter. Holley fuel pressure regulator. Carter P4549 7psi fuel pump.

Exhaust:
Ceramic coated block hugger headers. Dual exhaust with crossover pipe. (Centered gas tank.)

Cam:
Isky 621270 Buick Special V8 215 270 duration.

Cooling:
Ford Falcon radiator. 3000CFM fan. Fabricated ductwork to force air through lower radiator. Louvers have been cut into the inner fenders to vent air into (lower pressure at speed) wheel wells. (See photo.)

Misc.:
Chrome heater housing. Chromed master cylinder cover. Chromed radiator supports. Stainless steel braided hoses.

Front Susp.:
Stock MGB with chrome-bumper springs and with polyurethane bushings.

Rear Susp.:
Springs re-arced to chrome-bumper height. Polyurethane bushings.

Drivetrain:
Rebuilt 1989 Camaro T5 with 0.63:1 5th gear. McLeod hydraulic throw out bearing. Shortened Camaro driveshaft with MGB rear U joint.

Rear Axle:
Stock MGB (3.909:1).

Brakes:
All hydraulic lines replaced. All cylinders rebuilt or replaced. Stainless steel braided brake lines. D81 TR8 Front pads (22 percent more braking surface.)

Wheels/Tires:
(updated) Cobra R wheels. Eagle G3 tires (225/40/17 front, 245/45/17 rear).

Performance:
Our local club has access to an airport, which we shut down twice a year and use as an 1/8th mile dragstrip. Results: 9.959 seconds at 73.53mph (60 feet in 2.514 seconds).

Interior:
Fiero seats reupholstered in leather by a local shop feature speakers in the headrests. (The speakers did which required an extra amplifier.) Additional speakers are located in the footwells and behind the seats.

Electrical:
Electrical re-routed under right fender to modern fuse box and relays (behind glove box). Headlights 100/80W with 50W ancillaries. Wilson 63Amp alternator.

Miles Driven:
35000 (as of November 2006).

Completed:
May 15 2001. Constantly undergoing further modification.

Comments:
I had a few oil leaks. The block round the rear seal is quite sharp and I accidentally took a small slice off the neoprene seal which caused a leak. The up-rated oil pump required 2-3 extra pounds of torque to stop it from leaking. D&D's swivel oil filter adapter leaked until I applied about 60 pounds of torque.
The 1969 Rover engine has a pipe at the back of the block which vents the lifter gallery. This pipe actually spewed quite a bit of oil down the back of the motor ending up dripping from the bottom of the tranny looking like a rear seal problem. The solution was just to block this vent off.
I had cooling problems and installed ductwork to force air though the lower radiator. This helped, but it wasn't until I installed louvers up high on the inner fender into the low pressure wheel well (see photo) that my problems were totally solved. The car has no overheating issues now, even in city driving in 100 degree temperatures. You've got to get the heat out of the engine bay.
This car is constantly undergoing modification. Every winter season I improve, repair and replace. This winter will see new VDO Gauges installed. Winter 2007-2008 will see Dodge Omni flares, Fiberglass bumpers, stainless steel grille, side molding (chrome strips) removed and filled, sidelights removed and filled, new tires and mag wheels, and I am already checking into a Rover 4.6.

Current Photos (updated February 2010)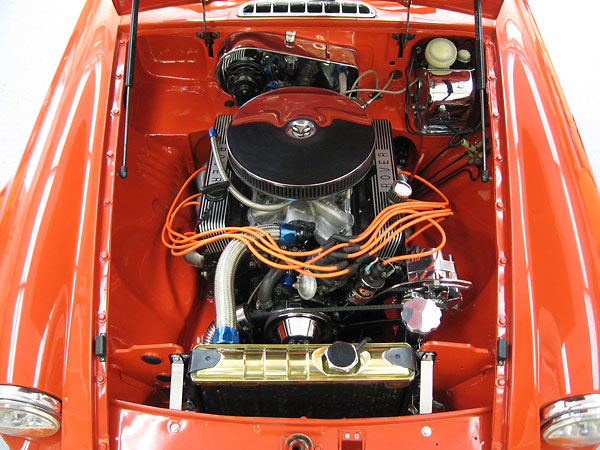 Updated engine compartment.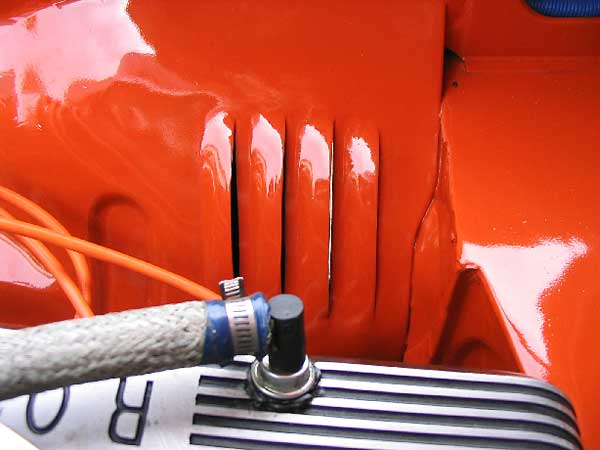 Louvers in the inner wings.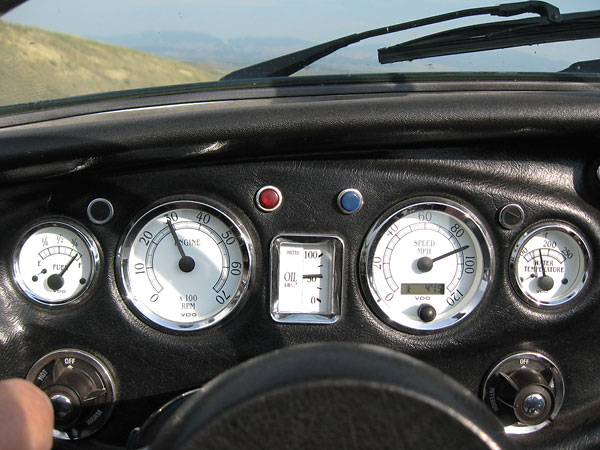 New VDO "Cockpit Royale" gauges, at cruising speed.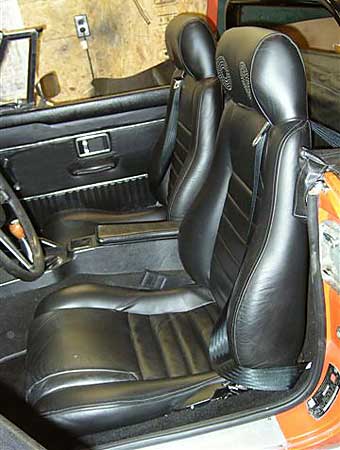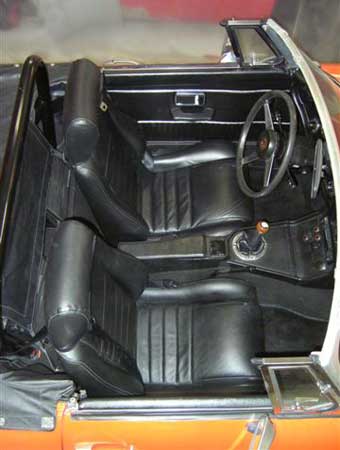 Pontiac Fiero seats with custom leather upholstery.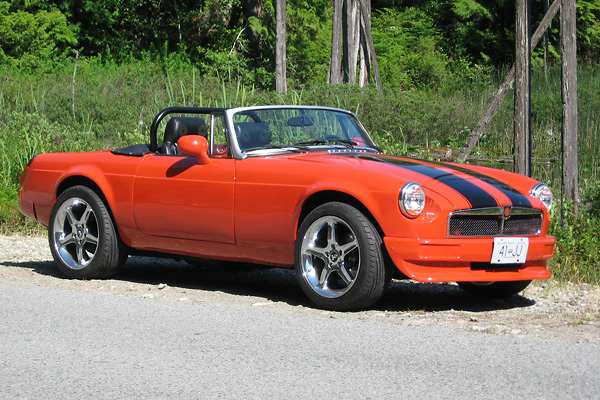 Fiberglass front bumper with integral air dam.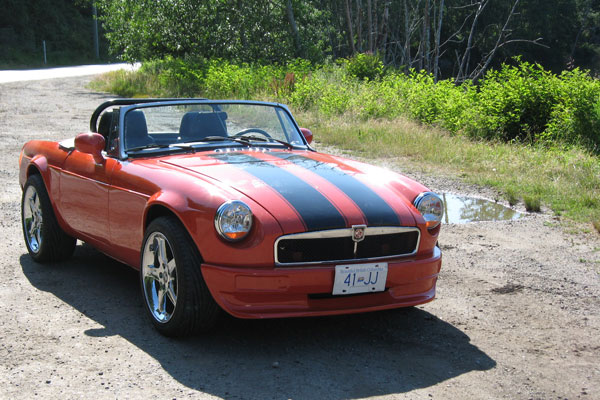 Notice that front turn signals are incorporated into these aftermarket 7" round headlights.
Dodge Omni steel fender flares installed by Joe Terry. A stainless steel grille has also been installed.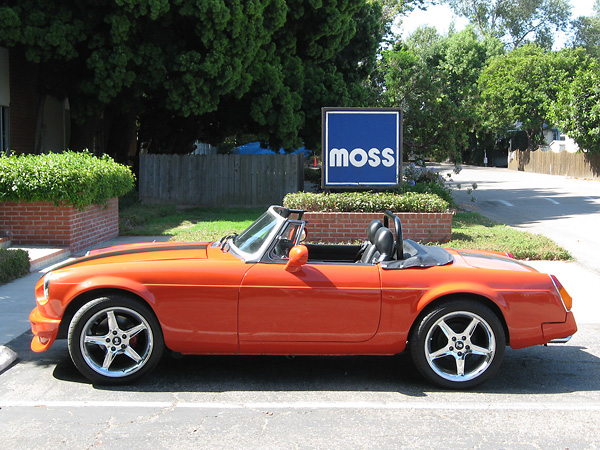 Door handles have been shaved. Modern door mirrors have been installed and painted body color.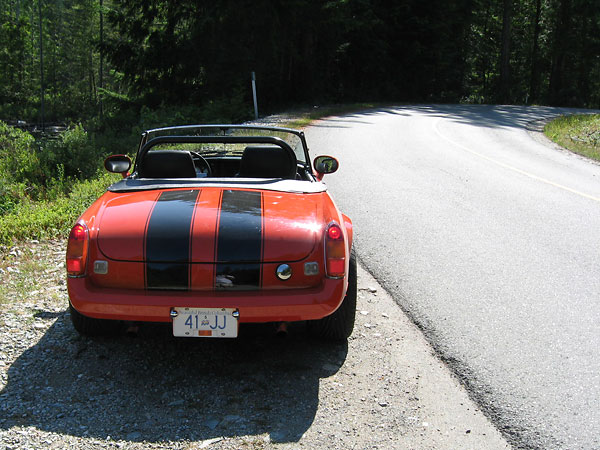 Fiberglass rear bumper. The trunk latch has been shaved.


Older Photos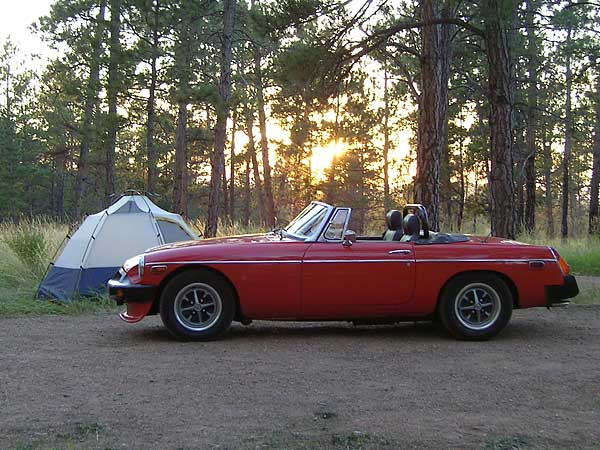 Camping with the MGB.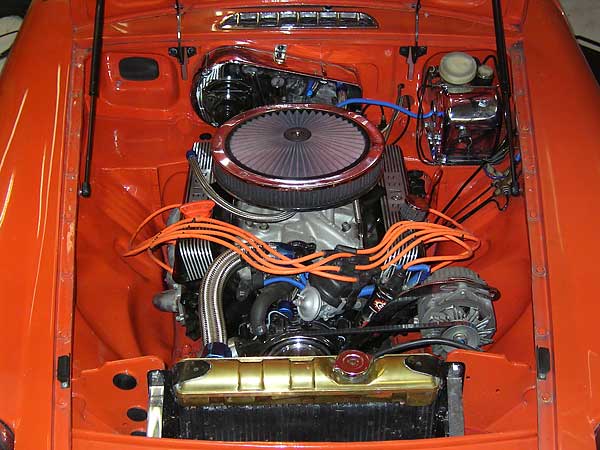 Rover engine installation from front.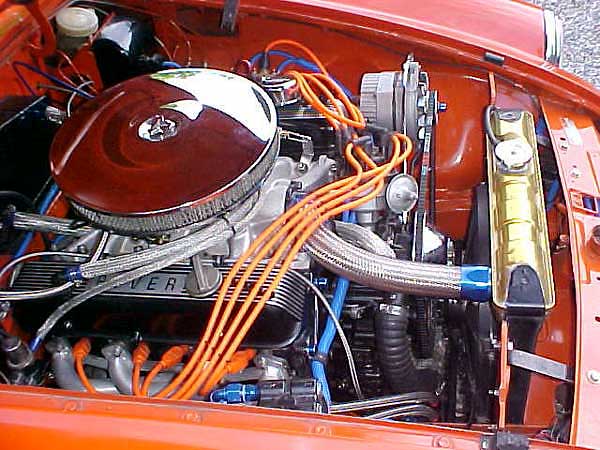 Rover engine installation from side.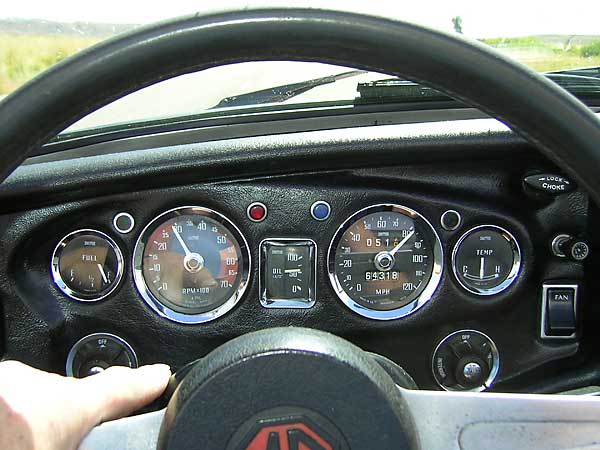 MGB instruments, at cruising speed.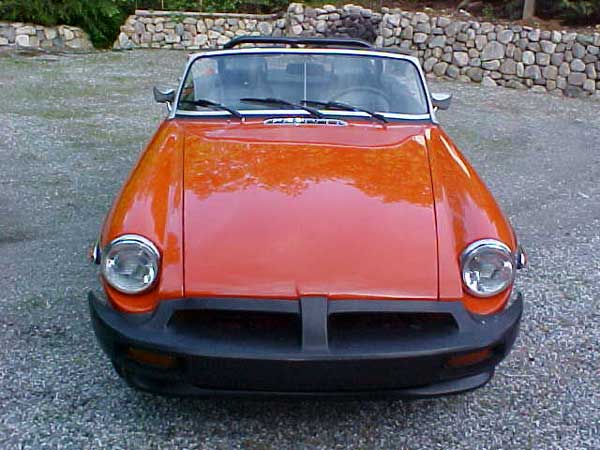 Original MGB "rubber bumper".