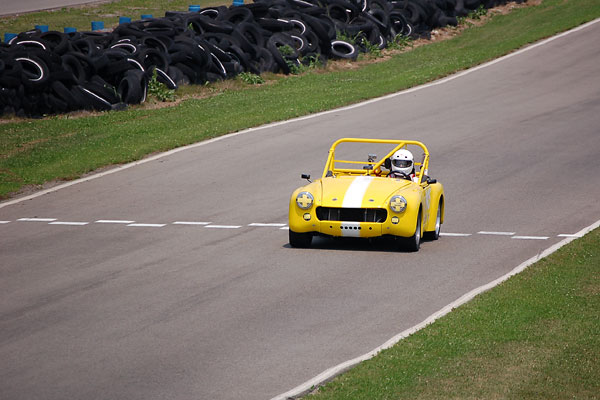 Brian Kraus and his "RX-Midget" at the Nelson Ledges Road Course during the British V8 2007 meet.

Brian Kraus's 1976 MG Midget with 1986 Mazda 13B rotary engine
as published in British V8 Newsletter, Volume XV Issue 2, September 2007
Owner: Brian Kraus
City: Westminster, MD
Model: 1976 MG Midget
Engine: Mazda 1986 13B rotary engine (from an RX-7)
Conversion by: Owner
Engine:
1986 Mazda RX-7 13B rotary (nominally 1.3L), ported by RP Performance.

Intake:
Weber 48DCO side draft carburetor. Racing Beat manifold.

Exhaust:
custom made long primary header system with Jet-Hot 2000 ceramic coating.

Transmission:
1986 Mazda RX-7 5-speed, with 1984 B2000 tail shaft housing and shift rod ends.

Rear axle:
narrowed Mazda RX-7 GSL-SE axle (circa 1984-85), with 4.10:1 gear ratio and clutch-type limited-slip differential.

Fuel System:
ATL 12 gallon fuel cell, Holley Red fuel pump, and fuel pressure regulator.

Front Susp.:
lowered 2", 340 lb springs, 30 percent stiffer shocks, Nylatron bushings, 1/2" sway bar.

Rear Susp.:
custom 4-link with coil over shocks.

Brakes:
(front) 11.75 x 1.24 Wilwood ultralight rotors, modified rotor hats, Wilwood Dynalite II calipers,
(rear) 10 X 0.8 vented Mazda rotors, stock Mazda rear calipers.

Wheels/Tires:
15x8" Superlite wheels. 225/45/15 Kumho V700 R-compound tires.

Instruments:
Autometer Sport-Comp Silver 5" tachometer. (Autometer Ultralite series for everything else.) Sequential LED shift light from DKS Electronics. Dashboard custom-built and covered in carbon fiber by Mark at carbonfiber.net.

Body:
fiberglass fenders and hood from Spridgetech, Inc.

Electrical:
EZ Wiring universal street-rod harness. Sealed gel-cell motorcycle battery.

Performance:
0-60 in 4.2 seconds.

Brian writes:

To fit the 13B motor from a 1986 RX-7 into the Midget, I had to remove the front cover, oil pan, and oil pickup to swap them for '84-85 GSL-SE parts. This allowed me to make a front mount that fit nicely in the Midget's engine bay. The 13B looked like it would fit well, except for one area that was hitting the intake manifold. That area of the Midget unibody was cut out and a boxed section welded inward to keep strength and give plenty of clearance. I also had to make a new transmission mount to center it in the very small tunnel.

The fuel injection system was scrapped because the Mazda intake sat too high and would not allow the hood to close. An intake from Racing Beat was bought and mated to a Weber 48DCO carburetor that I had traded for.

At this point a friend suggested I consider how I was going to apply this new found power to the ground... and how I was going to stop this beast. The stock Midget ran tiny 13" x 4" wheels and 165 size tires. I needed wider wheels, fender flares and probably a stronger suspension. The wheels also needed to be larger diameter to clear the big disk brakes I needed.

I found a company called Spridgetech, who specialize in composite body parts for racing Midgets and Sprites, and learned that their lightweight fiberglass fenders and hood would give me the room I needed for wider wheels. They also converted the look of the rear fender from a square wheel arch to a round arch that looks better and allows easier wheel removal. After test-fitting the Spridgetech fenders, I found 15 x 8 wheels with 225/50/15 tires would work.

After many phone calls, I found a set of wheels with the proper offset and bolt pattern in a distributor's warehouse. They'd been special-ordered, but the buyer had backed out of the deal, so I got a great deal.

I had to make the remaining items myself. I used CAD software to design a rear suspension that would get rid of the heavy stock leaf springs. I purchased a used GSL-SE rear and took it to Jim Robinson Racing in Lutherville, MD to have the housing narrowed to fit under the Midget. Moser Engineering cut down and re-splined the axle shafts. Add a few more days of fabrication, I had a 4-link suspension with aluminum coil-over shocks.


The brakes I used are Wildwood 4-piston Dynalite calipers on 11.75" diameter, 1.25" thick Ultralight curved-vane rotors. These parts were chosen to work with the stock Midget master cylinder. I also designed and fabricated caliper mounts and modified the rotor hats to clear suspension parts and keep the calipers clear of the wheels.

The front suspension uses racing components sourced from The Winners Circle: negative camber bushings, larger sway bar with rod end links, 1" lowered springs, 1" spring pan lowering kit, and very hard Nylatron bushings throughout. I also re-valved the stock lever shocks.

I built the roll cage as the car was being built so that I could connect important suspension parts to it to keep the car stiff and the unibody from flexing. The cage uses a front roll bar under the dash and a larger rear roll bar over the driver and passenger. The roll bars are connected to each other with door bars that triangulate and brace the structure and the loads from the suspension. Front and rear braces were added to aid in the event of an impact.

After the major parts of the car were assembled, I tested the car for about a year and a half with its current RP Performance street-ported 13B. The little Midget went from about 39lbs/hp in its stock MG state to about 7.8lbs/hp. Zero-to-sixty acceleration went from 15.5 seconds (Road & Track, 1976) to only 4.2 seconds (measured by GTech)!

Final body work and painting was done by The Winning Finish in Littlestown, PA. PPG DMC905 Bright Yellow paint was used, with PPG 4833 Performance White for the stripes. The dash was made from 2 layers of fiberglass and covered in Carbon Fiber by Carbonfiberparts.net.

The first event that the completed RX-Midget competed in was the National Road Autocross in Cumberland, MD. The RX-Midget earned the Competition Car Award for looking good and running in the top 10 all weekend. We managed to beat all the Corvettes and most of the modified AWD Turbo Porsches that cost 10 times what I have in the RX-Midget. Not a bad start!

The RX-Midget is now being campaigned successfully through a busy schedule of hillclimbs and autocrosses.

Since the car has been finished, I've been asked several times if I would sell it. She isn't for sale! Everything is just the way I want it, from the position of the controls to fit me, to the design and style of all the parts I fabricated. Once you spend 7 years working on a car, you tend to get a bit attached.

Special thanks to my wife Denise for putting up with the long nights in the garage. Thanks to my parents for letting me use their garage for the first couple years, and to my father specifically for helping with the bodywork. Thanks to my friends John, Jake, Francis, Alex, Mike, Mark and "MG's of Baltimore" for all their help too.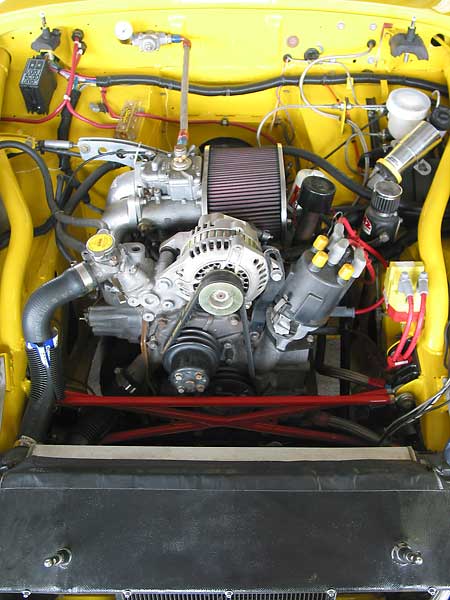 1986 Mazda 13B rotary engine.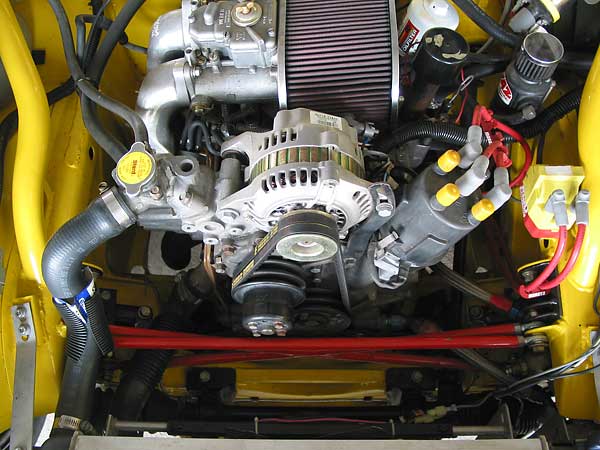 Roll cage extensions brace the engine compartment. Heim-jointed braces help too.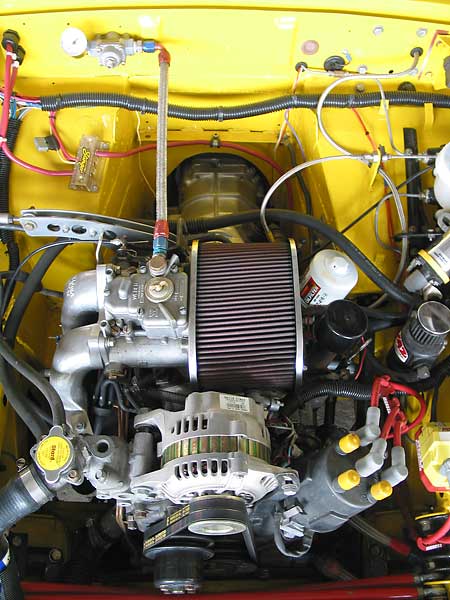 The alternator also serves as a belt tensioner.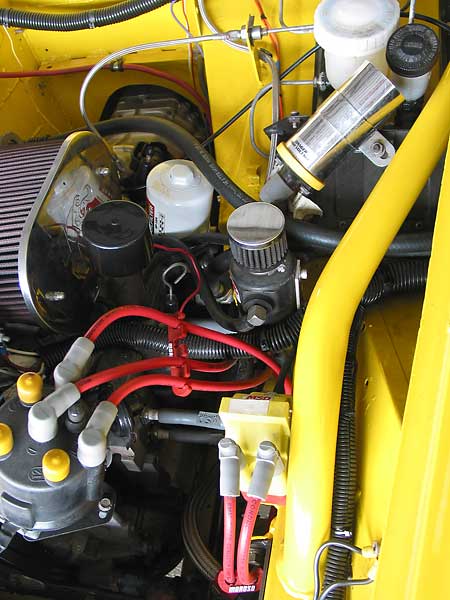 Check out that distributor cap!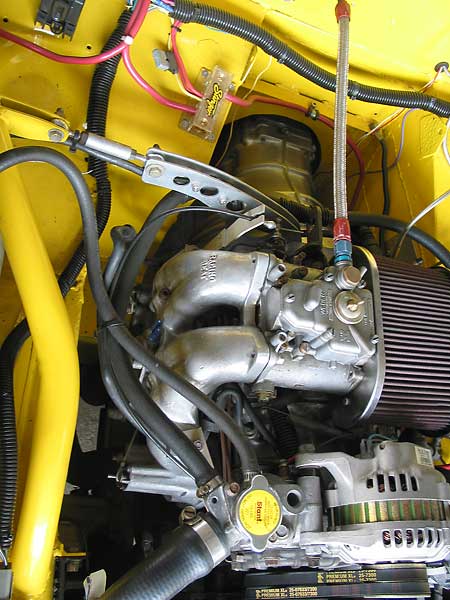 Weber 48DCO side draft carburetor. Racing Beat manifold.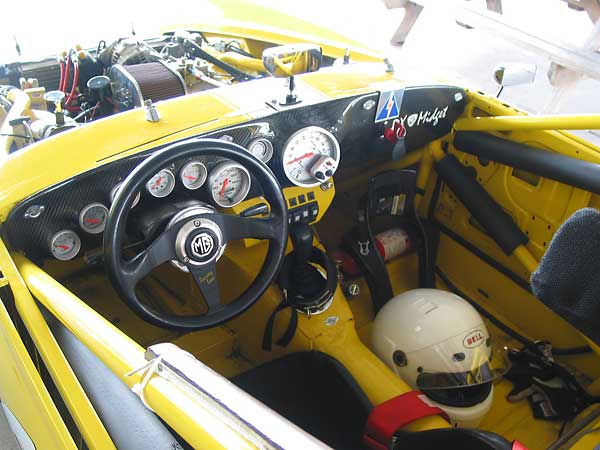 Autometer Ultralite series gauges.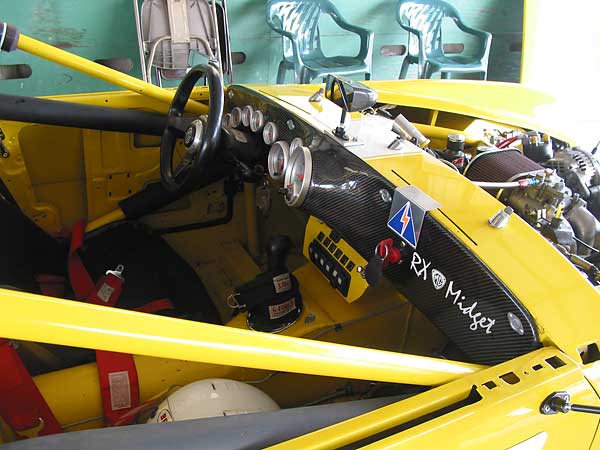 Custom built carbon fiber dashboard.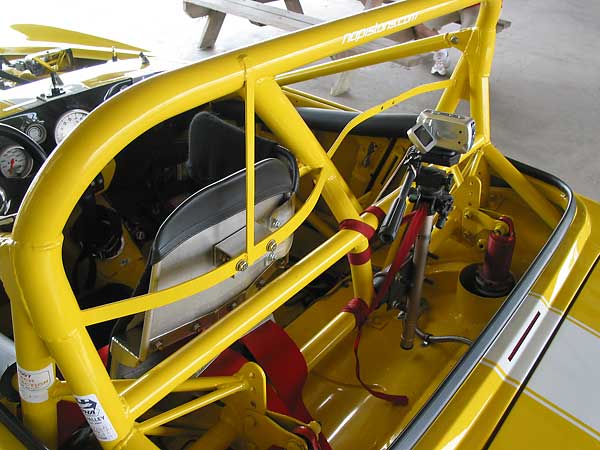 Custom MG Midget roll structure. Notice the shock absorber mounts!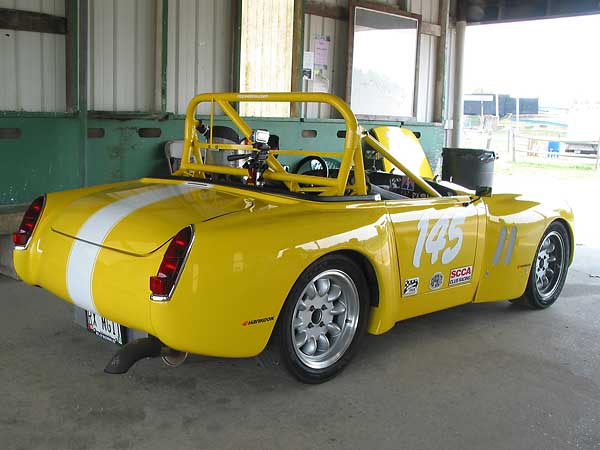 Fiberglass fenders and hood from Spridgetech, Inc.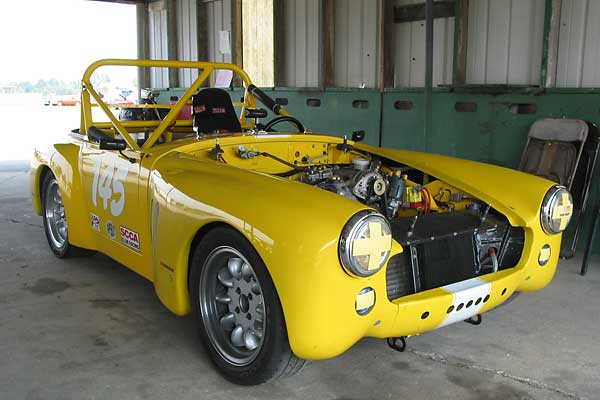 The RX-Midget, photographed inside the "Nelson Ledges Tech Center".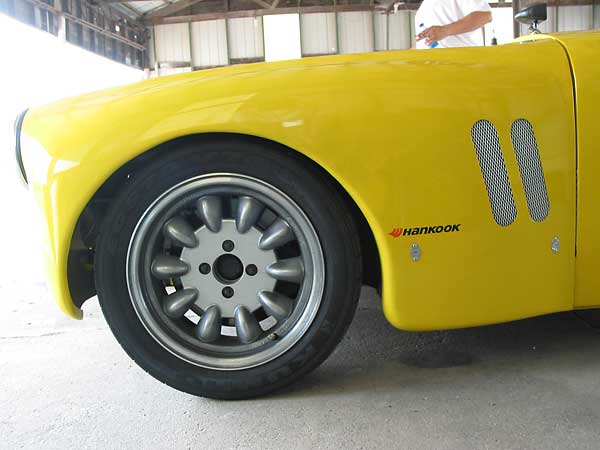 15x8 Superlite wheels. 225/45/15 Kumho V700 R-compound tires.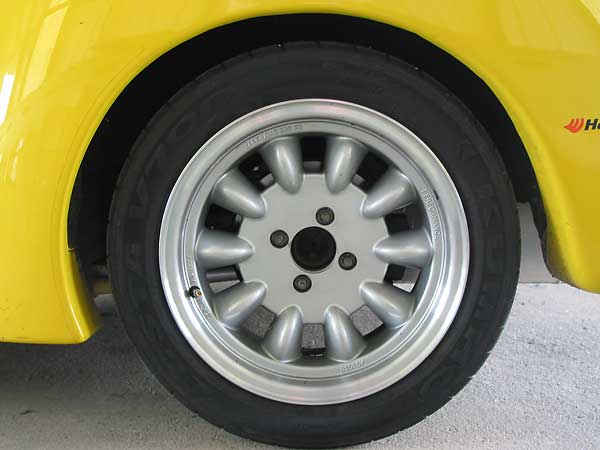 Superlite SL11 (15x8) wheels have ten spokes (instead of eight).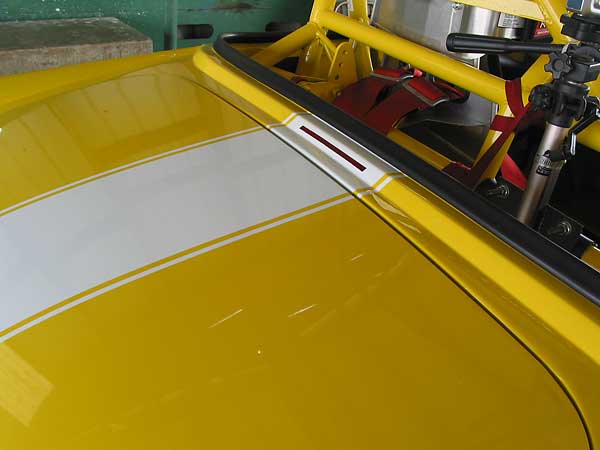 LED third brake light, frenched in.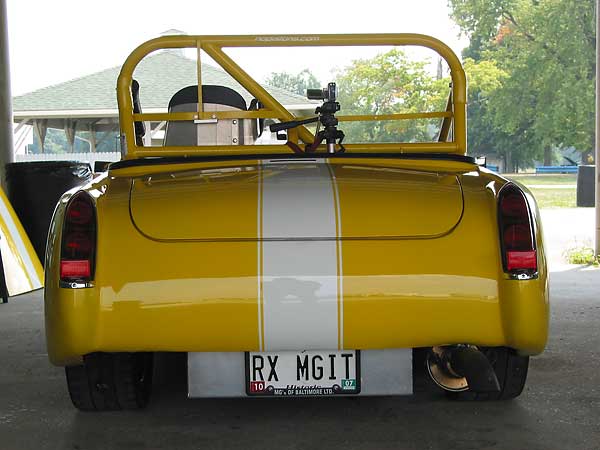 RX-Midget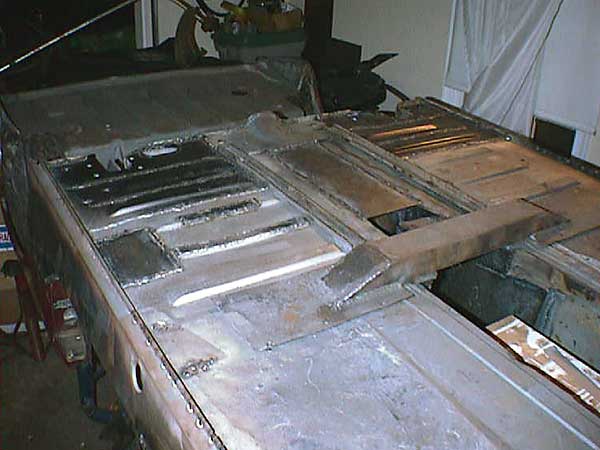 Repairing and reinforcing the MG Midget unibody.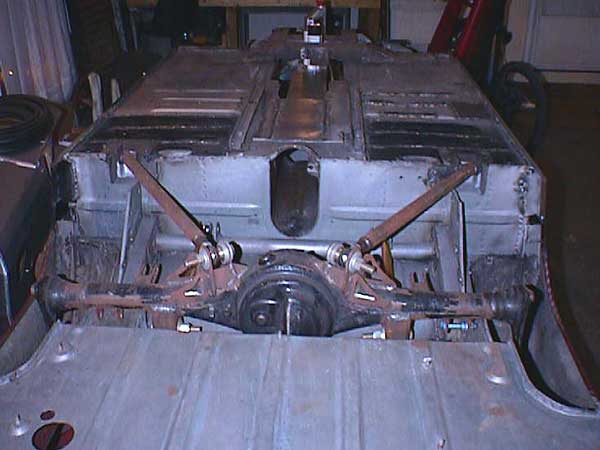 Custom 4-link MG Midget suspension with coil-over shocks.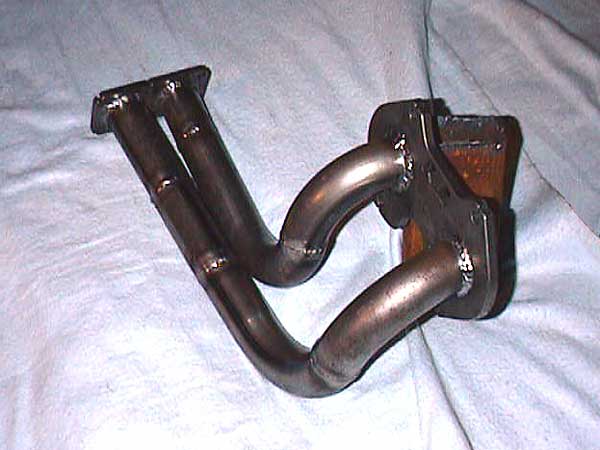 Custom-made long primary header (before Jet-Hot 2000 ceramic coating).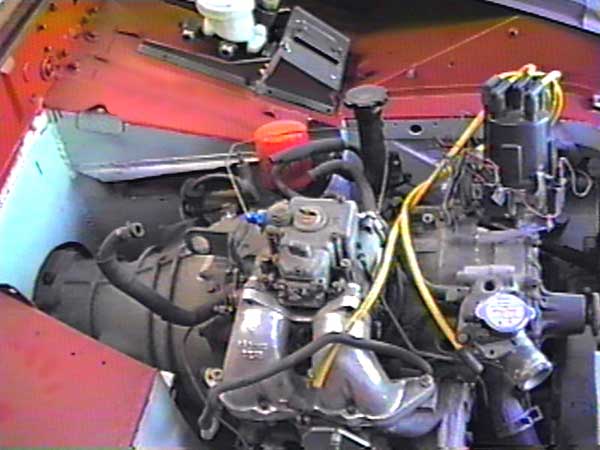 Racing Beat manifold. Weber 48DCO side-draft carburetor.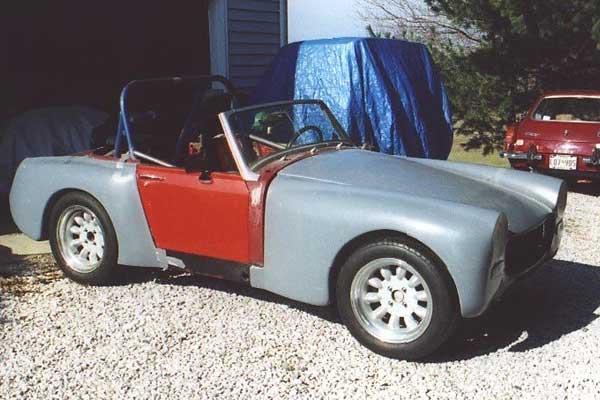 Newly installed Spridgetech fenders.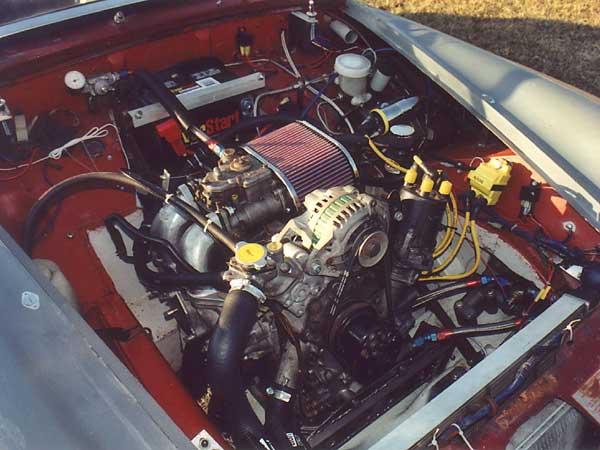 Brian refined the car through a year's worth of competition before stripping it down and rebuilding.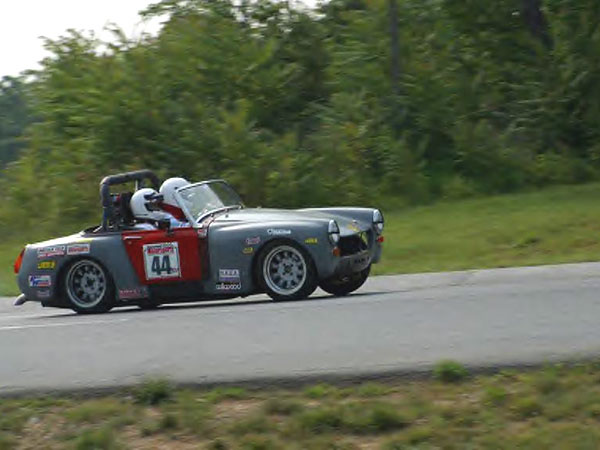 Brian taking 2nd place overall in the NASA Time Trial at Summit Point Raceway.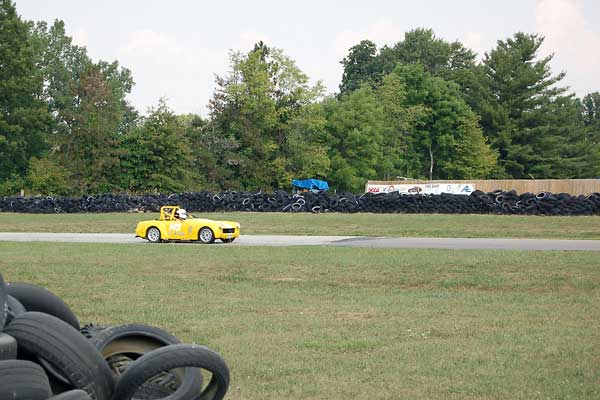 Brian driving the RX-Midget at Nelson Ledges Road Course during British V8 2007.
Notice: photos of the RX-Midget in motion were provided by and are used with permission of Denise Kraus.