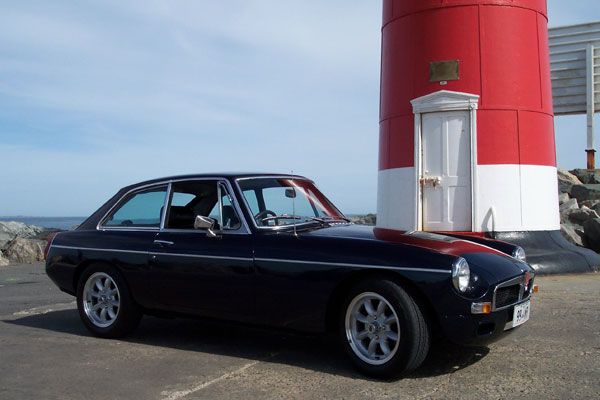 Brad Chapman's 1975 MGB GT with Rover 3.5L V8
as published in BritishV8 Magazine, Volume XVII Issue 1, July 2009

Owner: Brad Chapman
BritishV8 UserID: evoconvert
City: Bicton, Western Australia
Model: 1975 MGB GT
Engine: Rover 3.5L V8
Conversion by: Owner
| | |
| --- | --- |
| Engine: | Rover 3.5L engine. Holley 600cfm with vacuum secondaries on an Offenhauser "360" (part number 5165) single-plane intake manifold. Pertronix Ignitor ignition module mounted inside the dizzy in lieu of breaker points. Rebuilt SD1 starter motor. Pre-facelift P6 alternator bracket. |
| Cooling: | modified stock MGB (four cylinder) radiator with relocated ports. |
| Exhaust: | custom headers (purchased "used" from a racer.) |
| Transmission: | Toyota Supra alloy case 5-speed manual transmission with Dellow bellhousing. Dellow clutch kit including transmission mounts, slave cylinder, throw-out fork and bearing, etc. |
| Front Susp.: | stock MGB. |
| Rear Susp.: | stock MGB. |
| Brakes: | stock, except for MGB GT V8 front calipers. |
| Wheels/Tires: | Minator 15x6 8-spoke alloy wheels. |
| Body: | Sebring front and rear valances. (The heavy rubber bumpers have been removed, and a 1974-spec grille has been installed.) |
| Interior: | stock MGB. |
| Weight: | 1020kg (2248Lbs). |
| Completed: | February 2009. |
| Comments: | Where to start! I think the main areas of concern I had were the engine location and the selection of which gearbox to use. I purchased the engine mounts from the MGOC website. In hindsight, I believe I could've placed the motor slightly further back (e.g. maybe an inch or so.) However, the height is good and I have enough clearance to remove the sump pan with out lifting the engine. I decided to use a Toyota Supra gearbox. In Australia they're readily available with four different length casings (18, 19, 20, and 21 inch long respectively). I think the longest version is the most appropriate. I found that it located the gearstick very near the MGB's original location. The box I used is referred to as a "w55" box and has very similar gear ratios to the MG RV8 model. These boxes are good for about 500hp, so they're virtually break proof. The Dellow bellhousing was a easy install. It clears the tunnel by about 10-12mm either side, so I did not have to modify the tunnel at all. At the time of writing, I have not upgraded the differential yet but I intend to do that soon. (I'd like a limited slip differential.) |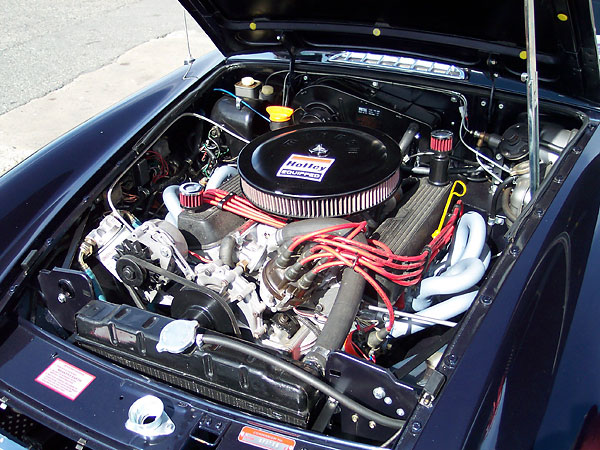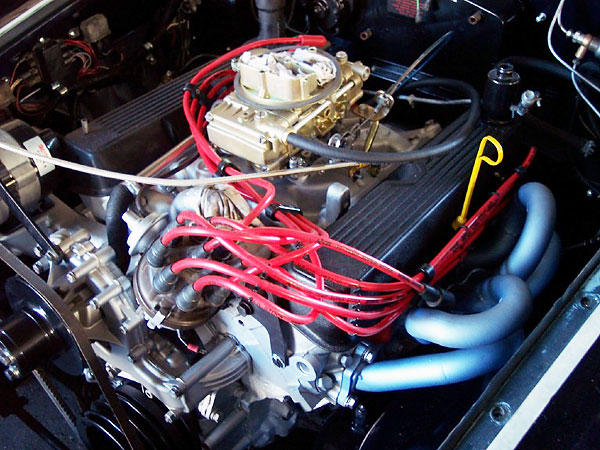 Holley 600 (vacuum secondaries) on Offenhauser "360" single-plane intake manifold.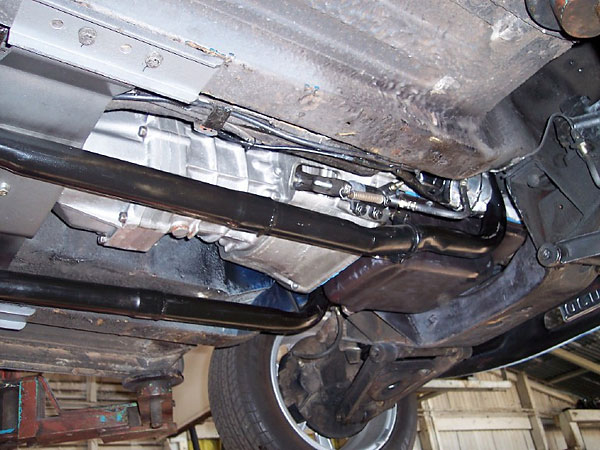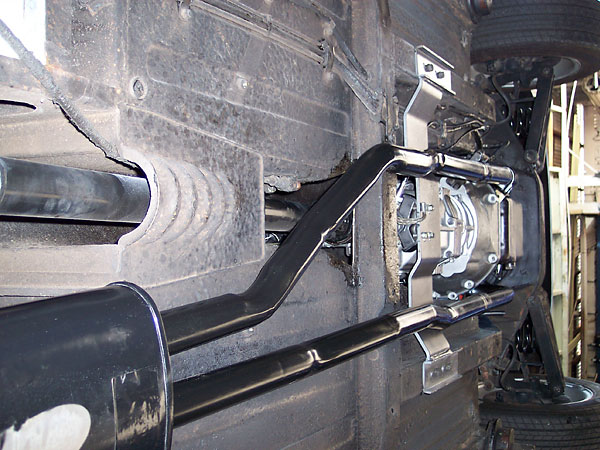 Enjoying this article? Our magazine is funded through the generous support of readers like you!
To contribute to our operating budget, please click here and follow the instructions.
(Suggested contribution is twenty bucks per year. Feel free to give more!)
How It Was Done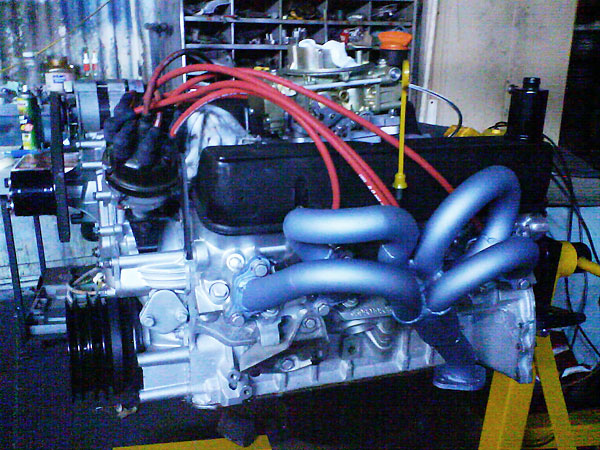 Custom four-into-one, block-hugger headers.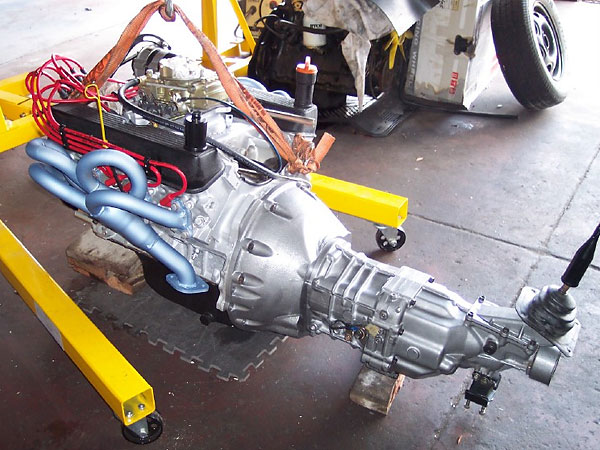 Toyota Supra W55 5-speed gearbox.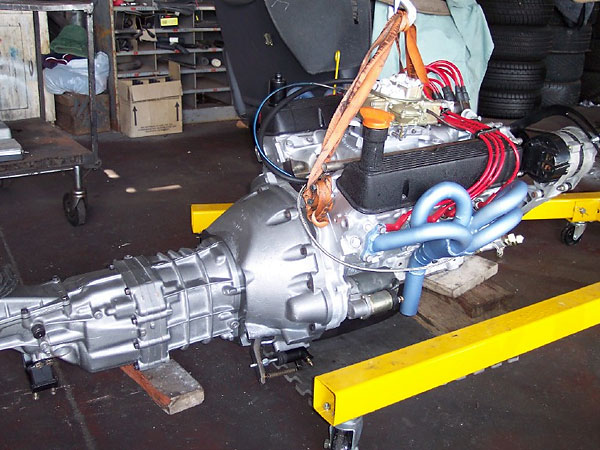 Dellow bellhousing.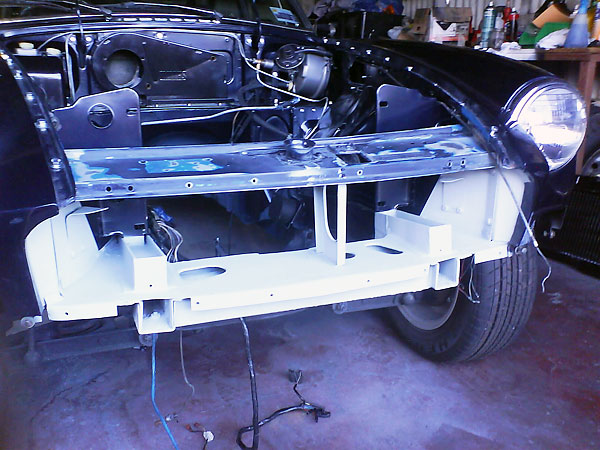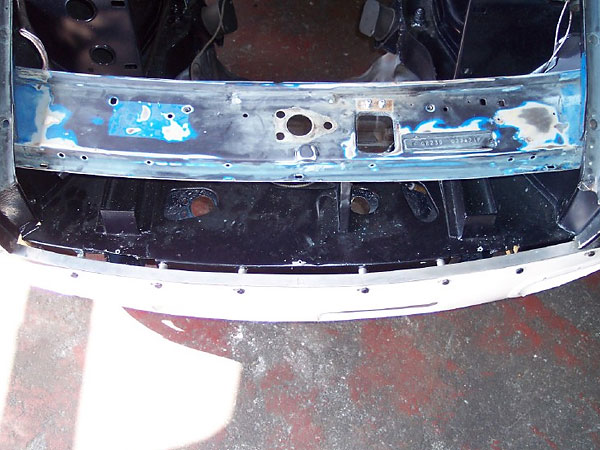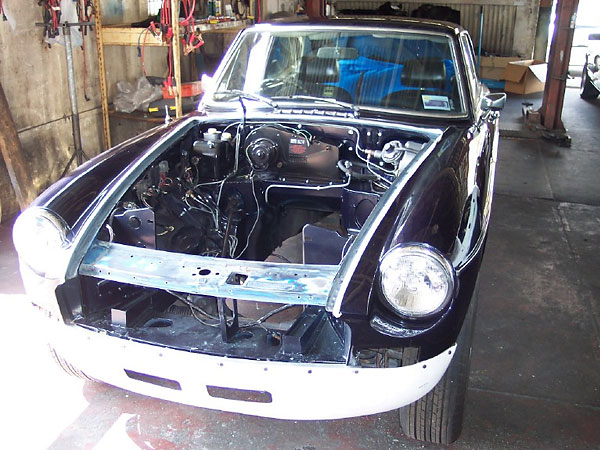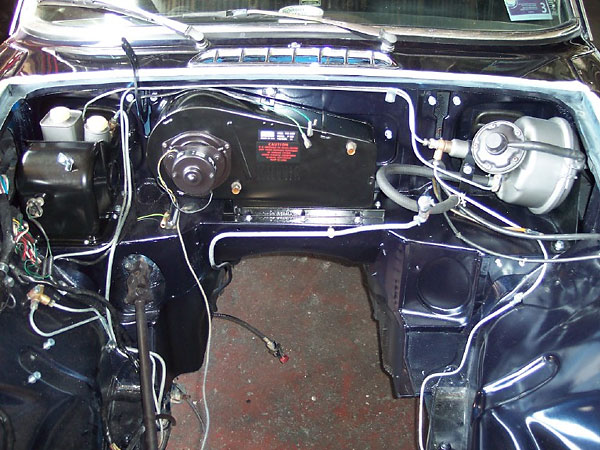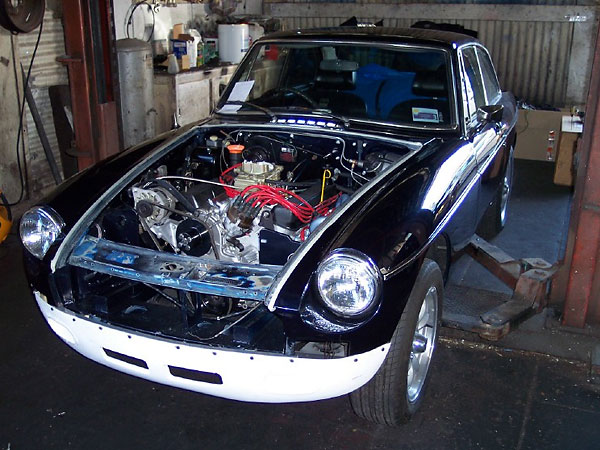 Installation of a Sebring front valance.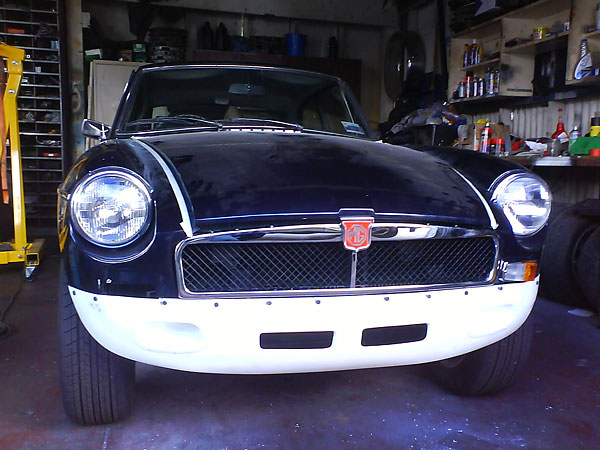 Installation of a 1974 MGB grille.


The Completed Conversion