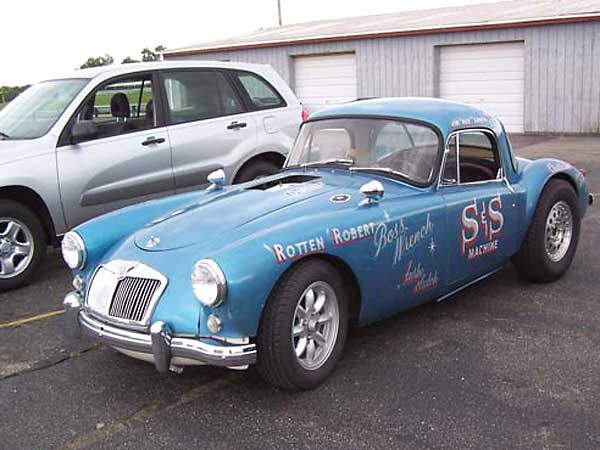 Bob Samyn's 1959 MGA with Chevy 355 V8
(originally published in British V8 Newsletter, Volume 8 Issue 2)


Owner: Bob Samyn
City: Essexville, MI
Model: 1959 MGA Coupe
Engine: Chevy 355 V8
Conversion performed by: Owner

Note: this MGA V-8 was originally built-up in 1966 by the owner and successfully campaigned at local dragstrips for five years. Best time was 10.68 seconds at 128mph! Built with the Shelby Cobra in mind, but Chevy powered. Restoration started in 1966 after being stored from 1972 until 1995. The goal was a street legal, stock looking, moderate performance driver with sports car handling.


How It Was Done
CHASSIS
| | |
| --- | --- |
| Frame: | stock MGA with modified heater shelf "goal post" crossbar to fit V-8 and new crossmember for transmission. |
| Wheelbase: | stock 94". |
| Modifications: | new 2" by 2" crossmember added at transmission for standard GM trans mount. Goal post cross tie bar cut to clear both front cylinder header tubes. Engine setback 14 percent (13.5" to number 1 spark plug from centerline of front spindle.) Racing rule for class run. Stock transmission rear crossmember Zee'd for transmission oil pan clearance. |
| Chassis Plumbing: | Galvanized steel brake tubing. |
| Rear Suspension: | stock leaf springs with Lakewood "slapper bars" and tube shocks. |
| Rear End/Ratio: | 1986 GM 10-bolt 7.62" rear end from 2-wheel drive Chevy S-10 pickup truck. 3.73:1 gearing. 28 spline axles. Lock-right differential. |
| Rear Brakes: | GM S-10 9-1/2" drums. |
| Front Suspension: | stock MGA lever shocks and lower control arms with MGB spindles and hubs. ADDCO 3/4" diameter anti-roll bar. |
| Front Springs: | stock MGA. |
| Front Brakes: | MGB 10-3/4" diameter disc and MGB calipers with holdback valve in front circuit. |
| Pedal Assembly: | custom made swinging rake pedal/bracket behind original master cylinder mounting area. |
| Master Cylinder: | 1969 Pontiac LeMans dial outlet disc/drum with Wilwood partitioning valve in rear circuit. |
| Steering: | MGA rack mounting bracket tilted 10 degrees with second u-joint to clear LH exhaust header. |
| Steering Column: | stock adjustable steering shaft w/ bearings and double u-joint to clear LH header. Hole added to dash between speedo and tach for steering shaft to exit, for leg/wheel clearance. |
| Front Wheel: | Minilite aluminum 15 x 5.5. Firestone Firehawk SS-10 P195/60R15. |
| Rear Wheel: | unique chromed steel 8-spoke wagon type, 15 x 8. Firestone Firehawk SS-10 P275/60R15. |
| Gas Tank: | stock MGA 10-gallon, coated by Tank Renu Co. |
ENGINE
| | |
| --- | --- |
| Year/Make: | 1970 Chevrolet V-8. |
| Displacement: | 355 c.i. |
| Block: | 4-bolt #3970010 dated G199 (July 19, 1969) |
| Crankshaft: | stock nodular. |
| Pistons: | Sealed Power hypereutectic 9.4:1. |
| Rods: | stock, shotpeened "pink" with ARP bolts. |
| Heads: | World Products S/R Torquer 67cc. |
| Valves: | Manley S/S swirl polished 2.02" intakes, 1.60" exhaust, Elgin springs. |
| Head Gaskets: | Fel-Pro #1003 (0.039" compressed). |
| Camshaft: | Speed Pro #CS-1013R hydraulic (duration 214/224 @ 0.050", lift .443"/.465"). |
| Water Pump: | Edelbrock aluminum long style #8811. |
| Cooling Fan: | Perma-Cool 16" electric mounted behind radiator. |
| Alternator: | chromed GM "CS" internal regulator. |
| Valve Covers: | 1970 Corvette LT1 finned aluminum. |
| Induction: | Edelbrock Performer #2101 with Quadrajet 750 CFM carb. |
| Ignition: | GM points type distributor, converted with Pertronix Ignitor and Champion wires. |
| Headers: | Hooker block huggers. 1.62" diameter. VHT paint. |
| Mufflers: | custom aluminized steel dual 2.5 with Flow Tech Terminator mufflers. |
| Misc.: | billet aluminum pulleys. |
TRANSMISSION
| | |
| --- | --- |
| Make: | 1975 Chevrolet TH350 automatic. |
| Converter: | TCI Sizzler 1500 RPM stall speed. |
| Shifter: | Lokar 6". |
| Mods: | B&M shift kit by owner. Lokar stainless steel trans dipstick. |
| Driveshaft: | custom, by owner. |
BODY
| | |
| --- | --- |
| Style/Material: | coupe/steel. |
| Hood: | stock, aluminum with Cobra style scoop. |
| Radiator: | custom 16" wide by 20" high 4-row high efficiency copper tilted back 30 degrees in stock location. |
| Grille: | stock MGA. |
| Paint: | Dupont - Corvette - "Nassau Blue" with "full sponsor lettering from the 1968-1972 racing days. |
| Mods: | radiused and rolled the rear fenders to fit 30" diameter tires, custom aluminum hood scoop, custom 20 gage steel firewall and transmission cover mated to stock driveshaft tunnel at front of seats. |
INTERIOR
| | |
| --- | --- |
| Dashboard: | original 4-gauge holes, factory vunyl covered. |
| Gauges: | Smiths classic black 100mm - matches MGA speedo, tach, and dual oil pressure / water temperature gauge. |
| Throttle: | Lokar chrome / rubber pedal with braided steel cable. |
| Wiring: | Painless Wiring 12-circuit. |
| Steering Wheel: | Grant black 3-spoke, NASCAR style. |
| Seats: | rebuilt stock coupe buckets. |
| Carpet: | stock wool, gray, modified for custom tunnel and firewall. |
---
(originally published in British V8 Newsletter, Volume 8 Issue 3)


During the early summer of 1965, I purchased a "Rodder and SuperStock" magazine with the article "Chevy Cubes for the MGA". At this time I was drag racing my second 1955 Chevy, a station wagon with a hopped-up 283 Chevy V8, 4-speed, and 4.88 gears in a Posi rear-end. This combo of heavy rear end weight and lots of gearing was a competitive winner. I knew that if I took this drive train and put it into the lightweight MGA chassis, I could go faster at the dragstrip.

My daily driver was a '65 Vette. It had a 350 HP 327 with a 4-speed and Posi. This was a good combo with much better torque than the 283 Chevy engine. I decided to build my own "Cobra" type sports car like Carroll Shelby did with the A.C. Bristol. Being a young Mechanical Engineering student, I knew that Force = Mass x Acceleration. That is, with the same horsepower as the station wagon, the lightweight MGA would be several seconds quicker. Quicker is always better!

The search began for an MGA. There were plenty to chose from in 1965. I found several roadsters for sale, but most of them had driving mirrors on the front fenders (wings). This added drag at high speed, so the search went on. In 1965 there were Roadsters practically everywhere... I wanted something different! One day, late in the summer of '65, while driving home from college, I spotted a different looking MGA for sale. It was a coupe! I turned around and ended up securing the deal for $350. As it turned out, the teenage sons of the owner had really beat up this neat little car. This car was only six years old when I bought it, but it already had Michigan rust. The MGA looked decent on the outside, but under the skin lurked a few problems. The driver's side window was broken and the window-crank stripped. The front bumper was hit and pushed into the extension mounting bolts. The rear axle ring and pinion was broken.
I didn't care, I was going to make a Chevy powered "Cobra" style drag racer out of it anyhow! I removed the MGA engine and trans, then fit a 327 Corvette V8 just like the "Chevy Cubers" article. The NHRA rules allowed a 15% engine setback. I positioned the engine just short of that and fabricated the front engine mount. I had to cut out the A-frame "goal post" cross tube and heater shelf, back to the vertical panel, for the bonnet hinges to clear the valve covers.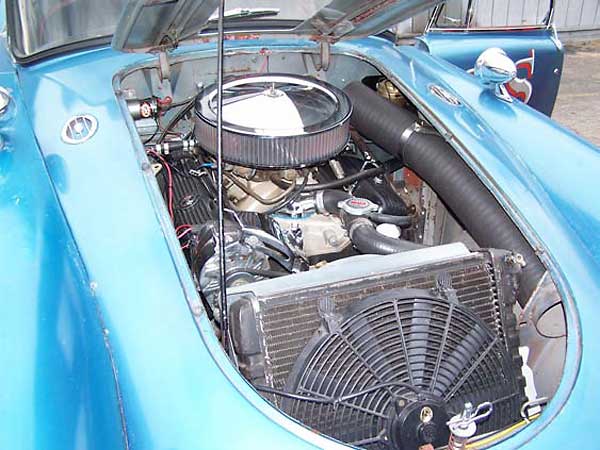 The '55 Chevy 4-tube headers fit neatly. The two forward angled braces of the goal post A-frame needed to be indented slightly on the inside to clear the front tubes of each header. The steering rack needed to be rotated up to clear the L.H. exhaust header and to meet the steering shaft universal joint located just above the L.H, header tube outlets. To keep from altering the steering geometry, I heated the rack mounting bracket sides to allow the front of the rack to be pivoted down. The rear rack mounting bolts remained in almost the factory position. The rack input shaft then pointed at number one sparkplug.
The input shaft of the rack was cut off 5.0" from the bearing housing (just behind the shock lever.) The shaft was removed and machined to fit a second MGA steering universal joint. This allowed the shaft to angle up to clear the L.H. header tube. The front of the steering shaft was rotated upward, with the original Universal joint. It joined the short, modified rack input shaft and U-joint. A new bracket, with bearings, was made and mounted to the A-frame goal post top. I used the steering shaft alone, without the housing tube and felt bushings. I would use the complete assembly next time. This way you wouldn't need to make a second shaft bearing support mount at the column drop behind the instrument panel.
A hole was made in the panel just above the recessed area between the speedo and tach. This gives you about 3" of extra leg room to work the pedals. I removed the round frame cross tube under the old clutch area. The old MG engine mounts were also removed. The center 20" of the original transmission crossmember was cut out to allow '55 Chevy rear bellhousing mounts to be added. The mounts bolted to a short piece of angle iron bent at 45 degree on each side, as detailed in the magazine article. An Ansen aluminum scattershield bellhousing for an SS Chevy was used to house the Weber aluminum flywheel and clutch. A Muncie 4 speed / Corvette Hurst shifter was initially used.
I had a '55 Chevy rear axle pumpkin with 4.88 gears, so a '55 housing was narrowed to fit. The housing axle bearings from a 1960's Olds were welded to the Chevy housing. This allowed the use of the larger Olds 30 teeth spline axle shafts. The axles were resplined to Chevy specs and to fit the Chevy pumpkin. The stock MGA leaf springs were used. Tube shocks were added with the upper ends attached where the lever shocks mounted. The rear tires started out as 9.00-15 Goodyear slicks, then 10.50-15 M&H's and finally 12.00-15 Firestones.
A new 20 gauge sheet metal firewall, transmission/drive shaft cover was fabricated. Two fiberglass bucket seats were added with a 4-point harness for the driver. A 55 Chevy clutch/brake pedal assembly was mounted in the stock dual master cylinder area. The master cylinder was a single circuit for the MGA front drums and GM rear drums.
The transmission first used in 1968 was a GM Muncie 4-speed. After blowing 3rd gear on two occasions (costing the race), something more durable was needed. Several big block Altereds were running an automatic with a clutch. This strong dependable transmission turned out to be built by Bill Waddil of Schartz Creek, MI. A short while later I had one of the GM 400 Turbo-Hydros with a manual clutch. A 40 lb. flywheel was used to launch the car at 6000+ rpm. This combo allowed the front wheels to be pulled 6 to 8" off the strip. No more blown transmissions! An added benefit was that the ET's became very consistent.
The first engine was a '66 Corvette 327, 350 HP short block that was blueprinted and balanced. (The same high performance engine I had in my 1965 Vette.) I ran a Crane 308 roller cam assembly with Rev kit, dual valve springs and roller rockers. The single Holley 600 cfm carb and high rise manifold were slightly modified. This basically stock engine ran consistent 11.05 - 11.10 second ET's at 123+ mph The MGA weighed in at 2400 lbs.
A radiator from a 1960 Comet was used. It was narrow enough to fit in the stock area. It was tilted back a little for clearance. The capacity was more than enough for 1/4 mile blasts. The lower port was relocated to run under the steering rack. An electric 12v water pump was used.
In late 1968 a few Kinsler Fuel Injection units began showing up at the strip. A few weeks later, I was bolting on a Kinsler. This unit, when properly tuned and jetted, dropped the ET's by 0.2 -0.3 seconds. 10.90's et 127+ mph! In the middle of 1969 I changed classes. This necessitated a different weight per displacement. A '60's Olds/Pontiac rear axle housing was narrowed and 30t spline axles were used with the strong 9"+ ring and pinion. A 5.86 ratio Posi was installed, due to the added weight. A large battery out of a semi-diesel truck was added to the trunk (boot). To attain the needed weight to make class, a large steel plate reinforced battery box holder was added.
The second engine, built in 1970, was a seasoned 327 block, bored 0.030" over to 331 cubic inches. ForgedTrue 12:1 pistons were balanced with blueprinted rods and crank. The heads were off of a 1969 Z-28 Camaro. The latest Crane roller cam assembly and Rev Kit was used and the Kinsler Fl was updated. With the weight at 2650 Ibs. and the larger displacement engine, it ran consistent 10.70 ET's. The best of 10.68 seconds with speeds of 127+ mph.

The coupe had innumerable weekly class wins, several Eliminator wins or runner-ups from 1968 through 1973. That year the MGA was retired. The owner/builder now had responsibilities. The coupe remained in storage from the middle of 1973 until 1995. In the spring of '95, the coupe was finally removed from storage. The plan was to make it a street legal driver and to replace all the stripped off parts which had been removed for racing. Then to restore it to close to original as possible, but to keep the Chevy drivetrain. (i.e. Chevy powered Cobra type, not a racer but a street legal DRIVER.

Today the project is almost complete and street legal. It has made it's first trip under it's own power, down the driveway and back. As soon as the snow melts, the MGA will see the highway for the first time since 1965! The next phase is some bodywork and a fresh paint job.