Bob Elwin's 1969 MGC-GT with Ford 5.0 V8 engine
as published in British V8 Newsletter, Volume XIV Issue 3, December 2006
Owner: Bob Elwin
City: North Vancouver, BC, Canada
Model: 1969 MGC GT
Engine: 1995 Ford 5.0L V8
Conversion completed by: Owner



Engine:
1995 5.0 HO from a 1995 Mustang. Fitted with AFR-165 alloy heads, 1.7:1 roller rockers, reverse water pump.

Cam:
Standard HO - car must meet "Aircare" emissions requirements.

Intake:
Edelbrock 1405 600 cfm on Performer manifold with K&N air filter.

Exhaust:
Modified shorty headers upwards and rearwards to drop through inner guards into inner rear corner of wheel wells. Fabricated stainless steel 2 1/2" dual system with crossover and Borla stainless steel mufflers to stock exit location.

Eng Elect.:
Stock MGC wiring - connected to Ford alternator with internal regulator.





Cooling:
Fabricated radiator to fit space between chassis legs and max height available. 3-row HD core with brass header tanks. Fitted an alloy shroud around engine fan (after photo taken) Landrover 10" pusher fan fitted to front of radiator - manual control - for traffic idling.

Transmission:
1995 Ford B/W T-5 wide ratio (3.35:1 low and 0.675:1 5th). Overall ratio is about 33mph:1000rpm in 5th.

Clutch:
Stock 10.5" with Wilwood retracting slave cylinder mounted forward of the release arm and operated by a 7/8" Girling M/C in the stock pedal box.

Driveshaft:
Custom 2" shaft with larger universals and sliding spline to suit T-5. Fits stock tunnel.





Front Susp.:
Stock MGC torsion bars. (Tried polyurethane bushes but the unsleeved type wore quickly, so stock rubber bushes were retrofitted.)

Rear Susp.:
Stock leaf springs with fabricated anti-tramp bars. No problems with lateral axle location at this point. Nylatron spring pads a great improvement over stock rubber items.

Chassis Mods:
Reinforced front pickup points for rear spring eyes. Cutouts for exhausts in inner guards and slight alterations to front footwells needed. Some cutting of front horizontal valence to clear pusher fan. Otherwise body is stock. It has a Quick-Rack fitted.
The MGC front cross-member is lower and further rearward than an MGB making the Ford 5.0 with the split sump an easy fit without cutting anything. The MGC has a "horseshoe" to support the front of the torsion bars and provide engine mount points. The downside is that there is little spare room between the sides of the block and the engine mount points - which must be lowered on the "horseshoe" to locate the crankshaft center at the correct position. However, it is possible to make up engine mounts and attach them to the lowered MGC mount plates with MGC rubber mounts. I also fitted a steady bar between the front of one cylinder head and the chassis. Clearance to the hood is approximately 1/2" at the top of the filter.

Rear Axle:
MGC 3.307 ratio with Quaife ATB center section.

Brakes:
Stock Girling 11" front discs with Toyota 4-Pot calipers from a early eighties 4X4. Rear drum brakes stock. No balance valve required.

Wheels/Tires:
Minilite replicas (6X15) with spline drive hubs. Dunlop 195-65-15 V-rated tires. Turned up rear inner wheel well flanges - no rubbing issues.





Electrical:
Stock gauges - Smiths V8 Tach, oil pressure gauge from MGC used with adaptor to connect to MGC sender unit. Adaptor from D&D for speedo drive to T-5 and Sunbeam sender unit for water temp sensor.

Weight:
2450lbs on the road with tank 3/4 full.

Miles Driven:
Approx. 10,000 in three years.

Performance:
Has great mid-range pull. Some traction problems due to relatively narrow tires. 0-60 in low 5 sec range by G-Tech.

Completed:
March 2004.

Comments:
After I first acquired this car, I was intent on making it into an "MGC-GTS" replica - but with a V8! However, I later decided to concentrate on maintaining the touring comfort of the MGC GT by keeping the chassis settings more or less intact but with the added benefit of the power and torque of two MGC engines! The significantly lower weight of the engine (some 460lbs with alloy heads vs the 650lbs of the MGC motor) improves the balance of the car no end. It now changes course much more rapidly - helped by the Quick-Rack and the torque available.
There were no significant problems first driving the car - fuel starvation was eliminated by fitting a double-ended SU pump from a Jaguar. The stock iron heads on the 5.0 seem to run out of breath around 5000rpm and the alloy heads make a world of difference as well as saving 40lbs of engine weight. The Toyota four pot brakes work very well - idea from the Triumph bulletin board.
The engine temperature runs at "normal" on the road but will slowly heat up in traffic. The fan shroud helps but some further exits are needed to discharge the hot air building up at the rear of the engine bay. Might try exits on a F/G hood.
There are always further things to be done - either a trailing arm setup for the MG axle or perhaps an independant arrngement. It could do with a larger fuel tank.
Generally, I'm very pleased with the conversion - Cobra performance at an MG price!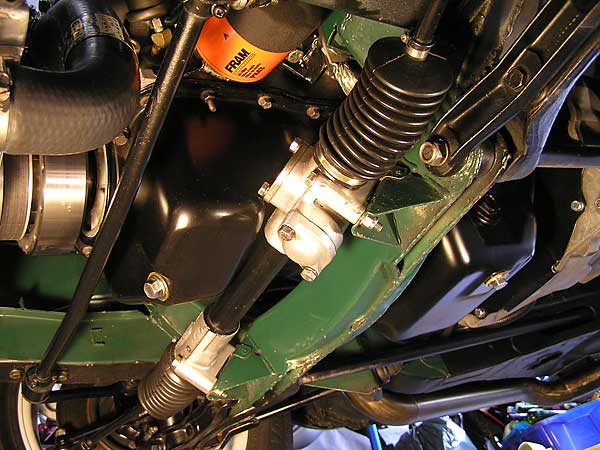 Ford's split oil sump straddles the MGC crossmember and rack neatly.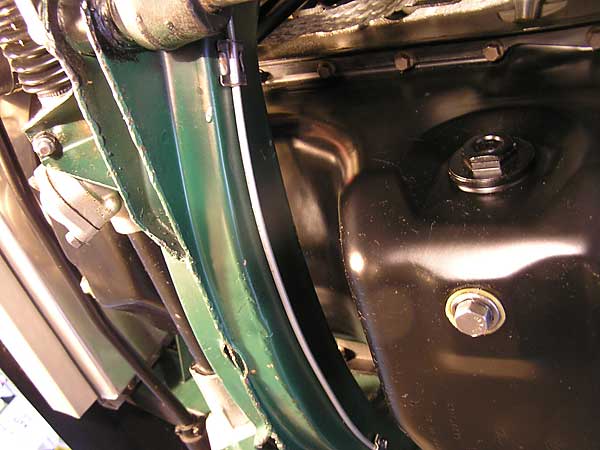 Bob fitted a quicker ratio steering rack.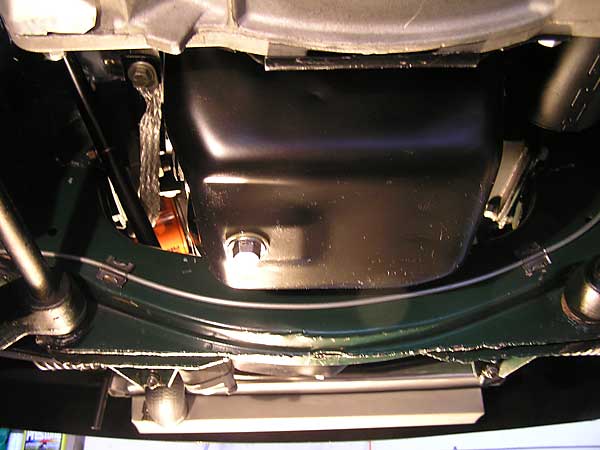 You can just see the driver's side torsion bar (at left) that functions as a suspension spring.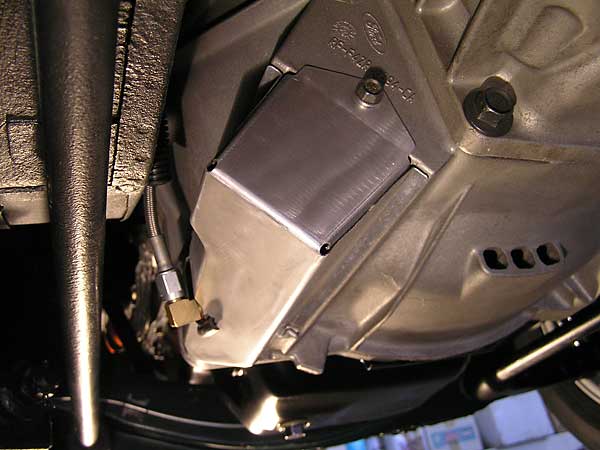 Wilwood retracting-type clutch slave cylinder (under a protective cover).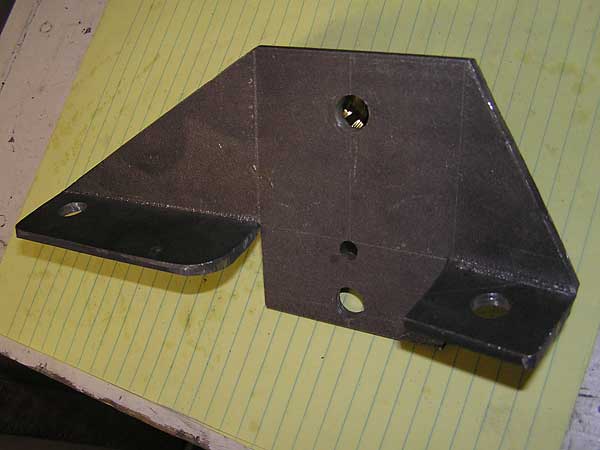 MGC motor mounts were used. Bob fabricated adapters for the Ford engine.
(This is an in-process photo, taken prior to welding-in reinforcements.)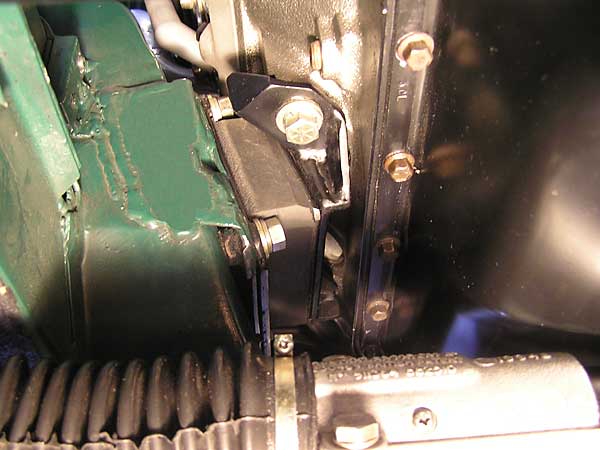 Passenger's side motor mount (viewed from front).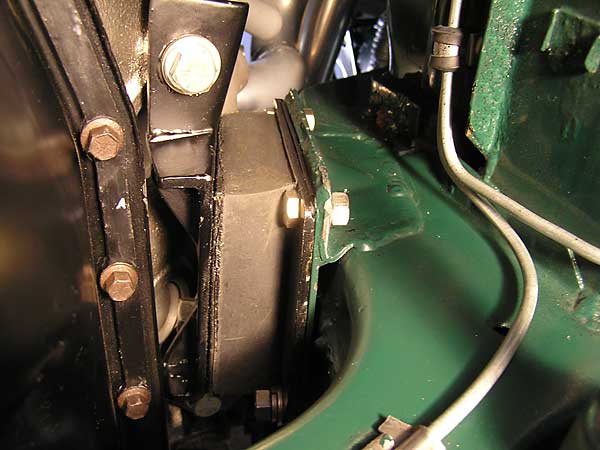 Passenger's side motor mount (viewed from rear).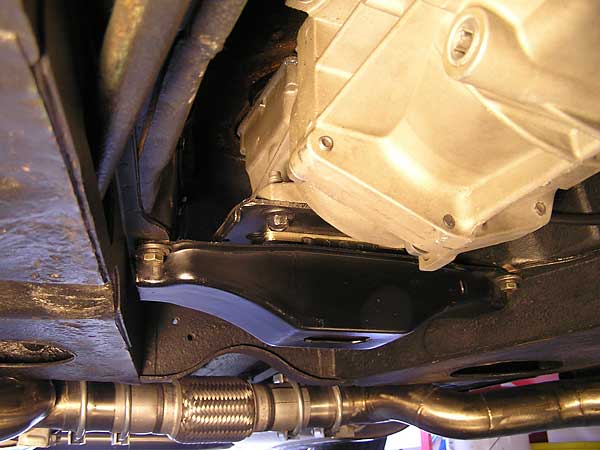 Modified MGC transmission mount supports the T-5 with a polyurethane mounting block.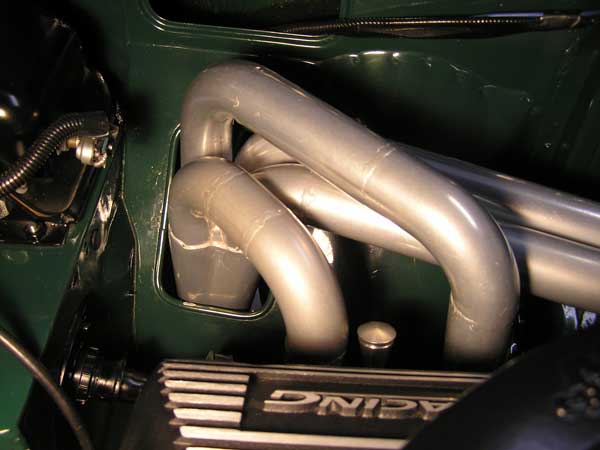 Aftermarket "shorty" headers were modified to neatly drop through fenderwells.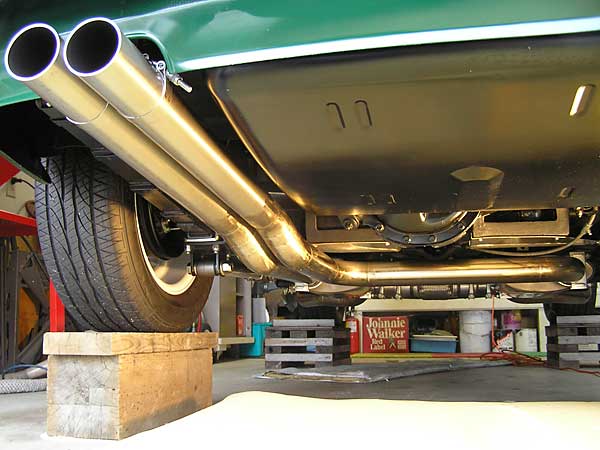 Stainless steel 2 1/2" exhaust system with crossover and Borla stainless steel mufflers.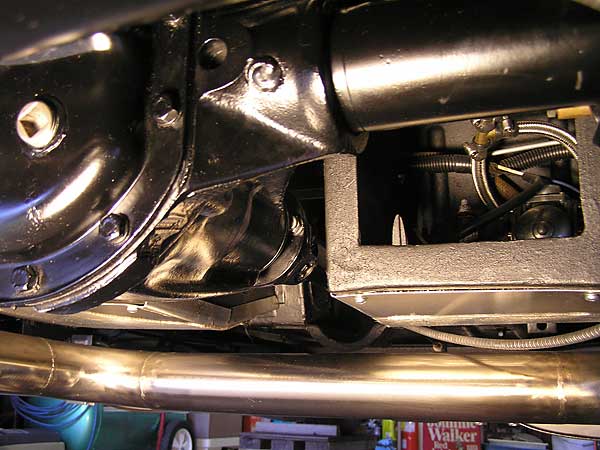 The right hand battery box contains a double-ended (Jaguar) SU fuel pump.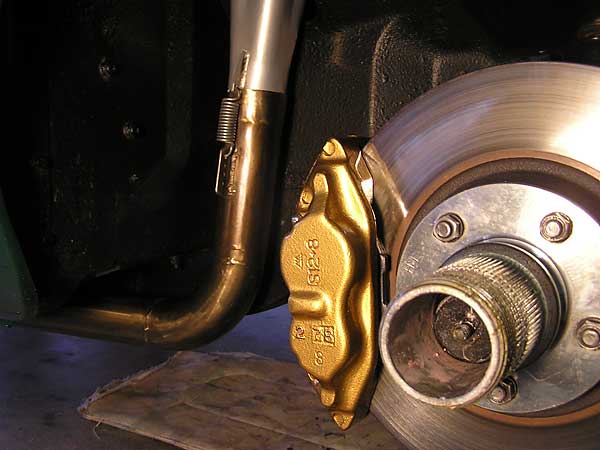 Slip-type exhaust collector in wheel arch is easily serviceable and compact.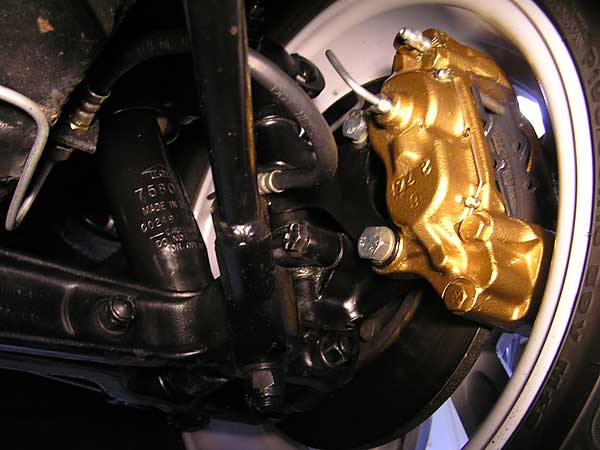 Toyota brake caliper works with stock rotor, but has significantly larger pad area.