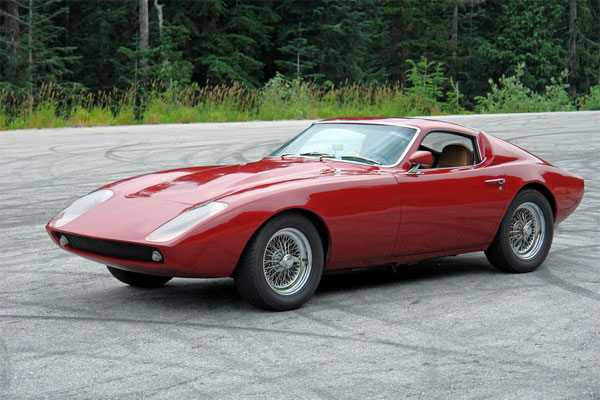 Bill Spohn's 1957 MGA with Fiberfab Jamaican Body and GM 3.4L V6
as published in BritishV8 Magazine, Volume XVI Issue 2, October 2008

Owner: Bill Spohn
BritishV8 UserID: wspohn
City: West Vancouver, BC
Model: 1957 MGA
Engine: GM 3.4L V6
Conversion completed by: owner
Executive Overview
Engine:
GM 3.4L V6 with MPFI, upgraded to a (larger) 62mm throttle body. Ported and blended heads and plenum. Crane 272 cam. GM wiring harness. Single wire alternator.

Fuel system:
new stock MGA gas tank, Holley "red top" fuel pump to a fuel accumulator, and Walbro external high pressure fuel injection pump to the fuel rail.

Cooling:
Afco alloy crossflow radiator. Electric fan controlled by ECM, with override switch on dashboard.

Exhaust:
2.5" single exhaust system with Magnaflow muffler and Pacesetter split-tip resonator.

Transmission:
Borg-Warner T5 5-speed (from a 1989 Camaro V8) with 0.63:1 top gear. Camaro (V6) clutch. MGA master cylinder. TR6 slave cylinder. Custom driveshaft.

Rear Axle:
MGA banjo axle with (MGB) 3.909:1 final drive ratio and open differential.

Suspension:
(front) MGB uprights, 0.75" sway bar.
(rear) Stock MGA leaf.

Brakes:
MGB discs front, MGA drums rear.

Weight:
2100 wet.

Wheels/Tires:
Dayton 15x6 wire wheels with Yokohama "ES100" 215x60 tires.

Interior:
MGA coupe dashboard. Original MGA instruments, except for VDO electronic tachometer and speedometer. Leather Mazda Miata seats bolted to custom steel strapping welded to the frame (instead of the plywood floor.) Custom interior finishing panels, carpet and headliner. Custom transmission tunnel.

Completed:
May 2007. Driven approximately 500 miles since conversion, as of June 2008.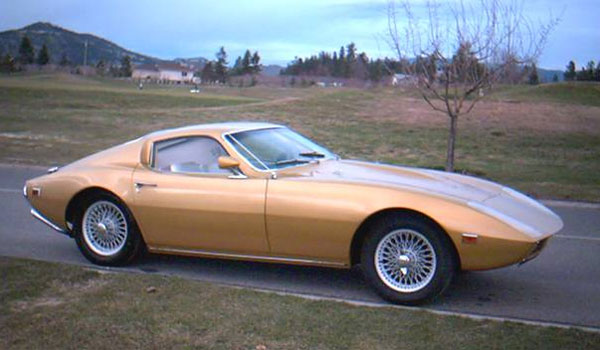 Bill's Fiberfab Jamaican, as he received it.
Background Information
Warren "Bud" Goodwin founded the Fiberfab kit-car manufacturing company in 1964. Their "Jamaican" model fiberglass bodies were introduced in 1968. They were designed for fitment to existing MGA, Austin-Healey and Triumph chassis. A version of the Jamaican body was later offered for use on VW Beetle floorpans, and ultimately Fiberfab offered their own chassis which was designed to accommodate the power and bulk of a V8 engine. Not all of the Jamaican's major parts were unique: Fiberfab cleverly utilised windshields from 1965 Chevrolet Corvettes, side windows and hardware from Volkswagen's "Karmann Ghia" and rear windows from Porsche 911's.

Of all the donor chassis, the MGA is perhaps best suited. It has inherently good handling and the frame is amply strong for use with more power. (History shows that many Jamaican builders upgraded to more potent engines.) The MGA chassis is generally simpler to work with than an Austin-Healey chassis because it lacks the system of body support work (welded to the chassis) that makes restoration of rusty Healeys such an extensive chore. On the other hand, the Healey chassis offers more room for large engines.
My Starting Point
My Jamaican was built in 1969. It doesn't have the fender flares and embellishments that are usually present on later bodies. The only apparent modification from the way this body would have arrived from Fiberfab is that the flip front end had been bolted in place, and a new engine bay hatch has been cut into it.

The donor car was a late 1956 MGA 1500 roadster (~72hp). Most of the chassis seemed to be in excellent condition. This MGA came with stock 4 wheel drum brakes.

When I bought the Jamaican - it ran - after a fashion! The 1500cc engine was tired. The dashboard didn't appeal to me: it had every light and switch possible (mostly unlabeled). The interior featured gold shag carpet and white-and-gold bucket seats. It looked rather like the previous owner had gone through J.C. Whitney with a giant electromagnet and had put whatever stuck into this car. He had even installed a dummy fake dual exhaust system! The decision to rip all of that out was an easy one. After stripping the car completely, the restoration could begin.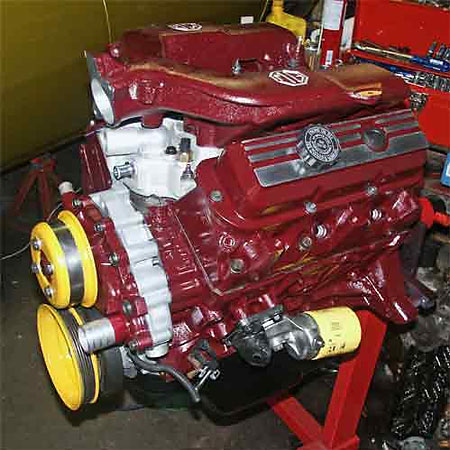 A Change of Specification
Instead of rebuilding the MGA engine, I decided that the compact and lightweight GM sixty-degree V6 was a better alternative. I was already familiar with these engines, having owned and extensively modified a 1988 Pontiac Fiero V6. In its 3.4L version, the little GM V6 has similar weight, displacement, and power output as most Buick/Rover aluminum V8's, yet it's physically narrower and shorter in length. This makes a bigger difference in an MGA chassis, where there's less space to work with than in an MGB. Neither the GM V6, nor the Rover V8, weighs more than the original all-iron MGA engine.

The new engine came from a 1994 Chevrolet Camaro donor car. With modest modifications, these V6 engines can be made to approach 200 bhp, and more than double the torque of the original MG motor! If that isn't sufficient, there's plenty of room for subsequent modifications later. A higher state of tune, forced induction, aluminum heads from a minivan variant of the engine, etc. - it's feasible to take these engines to about 300 bhp.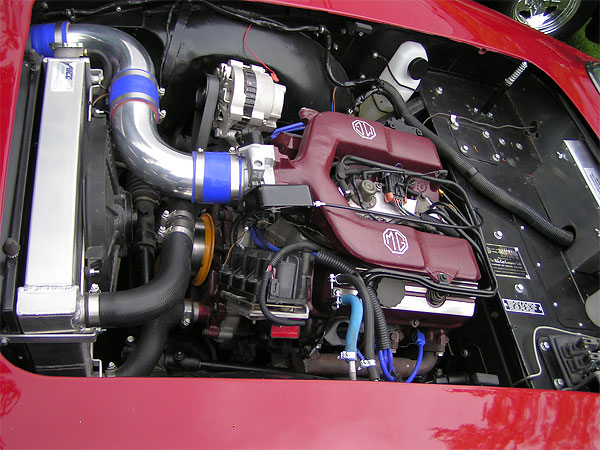 Proceeding to the Details
I rebuilt my engine with suitable modifications to bring power up from 160 bhp to approximately 200 bhp. I elected to retain fuel injection, both for drivability and to attain a low engine profile. I fitted a larger throttle body, did lots of intake and exhaust porting work on the head, and installed a different camshaft. I resurfaced the top of the upper plenum to remove original GM markings, and I had the MG octagon machined into it, copied from one of my "MGA Twin Cam" cam covers.

The cooling system utilizes an Afco alloy crossflow radiator. Slightly angled, it fits perfectly into the engine compartment. Its construction is quite robustly fully-welded. The cooling fan is controlled by the ECM with an override switch on the dash.

I decided to use a Borg Warner T5 manual transmission out of a V8 Camaro. I prefer the closer gear ratios of that version to the very low ratios that typically came with V6 engines. I'm also using the original MGA rear axle (with 3.909:1 final drive ratio and MGB open differential - a simple 'pumpkin swap' as I happened to have some spare fine-spline MGA Mk 2 axles.) The result was a great combination of excellent acceleration and long relaxed top end in 5th OD.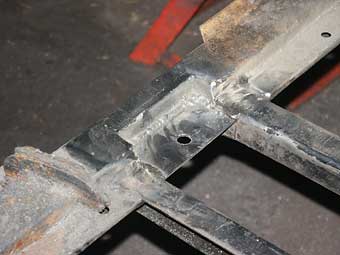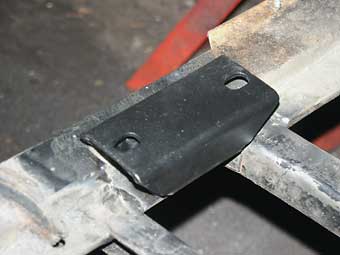 The transmission mount was easy. I just welded-in a bracket across the frame for a single-bolt tranny mount.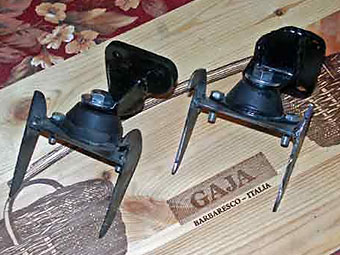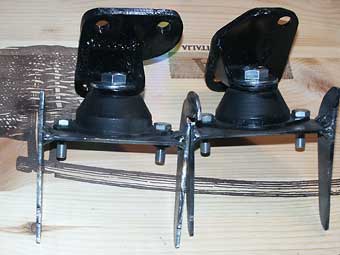 I removed the MGA engine mounting bosses from the frame, and fabricated new ones.
They mate to Jaguar's simple single-bolt rubber motor mounts.


Enjoying this article? Our magazine is funded through the generous support of readers like you!
To contribute to our operating budget, please click here and follow the instructions.
(Suggested contribution is twenty bucks per year. Feel free to give more!)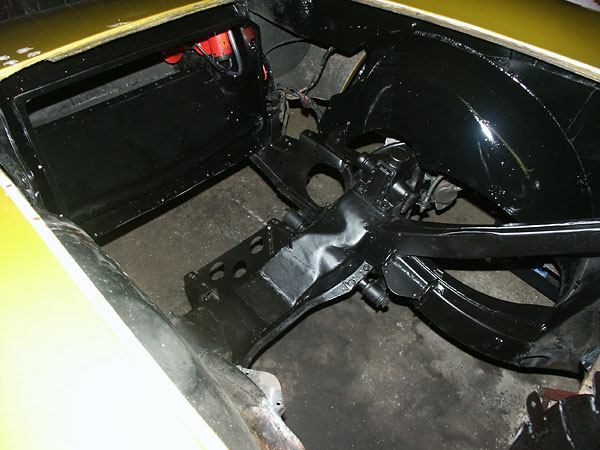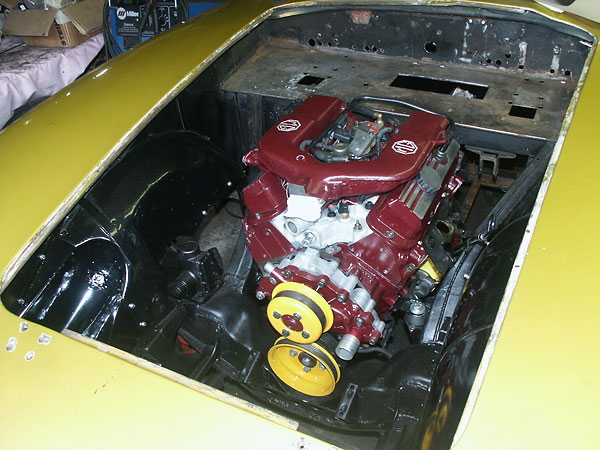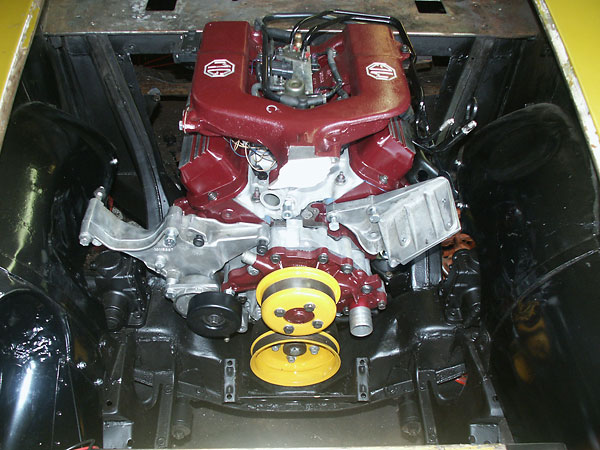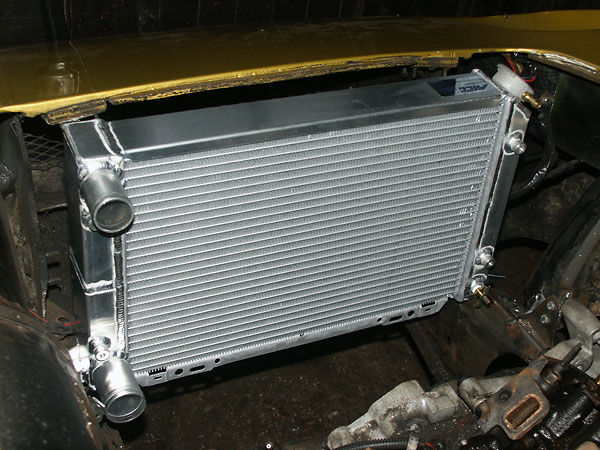 Trial installation of the alloy crossflow radiator. (In this photo, the mounts haven't been fabricated yet.)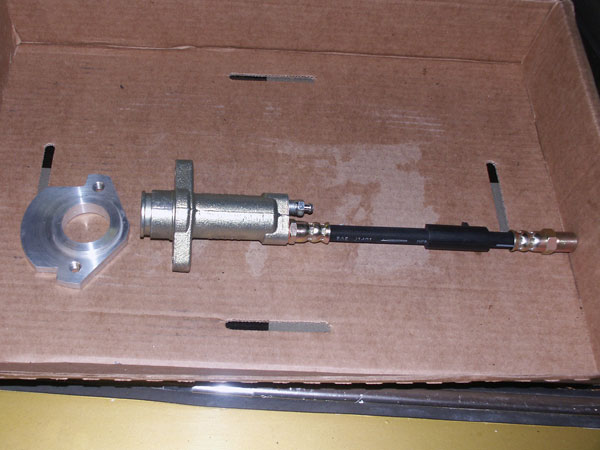 TR6 clutch slave with MGB hose and custom alloy bracket to adapt to T5 transmission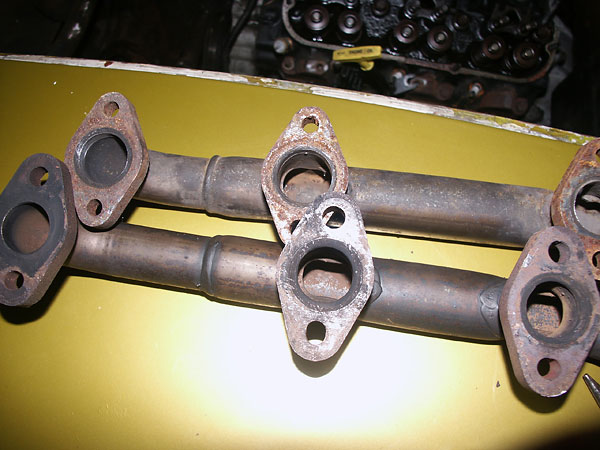 Boring out the Pontiac Fiero exhaust manifold flanges is reported to add about eight horsepower.
The manifold flanges will need realigning for use in the Jamaican. (Stock shown below, bored-out above.)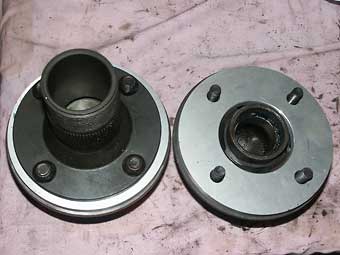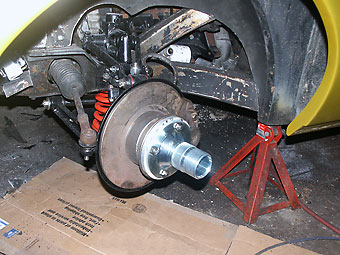 Brakes were upgraded. For the front, since I was running low on spare MGA disc brake components, I decided to use MGB uprights, brakes and shock absorbers. In the rear, I retained the MGA drum brakes so as to have a good working hand brake.

I wanted to retain wire wheels in order to keep the vintage look of the car, so I fitted Triumph wire wheel adaptors to the MGB front hubs. (I didn't have any wire wheel MGB hubs handy.) I kept the original MGA wire wheel rear hubs.

Since the Jamaican body is wider than an MGA, I found that the original wire wheels didn't fill the rear fenders, so I ordered some 6" chrome Dayton wheels (built for the AC Cobra), center-laced with more outward offset. Having gone that far, I decided to do some suspension modifications to enhance handling. The car is slightly lowered with stiffer front springs and added negative camber, and a 0.75" front sway bar completes the chassis modifications.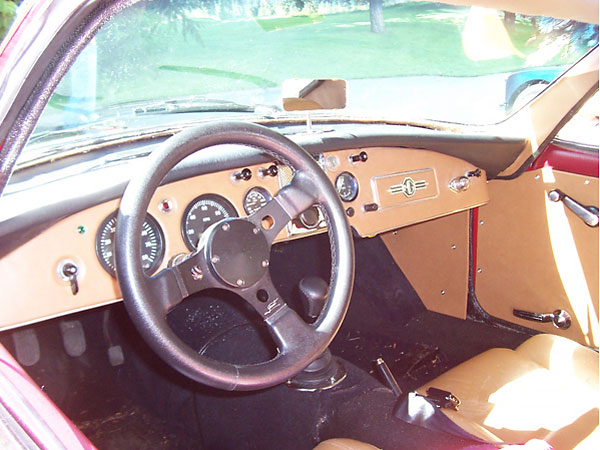 I created an interior from scratch centered around some leather Mazda Miata seats. They are one of the few OEM seats that are narrow enough for easy installation. The Miata seats need to be reclined somewhat to accommodate the extremely low roof - 1" lower than a Ferrari Dino! If you don't lean the seats way back, there's no head room at all. I was pleased to find that I got used to the driving position fairly quickly.

I made up new interior panels and covered them to match the seats, and I installed a carpet set made partly from an MGA replacement set. I ripped out and discarded the Jamaican dashboard with all its switches and lights, and installed a modified MGA coupe dash which made things feel a lot more familiar.

It had only one paint job from new, a rather uninspiring gold colour reminiscent of the Jim Rockford Camaro, a resemblance somewhat enhanced by the styling of the Jamaican. The question of what colour to repaint it was a difficult one. Ultimately, I chose BMW "Imola Red".


The engine fired up at the very first push of the starter button! (I'd kept a separate starter switch to resemble the stock item, but used a pushbutton switch rather than a pull cable.)

The handling is every bit as good as I expect any properly prepared MGA to be, and with the new sticky tires it out-handles normal MGB's or MGA's. The straight-through 2.5" exhaust also works well. At low engine speeds the exhaust note is moderate. When you step on it from around 3000 rpm, it wails much more loudly and the car moves out quite smartly. The power to weight ratio is comparable to a 1960s small-block Corvette. The weight is about the same as a stock MGA. (Although the fibreglass body is lighter than the MGA's steel body,the window glass is heavier.)
Conclusion
There are probably a lot of old Fiberfab Jamaicans languishing in barns. If you happen to come across one, perhaps this article will give you an idea how they can be updated with a treatment that's sympathetic to the classic British sports car that's probably hidden inside.

This project has been a lot of fun! I suppose it is halfway between restoring a regular car and building a traditional hot rod. The project took me about one and a half years to complete. I removed and replaced every single part on the car except for the frame, the body, and the rear axle housing.