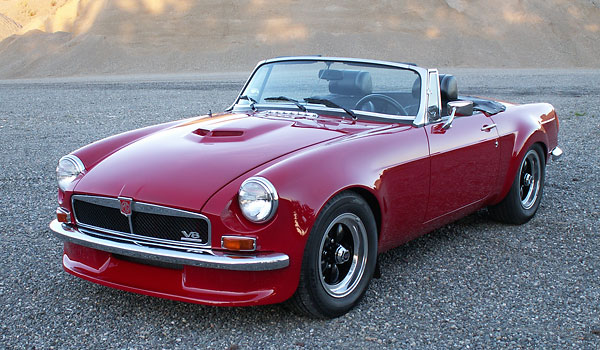 Bill Jacobson's Supercharged, Fuel-Injected Buick 215cid MGB V8
Owner: Bill Jacobson
BritishV8 UserID:
MG four six eight
City: Burlington, Washington
Model: 1973 MGB
Engine: 1962 Buick 215
Conversion by: owner
Engine:
1962 Buick 215cid V8, bored 0.030" over. 10.25:1 static compression ratio. Fully balanced. One piece front and rear main seals. ARP connecting rod bolts. Melling high volume oil pump. (Enlarged oil passages in the engine block.) Isky camshaft (262 grind). Double roller timing chain. Ported Buick cylinder heads. Crane dual valve springs. Custom fabricated intake manifold. Eaton M90 supercharger from a 96 Buick 3800 V6. Custom blower drive system. Edelbrock/Weber fuel injectors. Ross fuel rail. GMC Astro fuel pump, shortened to fit inside MGB fuel tank. MegaSquirt III electronic fuel injection controller. JB Performance I/O expansion board. Ford (Motorcraft) EDIS-8 ignition coils. Taylor spark plug wires. Innovate Motorsports wide band oxygen sensor. Ford Taurus/Windstar V6 cam position sensor. Custom cam position sensor mount.

Cooling:
Ron Davis aluminum radiator (20"H x 19"W x 3"T). 16" electric fan (2300cfm. Puller.)

Exhaust:
RV8 stainless steel headers. 2" dual exhaust with crossover pipe. Glass pack mufflers. Resonator tips.

Transmission:
Borg-Warner T5 five speed transmission from '92 Camaro. 0.73:1 overdrive. Lightened flywheel. 10.5 clutch. Stock MGB clutch master cylinder. Toyota Land Cruiser (11/16") bore slave cylinder. Shortened GM throwout fork.

Rear Axle:
Chrysler 8.75" rear axle. Mopar Performance gear carrier. 3.23:1 ring and pinion. Limited slip differential. Moser axles, drilled to GM/MGC 5-lug bolt pattern.

Front Suspension:
Fast Cars coilover front suspension. Pontiac Fiero steering dampener.

Rear Suspension:
adjustable tube shocks. Traction bars.

Wheels/Tires:
genuine Minilite wheels (15x7). Yokahama S-drive tires ("W" speed rated).

Brakes:
1989 Toyota Camry (15/16") master cylinder. 1986 Isuzu Trooper reservoir. Wilwood residual pressure valves.
(front) Wilwood disc brakes.
(rear) Wilwood disc brakes.

Interior:
VDO gauges. Southern Rods heater/defroster (Part# 842H, mounted under dashboard). Leather seats.

Comments:
Bill updated his MGB in summer 2007 with a supercharger and fuel injection. Read the article and see more photos: here.

Engine Installation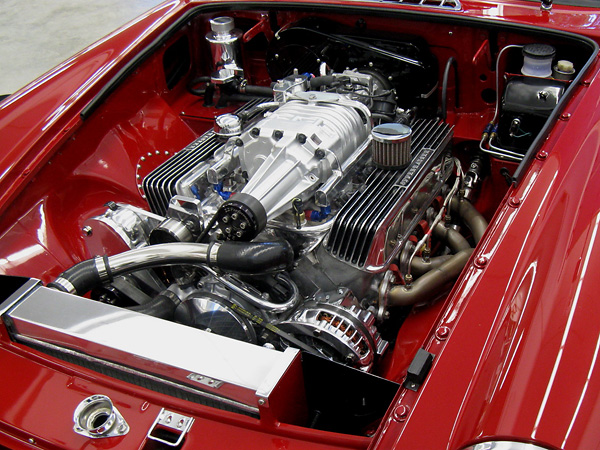 Bill has upgraded to MegaSquirt III for sequential fuel injection and electronic ignition.
EGT sensors on the headers facilitate fine tuning each cylinder individually.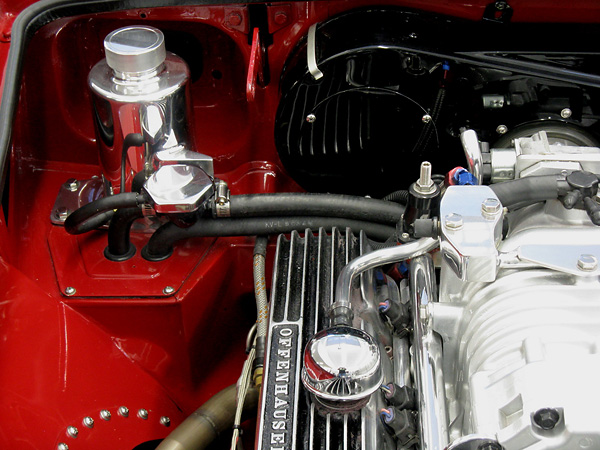 Handmade coolant header tank. Coolant fill and heater hoses to under-dash heater.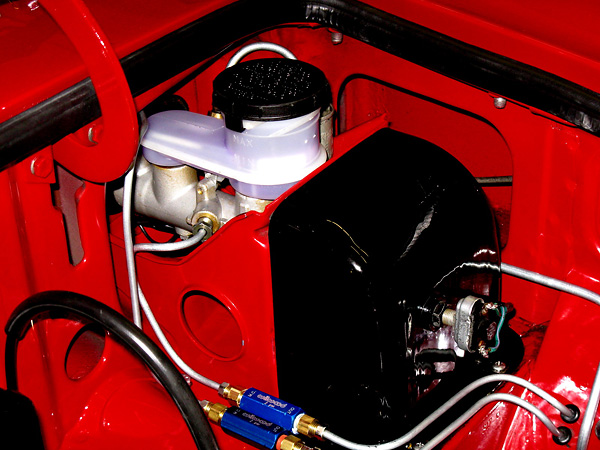 1986 Isuzu Trooper reservoir on a 1989 Toyota Camry (15/16") master cylinder.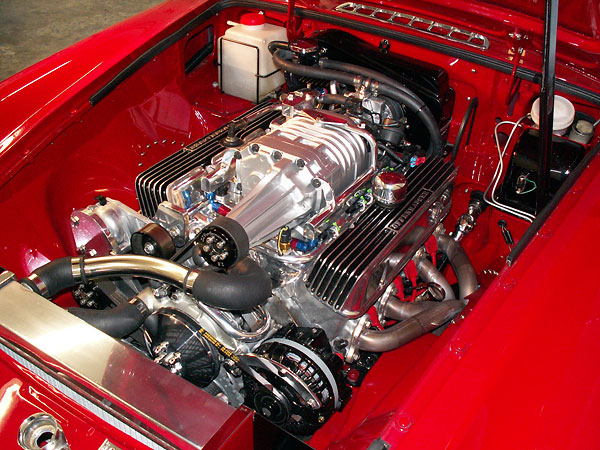 Eaton M90 supercharger, off of a 96 Buick 3800 V6.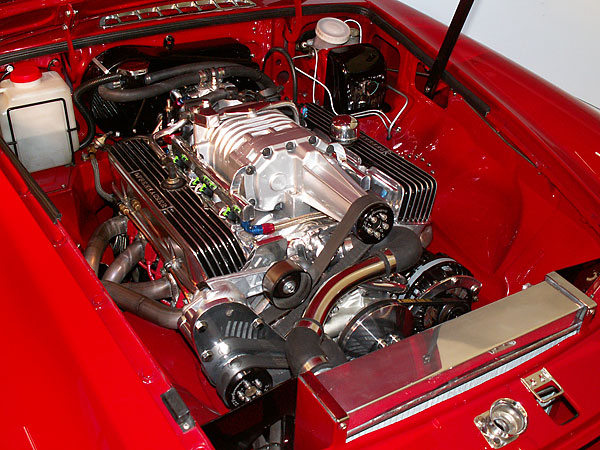 Custom built intake manifold, made from T6061 aluminum flat stock.
Cowl induction, with air filter hidden inside the old Smiths heater.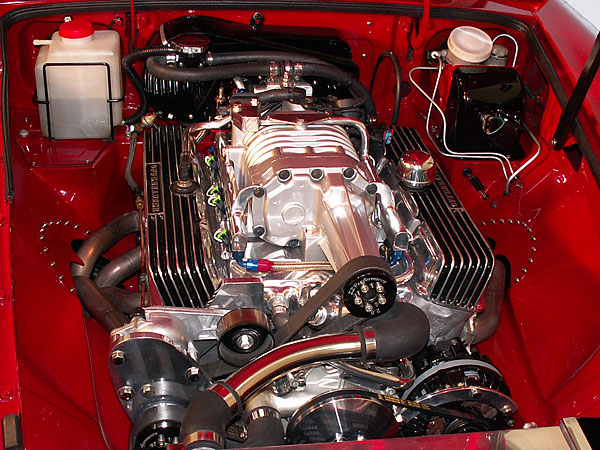 Custom fuel injection system, using Edelbrock/Weber fuel injectors.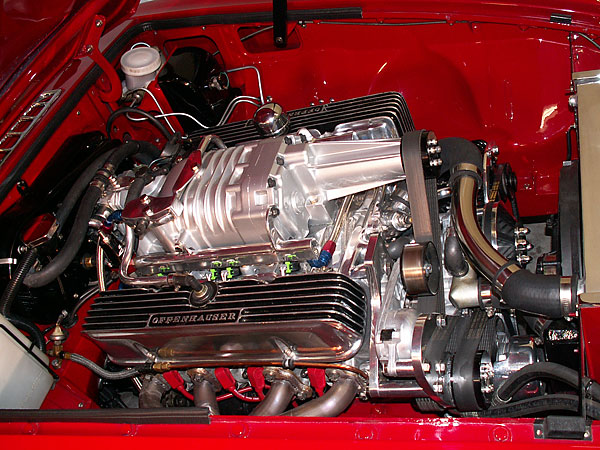 As a supplement to MegaSquirt, Bill has installed a JB Performance I/O (input/output) expansion board
to read the EGT sensors. It has a built in accelerometer, and connects to an external Vehicle Speed
Sensor. MS3 logs the data, which can be viewed and analyzed with engine sensor data via TunerStudio.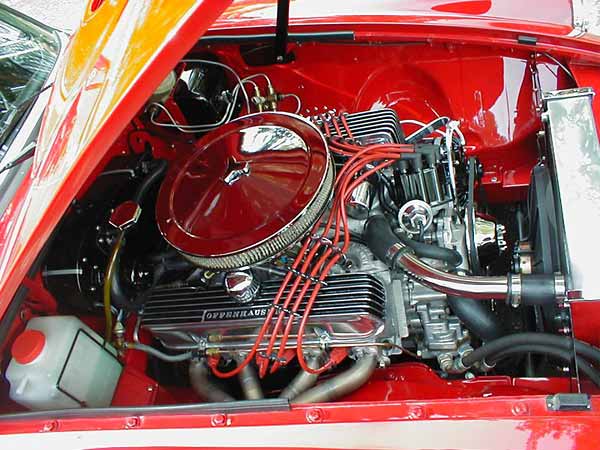 Before the supercharger project... Carter 400cfm carburetor on stock manifold.


Front Suspension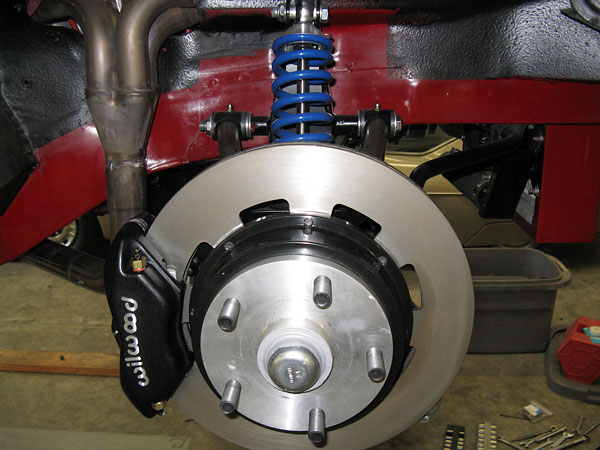 Fast Cars front suspension.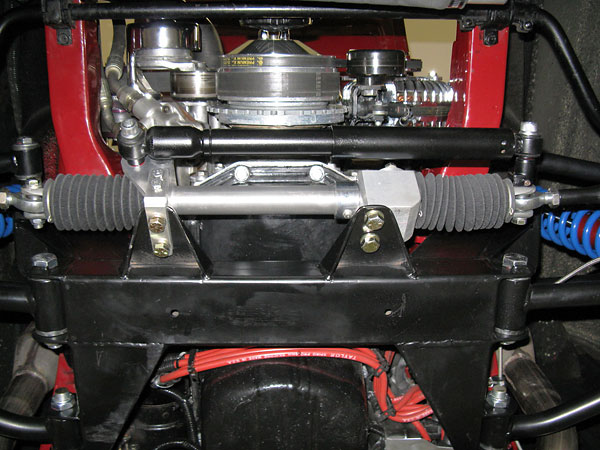 Pontiac Fiero steering dampener.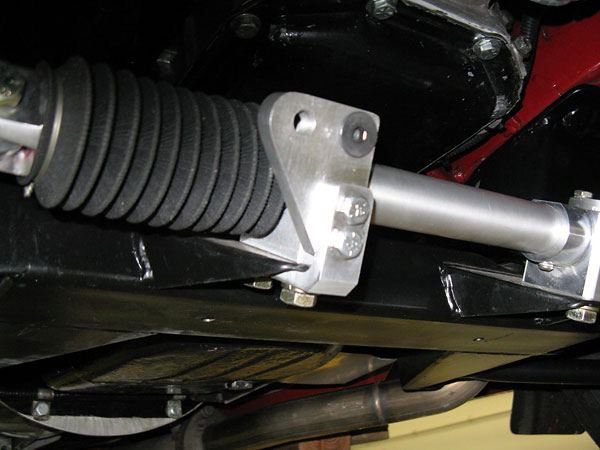 Fabricated inboard mount for Fiero steering dampener.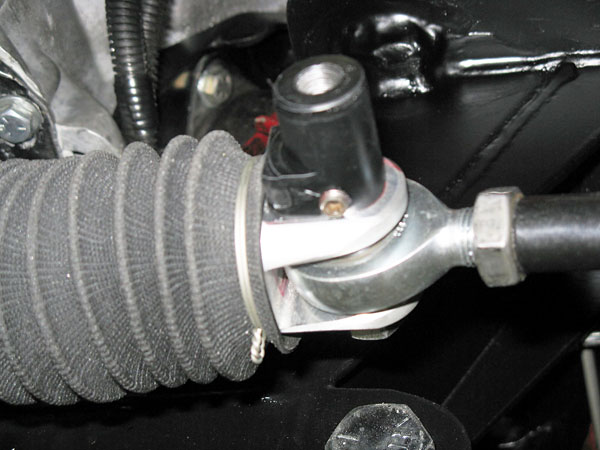 Threaded outboard mount for steering dampener. Mount is secured in place with a set screw and Loctite.


Rear Suspension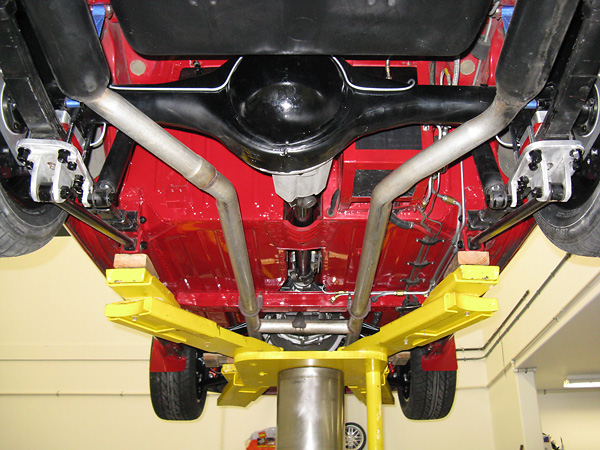 Mopar 8.75" rear axle: complete assembly weighs five pounds less than stock MGB rearend!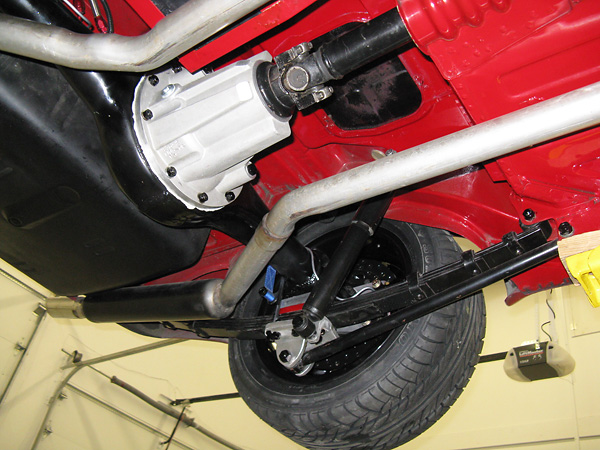 Mopar Performance aluminum gear carrier, 3.23:1 ring and pinion, and limited slip differential.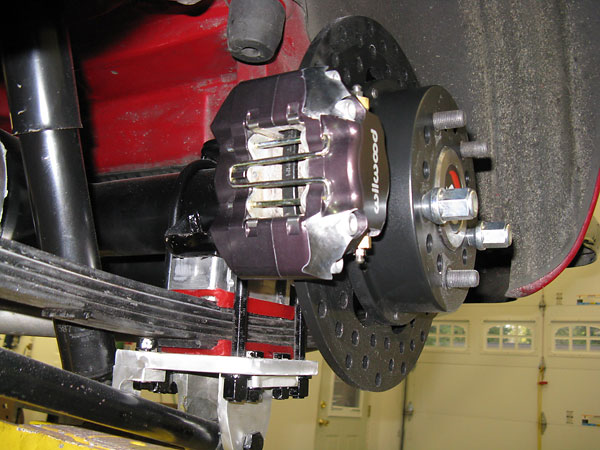 Wilwood disc brakes, Moser Axles, 1" lowering blocks with poly bushings.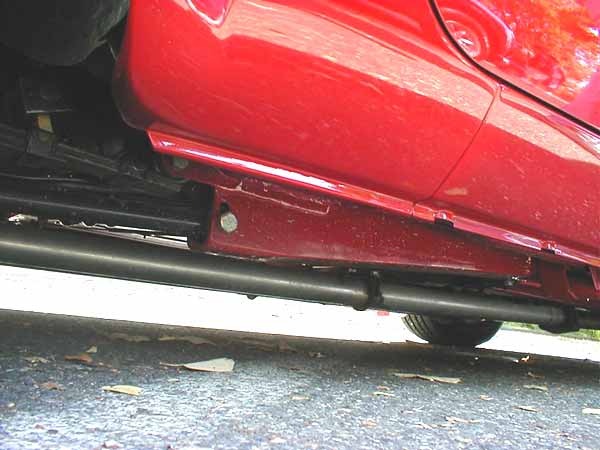 Chassis reinforcements and traction rod attachment.


Fuel Filler Hidden Behind Taillamp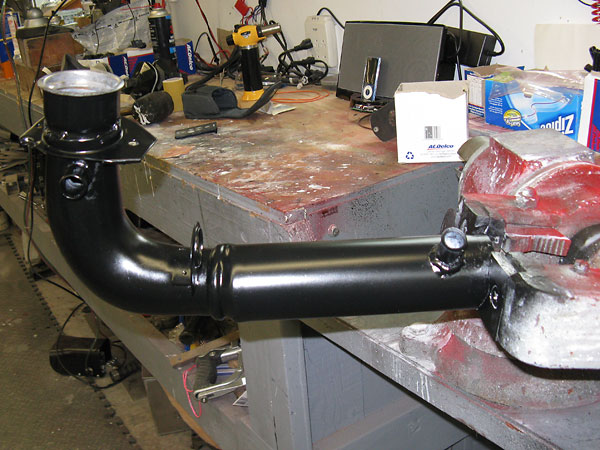 Modified Chevy pickup truck fuel filler neck.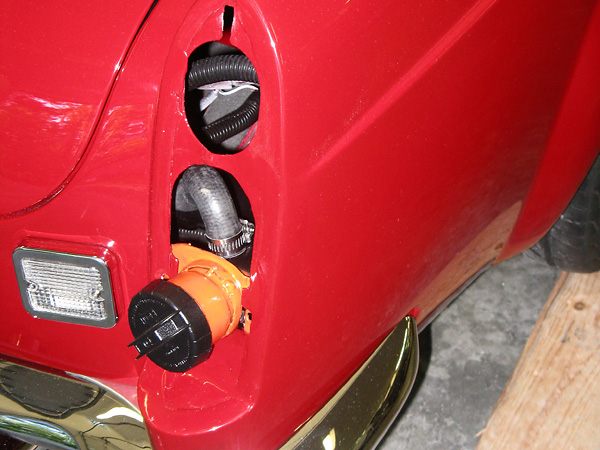 Chevy fuel filler neck, installed.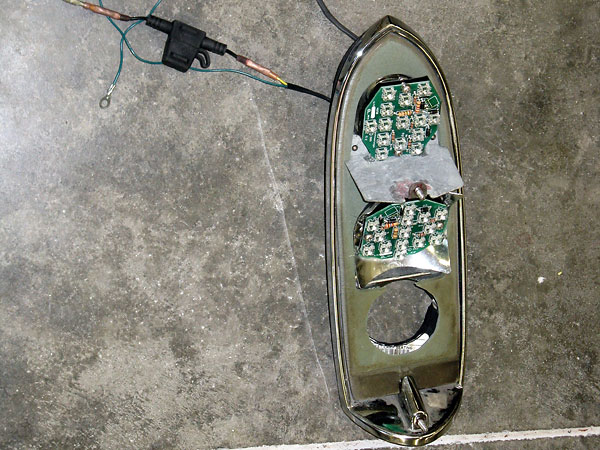 LED panels with low amperage inline fuses.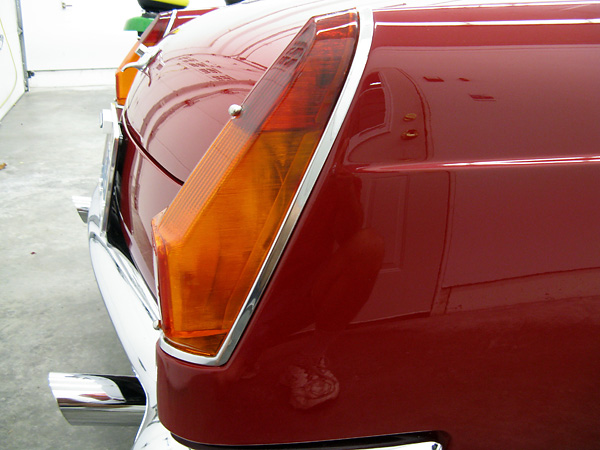 Hidden fuel filler.


Interior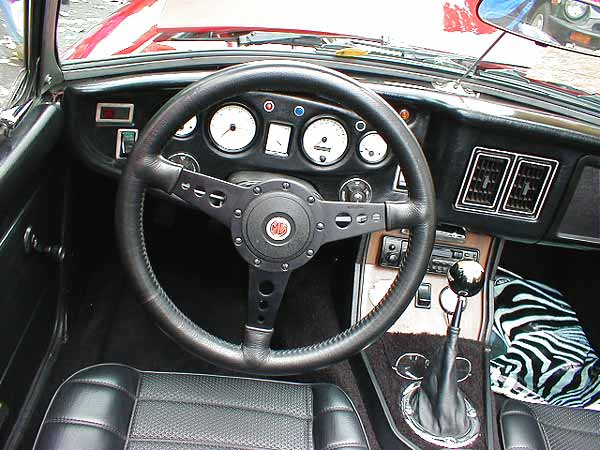 Whiteface VDO gauges. (A/F ratio and boost gauges have been added since this picture was taken.)


Exterior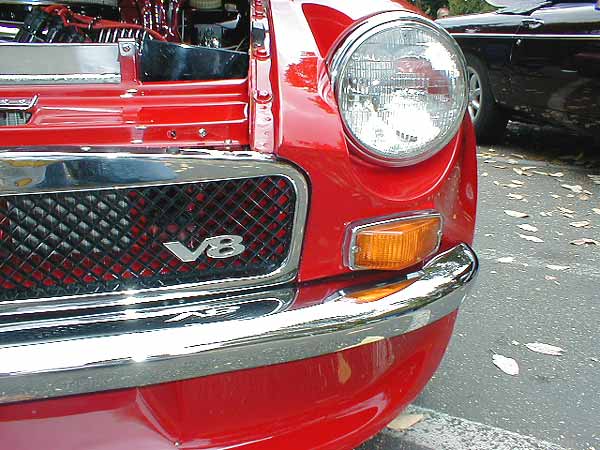 Bill made his air dam look like it was part of the body from the factory.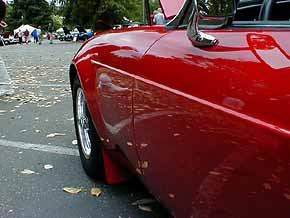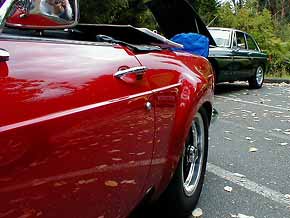 Rear wheel flares from a Datsun 510.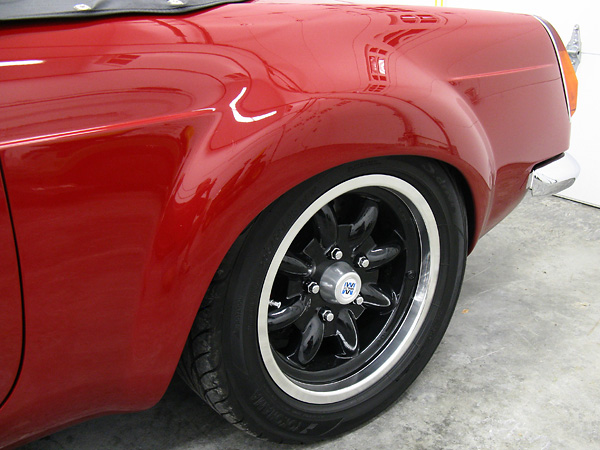 Genuine Minilite wheels (15x7). Yokahama S-drive tires ("W" speed rated).


---
(as originally featured in British V8 Newsletter, Volume 2 Issue 2)


How It Was Done
Modifications:
modified oil pan. 5/8" diameter oil pick-up tube. Enlarged oil galleys on suction side. High volume oil pump. Roller timing chain. Balanced crankshaft, connecting rods, pistons. Ported heads and manifolds. Crane dual valve springs. Isky cam and lifters. Carter 400cfm 4-barrel carburetor.

Transmission:
1967 Pontiac GTO manual 4-speed. Completely rebuilt. Hurst Competition Plus shifter.

Bellhousing:
Transdapt (aftermarket).

Clutch:
9-1/2" GM 3-finger type.

Clutch Slave:
1970 Datsun 510, 3/4" bore. Custom made mounting bracket with adjustable length push rod. Shortened GM throw-out fork.

Flywheel:
stock Buick 215.

Exhaust:
stock Buick 215, reversed so that the exhaust exits from the front. Right manifold has been cut and the outlet turned and rewelded for more desireable exhaust angle.

Brakes:
stock MGB fronts. Stock Plymouth 1-3/4" x 10" drums on rear.

Tires/Wheels:
American Racing 7" x 14" mounted with Michelin Sport XGT V-rated 215/60x14.

Suspension:
(rear) stock leaf springs. 3-way adjustable tube shocks. 4-link style traction bars. Aluminum mounting brackets on all rear suspension mounts to reduce unsprung weight.
(front) stock springs. MGB V-8 lower control arm bushings. 3/4" diameter sway bar.

Cooling:
2 custom made radiators, an upper and a lower. The upper radiator is 10" high x 21" long, 4-tube core. The lower radiator is 7" high x 21" long, 4-tube core. Coolant flows from the engine to the top radiator, then to the lower, then to the water pump. Three electric fans, controlled by a thermostatic switch set at 200 degrees F.

Rear End:
1965 Plymouth full size rear end, shortened 10" to fit MGB. Completely rebuilt with limited slip differential and 3.23:1 gearing.

Instruments:
stock MGB tachometer, adjustment set completely back. MGB speedometer cable modified at one end to fit GM transmission.

Body:
flared and molded fenders.

Conversion by:
owner.

---
As recorded by Larry Embrey in 2003:

| | |
| --- | --- |
| Engine: | 1962 Buick 215, 10.25 to 1 comp ratio, .030" over, ported Buick heads w/crane dual valve springs, stock GM 4bbl intake ported to match the heads, Carter 400cfm w/chrome plated linkages, screws, etc. Fully balanced internals, one piece main seals, ARP rod bolts, melling high volume oil pump w/enlarged oil passages in the engine block. Isky cam (262 grind), anti pump-up lifters, and double roller timing chain. |
| Exhaust: | RV8 stainless steel headers, 2" duals with crossover pipe, glass packs, and resonator tips. |
| Cooling: | Ron Davis alloy radiator 20'H x 19"W x 3"T, 16" electric puller fan (rated at 2300cfm.) |
| Drivetrain: | 10.5 clutch, lightened flywheel, stock MGB clutch master cylinder, Toyota land cruiser 11/16 bore clutch slave cylinder (had a 3/4 bore before but the larger slave is more comfortable), shortened GM throwout fork. Borg-Warner T5 five speed transmission from '92 Camaro with.73 overdrive. Chrysler 8.75 rear axle, 3.23 ratio w/limited slip. Axles redrilled to GM/MGC bolt pattern. |
| Brakes: | Rear brakes, 10x1.75 drums, Chrysler (same size as MGB), wheel cylinders 64-70 Dodge pick-up truck 11/16 bore (same size as stock MGB-GT) Front brakes, MGC hubs (5 bolt pattern) MGC rotors cross-drilled and turned to 10.75 dia. MGBV8 calipers and pads. |
| Suspension: | (Front) V8 lower bushings, poly upper bushings, MGB shocks, 3/4 inch sway bar, Pontiac Fiero steering dampener. Steering rack rotated down w/crossmember mods, shortened pinion shaft support bearing, Borgeson intermediate shaft, and MGB (rubber-bumper) steering column. (Rear) adjustable tube shocks, owner built traction bars. |
Pictures from 2000 MG-V8 Meet in Westlake, OH: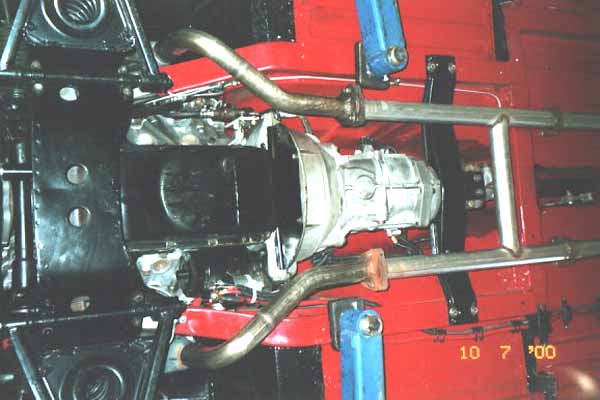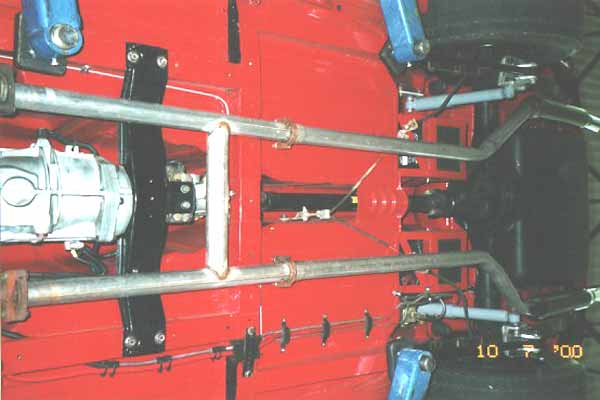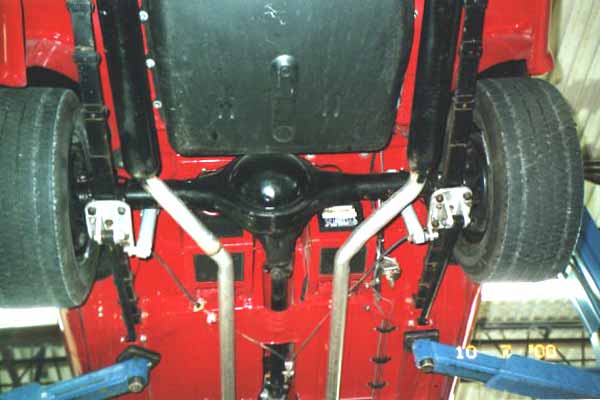 Chrysler rear with 5 lug hubs (re-drilled to match MGC pattern)