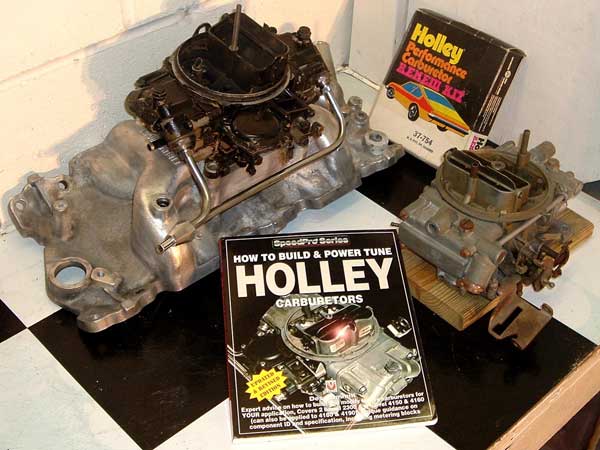 Book Review: "How to Build & Power Tune Holley Carburetors"
as published in British V8 Newsletter, Volume XIV Issue 3, December 2006
by: Greg Myer
Book: "How to Build & Power Tune Holley Carburetors"
Author: Des Hammill
Publisher: Veloce (Speed Pro Series)
128-pages, 125 color photos
ISBN: 1845840062

Most of us in the British V8 community are familiar with Veloce Publishing, a firm based in Dorchester, England. They produce what we want; information about our kinds of cars and the way to make them work the way we like, such as: "How to Give Your MGB V8 Power" and "How to Improve MGB, MGC & MGB V8" (both by Roger Williams). Their Speed Pro Series also includes titles covering such useful subjects as Power Tuning the Rover V8, Power Tuning Midgets & Sprites, Building and Modifying Sports Car Suspension, S.U. Carburetors, Nitrous Oxide, Ignition Systems, and much more. It's a valuable source of knowledge for those of us who need it.

This offering about Holley carburetors piqued my curiosity. Could a British Publishing House produce useful info on Holleys which are manufactured on this side of the pond? After all, Holleys are used here on all shapes and sizes of engines for a large variety of street and motorsport disciplines. The hod-rod magazines constantly have articles on ways to improve them. I have used Holleys for years and I'm familiar with them. What more could a British point of view do for me? The answer, it turns out, is quite a bit!
This is a very interesting book. Lots of diagrams, photos and graphs drive home the points made in the text. This is a reference work I'll read, use and refer to many times. This is not just for rebuilding carburetors; in fact it's not about that at all. True, there are many details about which you need to take notice of during a rebuild, but this book does not take the place of the directions supplied with your carb kit.

Rather, we find that it helps us see what we need to be looking for, first of all, and then what can be done to adjust or modify the particular circuit or function to suit your needs. I like this approach.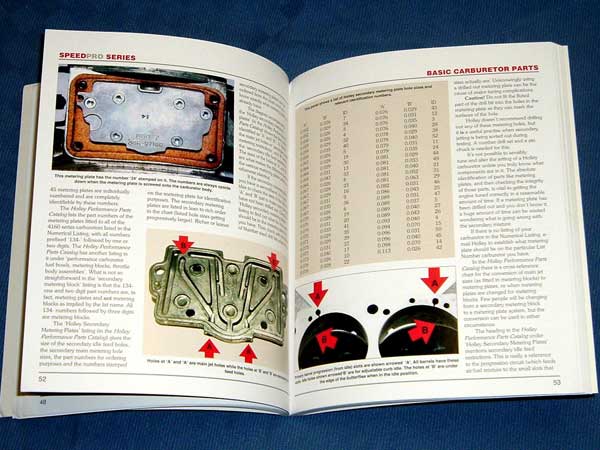 What this book doesn't do is tell you what your motor needs. You need to determine that, mostly by trial. Whether you have a new carburetor or rebuilt, there are more than a few adjustments that can affect power and economy. What we want is an efficient engine; making the best use of the fuel it's being fed. The methodical approach here in Hammill's book is excellent. Idle circuits, off-idle, power valves, accelerator pumps, main jets, primaries, secondaries - both mechanical and vacuum are all covered nicely. The different types of float bowls, and metering plates and blocks get their share of pages too. Another thing I enjoyed was the fact that many of the carbs and parts photographed were used. Somebody gets their hands dirty!
Enjoying this article? Our magazine is funded through the generous support of readers like you!
To contribute to our operating budget, please click here and follow the instructions.
(Suggested contribution is twenty bucks per year. Feel free to give more!)
There is a chapter on manifolds. The basic difference between 360 degree and 180 degree manifolds is explained and what they are designed for. Mostly, the photos are of small block Ford intakes. I think there must be more Fords in the UK than Chevies. It's nice to see something a bit different for a change.

Do you know the difference between straight and 'dog-leg' boosters? It affects power. Most vacuum secondary 4 barrel carburetors have straight-leg boosters whereas all mechanical secondary carbs come with 'dog leg' boosters. This single advantage is one of the reasons why Shelby American used a 715 CFM carburetor in the 1960's rather than a smaller carb that would have been more appropriate for the engine size. Neat!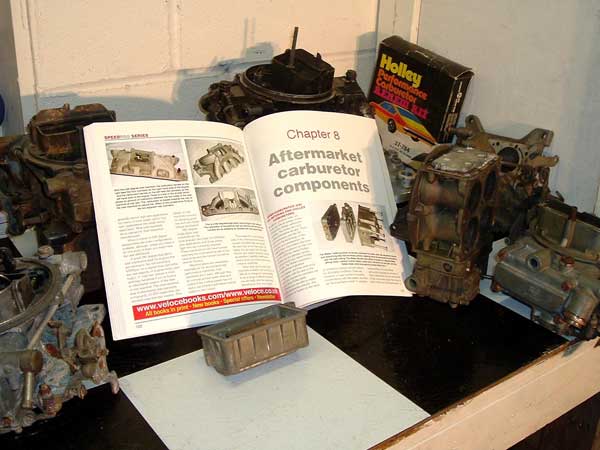 Can you modify your carburetor with better parts? Be cautious, not everything is interchangeable! In fact, if you're like me and pick up used carbs to rebuild or just for parts, there is information about which metering plate or block came with which carb number. Used carbs could have the wrong one. It's easily possible to build a useless carburetor which will give you all sorts of headaches.

On the other hand, there are ways to get even better performance out of even a brand new Holley. To find out what they are you need this book. It's not just plug in the latest trick part and go. You need to tune and test to find the best results for your combination. Remember that your combination includes not just the motor with its cam, compression, etc. but the weight of the car it's pulling, and the gearing too. All of these things affect the fuel requirements of your motor.

My Jeg's and Summit catalogs both have several pages full of Holley trick parts as well as aftermarket parts to upgrade your carburetor. Will I need center-hung floats for the autocross at the British V8 Meet in Ohio in August 2007? How about the on track dicing out at Nelson Ledges? How about some of the other parts available? This book doesn't cover all aftermarket parts, but it does give you enough information and direction for testing so you can decide for yourself.

Needless to say, I enjoyed this book. I'll put it to good use. What did I find to criticize? Very little. There is what I would call a misprint on the captions on pages 34 and 35. Here the right or left side of the carburetor is from the perspective of a person standing in front of the carburetor. That's not the way we do it here in the States. Right and left is always from the perspective of one in the driver's seat. That's for the car and all its parts when installed. It's a little detail, but might cause confusion for some. Other than that, no problem!
You can get started on your own Holley carburetor project without breaking the bank. I pick up used carburetors when I can and have bought NOS rebuild kits off eBay very reasonably too. With the guidance of this book you'll know just where to start and what to do.

Will I be ready for the British V8 Meet 2007? That remains to be seen. But if I'm not, it won't be for lack of information about building and tuning Holley carburetors.


Disclaimer: This page was researched and written by Greg Myer. Views expressed are those of the author, and are provided without warrantee or guarantee. Apply at your own risk.