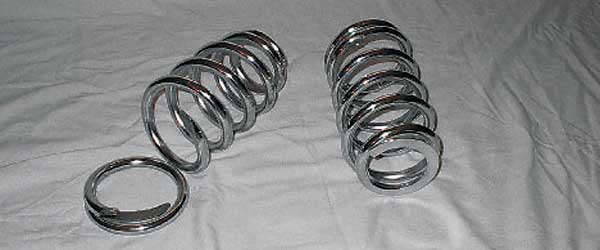 New coil over springs before and after cutting.
Coil-Over Shocks for Mustang II Suspension - Converted for TR6!
(originally published in British V8 Newsletter, Volume XI Issue 1, January 2003)
by: Les Shockey
The first thing to do is to decide on what coil over kit to buy. I chose the Carrera kit shown in. I found that Summit and Jegs both sell the kit for about $450, but with a little web surfing at
http://www.heidts.com/heip28.htm
, I managed to save $50. I chose part number MP-041 for the 375# spring rate. They also come in 500#, 600#, etc. but the 375 is right for my TR6 with a Ford 351 Windsor. The coil-over kit may be used as is, but to get more adjustment out of it, you should modify the spring length as shown.
| | | | |
| --- | --- | --- | --- |
| Carrera coil-overs after modifications. | | | Stock springs compared to the cut-down coil overs. |
The coils on the kit are 8.25 inches tall at free length. For the TR6 application the length should be 7 inches so no pre-load is required. As you can see above, I cut 1.25 inches off the top. This will allow an adjustment up to four inches of load, which means the car can be adjusted from its lowest point of about two inches off the ground to about 6 inches. Be sure to cut with a saw, to avoid overheating. The installation was fairly easy. Just remove the old shock and coil. Screw the new adjustable shock in from the bottom holding the bottom spring support and spring in place by hand. Bolt the shock in place and then adjust the bottom spring support up about 1 inch to pre-load the spring. This is a good starting point. Now you can have complete control of road height, spring rate and camber adjustment.
Enjoying this article? Our magazine is funded through the generous support of readers like you!
To contribute to our operating budget, please click here and follow the instructions.
(Suggested contribution is twenty bucks per year. Feel free to give more!)
| | | | |
| --- | --- | --- | --- |
| The stock TR6 installation. | | | The completed installation. |
Disclaimer: This page was researched and written by Les Shockey. Views expressed are those of the author, and are provided without warrantee or guarantee. Apply at your own risk.