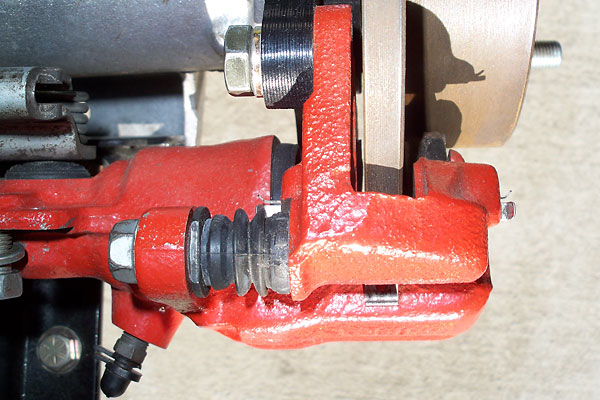 How To: Upgrade your Triumph TR6 with Rear Disc Brakes
as published in BritishV8 Magazine, Volume XVII Issue 1, July 2009
by: Don Watson, with Calvin Grannis
Is the search for rear disc brakes the Holy Grail of Triumph TR6 modifications? It may not be a discovery that Indiana Jones would be willing to die for, but it's definitely a challenging quest. This article is about my personal quest, and especially about my solution to the vexing challenge. But before we leave the subject of dying, please note that this is not a conversion to do on the cheap or to take lightly. Read and heed the strongly worded disclaimer at the end of all BritishV8 brake modification articles.

My quest for the TR6 Holy Grail started with the simple event of doing a rear brake job. You know: simply pull the drum, clean the dust out, replace the shoes, turn the drum, check and if necessary rebuild/replace the wheel cylinders, then reassemble. Well, I don't know about you, but after 30 years of playing with cars I have a lot of scars on my hands. Sometimes I think that most of these have been from brake jobs. Drum brakes tend to be a maintenance pain in both a figurative and literal sense. A routine brake job on my 1974 TR6 initiated my world wide quest for a rear disc brake conversion.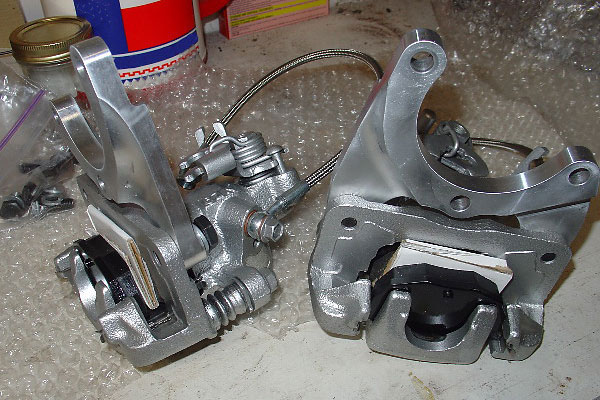 Datsun 240z rear disc brake conversion kit, as purchased from Modern Motorsports.

The Datsun Z family of cars did have a similar style system, but like Indy's hat, it will not fit me or my purpose. Looking at web pictures, reading forums, finally got the best of me. I prefer to learn by doing. I need to experience with hands on, so I purchased a 240Z rear brake conversion kit from Modern Motorsports, with the hope of making some modifications to their brackets. From this, I hoped to develop my own version of rear disc brakes for the TR6.

Like the sting of Indy's whip, I learned that the Z's used a different hub mounting and hub diameter. The brackets were of a 3 bolt semi-arch design to fit on the outside of the Z hub housing. This will not work on the TR6 unless you are going to design a very large offset to the bracket, which would weaken the bracket. Still, the calipers would work and the hands on experience got me motivated.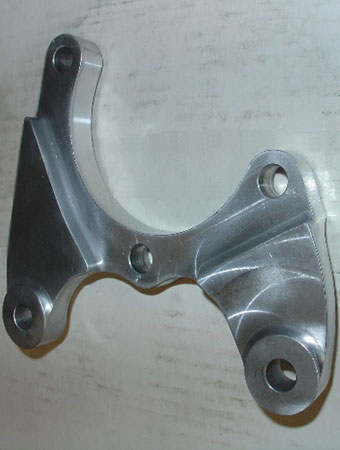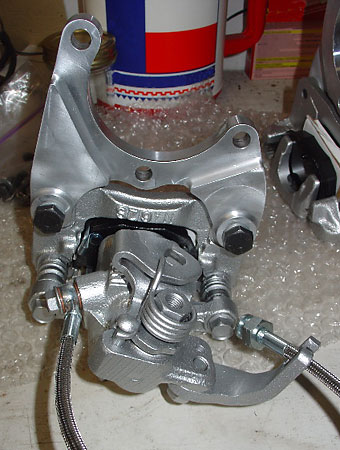 So here is what I did. My first move was to locate and purchased a used TR4A or TR6 swing arm so that I could mock up the disc brake system without taking my baby off the road for an extended amount of time. I found them dirt cheap on eBay as no one in my local club had a spare one. Keep in mind that this is just for mock up so the condition does not need to be great. Only the hub face and housing need to be good. This allowed me to mock up everything, measure and have prototype brackets made from CAD files by The Columbus Machine Works, Inc. in Columbus, Ohio.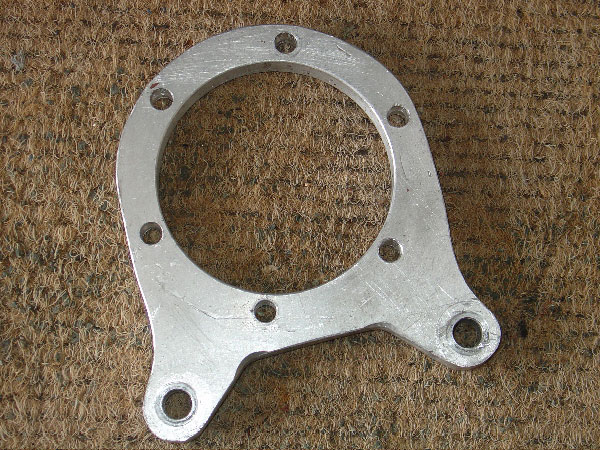 Prototype TR6 rear brake caliper brackets were made for me by The Columbus Machine Works, Inc.

I removed the rear wheel, drum and disconnected the emergency brake cable followed by removing the brake shoe springs, clips, and rotating the wheel facing to get access to the hub nuts.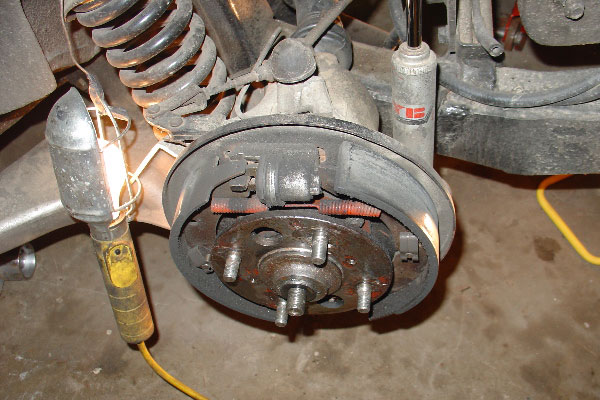 Once the brake shoes, springs, clips, etc., are removed the hub, the half shaft pull right out. Pay close attention to any play or slop in the hub then replace or rebuild if necessary, A note of caution on this as it should be done by a qualified shop with the proper tools. I replaced the u-joint now, while you have real easy access.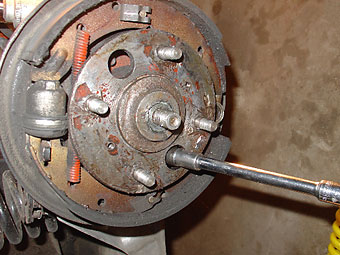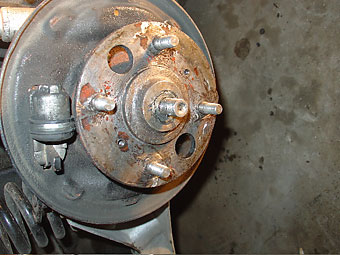 Next the dust plate can be removed as well as the stock studs. You will notice that the stock TR6 studs are two different threads, fine and coarse, and about 1.5" in length. The brackets are a half inch thick, so new 2" studs are needed. The swing arms are aluminum, so to prevent galvanic corrosion I used three-eighths inch stainless steel studs. Some conversions suggest heli-coils for strength. Make sure that when you install the studs that they are perfectly square and centered.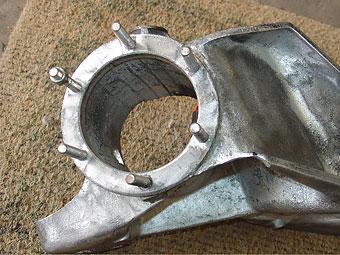 The brackets were made to fit 1981-84 Nissan Maxima calipers with hardware. If you buy similar calipers, make sure to note whether mounting hardware is included. Apparently some sources include them and some don't. In the righthand picture below, you can see the additional plate that the calipers float on.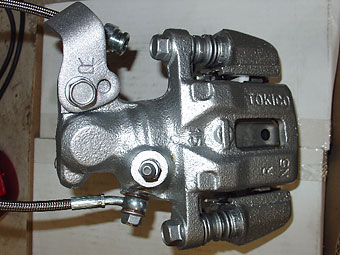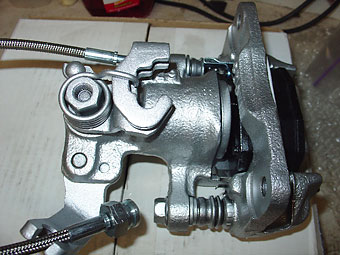 These calipers have an integral, cable operated emergency brake, and specicifically it's a "short pull" brake. Other models have an "extended pull" e-brake. Also note that Nissan apparently used several different makes and models of calipers. I understand that some 1981-1983 200sx/240sx calipers may suit our use.

Brakes are a system, so I don't recommend mixing new and old components. I replaced all the brake lines, T-fittings, etc., and I used new braided stainless steel hoses to the calipers.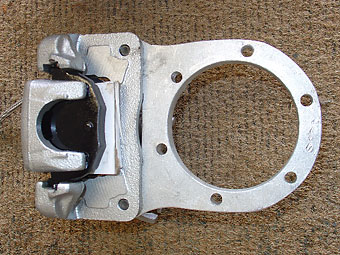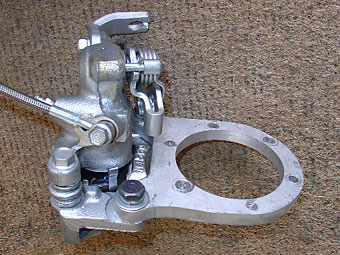 I chose not to modify or fabricate for coil-over shock absorbers, and instead kept my front positioned springs with converted gas shocks mounted on the rear of the swing arm. There are some really nice works out there by others as referenced before. But I have a two car garage, limited shop tools, limited work space, and limited funds. To avoid conflicts with the shock, spring, and bump stops on the swing arm, I chose to mount the calipers under the swing arm (i.e. at "six o'clock"). If you mount yours similarly, keep in mind that you'll need to bleed the caliper in an upright position because air bubbles don't like to flow downhill.
Enjoying this article? Our magazine is funded through the generous support of readers like you!
To contribute to our operating budget, please click here and follow the instructions.
(Suggested contribution is twenty bucks per year. Feel free to give more!)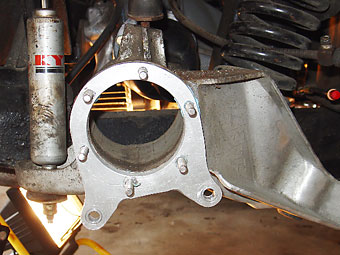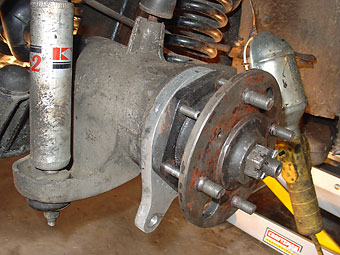 Now, with studs in place, the nest step is to install the brake brackets onto the swing arms. Please note that a little modification may be needed to improve serviceability. See the bracket's front mounting ear and the swing arm position is very close and will prevent access to the mounting bolt head with a socket. I used a grinder to remove just enough material from the swing arm to allow access with a socket. Don't cut into the hub housing! Next, I installed the hub, new u-joint, and half shaft. I tightened the stud nuts to Triumph torque specifications.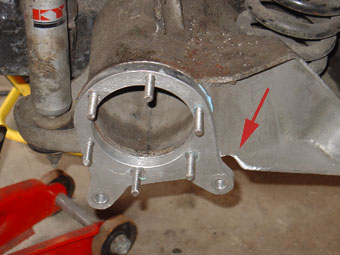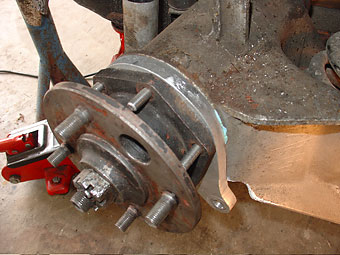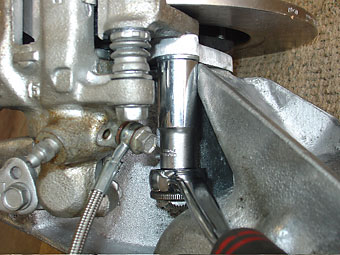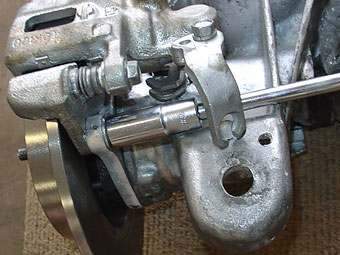 I next sourced a set of 1992 Nissan 240sx rotors (4x100mm lug pattern). Their outside diameter is 258mm, and their hat height is 47mm. I had to have the central hole enlarged 0.40" to fit the TR6 hub. I also had to re-drill and recess the rotor retaining holes for the 2 screws that keep the rotor attached when removing lug nuts and wheel for servicing. (Ultimately, after going through the whole process with regular rotors, I decided to upgrade to drilled and slotted rotors for looks. Now I have to buy something else: new drilled and slotted rotors for the front!)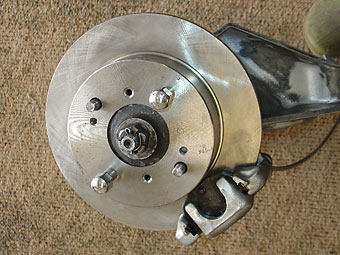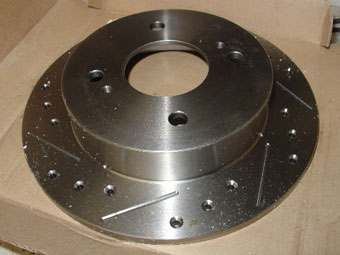 I installed the calipers, remembering to first bleed the system with the calipers upright. (This can alternatively be done by either rotating the caliper around to the top of the rotor or by temporarily putting a half inch thick metal spacer between the brake pads. Without some sort of spacer, the pistons would hyperextend from their cylinders.)

The next step was to connect the emergency brakes. I used a Lokar emergency brake cable assembly. They're made to be cut to length, and they come with simple instructions.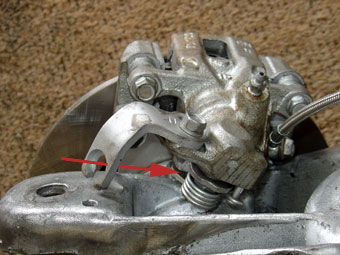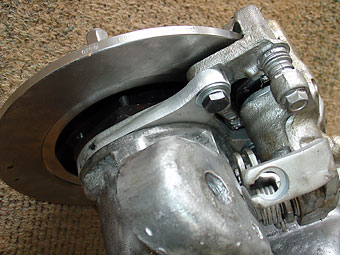 I run 15"x7" Panasport wheels, with 3.9" backspacing (i.e. zero offset, nominally. Stock TR6 steel wheels are 3.5" backspace / +12mm offset.) Since I don't have a fifth Panasport wheel, I use a steel wheel for my spare tire, so I made sure to check for clearance with both wheels.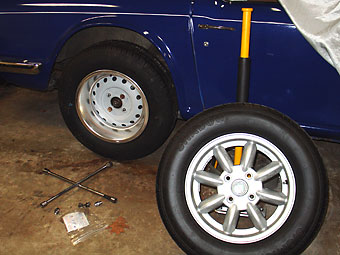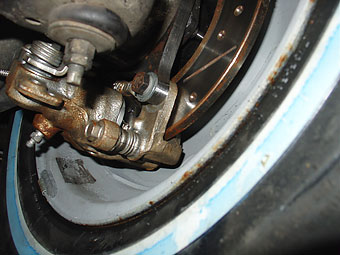 I've received several e-mails about using this type of bracket on the top side of the swing arm. If you don't want the emergency brake function, you might be able to rotate and flip the bracket to face the rear of the swing arm, and then use a caliper that doesn't have the bulky emergency brake mechanism. However, you might still run into conflicts with the rear shock absorber mounting, if you run gas shocks. You might also run into conflicts with a rear sway bar system.

Note: when I mocked up the brackets, the first CNC pass was with aluminum. The black bracket, shown at left below, is the final version in half inch steel for additional strength.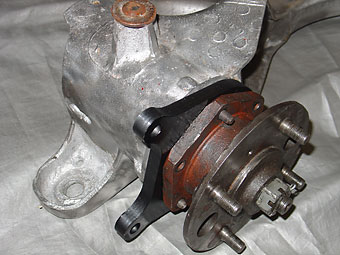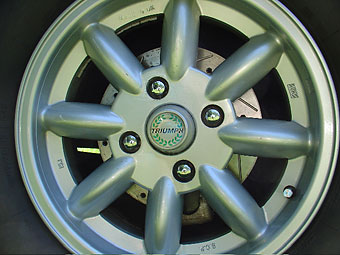 The motivation for this article is for us, collectively, to give something back to the BritishV8 and Triumph community that has given so much to us. Through How-to's, "been there done that" emails, technical forums, and lessons learned, we have all benefited from the collective knowledge of our fellow enthusiasts.
---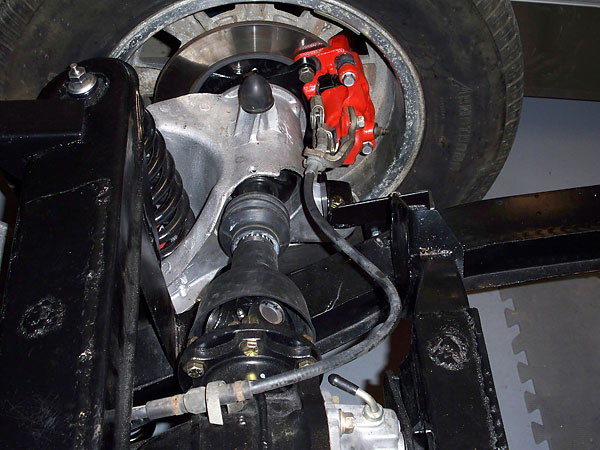 Calvin Grannis Continues the Story...
I purchased a set of caliper mounting brackets from Don, and needed to source brake calipers locally. As he explained above, Don had bought an aftermarket kit from Modern Motorsports that's marketed for converting an old Datsun 240Z to disc brakes. Don assumed that the calipers included in the kit were from a Nissan 240SX, so I went to a local recycling yard and picked up a set of 240SX calipers and brackets, complete with the emergency brake cable. When I got home it didn't look right to me and the calipers wouldn't bolt-up to the brake brackets. I went back the recycling yard to hunt for the right brake calipers and brackets.

I found a 1987 Nissan Maxima had calipers which would work for me, and with a little additional research I can add an additional caveat: apparently there is an "earlier" and a "later" style of caliper for a 1987 Maxima! The change occured in March of that year. I don't know the full extent of the change, but the earlier design has fewer internal parts.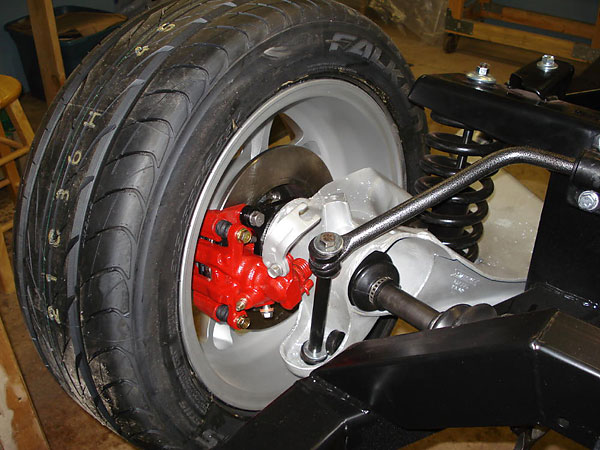 I used 1992 Nissan 240sx rotors. On the inner hole that goes over the hub, I had to take off about 68 thousandths of an inch. I just took the old Triumph drums and the new Nissan rotors to someone with a lathe, and had them match the rotor diameter to the drum diameter.

Another small difficulty had to be overcome. The emergency cable brackets on the Nissan Maxima calipers was pointing upward towards the body. I found that the cable brackets on the old 240SX calipers would install on the Maxima calipers and this fixed the problem in short order. The 240SX brackets redirected the emergency brake cables so that they pointed toward the differential.

I ended up using the used Nissan 240SX emergency brake cable.

Since they were used and of unknown history, I rebuilt both Maxima calipers. Upon close inspection, I noted at this time that the Maxima calipers have a bigger piston than the 240SX calipers.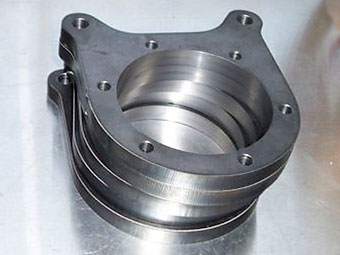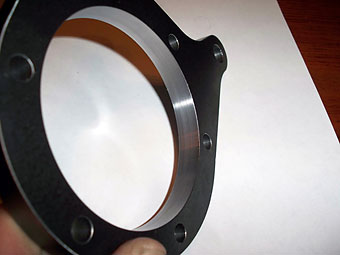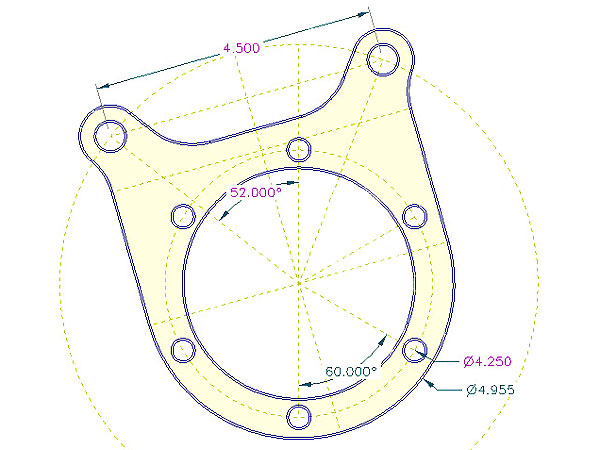 CAD files for making your own brackets are available free for the asking! Just use the BritishV8 message
board's private message system to contact Don Watson ("dwtr6v8") or Calvin Grannis ("74ls1tr6").
Disclaimer: This page was researched and written by Don Watson and Calvin Grannis. Views expressed are those of the authors, and are provided without warrantee or guarantee. Apply at your own risk. Neither the author nor BritishV8 make any warrantees or representations regarding the use of the materials in this website in terms of their correctness, accuracy, adequacy, usefulness, timeliness, reliability or otherwise. BritishV8 shall not be liable for any special or consequential damages that result from use or inability to use, the materials on this website or the performance of the products. Brakes are critically important safety equipment. If you're uncomfortable working on brake components, take the work to a qualified professional.
Photos by Don Watson and Calvin Grannis for BritishV8 Magazine. All rights reserved.