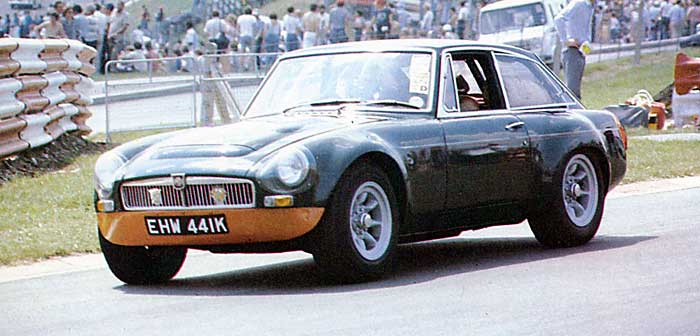 MGC-GTS, competing at Sebring in 1968
SCCA STREET MOD: A place to play for "sports bastards"
by: Keith Wheeler, Team Sanctuary
We all understand the attraction of having the beautiful sculpted lines of a classic British roadster combined with the power of a well-tuned V8. After many hours of dreaming, scrounging, and wrenching, now you've got that beast, a gorgeous little street car with some serious get up and go. Once the dream car is together, there are club meets and rallies, tours, and maybe even a V8 convention or two. But, what happens when the desire builds to test the limits of your modified sports car?
Very few automotive enthusiasts have not heard of autocross. Autocross, also called slalom racing or "Solo II" by the Sports Car Club of America, is a timed event, run through a course of traffic cones. You race against the clock, with no risk of car-to-car contact. In terms of number of competitors, autocross is the largest form of motor racing in the world.
Nearly every weekend somewhere in the US an autocross is being held. One problem that many in the V8 conversion crowd have faced, however, is that converted cars were immediately pushed into the "Modified" category. While some re-engineered Little British Cars have been successful in modified, these cars are not streetable. The "Modified" class is the realm of sports racers, formula cars, and fiberglass bodied Sprites, gutted with full racing suspension. Not a place one can even dream of being competitive with a street driven MGB V8!
This was the situation for many years, however a new category has opened up that may prove to be a place where a properly built MGB V8 or some other such machine could become "the car." The category is called "Street Mod"; the class is "Street Mod 2". This category grew out of the concept of developing a "membership recruitment" class for those people who swapped engines in their cars. Unfortunately the first version of the class rules prohibited two-seater cars; they were written for the Honda crowd. After some complaining by SCCA members (myself included!) an additional class was created for two-seaters. One of the originators of "Street Mod" admitted flat out to me that they excluded two-seaters because they didn't want to get their Honda butts kicked by 30-year-old British cars!
One thing that happens in many forms of racing is that a class becomes dominated by a certain type of car. "Street Mod" is only a couple of years old, so there is no "right" car for the class. In addition to that fact, the rules are fairly unrestrictive, so there may be many "right" cars.
So, what are the rules? Well, they sound like they were written by the MG V8 conversion crowd! The car: must retain all factory "street use" items, like interior, lighting, windshield, wipers, horns, and so forth. Suspension and brakes: whatever you want, but must bolt up to the original chassis pick-up points. Bodywork: alternative hoods and fender flares allowed. Engine and driveline: unrestricted except block and heads must be from that make, or in the case of cooperatively built cars, from either make. This means that (and I've been told this specifically by the national SCCA folks) in any MG (or Triumph for that matter) any Rover power plant is legal! For normally aspirated rear wheel drive with engines up to 5.0 liters the minimum weight is 1900 pounds. We're planning on starting off in this class with our MGB V8 and TR8. My 'B V8 is built from my first car, which was a rather clapped out '75 MGB I got when I was 16. The TR8 is the latest addition to our collection, and is my wife's car. These are both in rather mild tune, and considering their weight, we do not expect to be competitive. We're currently doing some research (ok, hanging a 3.5 block and SD1 'box on the cherry picker) to see how well we can fit our favorite engine into a 1973 Spitfire we've got sitting behind the barn. With weight as the fighting factor, the Spitfire will probably be the best choice, and will have to be ballasted up to meet the minimum weight!
Enjoying this article? Our magazine is funded through the generous support of readers like you!
To contribute to our operating budget, please click here and follow the instructions.
(Suggested contribution is twenty bucks per year. Feel free to give more!)
Two large engineering challenges face us. The first is based on one important "Street Mod" rule: the firewall cannot be modified. The second will be developing a rear suspension and differential system capable of handling the torque of a V8.
Some Spitfire V8 converters have lengthened the chassis, and while this is not explicitly illegal, the SCCA has issued a warning not to use "extreme interpretations" of the rules. It does seem that the engine will fit, but it will have some weight further forward than would be desired. The current concept is that this will not be too much of a problem, because since the car will have to be ballasted to meet minimum weight, a reasonable weight distribution will still be possible. Of course the car will have a larger polar moment of inertia than if we modified the firewall, but sometimes when building a car for a certain class trade-offs must be made.
The first incarnation of the SM2 Spit will be powered by an "extra" high compression 3.5 we have around the shop. This was an older race engine in decent shape. Not something to be used for street reliability, but perfect for this experiment.
Induction will be twin SU HS6s on a TR8 manifold (as soon as I get fuel injection installed on her TR8!). Gearbox and bell housing are TR8/SD1. The flywheel on the engine is a stock TR8 unit, but for real autocross using a lightened flywheel will be beneficial. Motor mounts will be custom and as stiff as possible (if not solid!) to keep the torque where it belongs, at the back wheels. Not exactly the most comfortable thing to do, but very much like a "real" racecar.
We are trying to tightly follow the class rules, since we do not want to develop a car that could be "outlawed" by a rules clarification. This makes the rear suspension the largest challenge. We could use an "extreme interpretation" and develop some sort of independent system to replace the swing axles, however I am leaning towards a stiffened, lowered stock system with good shocks and a Z-bar. A Z-bar is made just like a sway bar, however instead of being U-shaped, it is Z-shaped. A sway bar resists opposite movement of the suspension members, thus reducing body roll. A Z-bar, however, resists like movement of the suspension and is only really used on swing axle suspension. This prevents such issues as the jacking effect that seriously lifts the rear under heavy braking. Z-bars are commonly used on Formula Vee racecars that use the early VW swing axle rear.
For a final drive unit, it seems from talking to a few Spitfire folks that a Mazda Miata rear fits nicely, and can be had in limited slip form. Some custom machining will be required to mate the output flanges of the Miata rear and the drive flanges for the Spitfire axles, but this will not be too complicated or costly.

While this car is being designed for the "Street Mod" class, we really don't expect it to be streetable. It'll be more like a full-blown racecar, but with a complete interior and lights. It could be streetable, but considering the suspension tweaks necessary to keep the rear-end under control, would probably not make for a very comfortable ride over even the mildest of potholes and such. From a purely cosmetics side, my wife wants to paint it in white with a big arrow-shaped blue "racing stripe", in the style of the old Team Surtees Lola T70s.


If you are interested in running your V8-powered conversion in a class where it could possibly be competitive, check out your local SCCA region. For more information about the SCCA, see http://www.scca.org/. An autocross usually costs around $20 or $25. One word of warning: while the "SM2" may be the perfect place to play with an MGB V8 or similar car, being seriously competitive will require a set of autocross tires, and these can get expensive, as in $125 to $175 per tire!

And the worst part is the most expensive ones don't last long at all, but they do help your lap times. If your tires are in good shape, you've got seatbelts, and things are in good mechanical condition, you can just show up and run! If you get hooked, buying your own helmet is a good idea, unless you really like the thought of a "loaner" helmet. I sincerely hope that this class will attract some British car converters. The rules are open enough to allow our old machines to be modified to a fairly modern specification. With modern suspension, fuel injection, and brakes, perhaps we can be competitive against the RX7's, Miatas, and Corvettes that currently run in SM2. Safety Faster!


Disclaimer: This page was researched and written by Keith Wheeler. Views expressed are those of the author, and are provided without warrantee or guarantee. Apply at your own risk.