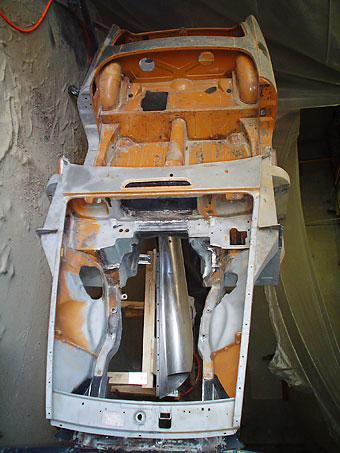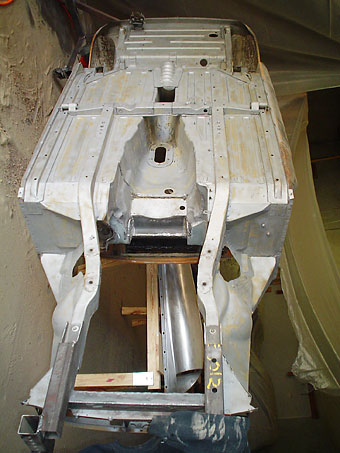 Rob Ficalora's MGB V8 Project - Progress Report
The British V8 Newsletter, Volume XV Issue 3, December 2007
by: Rob Ficalora
I've been working on this project for about 18 months now, and I thought I'd share where I am. You might think I'd be further along, but a typical work pattern is a few hours work one day, then none or maybe an hour here or there for a few weeks due to work and family focus.

The basics - my project is a Ford 302 (5.0L) / T5 swap into a rubber bumper ('76) MGB.

Additional features include:
Fast Cars IFS (by Ted Lathrop)
Todd Budde IRS
A/C (with evaporator hidden behind the dash)
Early style metal dash conversion
Chrome bumper conversion on the front
Sebring valance and early style tail lights on the rear
Dodge Omni fender flares, front and rear
Engine - Ford Racing 302 Crate motor (M-6007-XB3) purchased via eBay but from a local Houston body shop (so I was able to go look at it before bidding on it). The motor was purchased for a T-Bird project they had, but the customer ran out of money so they were selling off all the stuff they'd not used already.

Getting the engine set up was the most difficult part of the project so far - not because there wasn't a proven solution, but because I screwed up when placing the motor. A "normal" 302 installation requires modifying the front suspension crossmember but no firewall modifications. Doing it that way, which I did initially, didn't leave enough room for the alternator and A/C brackets I wanted to use, and I couldn't find any suitable alternative brackets (suitable to me meant chrome or polished with the accessories positioned where they'd fit). So, I moved the motor back and modified the firewall as follows: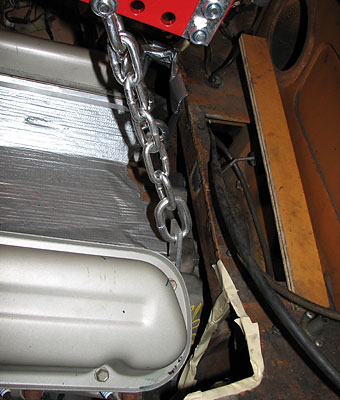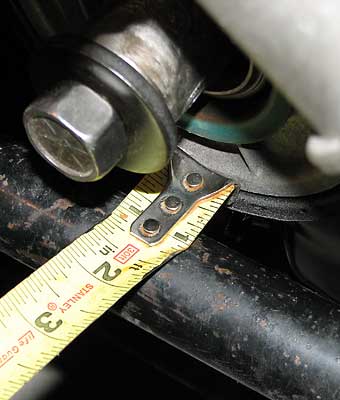 I got the clearance I needed for the accessories at the front, but I mis-measured and the net result was that the harmonic balancer landed in interference with the steering rack, rather than slightly behind the rack where I wanted it. I didn't want to move the motor any further back (didn't want to eat up driver side pedal space in particular). I researched modifying the cross member to move the steering rack, but wasn't confident enough that I wouldn't introduce bump steer or other problems, so I punted and bought Ted's front end. I'll admit it is very nice, but was also way more money than I wanted to spend.

Transmission - T5 from a SN95 ('94/95) V8 Mustang. This tranny is about an inch longer than the normal Mustang T5 which helps align the shifter right at the stock MG hole. The shift fork is also rotated lower so there's more room to mount and get at the slave cylinder. Gears are as follows:
| | | | | |
| --- | --- | --- | --- | --- |
| 1st | 2nd | 3rd | 4th | 5th |
| 3.35 | 1.99 | 1.33 | 1.00 | 0.68 |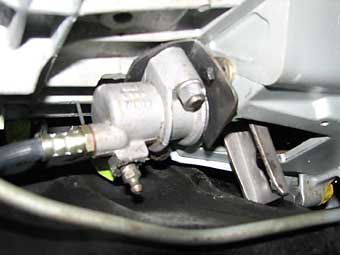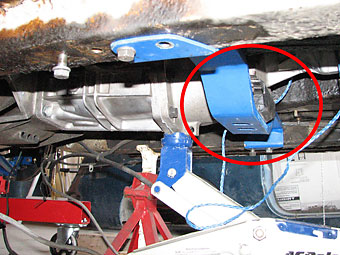 The first picture above is from Leonard Marshall's car (with a regular T5), but it shows how the slave mounts. Once verified to be working, the fork is cut off and a simple plate is mounted over the access hole as a dirt shield. (Note: Leonard didn't mention any problem bleeding his clutch, but I think I'll try to mount mine with the bleeder valve pointed more upwards).

As shown in the second picture, I'll have to modify the transmission crossmember that I got from Ted with the 302 mount option on his IFS. Because my tranny is a bit longer than what he uses, I'll need to weld some metal on at the edge and lengthen the holes. I haven't done it yet, but it should be an easy fix, although looking at the picture I think I'll cut off the flanges that mount to the rails and replace them with longer ones rather than modifying the area where the transmission mount is.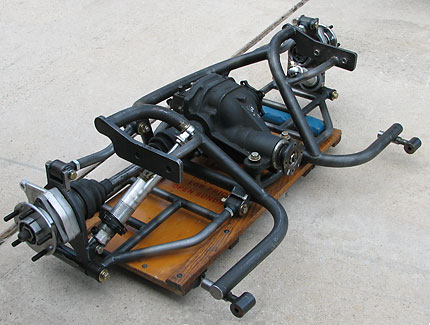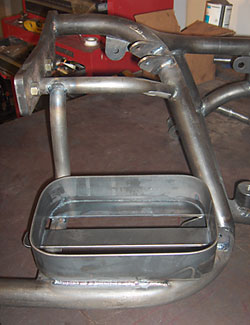 Rear end - Once again, I opted for the hard way. Spending time on this slowed my project, but it will add "cool factor" if nothing else. Rear end is a custom developed unit designed and built by Todd Budde of Custom Rod Works. I have what Todd calls his "Generation II" unit, and Todd worked with me to modify his basic design to support the wider track and 5 x 4.75" lug pattern I preferred. (Custom Rod Works is now offering a Gen-III design. Custom work is their specialty, so special versions of their IRS are no problem.)

Here are some of the specifics:
JDM (Japanese Domestic Market) 1996 Nissan Skyline limited slip differential (3.31:1 gears, although I may swap this for a differential with 3.54 gears; we'll see.) Note that this solution uses the same CV joints as a 1994 Infinity J30, and that it's also compatible with any Nissan R200S differential.
Halfshafts are from the Nissan Skyline, re-splined at outer end to match '88-97 S-10 4x4.
Outer CV yokes and hubs are '88-97 S-10 4x4 (non-ABS version).
Rotors are from an '88 Corvette.
Calipers/outer brake parts are '94 Camaro Z28.
Bushings are "Pete & Jakes" heavy-duty black urethane.
Hub-to-hub width is 54 1/4", which is quite wide (probably an inch or two wider than I should've had them make it.)
The picture above is from one of the test fittings. The unit bolts into the stock MGB shock mount points at the top and the front MGB spring perches at the front. Todd modified the upper shock mount and added a battery holder after this photo was taken. The second picture shows those changes. Final product was powder coated and is ready for installation.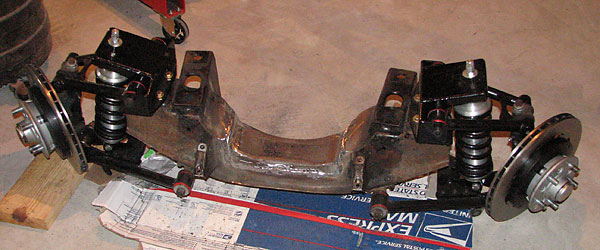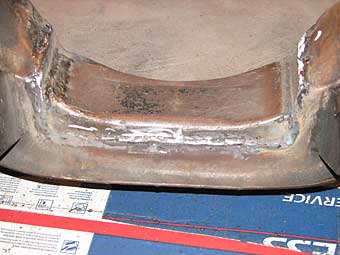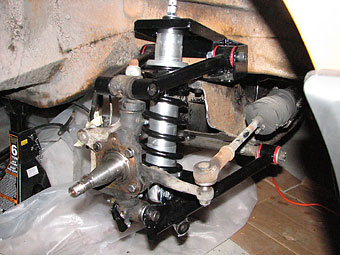 Front End - I started with Bill Guzman's coil over and Wilwood "big brake" kit, which I really liked. Here are some pictures showing that kit installed on my 302 modified cross member. The first picture shows the cross member modification to clear the Ford 302 oil pan.

Essentially, the section shown above is cut out; about 1 1/2" has been cut off the bottom of the removed piece, then it's welded back in with 1/4" plate on the sides. My brother-in-law is a professional welder and he did this welding for me since it is an important structural piece.

Second picture shows Bill's kit installed on the cross member;

As noted above, after getting this suspension completed (even cleaned and painted it), I moved the motor further back and ran into clearance problems with the steering rack. I got great advice for how to modify the rack mounting location down, flip the tie rod mounts over, etc., but frankly, that intimidated me, so I punted at that point and bought Ted's front end. I've since sold Bill's coil over and brake kits, but I'd recommend them to anyone. They were very well thought out and had excellent fit and finish. I do still have the modified cross member if anyone is interested.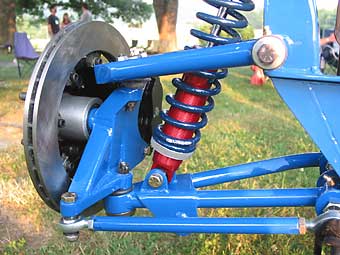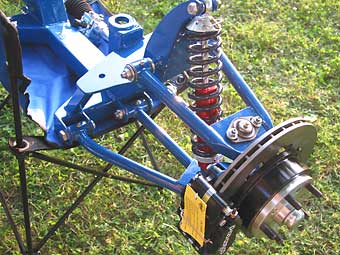 Here's what Ted's IFS looks like. I decided to bite the bullet and get the optional Ford motor mount option. At the time I was thinking that I'd have time to finish the car pretty quickly.

Body Mods - I've done a bunch of body mods - none of them required for the engine swap but driven by my choices around the following:
where to place the motor and radiator to make room for polished front engine accessories (alternator, A/C compressor, etc.)
swapping the front bumper for a chrome one. (There's plenty published on that, so I haven't included it here, plus I apparently don't have any pictures of what I did there.)
swapping the dash for an early metal one, and putting the A/C evaporator behind it.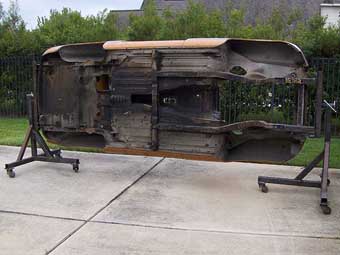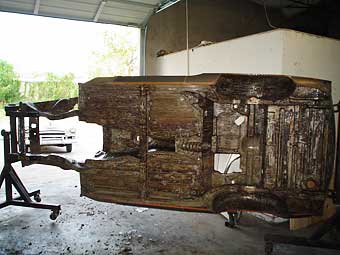 Before starting the extensive body mods though... I built a rotisserie. It's a really simple one, but it works just fine, and it was a project my 11 year old could help with which really excited him. He did about half of the welds on it! I used the rotisserie to flip the car over to weld up the under side of things I'd not been able to easily do with the car on stands.
Enjoying this article? Our magazine is funded through the generous support of readers like you!
To contribute to our operating budget, please click here and follow the instructions.
(Suggested contribution is twenty bucks per year. Feel free to give more!)
The changes to the engine bay were the most extensive. I modified the firewall as noted above. I also modified the panel that the oil cooler normally goes on and made a new support for the slam panel so the radiator could go right up against the slam panel with the A/C condensor in front of it.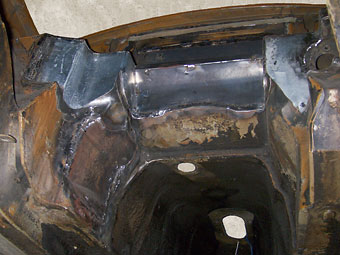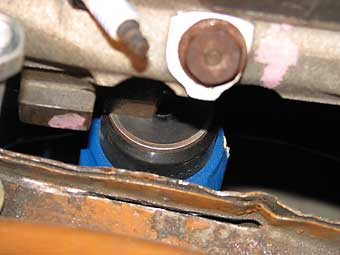 This shows the firewall modifications while "in progress". The changes on the left/right are to provide clearance for the cylinder heads with the motor moved back. The heater shelf mod is not required for the motor to fit. I did it simply to provide a bit of an air gap at the back of the motor to help get hot air out of the engine bay. I also did a mod to the frame rails that gives a little room on each side of the motor block. Again, this is only needed if you push the motor back and down a little compared to where it goes with early Comet motor mounts.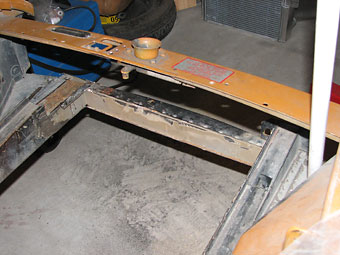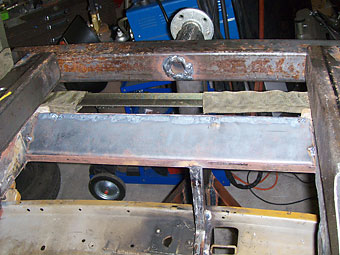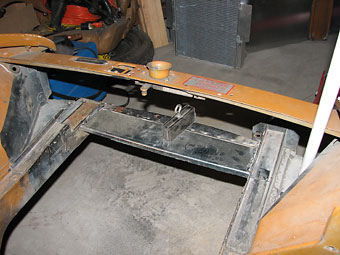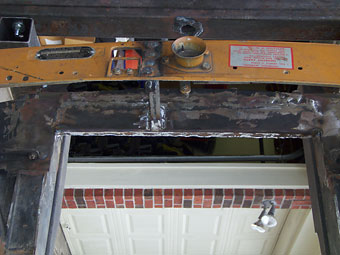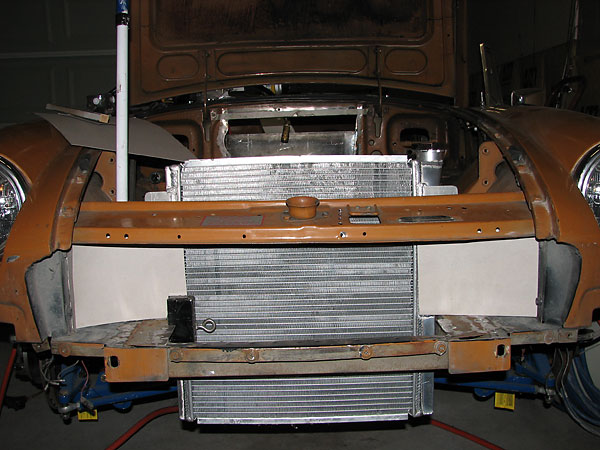 And, here are the oil cooler shelf and slam panel support changes for the radiator. I used 16 gauge for this to help ensure rigidity.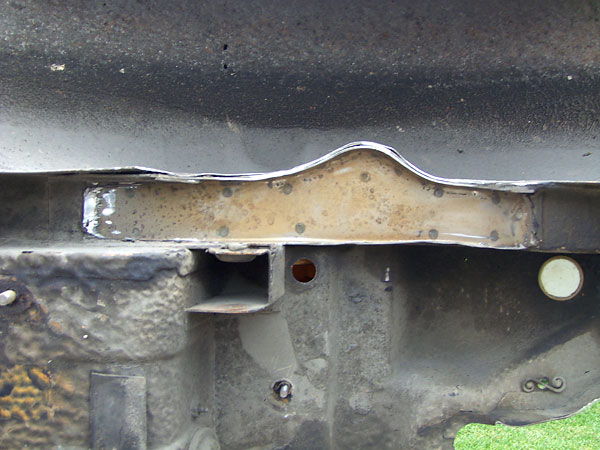 At the rear suspension, I made two modifications. First, I cut out the extra inch or so where the bump stops are. MG added that piece when the rubber bumper cars were raised up. Since my car will be at CB height, removing that piece gives the rear suspension the full travel. I'm going to weld up the seams to keep moisture out and still have to put the bump stops back on but the picture above shows the current status.

The 2nd change is to make changing the shocks on the IRS possible. Todd used his GT as the development mule, and he didn't realize that the shelf behind the seats on the roadster is lower than the shelf on a GT. The upper shock mounts are too close to the bottom of that shelf for the bolt to come out unless they're installed with the head down and even then, there's precious little room to get a wrench on the nut. To accommodate this, I'm making access holes (and covers) for access from above.

Dash swap and A/C evaporator - I started trying to figure out how to fit an A/C evaporator behind the dash. I did a bunch of research on the various aftermarket evaporator boxes and on boxes from some small cars too. A couple of production cars probably have boxes that would fit, but I couldn't find dimensions published anywhere and I didn't have the time to search salvage yards. VintageAir, SouthernAir, and HotrodAir all publish dimensions of their products so I focused on them. I ultimately selected VintageAir because everyone I talked with that used them was happy. Their Gen-II Mini looked like it'd fit a hair better than either of the other two company's equivalent sizes. (It's longer, but a hair narrower). It still wouldn't fit completely!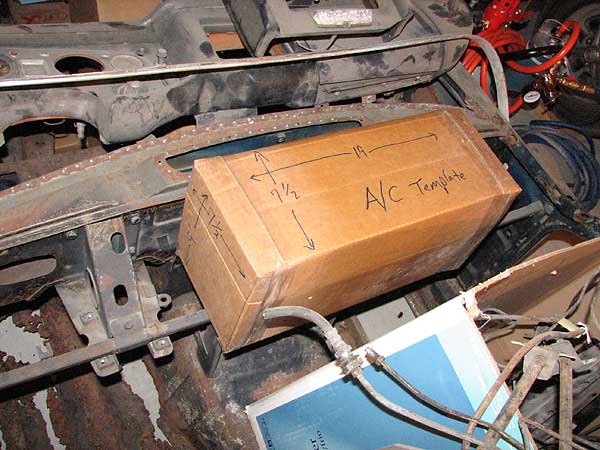 Here's a picture of a box I made to do initial mock-up using a rusted out body shell I have.

The cowl is proud of the firewall by about an inch, but the evaporator box is still about 3/4" to 1" too wide. Plus, the '76 dash curves so that area isn't as deep as it could be. About that time I came across an early metal dashboard. I used to have a '67 roadster and I've always liked the metal dash look. I also noticed that the metal dash is straighter across than the padded ones, so it gives about an extra 2" of clearance behind it. I decided to swap the dash over killing two birds with one stone (albeit a heavy "stone" as far as mods go).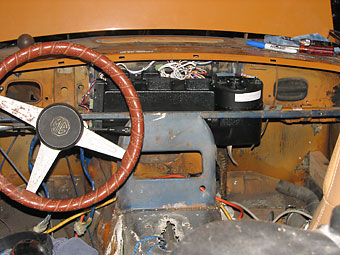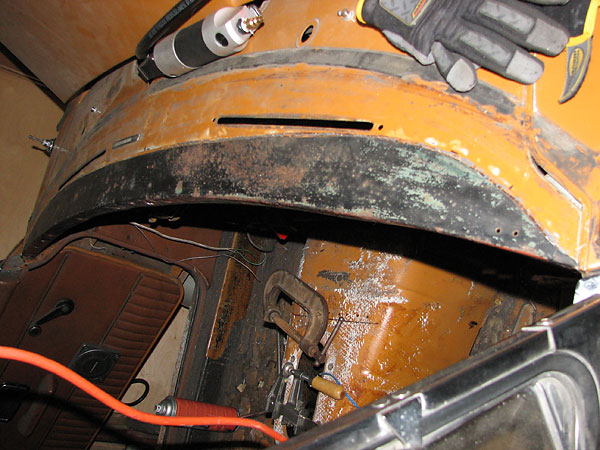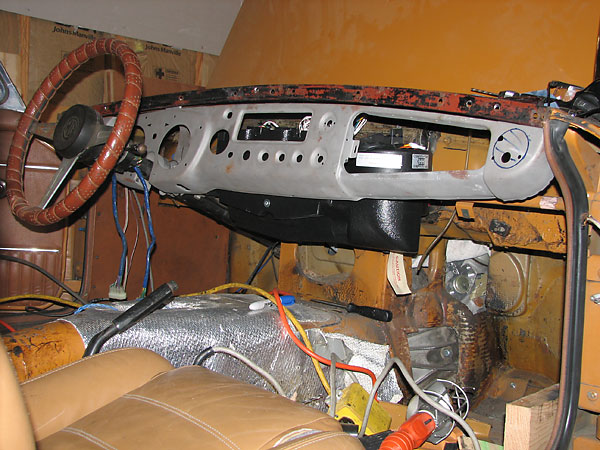 If you look close, I have a new panel in the firewall behind the evaporator box. I initially cut that piece out, intending to install the evaporator box like Ted Lathrop does. Later I changed my mind for two reasons. One reason was that I decided I prefer to have the evaporator box better insulated from engine compartment heat. Secondly, I may decide to use the cowl vent for cowl induction at a later point.

I still have some fabrication work to do on the body shell:
Finish grafting in the metal dash cowl (I didn't weld it in before taking the car to the media blaster)
Install some reinforcing pieces like the typical one that runs from the forward rear spring hanger to the "frame" structure and some pieces that will help reduce any twist, plus probably a piece or two to make jacking the side of the car easier (I never liked the MG style jack).
Install the Omni flares. I was able to find a few Omni's around me and got all the flares I could from them. This will be a big job - especially the rears which need to be tied into the tubs.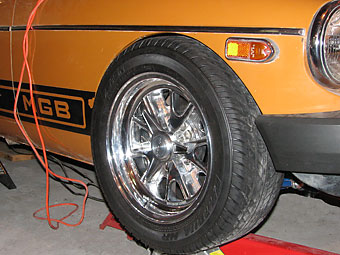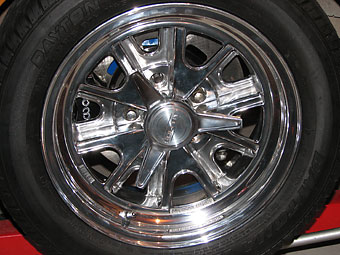 Wheels and Tires
Front - 15x7, 3 1/2" backspace American Racing 427P wheels; 205/55/15 tires. I probably could have fit 215's and they'd line up a bit better I think, but decided to go narrower because I know they'll work (they're what Ted used on the red car on his web site).
Rear - 15x8, 4 1/2" backspace American Racing 427P wheels; 225/50/15 tires. I would really have liked 245/50/15's, but I had Todd make the IRS too wide. As it is, I'm probably going to have to modify the Omni flares to make them about 3/4" wider than they are - Doh! - (this is a reason to start with a tube axle that's way easier to modify until you're sure how things are going to line up.)
Then I loaded the shell on a trailer and took it to a media blaster (sand for the bottom; soda for the rest).

That's it for now. Lots to do still, but I'm making progress. My goal is to have it done in time for British V8 2008 in Wisconsin!
Disclaimer: This page was researched and written by Rob Ficalora. Views expressed are those of the author, and are provided without warrantee or guarantee. Apply at your own risk.
Photos by Rob Ficalora for the British V8 Newsletter. All rights reserved.