How to Restore Triumph TR5/TR250 & TR6 (By Roger Williams)
(This article appeared in The British V8 Newsletter - Volume XIII, Issue 1 - January 2005)

book review by: James Jewell

I got an envelope the other day from the UK. It was a bit on the large side to be a letter, or just a newsletter questionnaire, so I ripped into it like it was Christmas. Ok, it actually was Christmas, or nearly so, which made all the ripping that much more satisfying. Inside was a book and a letter from Veloce Publishing asking me to review the enclosed title. Wow, my very first piece of "schwag"!

According to all the hip kids, "schwag" is the latest term for cool promotional material. I used to be in awe of my friends in the Hi-Fi magazine business who would get schwag from the audio giants all the time, but now I know that all it takes to get schwag is for someone to stumble across your name on the Internet!



The book is titled "How to restore Triumph TR5/250 & TR6" and it was penned by the prolific Roger Williams, with whom many of us are familiar because of his "How to give your MGB V-8 Power". On the cover it boldly proclaims "Now in Colour!" I believe that roughly translates as "Now in Color", but don't quote me on that. The first thing I noticed is that it was about twice as thick as the typical Veloce book, at 192 pages. I also noticed that it costs nearly twice as much as the typical Veloce book. Must be all that "Colour". But seriously, it's nice to see that, page for page, the price of color publishing is going down. Maybe with time our beloved newsletter will arrive at your house in "Colour." As with all the other Veloce books, it has a durable soft-cover and is well bound. I suspect that it could easily survive some time in the shop and wipe clean.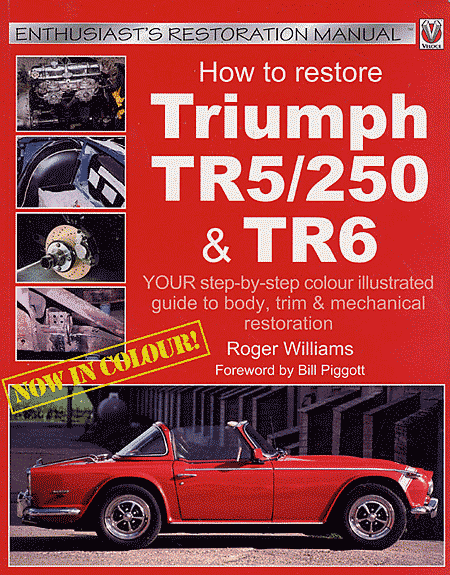 Being an MGB fan, I was a bit reluctant to write a review. My only other staffers are my wife and wolf, and the only Triumph they know is "Triumph, the Comic Insult Dog" from the cable channels, who I have to agree, is pretty funny for a puppet. So the ball was back in my court, and I proceeded to read the book and take notes over the next few weeks.
Enjoying this article? Our magazine is funded through the generous support of readers like you!
To contribute to our operating budget, please click here and follow the instructions.
(Suggested contribution is twenty bucks per year. Feel free to give more!)
My summary-level review is quite simple: Great book, buy it. For more insight, I provide you with the following material. The first three chapters cover the TR line, and choosing a car for restoration. Since the book is only about the TR5 and TR6, I suspect that the very first chapter may be common to a few other Veloce books on the topic of Triumph, but I can't say for certain. Chapter 2 described the inspection process for buying a TR, and is full of photos of horrible, horrible decaying hulks of once proud British cars. The images are so traumatic that I wanted to personally pimp-smack the owners who so neglected their children. Once I realized that personal pimp-smacking would require an expensive trip to the UK, I decided to calm down and tell you how helpful the color photos were in identifying the trouble-spots on an older TR. With B/W photos, it's hard to tell what is rust, what is mud and what is undercoating. Not so with color! By the way, if you haven't figured it out, pimp-smacking is more cool-kid lingo for a dramatic backhanded slap of the sort a pimp might give to one of his, um, employees for losing money, etc. As part of my goal for getting each and every one of you dear readers to bring a younger person into this hobby, I feel compelled to provide you with the linguistic tools necessary to bridge the generational gap. But I digress...
Chapters 4 and 5 cover body and chassis restoration, respectively. Again, the photos are plentiful and detailed, with the color being quite helpful. While I've never worked on a TR5 or TR6, I felt confident enough, after reading, to tackle the bodywork with this book and a shop manual. A unique aspect to these chapters, and the book in general, is that Mr. Williams provide you with various strategies for accomplishing the major tasks, and the respective pros and cons. Most books simply tell you to do something in a specific order, as if it were gospel. This book recommends the various approaches based upon how much of the work you are doing at home vs. how much you are contracting out.
Chapter 6 covers painting, plating and rust-prevention. This was one of two areas of the book with which I took exception. Mr. Williams suggests that you first prime your car with a zinc-based primer, followed by and etch-primer. This is madness. An etch-primer is designed to etch into bare metal to provide a good bond for the pigments in the primer. It is most definitely NOT intended to be applied on top of another primer or paint product. It is a complete waste of money and time to do this, and God only knows what the acid in the etch primer will do to the primer underneath it. He also describes cars getting 5 coats of primer as if more is better. Paint or primer will crack if it is put on too thick.

The only time 5 successive coats of primer should ever touch a car is if some serious block-sanding takes place between applications to reveal high and low spots.

The sanding he does describe for priming is the type you should use for rubbing out a lacquer top-coat. Again, this is a waste of time, and may be detrimental, as a mirror smooth primer layer made with 1000 grit sandpaper, as he describes, will not likely bond with a top-coat. His discussion of painting is too generic to be of much use, as each of the different chemistries available today requires different techniques. My advice is to rip out this chapter from an otherwise excellent book.


Chapters 7 through 11 will tell you how to rebuild your engine, drivetrain and fuel systems. These pages will help you identify all the different variants out there, and provide you with some good wisdom for avoiding pitfalls. The same can be said for the remaining chapters (brakes, suspension, trim and upholstery).

Appendix 2 claims to be a primer on welding but also has some shortcomings. It would lead you to believe that there is only one acceptable shielding gas mixture suitable for all mild-steel MIG welding and a few other myths. I would recommend you rip it out along with chapter 6, and buy at least one good book dedicated to painting and another for welding.

Despite my minor nits, this book is an excellent resource for the Triumph restorer. You should not expect this book to walk you step-by-step through a brake overhaul, or provide the torque settings for an engine rebuild. That is what a shop manual is for. Rather, this book provides you with a wise mentor to give you the confidence to do an entire restoration and guide you around the common-yet-subtle pitfalls of a complex project He'll be with you when you go shopping for a project car, and you won't have to worry about waking him up at 2:00 AM when you're working late in the garage on a weekend. It just happens that this mentor is made of pulp and ink, not flesh and blood.

For many of us, Roger Williams was the first person to show us how to put a big V8 in a Little British Car. Now he shows us how to make a Triumph strong and safe enough to take a big motor.

How to restore Triumph TR5/250 & TR6
By Roger Williams
ISBN: 1-901295-92-3 / UPC: 36847-00192-6