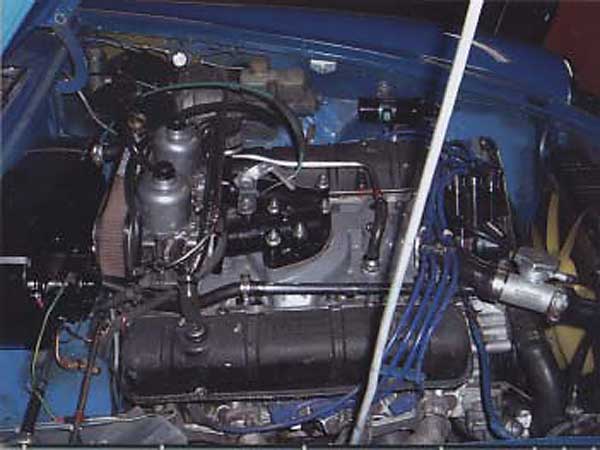 Reg Kennedy's MGB V8's
as published in British V8 Newsletter, Volume XII Issue 2, May 2004
by: Greg Myer
Reg Kennedy is a Brit who moved to the U.S. about 12 years ago. He and his brother raced MGB's in England. Reg also did 10 or 12 V8 swaps over there, thus he has different perspective on these cars than most of us.

I met Reg when visiting my parents. I was out walking the dog and saw an MGB in a driveway down the block, so I stopped in to introduce myself. At that time Reg had a 2.0 Liter MGB 4-cylinder engine in his car (a rubber-bumper car that he converted to chrome bumpers). This was a very strong motor that he built with Cosworth pistons, etc.
He had gotten hold of a Buick 215 and it was in the machine shop at the time. On my next visit to my folks, Reg said he needed some sort of rear for the swap. He had used MGC rears in the past, but they were hard to come by in the States. I knew of a postal Jeep that was available. I checked it out and it was a Dana 44 with 3.07 gears. I got it, but it didn't seem to be a posi. On the next visit to my folks we swapped and were both happy.

A few months went by and we went back to visit my folks (they like all the visits, but why was I always wandering off with the dog? Surely, she didn't have to go out that often!) Anyhow, Reg had the swap completed. We went for a ride. Lo and behold, the rear turned out to be a posi and Reg loved it. None of the MGC rears he had used were posi and it made a huge difference!

We went out on rain soaked roads. Light car, lots of torque: a recipe for trouble? Nope! The car handled it wonderfully! I didn't feel the least bit uneasy even though he pulled some gears. The car handled great! Reg says the posi makes the car better than the others he had built.
Enjoying this article? Our magazine is funded through the generous support of readers like you!
To contribute to our operating budget, please click here and follow the instructions.
(Suggested contribution is twenty bucks per year. Feel free to give more!)
Reg gives quite a bit of attention to detail. One area of concern is the larger brake area in the Dana rear. Reg obtained an adjustable proportioning valve to deal with this potential problem. It works well, but he still wants to improve it more.

At first he used a 4-barrel carburetor, as it was available, but on a trip back to Merrie Olde England to visit family, he picked up an original SU set up. He says there's not much difference, horsepower-wise. He knows the SU's and likes them.
With the Rover 5-speed, it makes things more authentic. He's also upgraded from a stock hood to one from an MGC. Reg is well known in the Philly area as he's a member of the MG Car Club there. A fellow member got the 2.0 MGB motor that had been in his car, and if you don't have a V8...keep your distance or he'll show you up. It's strong!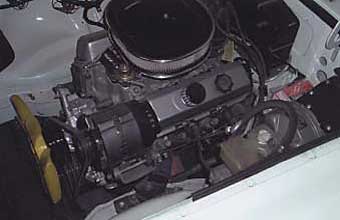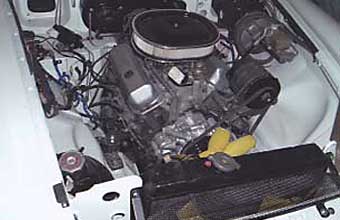 Reg has a British Car shop in Norristown, PA where he does all sorts of wonderful things with all makes British. That's where the pictures were shot, so some may be a bit dark. We'll try to get more on the next visit to my folks. He is fabricating motor mounts to swap Chevy 60 degree V6's into the MGB without cutting anything.

His yellow, rubber bumper V6 is getting a quick exhaust weld and would be out on the street later the same day. His friend's white MGB is in the middle of a V6 swap too. I can't wait to my get a ride in one of these, just so I can report to the Newsletter, of course. (Editor's Note: It is the selflessness of devoted readers like Greg that make this a great publication. Likewise, I've had to repeatedly explain to my wife that I don't WANT to go to the Import Show at Carlisle, but I MUST go, for the sake of the Newsletter.)

Disclaimer: This page was researched and written by Greg Myer. Views expressed are those of the author, and are provided without warrantee or guarantee. Apply at your own risk.