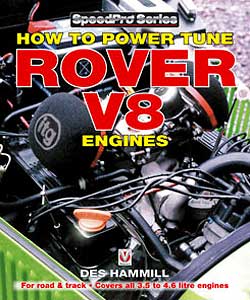 How to Power Tune Rover V8 Engines (by Des Hammill)
How to Power Tune Rover V8 Engines (By Des Hammill)
This article appeared in The British V8 Newsletter - Volume XIII, Issue 3 - September 2005
book review by: James Jewell
Well, it's about damn time someone wrote the definitive book on power tuning and building the BOPR family of engines! It's just a shame that it hit the market after the engines went out of production. On the plus side, however, it will never be out of date with regards to OEM engines. Yet here it finally is, in all its glory, 216 pages of color photos, bound in the usual sturdy fashion of Veloce books.
The book starts out with a healthy history of the BOPR family, however due to the geographic location of its author; it spends more time on the R than the B.O.P. Still, as a large number of us Yanks will be buying Rover components in the future (especially if planning a big-bore block), we can forgo our parochial pride and dig into the Anglo-Saxon side of things.
After covering the history in general, it covers aspects of the individual components, including their shortcomings. This starts with the blocks. There is a great deal of info on the weakening of the bores as their diameters were increased (which is ironic, as the bottom-end was made damn-near bulletproof during the same time frame). Des Hammill describes Rover's ultimate decision to ultrasonically check each block for bore wall thickness, and the color-coded paint they applied in the lifter valley to identify the measured thickness. This should come in extremely handy to folks who, unlike me, read that chapter before taking a die grinder to polish the valley. Still, if the fates have conspired to give you a thin-wall block, Hammill describes a few methods for re-sleeving the bores, regardless of whether you identified your lot in life via a colored dab of paint or the odor of burning antifreeze. It's really alarming to read the figures about what percentage of big-bore blocks will develop cracks and dropped cylinder liners but helpful to read what coolant temperatures will lower the odds of occurrence. Hint: cooler is better.
Hammill next walks us through the remaining subsystems, covering both the history and disadvantages of the various variations. The reporting is very thorough, and the photographs helpful.
Enjoying this article? Our magazine is funded through the generous support of readers like you!
To contribute to our operating budget, please click here and follow the instructions.
(Suggested contribution is twenty bucks per year. Feel free to give more!)
A few chapters later, you can read about two of the current Rover engine specialists, in the UK (J.E. Engineering and Wildcat Engineering), all their wonderful wares, as well as their novel design philosophies. Unfortunately there is no mention of their U.S. counterparts, like Dan LaGrou of D&D Fabrications. Some of the best news we discover in this chapter is that Wildcat has procured a genuine Rover Big-Bore mold (I'm assuming through legal means, but I don't plan on pulling on that thread) and has started making brand spanking new big-bore blocks in a variety of bore-sizes to match their high flow heads. It also appears that they now make an adapter plate so that the end-user can attach standard B.O.P.R. Intake manifolds in addition to the proprietary Wildcat one. One final tidbit that Hammill reveals to us in this chapter is that Wildcat is making their long-throw cranks from Ford small-block semi-finished forgings. This opens up a world of possibilities as the supply of Buick 300 cranks is finite and dwindling.
Included near this section of the book is the lost art of head-porting: a full-size profile of the intake and exhaust ports of all the production Rover heads, with one profile per page. This allows the porter to safely port the heads with minimal fear of accidentally busting into air, oil or water. I lament the absence of a set of profiles for the Buick 300 heads, which are all the rage here in the States, but at least it means that a set of these increasingly rare heads wasn't sliced up in the name of science.

The next 40 pages cover the vast majority of induction options. These cover the S.U., Holley, and EFI solutions, which are the common options in the U.K. I suspect American readers might have preferred coverage of the Carter/Edelbrock lines in lieu of the S.U. family. Still, an author can cram only so much into a single book, so I can't find fault with Des taking care of his home market. The EFI section covers re-using and reprogramming the stock computers, which will work well with stock and common Rover displacements, but makes no real mention of the many aftermarket EFI systems, fully programmable with a laptop, which may be of more value to some of the larger and less common displacements I've seen here in the U.S.


Finally we get to chapters on cooling and exhaust. These chapters are good rule-of-thumb reading. The exhaust chapter gives good data on constructing the various styles of manifold, including pipe length and diameter. The cooling chapter has good information on thermostat setting (to avoid block cracking) and pulley sizing to keep your water pump running at optimal speeds, depending on your application (road vs. race). This book definitely belongs in the collection of every British V8 Newsletter subscriber. While detailed dimensional plans for the Do-it-youselfer are largely absent (the priceless head profiles not withstanding) the book's strong suit is that it provides the reader with a nearly endless supply of ideas, and enough detailed information to communicate those ideas to a competent machinist. It also gives you insight into what works and what doesn't and tells you where you can find some of these better mousetraps.