MGV8 Rear Ends from the Post Office
This article appeared in The British V8 Newsletter - Volume X, Issue 1 - January 2002

by: Kurt Schley

Over the last several years, several Newsletter contributors have mentioned that the rear end from under a Post Office Jeep Dispatcher may be a prime candidate for use under an MG V-8 conversion. Dan LaGrou decided to follow up on these rumors and obtained two of the Jeep rear ends which were on display for examination at his D&D Fabrications Customer Appreciate Day last August. It appears that certain of the Post Office carrier Jeeps have Dana 44 rear ends under them. The other Jeeps had American Motors rear ends which do not enjoy a good reputation. The desirable Dana unit can easily be identified by the flat area on the axle ends, between the lug nuts. The AMC unit has a threaded spline axle ends with a large nut and cotter pin, just like an MGB.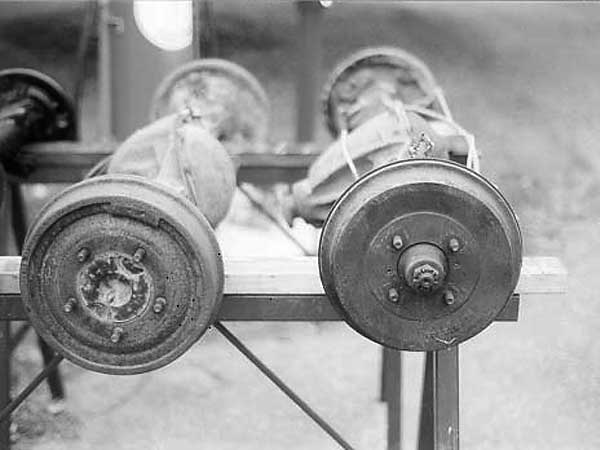 Dana (L) and stock MGB (R). Note that the Dana axle end is flat between the lug nuts. The undesirable AMC version of the Jeep rear end has a protruding nut at the axle end, just like an MGB, making identification easy.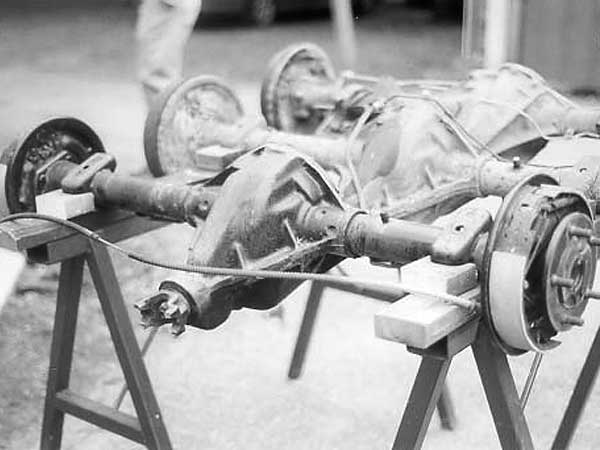 Jeep Dispatcher Dana 44 rear ends (two in front) and MGB (rear) Simple spring mounts on Dana are easily replaced with salvaged or new MGB mounts.
The two Dana 44 examples Dan obtained had outside of drum to outside of drum dimensions of 51-1/4" and 49-1/4", making them well suited as a replacement for the MGB's 52" rear end. The Dana differential is offset to one side approximately 1", which might require a maximum driveshaft o.d. of 2", but this will depend of the individual installation (The stock MG rear end is offset about 1/2"). An advantage of the Dana Rear end is that many are Posi-traction and most have a gear ratio of 3.73:1, very well suited to use with a T-5 transmission. (One note is that all the Dana 44 rear ends have an attached tag indicating that Posi-type gear fluid should be used, whether they are actually posi units or not. To confirm posi, spin one wheel; the opposite wheel should spin the same direction if the rear end is indeed posi-equipped). Some Dana's have a 3.07:1 which is the preferred ratio for service behind a Rover trans. Replacement gear are very readily available from 2.87 to 5.89:1 The differential's gear ratio is marked on a metal tag attached to the diff.
Enjoying this article? Our magazine is funded through the generous support of readers like you!
To contribute to our operating budget, please click here and follow the instructions.
(Suggested contribution is twenty bucks per year. Feel free to give more!)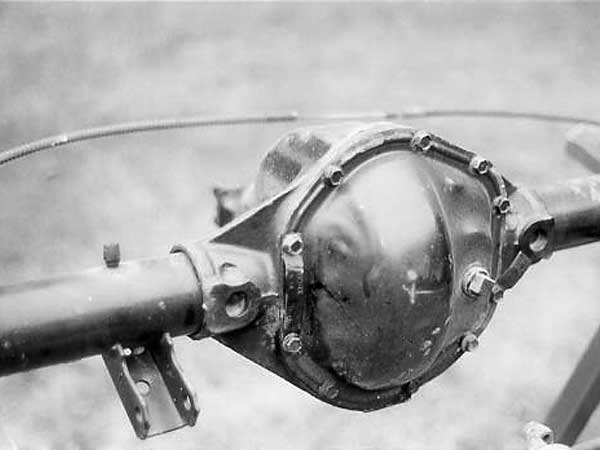 A metal tag on the Dana 44 rear end will show the gear ratio.
The Dana 44 has a 8-1/2" ring gear, making it strong enough for any MG conversion. The pinion diameter is 1.376" with 26 splines. The axle diameter is actually 0.100" larger than the legendary early Ford 9"! You won't twist these even with a blower or a nitrous bottle. The stock drum brakes are 2" wide, but disc brake aftermarket conversions are available.

The axles are drilled for a Chevy 5-bolt lug nut pattern but can be redrilled for the MG 4-bolt arrangement. Alternatively, as there are more wheel choices for Chevy than any other, convert the front hubs to MGC parts which also carry the five bolt pattern.

Both of the Dana 44 rear ends on display carried a number C35284 cast into the differential housing. While measurements were being taken, several rear ends were attached to a scale and a forklift and individually weighed. The stock MGB (drum brake version) weighed 170#, a Ford 9" diff weighed 179# and the Dana 44 was the heavyweight at 190#. The axle mounts on the Jeep rear ends were simple and easily removed. MG mounts, either new or salvaged from an MG rear end, could then be welded to the Dana axle tubes. (Remember to check the pinion angle!)


Disclaimer: This page was researched and written by Kurt Schley. Views expressed are those of the author, and are provided without warrantee or guarantee. Apply at your own risk.