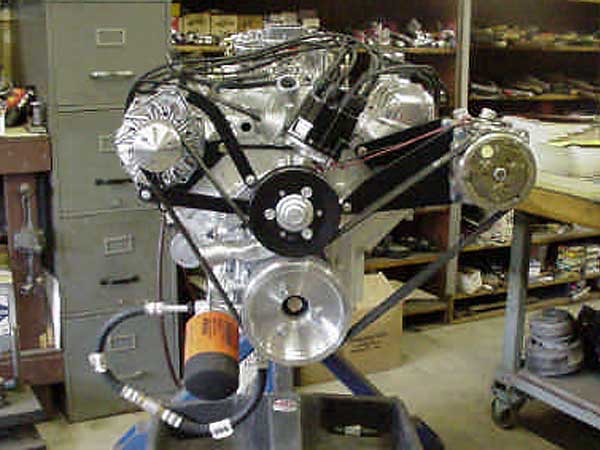 Buick Monster Motor
(originally published in British V8 Newsletter, Volume X Issue 3, September 2002)
by: Kurt Schley
Over the years, a few MG V-8'ers have installed the aluminum head 1964 Buick 300 engine into their cars and have been pleased with the results. The '64 300 is not a whole lot heavier than the 215, while providing 85 more cubic inches and gobs of torque. (The 1965 and later 300's have much heavier cast iron heads) For those who speculate about such things, there was always the question: "Would a Buick 350crank, with its very long stroke, 3.85" vs. the 300's 3.4", fit into the confines of a 300 block, yielding a large displacement but still relatively light weight engine?"
Dave Michel, who has been very heavily involved in MGV8's for many years finally decided to find out. He and 215/300 expert Dan La Grou, proprietor of D&D Fabrications in Almont, MI, discussed the feasibility and obstacles over a period of several months. Then Dave gave the go-ahead to build the engine and Dan promptly began preliminary mock-ups of the combination.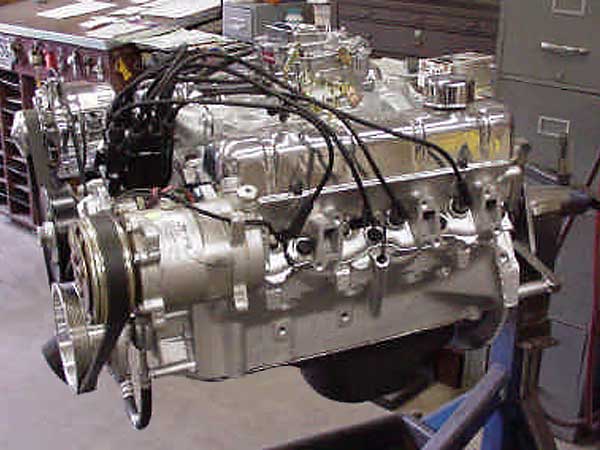 It was discovered early on that the chief problem was going to be providing sufficient internal clearance for the relatively large Buick 350 crankshaft to be able to swing freely inside the confines of the 300 block. Testing of mock-ups revealed that there were three principle areas of interference:
1) The connecting rod bolts on four cylinders would not clear the camshaft. Careful measurements and precision grinding of the contacting bolt heads finally allowed the connecting rods to swing past the cam. Slight additional grinding then provided a sufficient safety factor to make sure the bolts and cam did not meet, as internal dimensions changed when the engine heated up and from centrifugal forces when under power.
Enjoying this article? Our magazine is funded through the generous support of readers like you!
To contribute to our operating budget, please click here and follow the instructions.
(Suggested contribution is twenty bucks per year. Feel free to give more!)
2) The ends of the connecting rod bolts on the front two crankshaft journals were hitting the inside of the oil pan. This is the area in the front of the engine where the oil pan is shallow. Note: The shallow area of the pan actually extends further back than the illustration. Reducing the length of the bolts by grinding provided the necessary clearance. The bolts were not ground as far back as the nuts, so there was no reduction in strength.
3) The largest obstacle by far was that the leading edge of the crankshaft counterweights would not clear the bottom edge of the slipper-type pistons. Careful measurements revealed that an area 0.025" high X 1" X 1" long wide had to be removed from each piston skirt and pin boss per Figs. A & B. After laying out the areas to be removed using machinist's dye, the skirts were ground. The counterweights actually interfered with only one side of each piston's skirt. However to keep each piston in balance, aluminum had to be removed from both sides of each piston.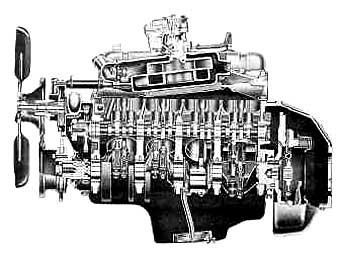 A late Rover "intermediate" front cover was used. This cover incorporates a compact and highly efficient crankshaft driven oil pump, as well as an improved water pump design, while still retaining provision for a conventional distributor. It was used chiefly on the Rover 4.2 and late 3.9 Rover engines.
The 4.0 and 4.6 Rover engines used flywheel triggered electronic ignition and their front covers will not accept a distributor. All later Rover engines, 4.0, 4.2 and 4.6, drive the water pump, alternator and all other accessories with a flat serpentine belt arrangement which rotates the water pump in the opposite direction from the earlier Rover and the 215/300 pumps. The Monster Motor was fitted with custom brackets and billet aluminum pulleys designed by Dan LaGrou.
The motor will soon be installed by Dave into an MGB. A report on the engine's performance will be forthcoming.
Engine Specifications:
Displacement: 348 ci
Bore: 3.790"
Stroke: 3.85"
Block: Buick 300
Crankshaft: Buick 350
Heads: '64 Buick 300, ported
Intake Valve: 1.720" dia.
(Stock Buick 300 = 1.625")
Exhaust Valve: 1.496" dia.
(Stock Buick 300 = 1.313")
Valve Springs: Crane 99849
Head Gasket: 0.040" thick
Lifter: 896

Rocker Arm 1.6:1 Buick 215/300
Camshaft: Crower 50232
Piston: 258 Jeep
Rings: 5/64", 5/64", 3/16"
(Hastings Moly)
Connecting Rod: Buick 300
Deck Height: 0.040"
Chamber volume: 46cc
Compression Height: 1.630"
Compression Ratio: 10.2:1
Carb: Edelbrock 1404
Primary Jet: 0.086"
Secondary Jet: 0.095"
Rod: 65-52


Intake manifold: '64 Buick 300
Ignition: OEM Delco w/ Pertronix kit
Flywheel: Buick 300
Pressure Plate: 10.4" Weber
Clutch Disc: 10.4" Weber
(1-1/8 x 26-spline)
Front Cover/Water Pump:
Late Rover w/ serpentine belt
A/C Compressor: Sanden 508
Starter: D&D gear reduction
Alternator: Chrome one-wire

| | | |
| --- | --- | --- |
| | | |
Disclaimer: This page was researched and written by Kurt Schley. Views expressed are those of the author, and are provided without warrantee or guarantee. Apply at your own risk.