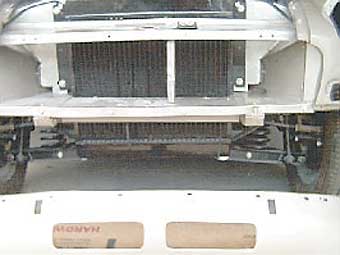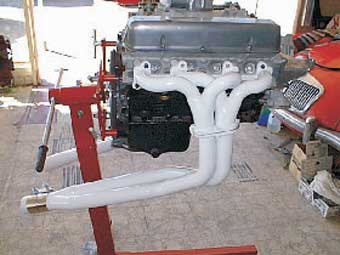 Making a Hot MGB-GT Cool
(originally published in British V8 Newsletter, Volume XI Issue 1, January 2003)
by: Barrie Robinson
When I first ventured into the "dropping a Rover V8 into an MGB GT" arena it was soon apparent that cooling is one of the more frequent problems. I did a quick survey and some 12 MGB V8 builders responded. The consensus seemed to be that there a problem but mostly when faced with those dreaded traffic jams on a hot summer's day. Interestingly enough was that the more happy owners were those using the MGB V8 radiator and MGB twin pusher fans. This sort of gave credence to the "factory knows best" opinion.
I, however, felt that my V8 should be able to idle in Hell without bother - not that I intend to drive there! So I attacked the problem on all sides and was not prepared to give quarter on any aspect. This meant I would have to have a heavy duty radiator, which I got from D&D Fabrications. The front valance was modified with large air-holes to allow better airflow to the lower part of the radiator. These air-holes will be covered with a wire mesh stone guard.
Furthermore, routing the exhaust through the wings (fenders) was an obvious structural modification. Through-the fender pipes were obtained from Australia merely because they looked good and to me looking good usually means good performance. I could have had these pipes ceramic coated and I did buy some very expensive exhaust treatment stuff which is used on aircraft exhausts which works just as good as ceramic or so I am told, but they remain untreated.
Enjoying this article? Our magazine is funded through the generous support of readers like you!
To contribute to our operating budget, please click here and follow the instructions.
(Suggested contribution is twenty bucks per year. Feel free to give more!)
Giving no quarter also meant using the biggest, most powerful electric radiator fan available to man providing it would fit on the radiator. So I selected a Perma-Cool PRM19114 puller fan as 14" was practical in terms of real estate. This fan is not pretty if you compare it to Spal or other makes, but it pulls an astonishing 2,950 cfm and this was so far more than any other that I could find. It did measure 3 3/4" front to back. And this is where the plan started to fall apart because there was obviously no room for fat radiator, water pump, electric fan. Something had to go! Now at this stage I was beginning to wonder if my engine was mounted too far forward despite my use of Glenn Towery A/C engine mounts. Several forays into the world of other builders whose cars were already blasting around the roads resulted in some confusion. No one, it seemed, has a standard measurement using a standard part of engine and body. So I invented one! My standard is the distance from the back "shelf" on the firewall to the engine block which is 2 1/8" on my rig. This distance has been matched by a few others so I feel my motor sits in the right place.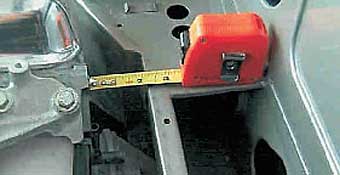 So, with the motor sitting right, I had to do something at the front end to squeeze in my 14" fan which I could have changed to a lower power but thinner model but, remember, I was in a "no quarter given" mode. By searching the 'net for a shorter water pump I found a certain Mr. Don Lopez in California who made me a suitable 3" water pump. This, fitted with a VW water pulley, gave me a mere 5/64" clearance between the Perma-Cool 19114 electric fan and VW pulley and this after canting the radiator forward. Somehow, my level of comfort was not high and even the suggested use of an "engine steadier" from Australia did not help. The bonnet release arm, which juts backwards towards the radiator, dictated how far I could cant, so I shortened it by 1/2" and canted the radiator even further.

Result? A whopping 9/32" of clearance which I hope is enough. So now my MGB GT V8 sits waiting for other bits and pieces before being ready for the road but it does have a very severe approach to the cooling problem with heavy duty radiator, stonking electric puller fan, a lot of exhaust pipes outside the engine bay, and nice big airholes allowing hot air to exit through the wings. Here I come Hell!


Disclaimer: This page was researched and written by Barrie Robinson. Views expressed are those of the author, and are provided without warrantee or guarantee. Apply at your own risk.