How We Built an MGA Cargo Trailer
as published in BritishV8 Magazine, Volume XX Issue I, July 2012

photo essay by: Jeb Blanchard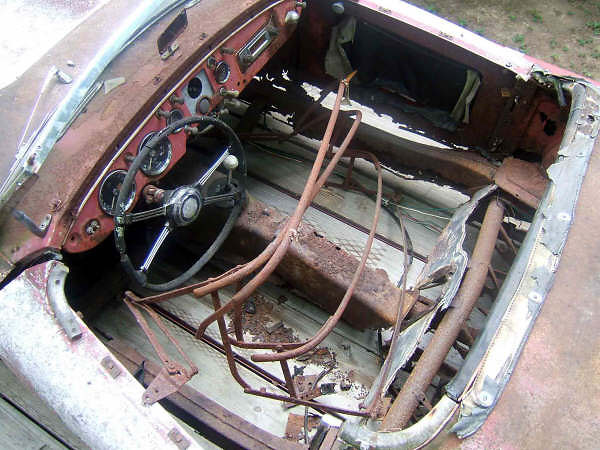 I discovered this 1961 MGA for sale on eBay. It was physically located in Dayton Ohio.
When we went to pick it up, we thought we could use a wench pull it up onto our trailer.
The MGA's frame was so severely rusted that it ripped in half! The MGA was only held
together by the connections of its rusty driveshaft to the motor and to the rear end.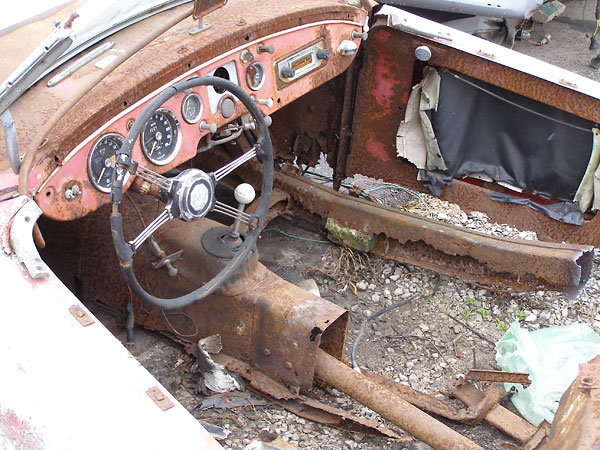 Hardly any part of the passenger compartment was worth saving.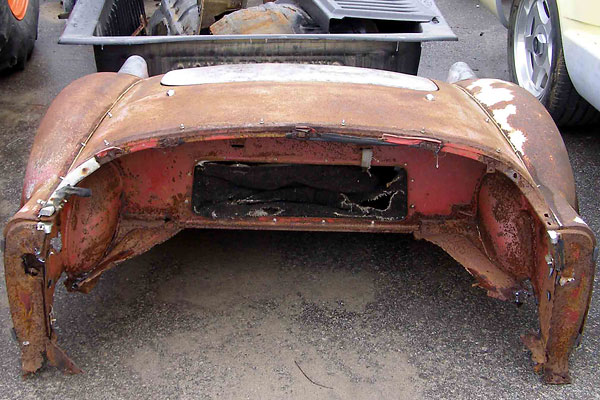 Things looked just a little bit better toward the rear of the car.


Enjoying this article? Our magazine is funded through the generous support of readers like you!
To contribute to our operating budget, please click here and follow the instructions.
(Suggested contribution is twenty bucks per year. Feel free to give more!)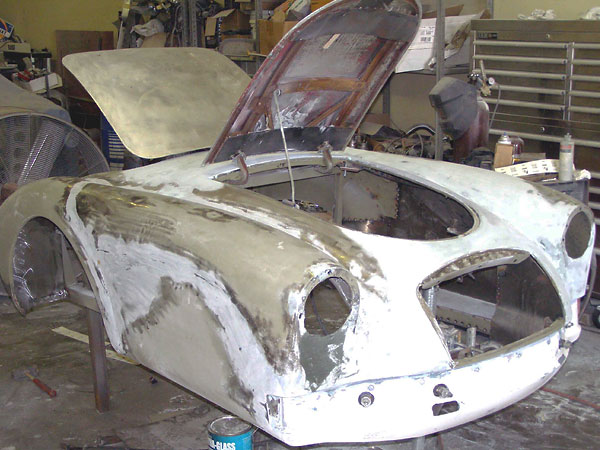 After removing the center of the car - the doors and passenger compartment - and matching up the
front and rear, it was apparent that MGA front fenders are really long. We decided to shorten them.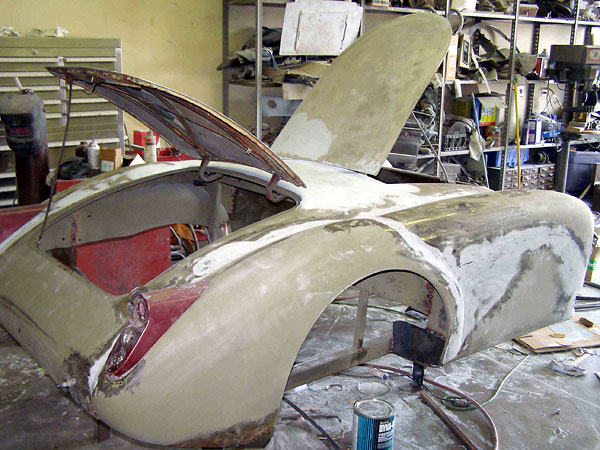 Of course we also had to shorten the MGA bonnet, from the rear edge forward, to make it match.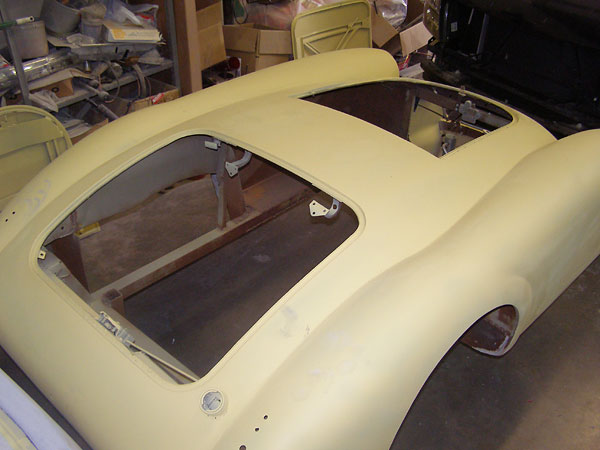 With exterior bodywork in primer attention turned inward, to the cargo compartment.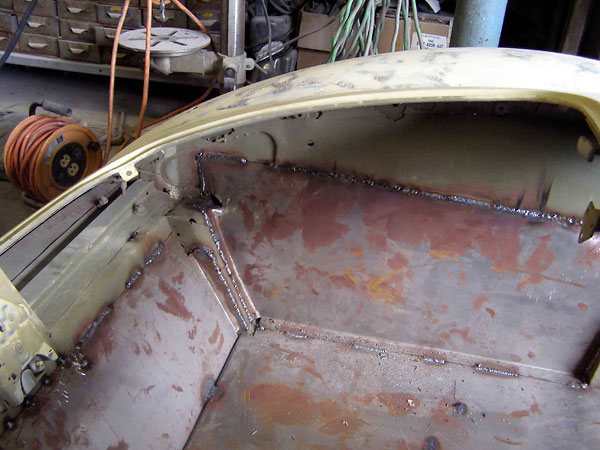 Paneling the luggage compartment with steel sheetmetal.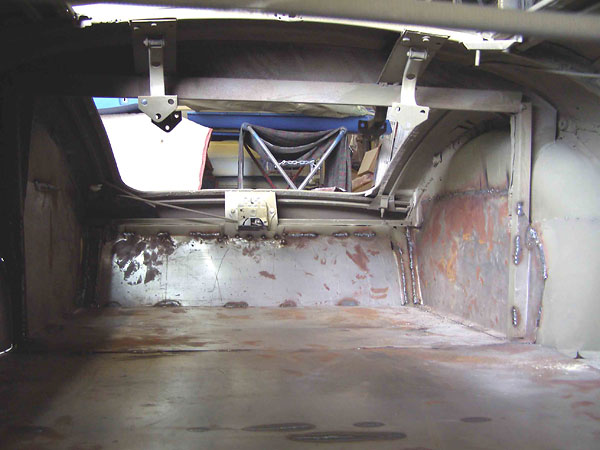 In this view you can see one of the trailer's tricky details: the release for the trunk lid
is operated via hidden linkage from the (otherwise unused) fuel filler cap!
Once the trunk lid is open, the hood release cable can be reached.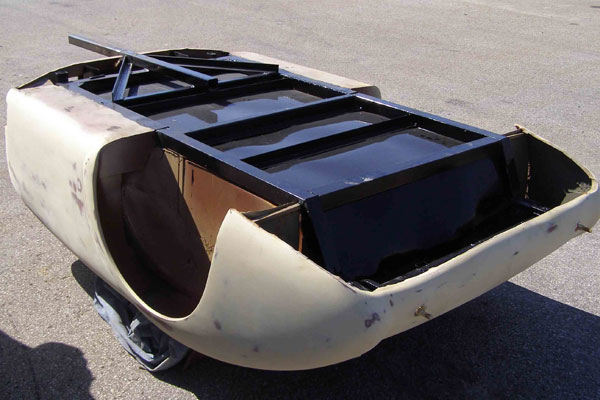 We didn't use any of the MGA's original frame or suspension. This is our simple custom-built
trailer frame to which we attached a Drexel axle and lightweight trailer leaf springs.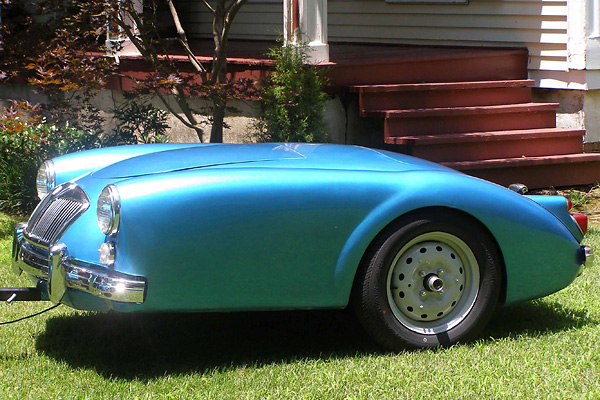 The MGA trailer required a new front bumper, grille, and entirely new headlights: lamps, rings,
and buckets. We were able to restore and re-use leftover parts from our 1961 MGA-V8 conversion
project: original MGA steel wheels, rear bumper, license plate mounting hardware, and turn signals.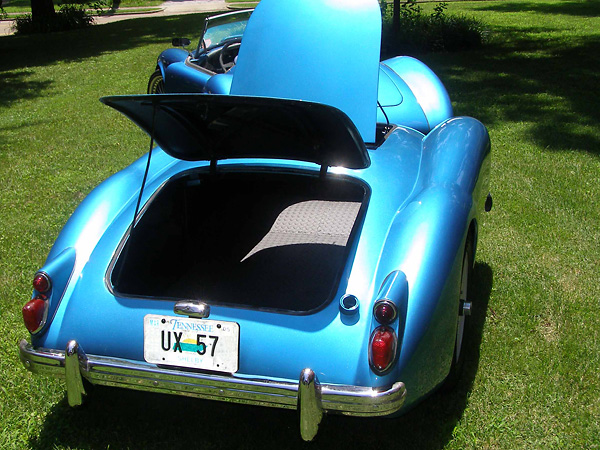 BASF "Glasurit" basecoat/clearcoat paint in dry blue pearl mica (color 42185).
Note: there's no metal flake in the paint, just pearl


Disclaimer: This article on this page was researched and written by Jeb Blanchard. Views expressed are those of the author, and are provided without warrantee or guarantee. Apply at your own risk.
Photos by Jeb Blanchard for BritishV8 Magazine. All rights reserved.