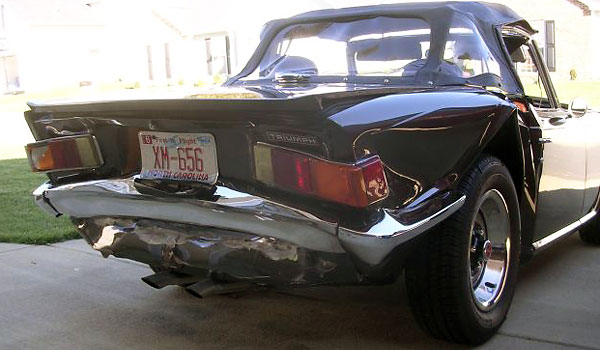 Disclose Everything: The First Rule of Insuring Modified Cars
as published in BritishV8 Magazine, Volume XVI Issue 2, October 2008

by: Travis Overby

Half the fun of owning a sports car is making modifications to the engine or styling so that the car becomes uniquely yours. However, it's very important to remember than any modification may affect your insurance coverage, either by voiding your policy when you most need it, making it difficult to renew, or causing a challenge when shopping for new coverage. Insurance experts advise: "disclose everything".

When it comes to calculating a premium, every car insurance company is slightly different, but there are some general principles that work across the board. Generally speaking:
The smaller your engine, the less expensive your insurance.


The less expensive your car, the less expensive your insurance.


The more common your vehicle, the less expensive your insurance.

All of these things tend to be in opposition to the average modified sports car. Modified vehicles tend to be more expensive, have larger engines, and include specially-fabricated, modified, or aftermarket parts. These features make it difficult to compare a modified vehicle to a standard car, which, in turn, makes insurers perceive them as greater risks.

As well, all of these items are reasons why you must disclose every modification you've made to your car, during the shopping process. Not disclosing the changes you've made to your car will not only affect valuation (which will otherwise be based on the standard configuration of your vehicle model), but may also void your policy if you're in an accident, and subsequently request replacement of damaged aftermarket parts.
Low-Risk Modifications
If you're shopping for insurance coverage and have already modified your car, disclose every single modification - even a rear spoiler could be considered a "kit" by some insurers. If you have insurance, and are considering making (more) modifications, run them by your insurer before you proceed, just in case they'll cause an increase in your premium.

While most modifications can be worked out with your insurance company, there are some insurance-friendly details you should be aware of, and some specifics about what disclose everything really means.
Body Modifications: This includes anything that alters the exterior of your vehicle, even the rear spoiler mentioned above. Most body mods won't affect your premium much, unless they're extreme or extensive. If the modifications to the exterior of the car include changes in the headlights, taillights, or brake lights, you may find yourself subject to detailed questions. As long as the light upgrades are both legal and sensible, there isn't likely to be a problem, or a huge premium spike.


Brakes: Upgrading your standard brakes with better discs isn't an issue, but increasing the size of the discs and calipers may be cause for alarm. Be careful.


Engine Modifications: While the addition of an cold air induction kit probably won't cause much of a change in your premium, radical un-declared engine mods could cause your policy to be voided.


Interior Modifications: As with exterior (body) mods, as long as you don't do anything terribly excessive, your premium won't be affected much, if at all.


Security Devices: Unlike most other modifications, adding a tracking device, engine immobilizer, or security alarm can actually help reduce your insurance premium. Nevertheless, you should still check with your insurance company before making any changes, as kill switches are sometimes illegal.


Suspension Changes: Most insurers won't have an issue if you drop your suspension about 30-40mm, but anything lower will likely cause an increase in your premium.


Wheels: Upgrading to a set of shiny new alloy wheels won't cost you money if you insurance is through a specialty carrier, a company that specializes in classic, performance, and modified cars, but a mainstream insurer will likely charge you more for your coverage.

Saving Money with Modifications
While modifying your car will, at the least, cost you more money in insurance, and may require you to seek a specialty insurer, there are ways you can mitigate the cost difference. Here are a few:
Use a garage - storing your car in a secure, locked facility will reduce the perceived risk of ownership.


Be the only driver - multiple drivers means multiple driving records, as well as more risk of accidents.


Drive with caution - don't get caught speeding, and don't get pulled over - a clean driving record is even more important when you drive a modified car.

Enjoying this article? Our magazine is funded through the generous support of readers like you!
To contribute to our operating budget, please click here and follow the instructions.
(Suggested contribution is twenty bucks per year. Feel free to give more!)
Major Modifications
All of this is very well and good if you aren't making major modifications. But what if you are swapping-in a V8 engine, installing a turbocharger, or doing some other major modification? What if your car has a full-body kit? What then?

At that point your best bet is to seek coverage from a specialty insurer. While many such companies handle antiques and older collectibles, including vintage street rods, a growing number of insurers are now embracing modified cars as well.

With specialty insurance, you still have to disclose all your modifications, but you'll be able to work with your insurance agent to come to a fair valuation for your vehicle, generally either stated value, where you insure your for an amount greater than book value, and in the event of a total loss the payout will be the stated amount less depreciation, or agreed value, where you also insure your car for greater than blue-book value, but in the event of a total loss the entire amount is paid out.

Such forms of coverage, however, come with caveats, such as:
In addition to an itemized list of all modifications, you'll probably have to provide photos of the car, and of the engine mods. In some cases, an appraisal may also be in order.


Specialty insurers are able to offer coverage because their clients generally have excellent driving records (no more than one moving violation in the past three years, and in some cases in five), and significant experience behind the wheel. Some insurers express this as an age restriction - you must be at least twenty-five years old - while others simply require ten years of driving experience.


Most specialty insurers restrict the usage of your car: you must limit driving to pleasure trips only, not use it as your main form of transportation, and you also have to prove that you have a regular, daily use car, that is registered and properly insured.


Garaging your car, while a good idea with mainstream insurance, is a requirement when it comes to specialty coverage.

Despite these restrictions specialty coverage has distinct advantages in addition to case-by-case valuation, and coverage that is based thereon. For example, specialty policies often have very small deductibles, and often include coverage for a tow trailer, for people who tow their modified cars to events. As well, specialty companies that handle street racers and exotics often include special event coverage that will reimburse you if your car breaks down en route.

Driving a modified sports car comes with its own special rush. While the cost of insurance may tempt you to do without, remember that driving without adequate coverage is financially risky. Disclose everything to your insurance carrier, consider specialty insurance when you need to, and you will be able to find insurance that you can afford.
Disclaimer: This page was researched and written by Travis Overby. Views expressed are those of the author, and are provided without warrantee or guarantee. Apply at your own risk.