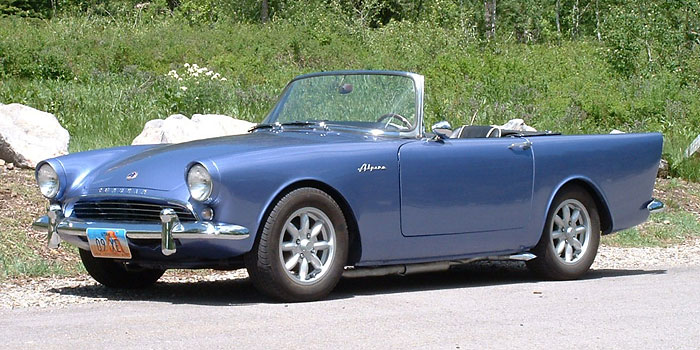 How I Became Hooked On Alpines
as published in British V8 Newsletter, Volume XIV Issue 3, December 2006
by: Rob Wiseman
In 1973, shortly after my wife's second car wreck in as many years, she came home and said she had seen a cute little car that wasn't too expensive. So off I went to look and the "cute little car". What I found was a 1961 Sunbeam Alpine. I fell in love with it immediately even though it was going to be her car. I bought the car for $300, drove it home, started cleaning it up, and sanding off some rust. I worked on keeping it running as it was her daily driver. About a year later in 1974 she tired of the car and me and so she left.
Now it was my car but the divorce required me to sell the car and split the proceeds with her. In 1975 I sold my Alpine to a client. My client painted the Alpine, did some upholstery work, and sold it to another of my clients. In 1977 my client deleted the Alpine from his insurance policy. (I am an insurance agent.)
Fast forward 20 years. In early 1997 I saw a little red Series V running around town. I stopped by the guy's house to take a look and fell in love with Alpines again, but this guy was not going to sell. So I called my client who last had my Alpine and asked who he sold it to. He said he still had it in his garage. So I went down to his shop and there she was sitting in the garage covered with dust. The license plates expired in 1977. I asked him why he had parked it and he said the key was broken off in the ignition. I asked him if I could buy it back and he said it wasn't for sale. As the weeks ticked away I stopped by to see my Alpine about every two weeks and see if I could talk him into selling me my car. No deal. Finally in September of 1997 I stopped by again and asked if I could buy it back. I guess he knew I wasn't giving up but he wouldn't set a price. Finally he said there was a '49 Dodge for sale down the road and I could trade him that car for my Alpine. So I bought the 49 Dodge for twice what it was worth and was back at my clients shop with the Dodge within 2 hours. The trade was made. My '61 Sunbeam Alpine came home again.


During the 7 months or so that I had been trying to get my Alpine back I started doing research on the web. I found numerous internet sites with information about Alpines. At the time the best resource I found was the internet mail list. So I started asking questions on how to get the car running again. I towed the car to my garage and started working on it. After a few weeks I had it running and driving around the block every weekend. I was a long way from getting it licensed because the electrical system was pretty shot. I would get one light to work, then another, but not two at the same time. After more research I discovered that my beloved Alpine didn't even have an original Alpine engine. Prior to my first ownership of this car someone had but in a smaller engine from (if I remember correctly) a '49 car. The engine was so weak I could hardly get it to go faster than about 35 mph! After working on the car for about 3 years I was disillusioned and ready to sell the car because of the engine and the wiring.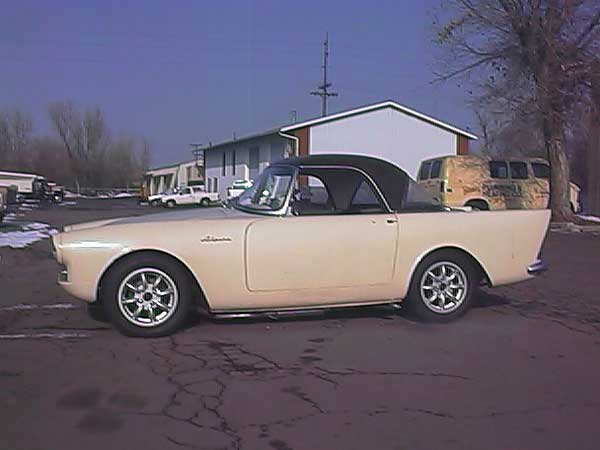 I actually listed my Alpine for sale. While waiting for the offers to roll in, I came across an article on the internet about a guy named Joe Rodriguez who converts Alpines to V6 power. Now that was interesting! I called Joe in about September 2000. Being a novice mechanic, I was feeling pretty intimidated. I asked Joe if a novice could do this engine swap and he said he would talk me through it on the phone. Okay I sent my money in and received my kit. During that time I was shopping for a Mustang II engine. I found an engine sitting in a junkyard Mustang about 60 miles south of my home. I brought the engine home and tore it apart in the back on my pickup with a shell on to keep me out of the early snows. I dropped the engine off at the machine shop and drove my Alpine to a larger garage to begin tearing out the engine and transmission.
Enjoying this article? Our magazine is funded through the generous support of readers like you!
To contribute to our operating budget, please click here and follow the instructions.
(Suggested contribution is twenty bucks per year. Feel free to give more!)
I started working on this project in January 2001. I figured I would be back on the road by March. Yeah, right! I got the engine, transmission and what was left of the wiring harness out. The end of January I picked up my newly rebuilt V6 engine from the machine shop. I started fitting the engine and calling Joe. Fit the engine. Call Joe. Fit the engine. Yell at Joe. Joe was awesome. He would calm me down and explain patiently what I was doing wrong. If I would just listen to Joe, things would probably go a lot smoother. Finally after putting the engine and transmission in and taking it out to adjust the fit about 50 times (sometimes 3 times in a night,) I finally felt like I had the correct fit and alignment. I had my friend weld-in the engine mounts. Then I took the engine out and finally painted the engine bay.
Okay now it was March. I put the engine in for the final time. Now what? The wiring needed to be done. I purchased a harness from Painless Performance. This was my first go at automobile wiring, so I went with a kit with good instructions. Within about a month I had most of the wiring in and working. "E-day" was finally here! E-day being the day I start my new engine for the first time. My friends from around my shop who had given me a hand here and there came over to help me get it going. We primed the engine and pretty much on the first try it started up and ran. WOW, WHAT A FEELING!!!
I think that was about June and I still had quite a bit to do before I could get it licensed, but summer was here and my buddies decided it was time to golf. My car sat until fall. I drove about 10 miles with just the headers on to a good muffler shop and had the exhaust put on. Finally in about October 2001 I was ready to license my car. I drove to a garage of a friend and he performed my state inspection. Passed! I got my new license plates. Finally after 24 years of not being on the road I was ready to roll. The snow started falling and I put my car in the garage again.
I decided in January 2002 to try my hand at body and paint work. Having never done this before, I spent a few months doing research while I was had stripping my car. Stripping the paint and patching a few rust spots took several, okay 6 months or so. Finally I thought I was ready to paint. "Not so!" said my friends who paint cars for a living. I have to do some sanding and plastic work. Okay put some primer on... Sand most of it off... More primer and some plastic... Sand most of it off... Maybe some more primer, and off course some more sanding. I thought my arms were going to fall off! I sanded and sanded and primed and sanded for months. Not every day but probably twice a week. Finally in January 2003 I was ready to paint. So I put on my paint and my friends said it was okay. Okay was not good enough so I sanded some more and then I was ready to paint again.
I pulled my car over to my friends paint shop, which was much cleaner and had way better lighting. As I painted my car, my friends would stand there and yell instruction to me. I gave her about 4 coats of color and 4 coats of clear. Looked awesome! I drove back over to my shop to start putting everything back together. "No! No! No!" my friends said I was not ready for that yet. I had to "cut and buff". Okay after a few weeks of various levels of cut and buff my friends gave me the okay to put my car back together.

New windshield, new dash, new seat covers on some old seats. Finally in about June 2003 I was ready to roll. I drove around quite a bit and had lots of fun but in July I went for a drive on a really hot day and I overheated a bit. (Not real bad, but not to my liking.) Back to the shop! Golf season was once again upon me. Car sat until late fall when I pulled the radiator and had it re-cored with a heavy duty core. During the winter, I put the radiator back in the car and I was ready when Spring came around. That was Spring of 2004. I decided I needed some carpet so I had someone do the carpet for me.

Now my car looks great, drives great, and I feel great. In May I decided to drive to a car show about 200 miles away. The night before it, driving home from work, my friend pulls up next to me and says "Your wheel is wobbling." S*! I called the best mechanic I know. He looked at my suspension, said "No way. You can't drive that to Moab." So we took the front suspension apart and replaced all the main parts. Now it was gonna drive like a dream; or so I thought! I drove home, but my front wheel was still wobbling! I guess we just assumed what we did fixed it. So I called my buddy and he met me at his shop. He took one look and said the front spindle was bent. He said I was S.O.L. I told him I could have another spindle in one hour. (I have been having so much fun I bought another Alpine). He started the tear-down while I went to my shop and got another spindle. We put in on, and I made it to the car show in the morning!

Last July I went to the SUNI in Park City, Utah. I did autocross and a judged car show. My car placed in both events and that just helped to encourage me to finish my #2 Alpine.

I know this is long but that is how I became hooked on Alpines.

Rob Wiseman

61 Sunbeam Alpine V6 (shown above)
61 Sunbeam Alpine V6 (project car)


Disclaimer: This page was researched and written by Rob Wiseman. Views expressed are those of the author, and are provided without warrantee or guarantee. Apply at your own risk.