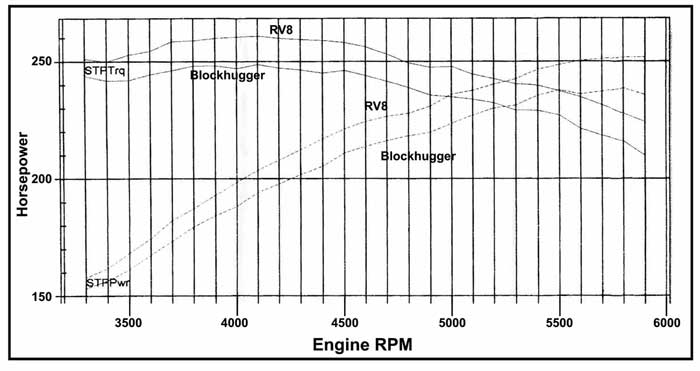 Comparison of RV8 vs. Block Hugger Headers for MGB-V8
(originally published in British V8 Newsletter, Volume XI Issue 2, May 2003)
by: Kurt Schley
Andy Achauer recently performed a series of dyno tests on a Rover V8, with some interesting results. Among other items compared, a comparison was made using a block hugger header versus a factory style MG RV8 header. Interestingly, the MG RV8 headers produced more power! Dan Lagrou, of D&D Fabrications, passed on to me the data from two of the dyno runs, shown below. Stay tuned, as Andy has offered to supply more data from the various runs, and we'll be publishing that data in an upcoming newsletter.
Enjoy this article? Our newsletter is funded through the generous support of readers like you!
To contribute to our operating budget, please click here and follow the instructions.
(Suggested contribution is twenty bucks per year. Feel free to give more!)

Disclaimer: This page was researched and written by Kurt Schley. Views expressed are those of the authors, and are provided without warrantee or guarantee. Apply at your own risk.