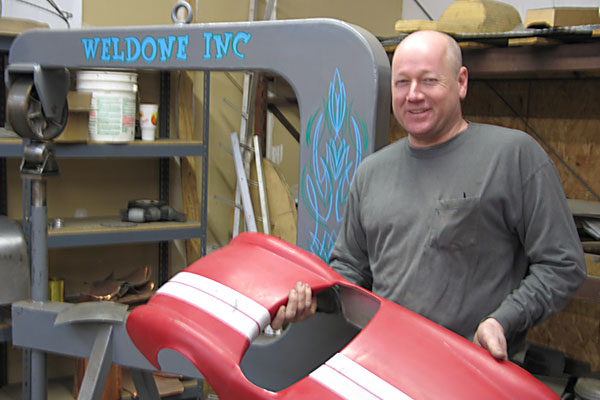 James Bowler holds a one-eighth scale model of his own custom hand-made all-aluminum sports car.


Metal Shaping 201: Hammerforming and Planishing Techniques
as published in BritishV8 Magazine, Volume XVIII Issue 1, December 2010
by: Curtis Jacobson
This article was inspired by a visit with James Bowler at "Weldone" in Richmond Virginia in February 2009. I was already familiar with James' work on two cars: the MGB GT V8 race cars of Les Gonda and Keith Burnett respectively. (James had just completed a third MGB GT V8 racecar too.) Weldone provides pretty much any metal fabrication, race car construction, or automotive welding service you might need. During that first visit, I was particularly impressed by James' scratch-built work: James is skilled in the traditional arts of turning flat sheetmetal into elaborately formed automobile panels. James has built whole cars from scratch. So, on my way home from BritishV8 2009, I stopped by Weldone for a second visit and James kindly gave me a quick lesson in metal shaping.

Hammerforming and planishing are two of the most important and fundamental techniques of custom sheet metal fabrication.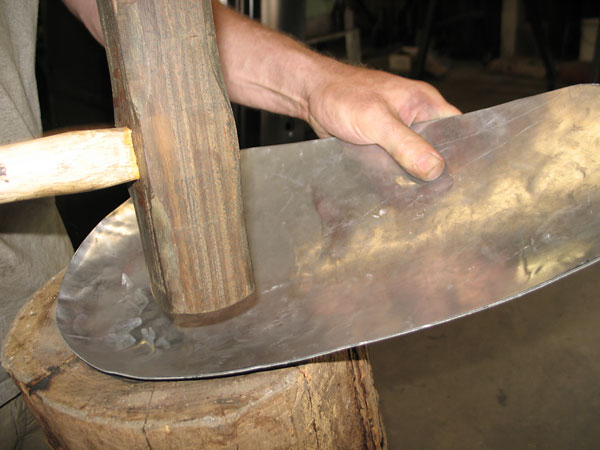 Hammerforming aluminum with home-made wooden tools.


Hammerforming involves shaping sheetmetal with a relatively soft mallet against a concave surface. For hundreds of years, hammerforming has been done over tree stumps or logs which have been carved out to feature bowl-shaped tops. More elaborately shaped concave surfaces can be used for specific jobs, but the basic round bowl shape remains supremely useful. A variety of bowl diameters and depths facilitates more varied work.(Another traditional method of hammerforming uses a leather bag filled with sand or lead shot.)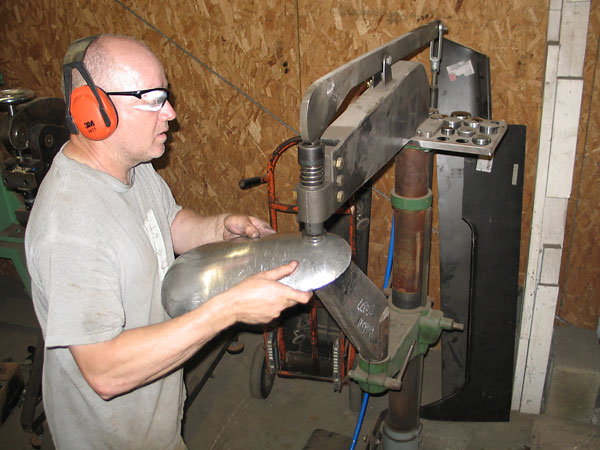 Planishing with a shop-built pneumatic hammer.


Planishing is a technique for smoothing out small irregularities. The formed sheetmetal is held between a smooth, flat, and relatively hard hammerhead and a hard dolly that matches the contour of the part. Planishing a sheetmetal part for a hot rod car or motorcycle might involve many or even many thousands of small hammer blows depending on the size of the part, so mechanized planishing hammers have been devised to save time and to keep the force and alignment of hammer blows consistent. The fundamental technique is the same, regardless of how elaborate the tools are.

Over the last five decades, as molded composite materials like fiberglass and carbon-fiber have became increasingly popular for bodywork on performance and racing cars, classic materials and techniques continue to work just as well as they ever did. For one-off and very low volume parts, there remain many applications where hammerformed metal still beats composites in terms of cost, timeliness, strength, stiffness, appearance, and/or lightness. Of course, sheetmetal work does require specialized skills but usually a craftsman can go right to making a part instead of first having to construct a mold. Many of the low volume fiberglass-bodied cars of the late fifties and early sixties (e.g. Lotus, Elva, Peerless, Turner, etc.) were originally constructed from hammerformed aluminum. Only as production volume grew were the designs duplicated by laying fiberglass over original aluminum bodywork. In the late sixties, when MG needed flared fenders for their Sebring MGC GT racecars, the originals were hammerformed from aluminum.


The Project...
Without a project to work on, we wouldn't have much of a story so I suggested we make a performance blister for an MGB bonnet. I imagined that if I ever get around to replacing my Buick intake manifold with an Edelbrock manifold and replacing my Edelbrock carburetor with a Holley, I'll surely need to raise the roof above them. That project isn't currently on my to-do list, but it seemed like an interesting enough premise.


Layout and Making a Blank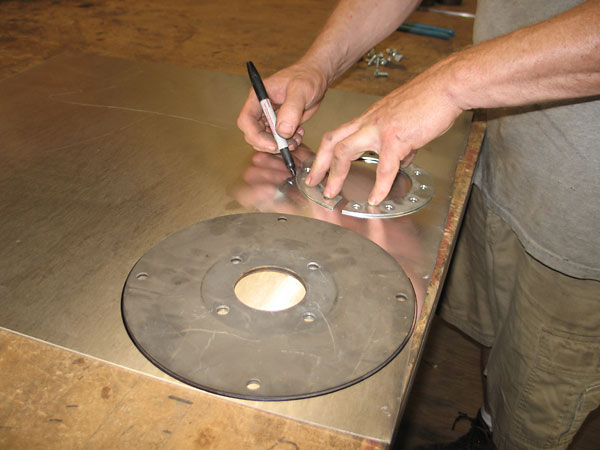 James selects some material, marks out a blank, and cuts it to shape.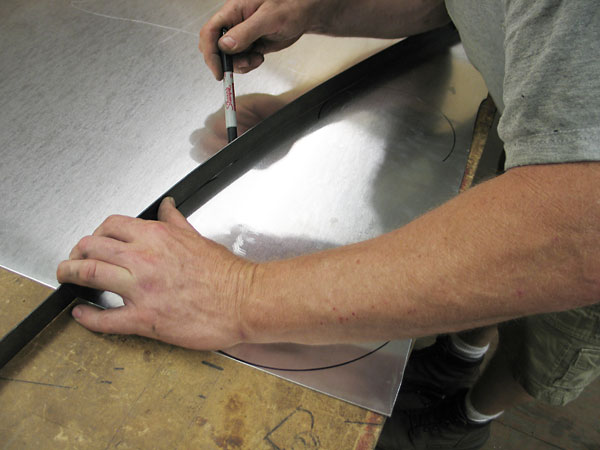 The material chosen is a soft, readily formable aluminum called "3003-H14". 3003 designates the
alloying metals, and H14 designates that this alloy has specific work-hardening characteristics.
(Anticipating how the metal will stretch, James draws curved lines where I'd have put straight ones.)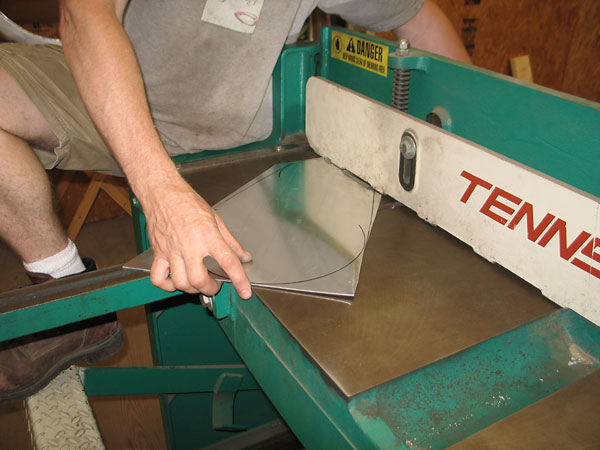 When you sharply fold 3003-H14, the creased area hardens. The material also hardens if your strike it
hard with a hammer. Before continuing with shaping, you must soften the hardened area by an annealing
(heating) process. In our project the material will be treated gently and no annealing will be necessary.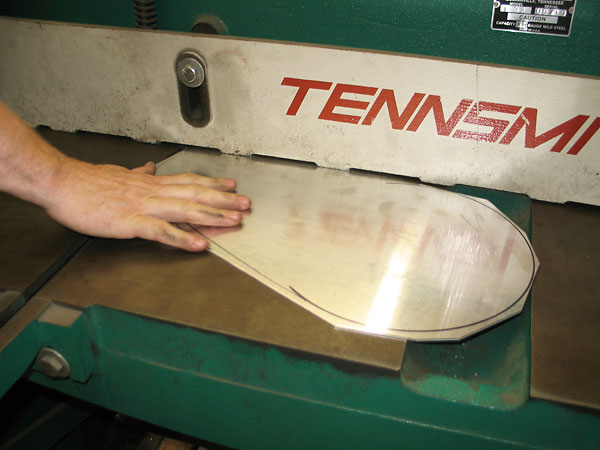 This 52 inch Tennsmith foot operated shear is particularly convenient and handy for small projects.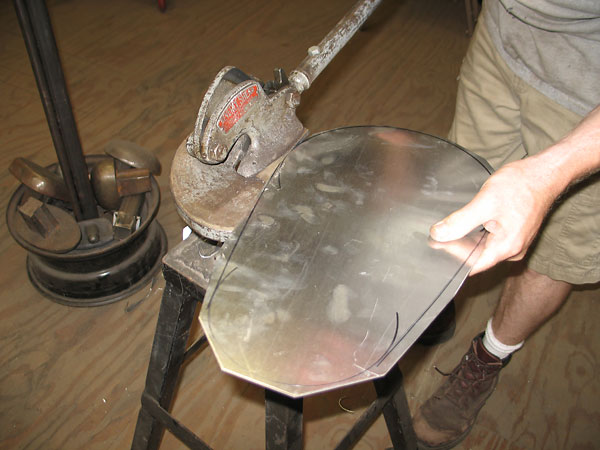 This little Beverly Shear cuts flat sheetmetal along a curved path without leaving marks or burrs.
Beverly Shears are still made in U.S.A., in two versions: the 18# model B-1 and the 35# model B-2.
(Don't kid yourself that a cheap imitation will work as well.)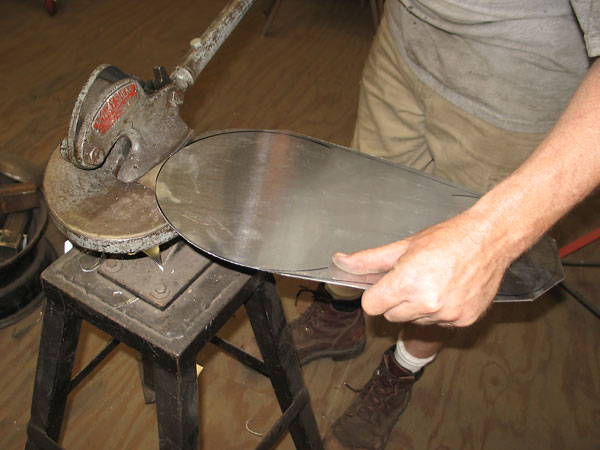 James rotates and guides the workpiece with his left hand as his right hand lowers the shear's lever.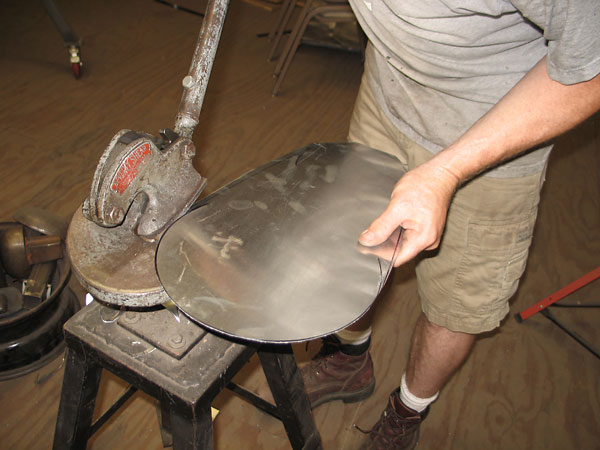 Of course he has to take multiple cuts to work his way around the piece.


Initial Shaping with Wooden Hammer and Stump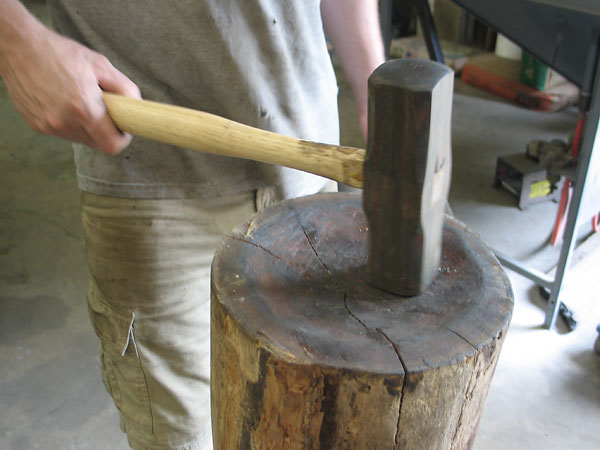 The striking face of the mallet is radiused to match the concave shape carved into the end of this
old hardwood log. No matter where you set the head of the mallet against the bowl, it won't rock.
Small irregularities in the bowl surface, such as the cracks in the wood, usually don't transfer to
the metal. Even if they do, they'll be ironed out later by the planishing hammer.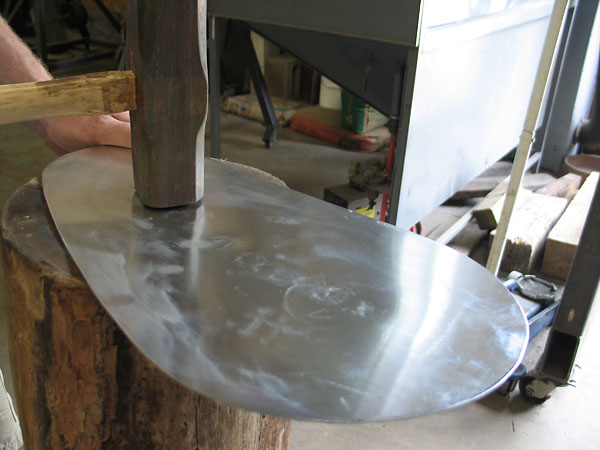 The general approach is similar for most bowl shapes. You start with a few relatively hard hammer
blows in the center of the workpiece, then spiral outward toward the edges. However, its not
practical to form our part in one pass. Instead, we'll try for a controlled and gradual stretch.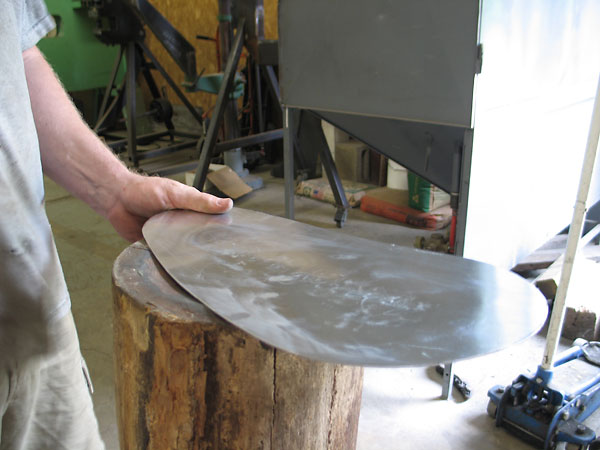 And so James proceeds...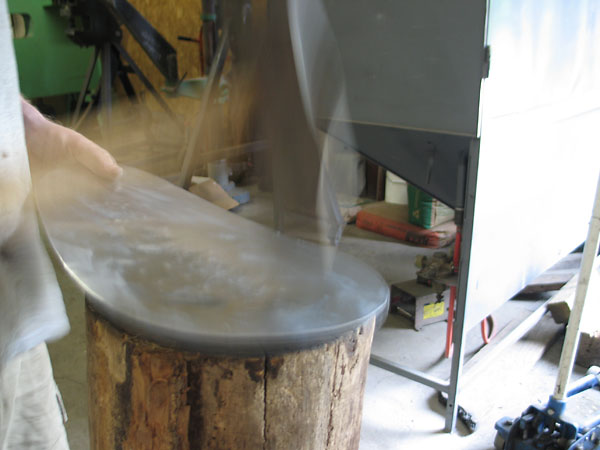 ...bang, bang, bang, bang, bang...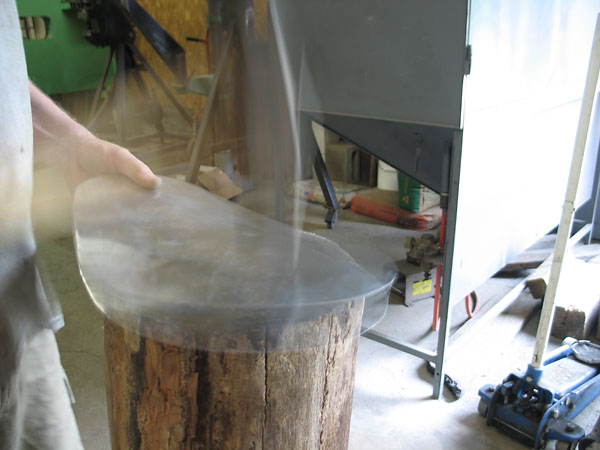 ...bang, bang, bang, bang, bang.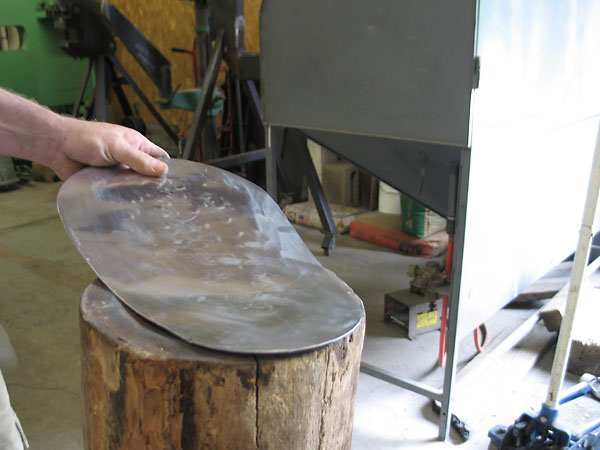 Pause to look at the work.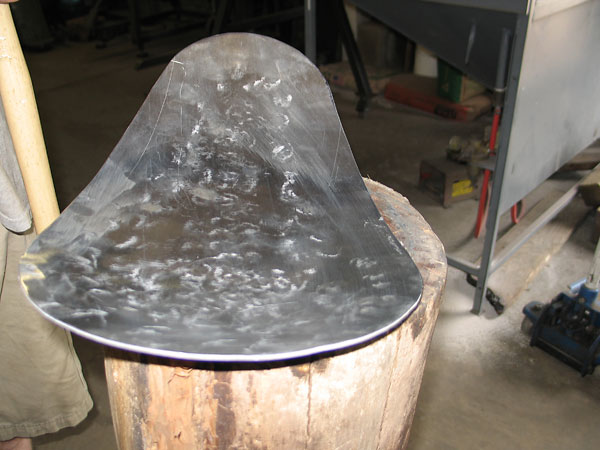 After another fifteen or twenty hammer blows...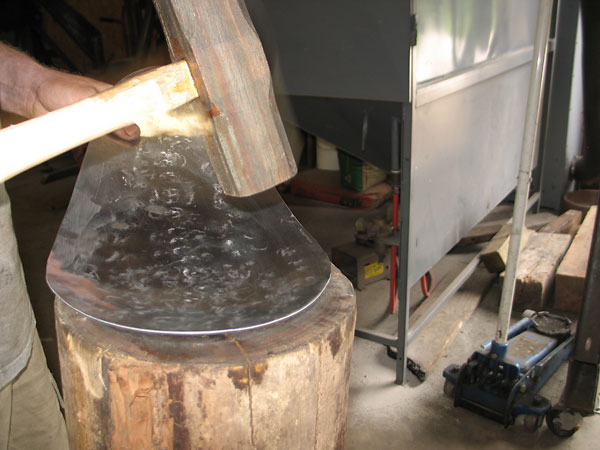 As you can tell, the workpiece is continuously moving over the round bowl-shaped contour of the
stump and it's nowhere near deep enough to touch bottom yet. Notice though that the hammer blows
aren't exclusively aimed into the center of the stump. He's intuitively working the metal along.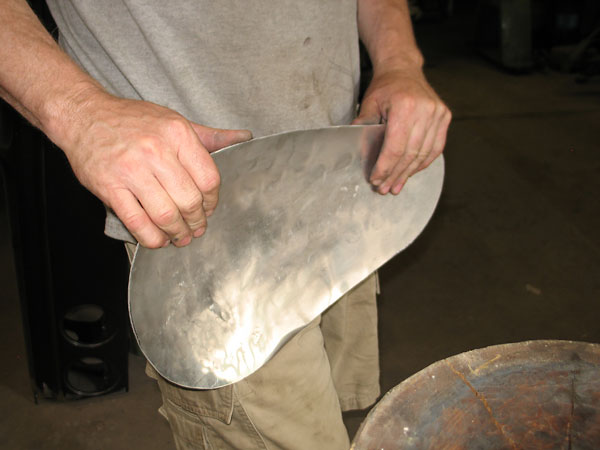 Our part is stretching too much in its longitudinal center and it obviously won't lay flat on an
MGB bonnet, but James can manage that for now by flattening it by hand.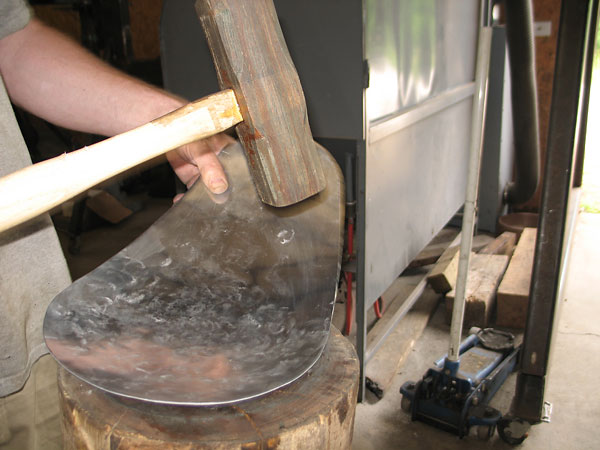 James has continued working the wider end of the part with the confidence of a true craftsman.
Gradually it's approaching the contour of the stump...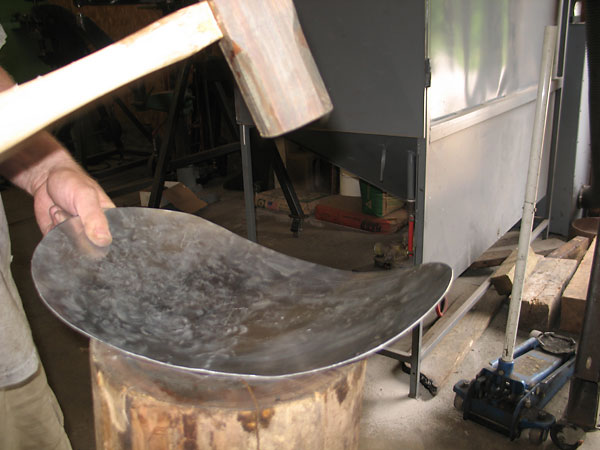 ... so he begins working that depth across the workpiece.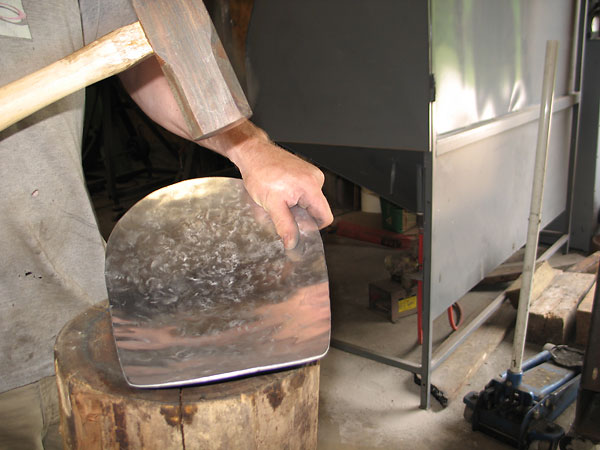 He's now holding the wide end and hammering the narrow end to depth.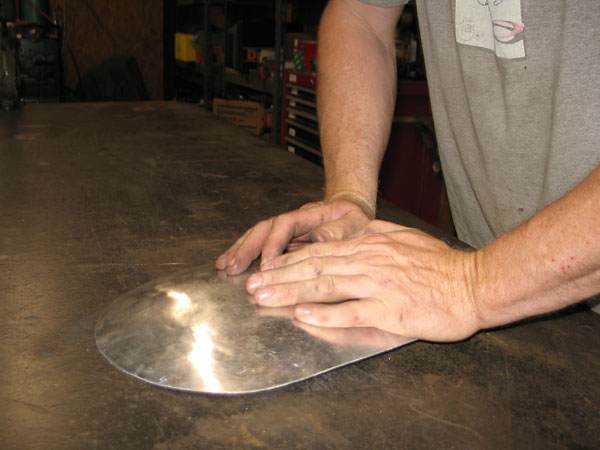 At this point we step away from the stump and over to James' thick steel surface plate (table).
At a glance it's clear that the part doesn't lay flat, so James leans on it a bit...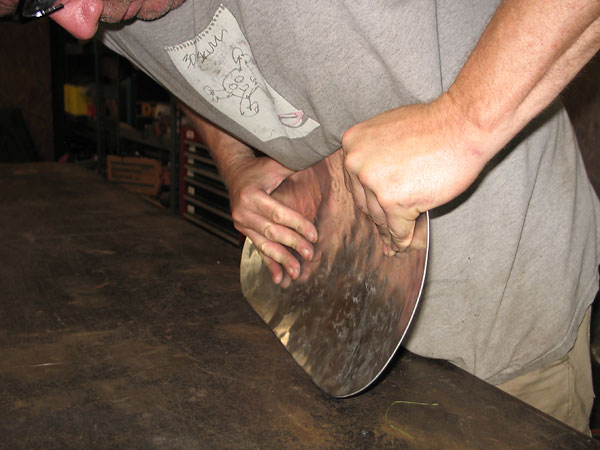 ... then flips it around and leans on it a little more. Now the edges are straighter,
so we walk outside and lay the part on my MGB's bonnet.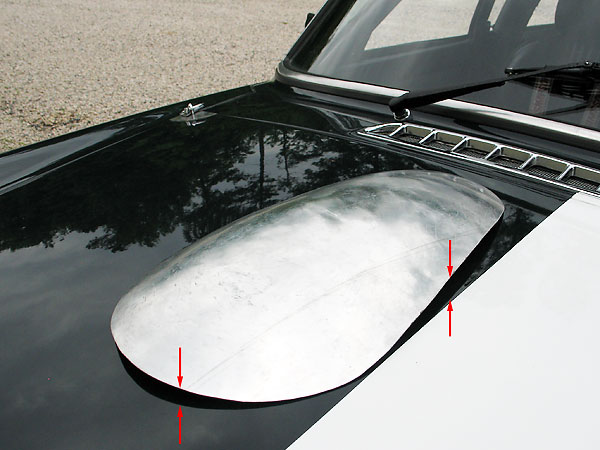 Now we can really see where we stand. We want the bulge a bit taller, and we also need
to eliminate gaps along the side edges and front end of the workpiece. Back to the stump!


Enjoying this article? Our magazine is funded through the generous support of readers like you!
To contribute to our operating budget, please click here and follow the instructions.
(Suggested contribution is twenty bucks per year. Feel free to give more!)
Phase II Hammerforming: Deeper Profile and More Refined Shape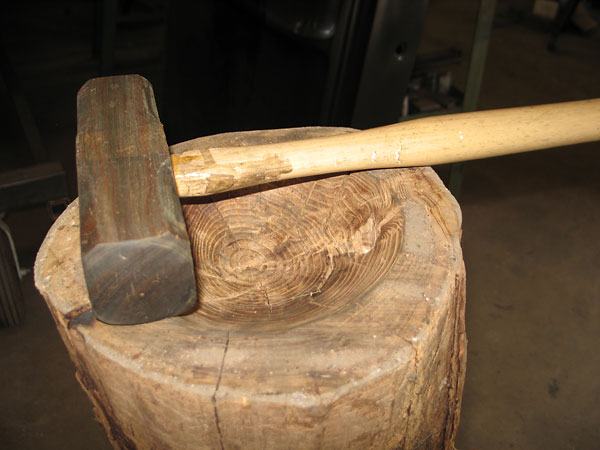 Here, the log is flipped 180 degrees to expose a deeper bowl section.
The opposite end of the hammer head is contoured to match this bowl's radius.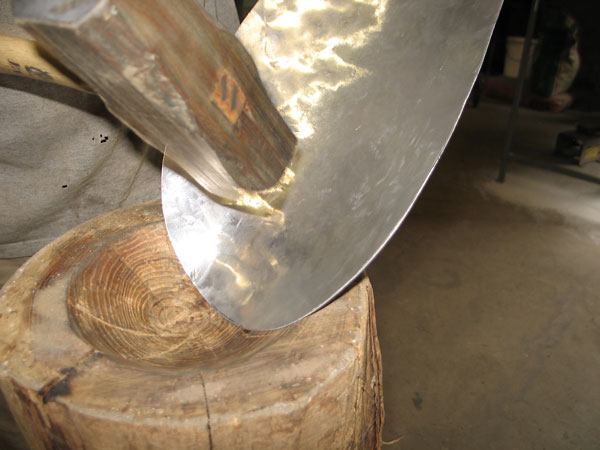 The next order of business is to bring the tip of the wide end of the workpiece down. This technique
is a combination of stretching and shrinking. The stretching aspect is obvious. At the same time,
some wrinkling occurs at the edge, is smoothed out, and the material thickens in that local area.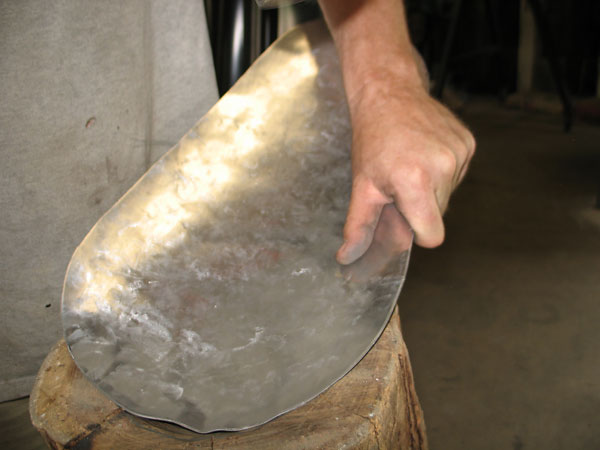 James continues making the bowl section deeper and deeper.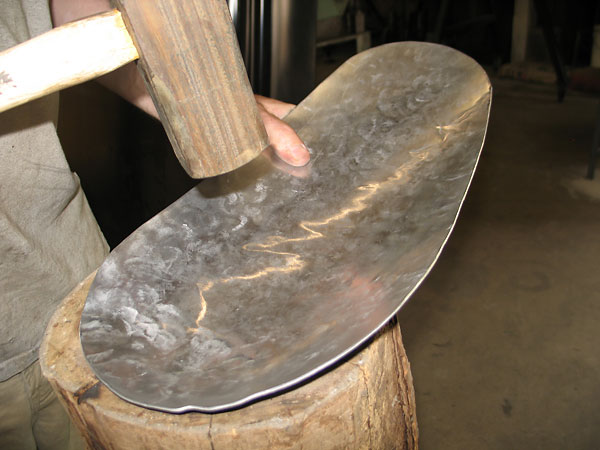 The same basic strategy applies: hammer first in the center of the concavity,
and then work outward in concentric circles of overlapping hammer blows.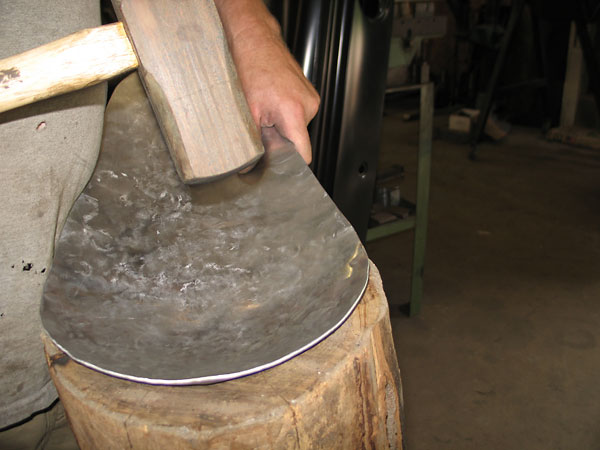 (This may seem like a long series of photographs. Trust me on this: I took a lot more photos
than I'm publishing here. Actually though, the part was quickly changing before my eyes.)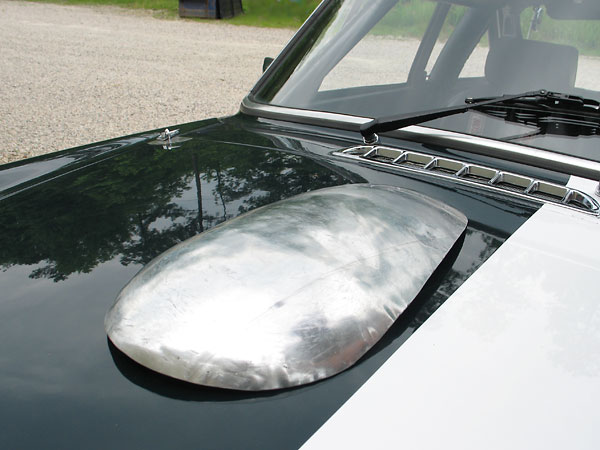 We pause for a moment and have another look at the part in its ultimate context.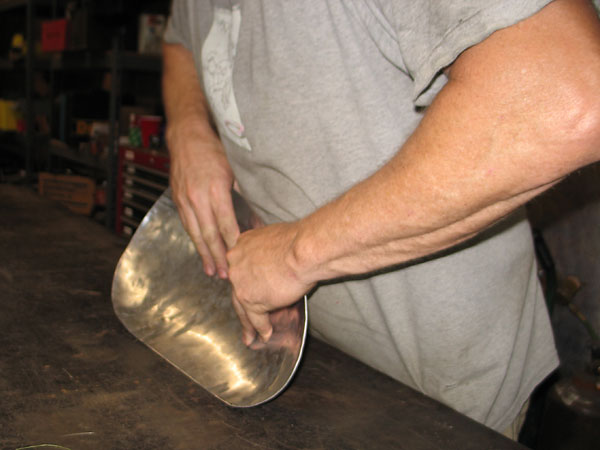 Flatten the sides down again...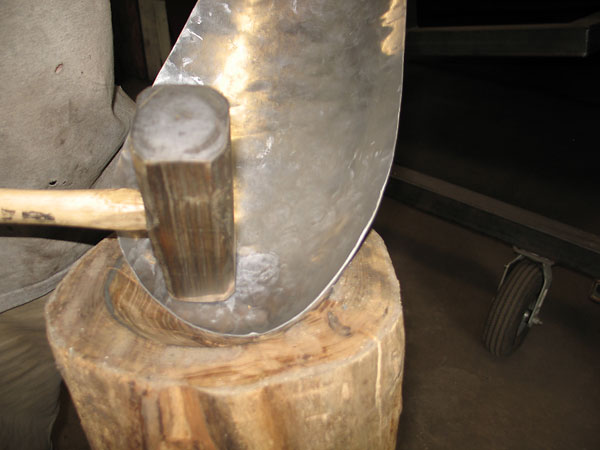 Work on the big end a bit more...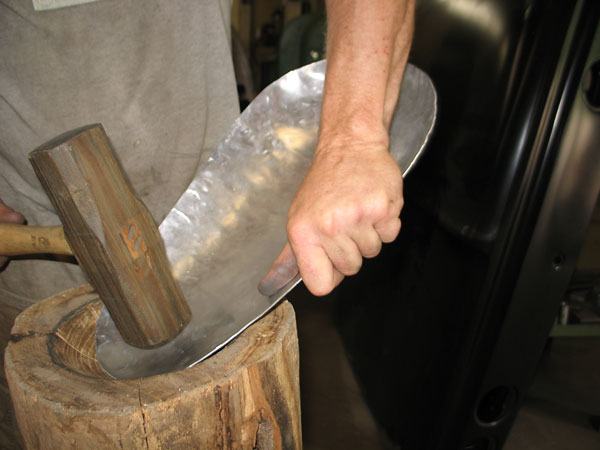 Work on the little end a bit more...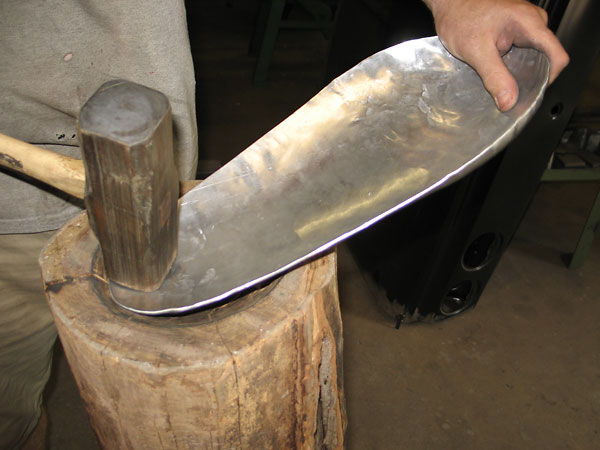 Smooth everything up...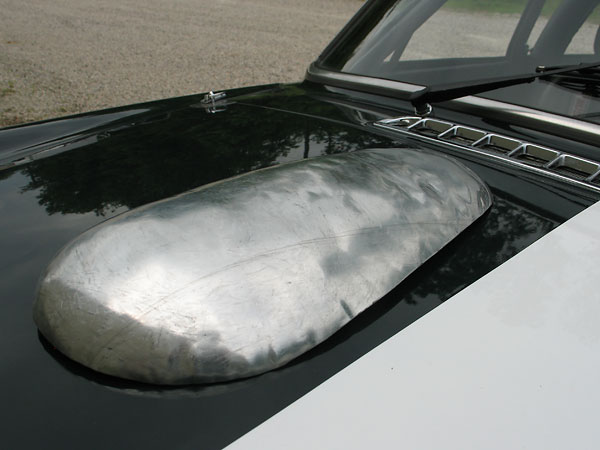 Back to the car again...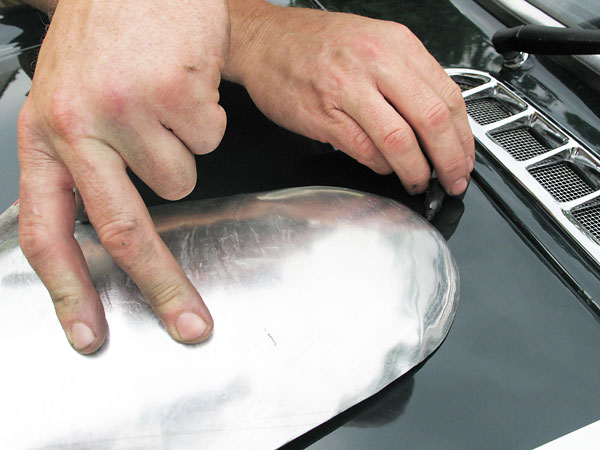 James lays a black magic marker on the MGB bonnet and gently pulls the marker along the edge
of the workpiece to trace where it needs to be trimmed.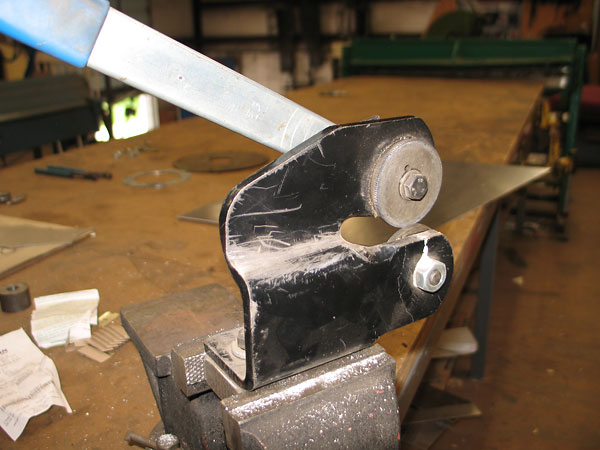 This Sykes-Pickavant rotary shear is a simple but high quality British tool.
(Regrettably, it's been discontinued. Don't kid yourself that Chinese copies are as good.)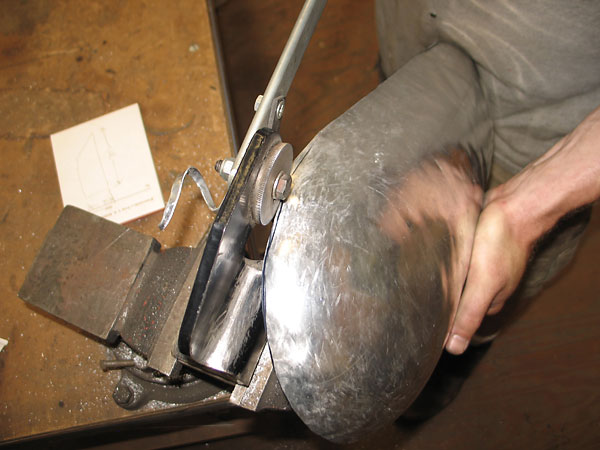 The Sykes-Pickavant rotary shear neatly trims the edges of compound-curved sheetmetal parts.


Working with a Pneumatic Planishing Hammer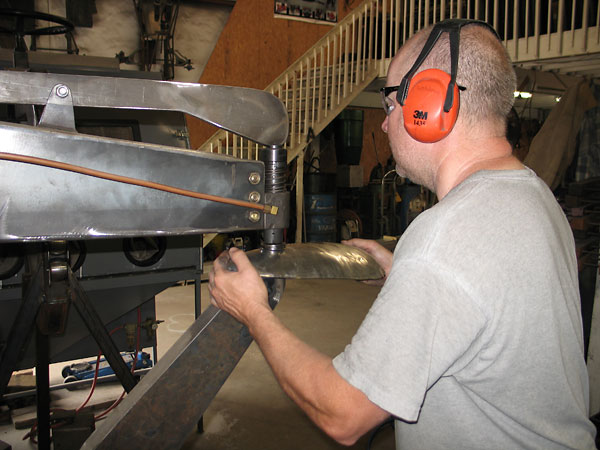 A pneumatic planishing hammer is a stationary tool that facilitates smoothing a hammerformed sheetmetal
part with relative speed and ease. The workpiece can be held in both hands and moved carefully and
accurately relative to the dies while a foot operated switch controls the machine. James Bowler built
this machine, using the column from an old drill press and a basic (hand held) pneumatic hammer.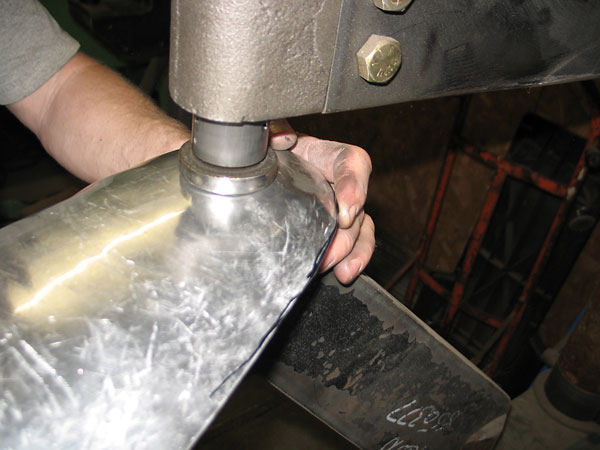 Both upper and lower dies of the hammer are easily replaceable. Upper dies are always flat, and the
only difference between them is their diameters. Lower dies are crowned to match the contour of the
part being worked.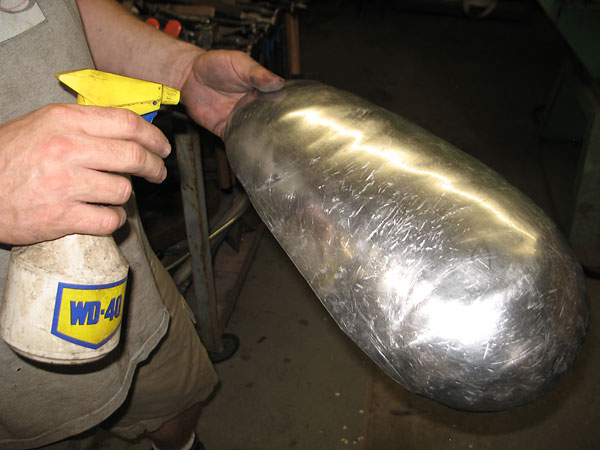 Silicone lubricant (such as WD-40 as shown here) is very helpful when planishing, but not necessarily
for its lubricity: the film makes it much easier to identify visually what areas have been worked.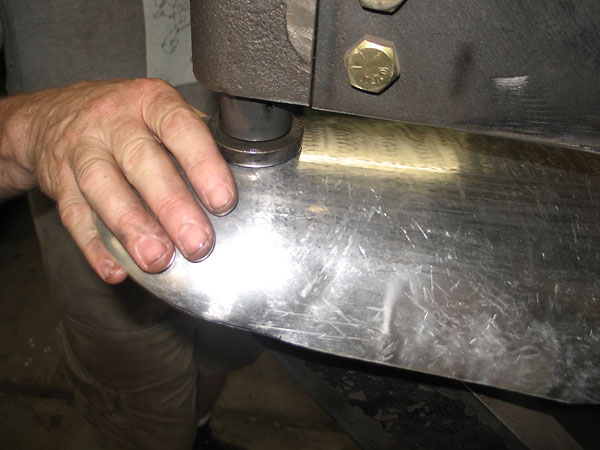 Here you can see some trails of hammer blows, in parallel rows, in silicone lubricant film.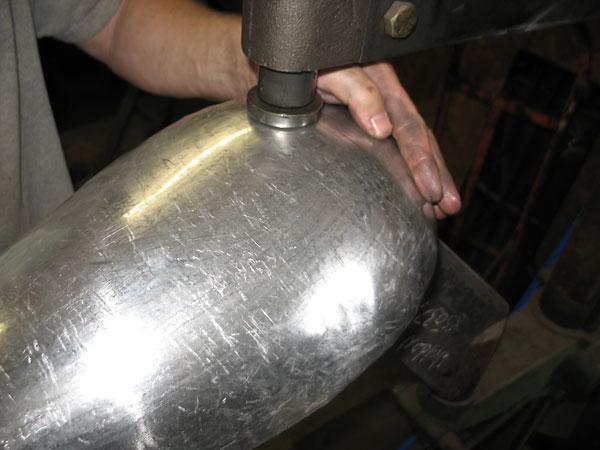 Here James is working the middle of the workpiece using a relatively flat bottom die.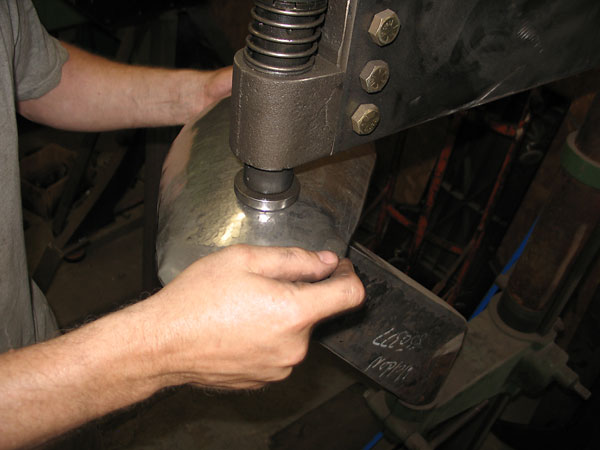 Back and forth, back and forth, until the whole middle section of the workpiece is smooth.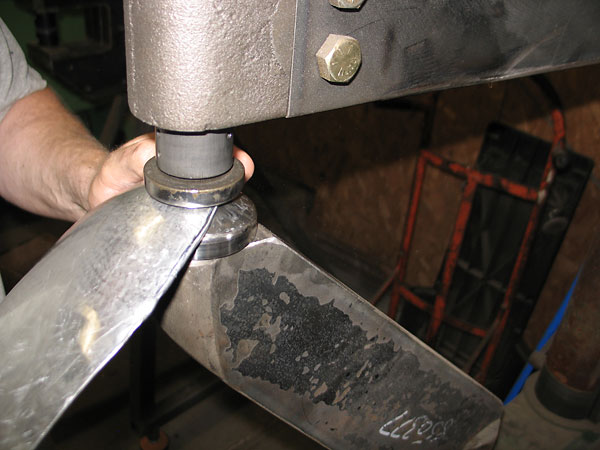 Now we pause to change to a more highly curved lower die and James quickly checks that
it suits the outer edges of the workpiece where the inside radii are smaller.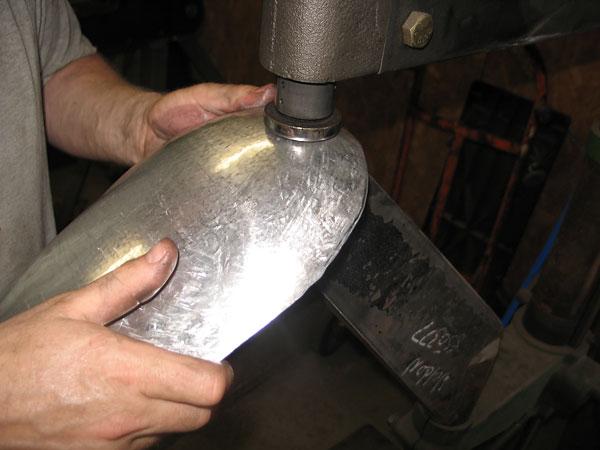 Press the foot pedal and go. The pneumatic hammer answers with a quick: bam bam bam bam bam bam.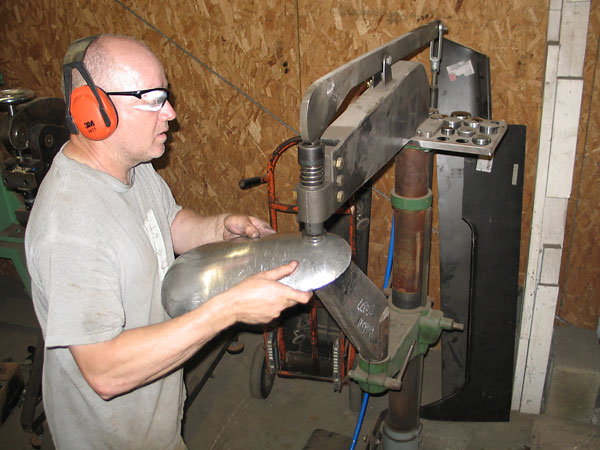 Even though it doesn't really seem all that loud, you should still wear hearing protection.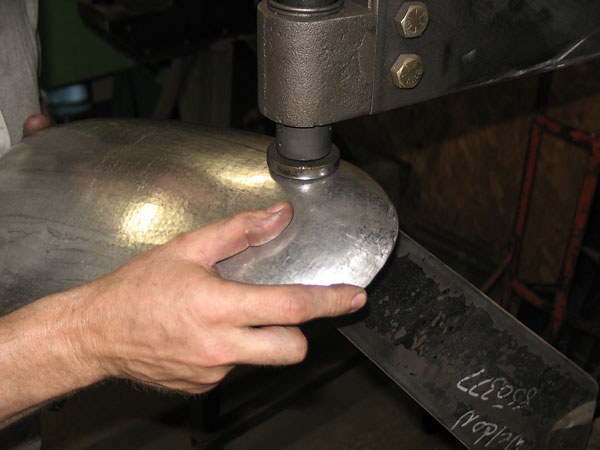 Back and forth, back and forth. Planishing is a process of many, many light hammer taps.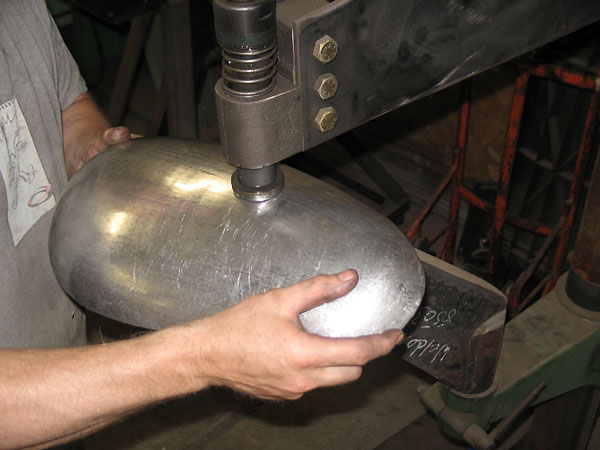 The part seems to get smoother and smoother, but at some point you must call it quits.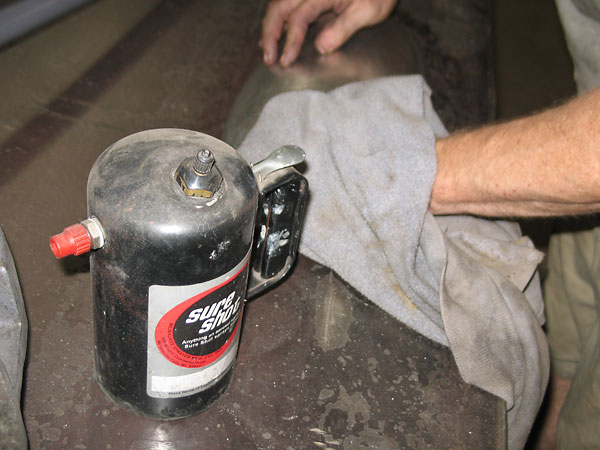 This handy Sure Shot dispenser has a little lacquer thinner in it. James uses it to remove the WD-40.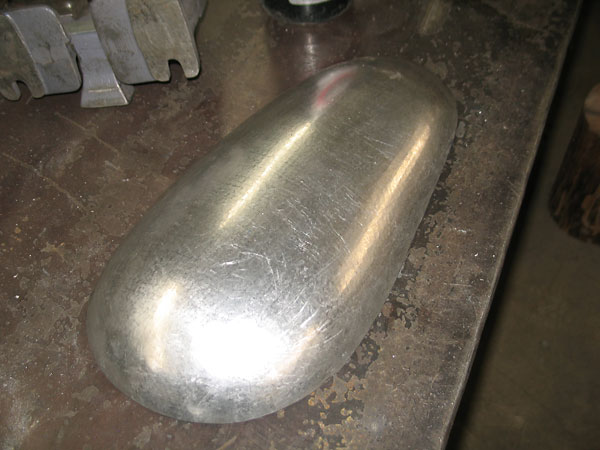 There are a few light scratches on the part, but they could be removed with steel wool, sandpaper, etc.
Our custom aluminum hammerformed bubble is ready to install. Perhaps for a future article we'll repair
a sprung aluminum MGB bonnet, then turn on the TIG welder, and...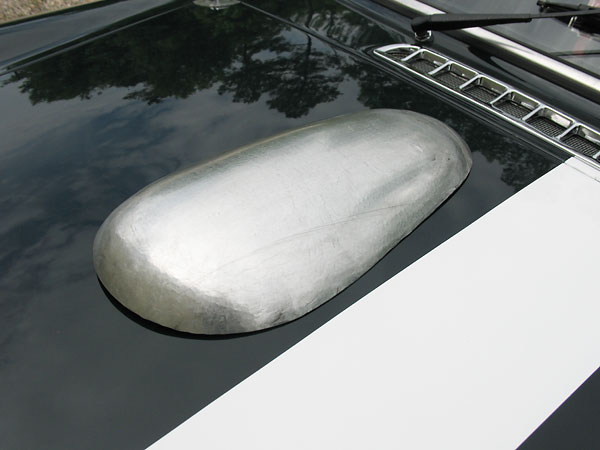 From the moment I entered James Bowler's shop until we walked outside and took this photo, only
1.5 hours passed. Of course James would have been much quicker without me getting in the way and
asking questions. I hope this article will inspire readers to carve up some old logs and start making
their own metal bowls. Perhaps it will even inspire a few readers to fabricate their own pneumatic
planishing machines. If the article inspires you to commission custom aluminum or steel bodywork
for your project car, please remember James Bowler and his shop: Weldone Inc. of Richmond Virginia.


Would you like to see more examples of James' work? Check out these articles!
James Bowler's MGB GT V8 Race Car (For Sale!)
Bill Thumel's 1961 Elva Courier Race Car



Disclaimer: This page was researched and written by Curtis Jacobson. Views expressed are those of the author, and are provided without warranty or guarantee. Apply at your own risk.

Photographs by Curtis Jacobson for BritishV8 Magazine. All rights reserved.