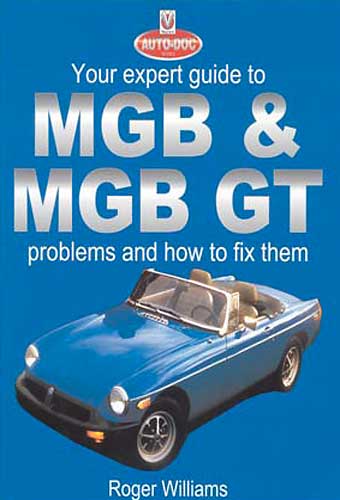 Expert Guide to MGB & MGB GT Problems and How To Solve Them
(a book review published in British V8 Newsletter, Volume XII Issue 1, January 2004)
book review by: Kurt Schley
author: Roger Williams
publisher: Veloce Publishing
ISBN 1-903706-50-5
176 pages, soft cover

Author Roger Williams is well know to the MG world for two of his previous books "How to Give Your MGB V8 Power" and "How to Improve Your MGB, MGC & MGB V8". Veloce Publishing has recently released Roger's newest addition to MG literature. The new book, titled "Your Expert Guide to MGB & MGB GT - problems and how to fix them." is part of the Veloce Publishing "Auto-Doc" series of diagnostic and rectification publications.


This book is a detailed and extremely comprehensive guide to the very often frustrating task of tracking down and figuring out the cause of your MGB's ailments. Most of the common, and several less often encountered, reasons for non-optimal performance are listed and discussed for all of the MGB's operating systems including: engine, clutch, transmission, front suspension, steering, wheels/tires, fuel smells, driveshaft, rear axle, rear suspension, cooling, heater, carburetion, brakes, instruments, charging system, electrical system, body, and the convertible top.
Enjoying this article? Our magazine is funded through the generous support of readers like you!
To contribute to our operating budget, please click here and follow the instructions.
(Suggested contribution is twenty bucks per year. Feel free to give more!)
After guiding one to the cause of the problem, Your Expert Guide to MGB & MGB GT then details the steps required to perform the required repairs. This book should be first read cover to cover to familiarize one with the various upcoming travails often associated with MG ownership. Secondly it should be packaged in a heavy plastic holder and stored in the car's boot, ready to afford desperately needed advice while you are sitting next to the highway with a nonfunctioning MGB, the semi trucks are thundering by 18 inches away and the rain is starting to fall. If you own an MGB, you can't afford to be without this book.


Disclaimer: This page was researched and written by Kurt Schley. Views expressed are those of the author, and are provided without warrantee or guarantee. Apply at your own risk.